Dr. David R. Hudnall, DMD, is a healthcare manager with over 21 years of experience in dentistry and administration. In addition to being an expert in managing financial, administrative and physical operations, he worked for 18 years as an emergency dentist in South Carolina and understands better than anyone else on the Emergency Dentists USA team the ins and outs of American emergency dentistry.
After graduating from West Virginia State University with a Bachelor of Science degree in Chemistry, Dr. Hudnall worked for government agencies in compliance and agricultural research. Shortly after, he changed careers and started working towards a Doctor of Dental Medicine degree from the University of Louisville, which he received in 1996. That same year, Dr. Hudnall relocated to South Carolina to begin his career in dentistry.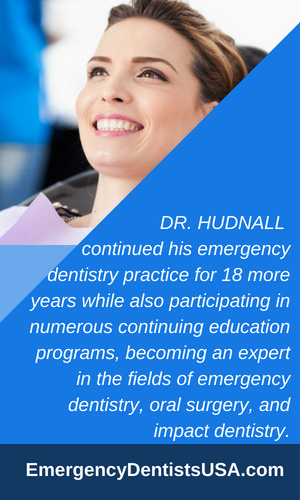 After three years as a general practitioner, Dr. Hudnall decided to limit the scope of his practice in order to serve the needs of those requiring emergency dental services, extractions, and dentures. In 2015, Dr. Hudnall received additional training from the Live Implant Training Institute so that he could begin providing implant services to his patients – restoring function to those who lost their natural teeth to tooth decay and gum disease.
Dr. Hudnall continued his emergency dentistry practice while also participating in numerous continuing education programs, becoming an expert in the fields of emergency dentistry, oral surgery, and impact dentistry. Dr. Hudnall also became a member of both the American Academy of Implant Prosthodontics and the International Congress of Oral Implantology.
Dr. Hudnall & Emergency Dentists USA
Dr. Hudnall retired in September of 2017, but remains passionate about connecting patients with emergency dental care and continues his work through Emergency Dentist USA. As one of our expert dentists, Dr. Hudnall makes sure that all of the information we provide through our Dental Blog is founded in evidence-based science and paints an accurate representation of what it's like to visit an emergency dentist in the year 2018. He knows better than anyone how to navigate the availability of emergency dentists, what to expect from an appointment with an emergency dentist, and what kind of special procedures such a dentist might perform. And as an expert in implant prosthodontics and oral implantology – as well as the dangerous effects of untreated tooth decay and gum disease – Dr. Hudnall is an invaluable member of the team whenever we're writing about or forming new partnerships with dentists in those areas.
Emergency Dentists USA's unique expert dentist partnerships are just another way that we're dedicated to providing you the best possible care and the most accurate possible information through our Dental Blog.
Connect on LinkedIn With Dr. David R. Hudnall