Helping Thousands of People Each Year Find Dental Services
Emergency dental surgery, cavities, general dental care.
Find immediate help, no insurance required.
Get relief from chipped, cracked or lost teeth, abscesses or toothaches.
How Emergency Dentists USA Works
Our emergency dentist directory can help you find a 24 hour dentist near you for your dental emergency.
Emergency Dentists USA partners with emergency dental clinics that are:
Available Where You Are
Available When You Need Them
Call Our Helpline at 1 (888) 420-6826 to speak with a dental referral specialist and find relief today.

You Have a Dental Emergency…

…We Have Emergency Dentists That Want to Help You!

We know that when you find yourself in need of an emergency dentist, you want to be assured that the dentist you choose is of the highest caliber.

At Emergency Dentists USA, our team works to vet our potential partners so that you get the quality of care that you deserve.

Our partner dentists offer:
Reasonable Prices
High Quality Work History
Accredited Practitioners
Once our team is satisfied with the qualifications of the prospective dentist, we add them to our listing and begin recommending them to patience in their area over our helpline.

High Quality Information You Can Use…

…Information From a Source You Can Trust

At Emergency Dentists USA, we proudly work side by side with dental experts from all over the country to ensure that the information that we provide to you is the most accurate, up-to-date information available.

Our dental experts offer you:
Over 50 Years of Experience
Medically Fact Checked Content
Up-To-Date Information
Our Helpline is 100% Free! We will find you a dentist in your area! Call 1 (888) 420-6826 Today!
What People Are Saying About Emergency Dentists USA
24 Hour Emergency Dentist Specialists
Thanks for visiting our emergency dentist site! This is the place to find help if you have a tooth ache, cracked or chipped teeth, abscess or any other mouth pain, we'll help you track down a 24 hour dentist near you, for your dental emergency. We've located the best emergency dental clinics that are ready to provide you with the services you need even if you need an emergency dentist with no insurance.
Popular States:
Find An Emergency Dentist Near You by State or City Below!

What We Do
We are Emergency Dentist USA, a dental referral service dedicated to providing our customers with the best possible dental care at their exact moment of need.
Our primary service is a toll-free helpline which you can call at 1 (888) 420-6826. This number is available at any hour of the day or night and can be called on any day of the week, including nights and holidays. Our referral specialists are polite, professional, and extremely well-trained. They will work with you to find an emergency dentist who is close to your home, qualified to help with your specific dental problem, and willing to work with your level of income. Our specialists have been working to connect patients with dentists for years now and can even set up the appointment for you if you so desire!
Our secondary service is the Dentably Blog which you're reading right now. Through this site we can educate our readers about the process of going to an emergency dentist, help them understand and relate the symptoms they might be experiencing, and keep them updated on what they can do at home to take great care of their teeth.
Finally, we also provide an online listing of our partnered emergency dentists, so that you can find the perfect dentist for you without having to call the helpline. This listing is available here.
You can learn more about our mission and core values by clicking here.

Who We Are
We are a team of dental marketing experts who have been working with dentists and patients since 2013. The company was founded by Michael Plambeck, an entrepreneur and dental marketing expert from the heartland of the United States. From there, Michael has continued to hire experienced team members who are passionate about helping patients and who are highly qualified in their fields. We place expertise at a premium!
We also work with our team of expert dentists who ground us in a strong understanding of what it's like to visit a modern emergency dentist's office and help us keep up-to-date on all the latest procedures. You can learn all about these experts in the section above, or by reading our About page.
Table of Contents

Find An Emergency Dentist Near You
An emergency dentist may be necessary in a number of different situations, if you find yourself in dental pain and you think you're having a dentist emergency you should evaluate the situation.
You're probably asking yourself "Where can I find an emergency dentist near me?"
Whether you need an emergency tooth extraction dentist, or if you're looking for an emergency oral surgeon near you, our directory and referral service will help you find the best emergency dentist 24/7 for your specific ailment.
The most common question we get is how to find an emergency dentist, but we also get a lot of people looking for same day denture repair. We suggest locating your state and city at the list above and finding the local emergency dentist referral phone number listed there. Recently we've had some patients looking for online teledentistry, you can read more about it by clicking the link.
Our referral service has connections to emergency dental clinics that you may not be able to make on your own, and we can help you get an appointment at the next available clinic, whether you need an emergency tooth extraction or any other procedure.
These emergency dental professionals will be able to help you with emergency wisdom teeth extractions, chipped teeth, abscesses and more. A local emergency dentist is only a few clicks away.
Please, do yourself a favor and get your dental work done and let us help you find the right dentist or local emergency periodontist, and in the future take better care of those pearly whites so you don't find yourself in this situation again!
We also have our directory in Spanish you can find it here, Se Habla Espanol? Buscando una dentista cerca de tu ubicacion?
---
24 Hour Dentist Near You
When you've injured yourself after regular dental business hours, and you're wondering "Is there a 24 hour dentist near me?" we have some disappointing news for you. 24 hour emergency dental care can typically only be had at your local emergency room.
Most times you will find that the nearest medical emergency room will employ some sort of 24 hour emergency dentist because most times there are no 24 hr dentist offices available.
But to be 100% sure you should call the referral specialists hotline we provide and they can tell you if there is a 24 hour dentist open near you.
Our directory does include a few hospitals so feel free to look through and see if you can find the nearest to you, or call our referral specialists and they can connect you with the next available local 24 7 dentist service provider, in minutes, for free!
As we've said in the past, 24 hour dental clinic are the worst to locate. I can only name a few in the entire United States. However if you call our specialists they're the one's who are going to have the specific information to find out if there an emergency dental clinic in your local neighborhood.
If you're looking for a dentist open on Saturday, Sunday or the Weekend then you shouldn't have any trouble finding one. Saturday dentist offices are easy relatively easy to find using our directory, Sunday clinics are a little more difficult to find, but we can help there as well.
---
Emergency Dental Care
It requires a specific set of dental criteria to take care of each dental emergency situation. Finding emergency dental care near you is only one part of the equation. There are a number of preparations you can do for yourself while you're waiting to meet with an after hours dentist.
Toothache
A toothache is the #1 highest occurring dental emergency that requires patients to seek out a walk in dentist nearby. Common medical suggestions for dealing with a toothache are to rinse the mouth using warm water, then try using dental floss to remove any obstructions that may be causing the pain. It is never recommended to use aspirin directly on a toothache. Finally, if it's after normal business hours, get a hold of an after hours business using our services.
Chipped or Broken Teeth
Chipped and broken teeth are the second most common complaint of emergency dental care clients. These are very common incidences that can be fixed quickly through an after hours dentist appointment with the a dental care clinic. While you're en route to your meeting, make sure you bring the broken piece of tooth with you. Using a cold compress can help alleviate some of the pain and keep the swelling down, that's what the after hours dentist would suggest.
Lost Tooth
Having lost a tooth is a serious matter. Most times this is from a naturally occurring illness within your gums, but sometimes it can be from a traumatic accident. Make sure to clean the tooth off gently with warm water, do not brush it or you may damage the tissue. If you cannot replace the tooth into the socket, keep it in milk while you are travelling to the after hours dentist, because you definitely need to see an emergency dental care professional at this point.
Lost Fillings and Crowns
Lost Fillings and Lost Crowns are very common in the after hours dentist industry. Especially when you've had the crown or filling for many years. Dental work is not permanent, although it is very strong and long lasting. If you find yourself in this situation, try to find the missing piece and bring it with you to your date at the emergency dental office.
An Abscess
Suffering from an Abscess can be extremely painful. These types of infections can get you at the root of the tooth and touch the nerve which causes a lot of pain and may require a local root canal dentist. It's important to find an emergency dental clinic right away at this juncture because an abscess can progress into something worse over time without seeing an after hour dentist. You can end up losing tissue in your mouth because of the infection if you let it go. Really the only thing you can do besides head to an emergency dental clinic is rinse the area of your mouth with a light saltwater solution to help keep it clean.
Broken Braces
If you happen to be suffering from broken braces or wires from your braces poking into the interior skin of your mouth, you're going to want to cover those pieces of broken wire as soon as you can. It is suggested to purchase dental wax over the counter at most pharmacies, in fact when the dentist installed the braces they probably gave you a small container of the wax for just such occasions. Take a small ball of the wax and roll it up in your fingers and then place it gently over the top of the wire that is bothering you. Next find yourself an appointment with an orthodontist.
Soft Tissue Injuries
There are various sorts of injuries you can have to the interior of your mouth, tongue or gums. These types of injuries can result in blood loss and can be dangerous if not cared for properly. It is suggested to rinse the mouth with warm salty water in order to clean the affected area, then use an ice pack to numb the pain and slow the bleeding. Typically you will want to see a doctor or dentist at this point.
Source: WebMD Dental Emergencies.
---
Emergency Oral Surgeon
Emergency Oral Surgery is another matter entirely. This type of situation usually is not warranted for a small thing like a lost tooth or missing crown. You may run into a situation where after hours dentist care is warranted if you have let an abscess go so long that it is threatening other teeth in your mouth.
---
Dental Emergency Room
The dental emergency room is one place where you should hope to never find yourself. If you're taking good care of your teeth, brushing twice a day, flossing and using some sort of rinse, you should never end up in the dental emergency room.
My dental service provider always recommended plax, anti cavity rinse with fluoride. Actually since I was younger I had a lot of cavities, and now that I use the fluoride rinse I haven't had a cavity since. Dental emergency room visits aren't going to come from cavities though.
However, accidents happen, as well as long term tooth neglect, and that is when you may typically find yourself under the knife of at the dental emergency room. We want you to feel secure that you can call our specialists an they can point you in the direction of the #1 Emergency Room Dentist locally, in your neck of the woods.
Most regular hospitals don't have the staff to cover you with comprehensive emergency dental professionals. There are many tooth doctors out there, however, that do collaborate with Emergency Rooms at hospitals in order to take care of patients who have extremely difficult situations involving their teeth, jaw or gums.
These night dentist professionals are typically connected to the emergency room at their local hospital and when a situation arises in which the doctors need the services of an emergency dentist, they call their local emergency oral surgeon and send the patient to them.
---
Closing
At Emergency Dentists USA we hope to be able to help you with any of the myriad types of after hours dentist emergencies that may arise in your lifetime from sedation to local holistic dentists.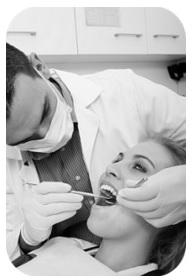 Not only do we help explain and educate to the public about these problems but we also want to help connect you with a dentistry executive who can serve your needs.
Each patient has a specific set of problems that will need to be evaluated by a dentistry professional, preferably a local one.
Please take a moment to use our "Find A Dentistry Office" services in order to get in touch with dental professionals in your neighborhood.
If you have any questions or comments please reach us at the contact page listed in the top navigation. We'll get you into the dental chair super fast, just like this lady here, having her emergency dental problems resolved by a local dentist!!

Emergency Dental FAQ
How much will emergency dental care cost?
Emergency dental care should be priced the same as regular everyday care. You may have to pay an appointment fee if you're booking something that is after hours in the evenings or the weekends. We suggest using a dental discount plan to defray the costs of care. Some plans can save you as much as 40% if used properly. There are a variety of dental plans but we typically recommend plans by Careington.
When do you need an immediate dentist vs. when should you make an appointment?
When you have a dental emergency, waiting days or even weeks for a dental appointment means that your discomfort continues and your condition possibly worsens. An immediate care dentist is available to treat your dental emergency immediately, making this dental option the best choice for a painful dental emergency. This is especially important if your dental condition includes an infection like an abscess, a tooth that has been knocked out or a painful toothache that occurs without explanation. A dental emergency like a lost filling or a loose crown can usually wait until you are able to make a dental appointment.
Who do I call for a dental emergency (dentist, ER, etc.)?
When you have a dental emergency that occurs due to a fall, a sports injury or even a car accident, you should always call or visit the local hospital emergency room or medical care center to ensure that you have no life-threatening injuries. If your dental emergency includes a lost filling, an object caught between your teeth, or a loose crown or something non life threatening, you can call our service or your local dentist.
Should I call a dentist vs a doctor for a mouth/tooth issue?
Unless your mouth or tooth issue is caused by an accident like a car accident, a sports injury, or a fall, you should call your dentist for any mouth or tooth issue. Your dentist is trained to handle any dental emergency that might occur, and his or her office is equipped with the right dental technology to ensure that your mouth or tooth issue is cared for correctly.
What types of payments are accepted by dentists?
Most dental offices accept a variety of payment forms including cash, most major credit cards, personal checks, and some even offer low-interest payment plans for dental services. Many dental offices also accept dental plans or dental health savings plans.
How do I find a Spanish speaking dentist?
Finding a Spanish-speaking dentist is as simple as scrolling through the comprehensive listing of excellent dental clinics on Emergency Dentists USA. You can also call the 24-hour dental emergency hotline to speak with a customer service agent who can help you to choose a dentist who speaks Spanish or offers a Spanish-speaking staff member.
How do I get an emergency dentist appointment?
You can get an emergency dentist appointment by contacting any of the dental offices listed on the Emergency Dentists USA website. You can also get an emergency dentist appointment by speaking with a friendly operator on the 24-hour dental emergency hotline provided by EmergencyDentistsUSA.com.
Can you go to the ER for a dental emergency?
A lot of people tend to gravitate toward their local emergency room when a dental emergency strikes, but this isn't always the best idea. True, some emergency rooms have an emergency dentist on-call, but this is rare and not something you should expect when you arrive there.
Can I go to the ER for tooth infection?
If you have an infected tooth, the best place to go is to your dentist, have us send you to an emergency dentist, or go to the emergency room. Oral infections, which include a tooth infection, are a dangerous dental emergency that may require antibiotics straight away, depending on the severity of the infection.
Can the emergency room pull a tooth?
If it's absolutely necessary, yes, an emergency room doctor can pull a tooth. However, you should check with an urgent dental care clinic to see whether or not the tooth can be saved or if something else can be done.
How do I find the best dentist in my area?
Finding the best dentist in your area may not be easy to do. Simply doing a search on Google, for example, may not always yield the results you're looking for. We take the search into our hands and find the best dentist, be it a regular dentist, an emergency dentist, or one who offers both services, based on your requirements.
Is a tooth abscess considered an emergency?
Oral abscesses are considered to be a grave dental emergency that must be treated as soon as possible. If you suspect you have an abscessed tooth, or any other type of oral infection, seek treatment immediately before it's too late.
Can I get an emergency dentist appointment?
Of course, you can! To have us book an appointment with a local dentist in your area, all you have to do is give us a call at (855)-352-6790, give us your details and some insight into what your dental emergency is, and we'll call you back with an appointment booked in your name in a minimum of 24 hours.
Do you have to pay for an emergency dentist appointment?
If you do not have applicable dental insurance to cover your dentist appointment, you will need to pay for it out of your own pocket.
What would be considered a dental emergency?
Any dental emergency can be classified as an issue that requires treatment immediately in order to alleviate moderate to severe oral pain, stop oral bleeding, treat an infection, etc. More often than not, a patient's dental emergency will worsen because they believe what they're experiencing can wait for regular hours when their dentist is open. Appointments can take weeks, however. Anything from a toothache to an oral infection are considered dental emergencies.
Do urgent care medical clinics do dental work?
Yes, these types of medical clinics will do dental work if it's direly needed, but we recommend visiting an urgent care dentist rather than a medical clinic.