Helping Houston Residents Find IMMEDIATE Dental Services Everyday.
Get relief from chipped, cracked or lost tooth
Abscess, toothache, mouth pain
Emergency dental surgery
24 hour services - Includes weekends, nights and holidays

24 Hour Emergency Dentist Houston, Texas
We specialize in Houston Emergency Dentistry:
Click to go to list of Dentists.
Finding an emergency dentist in Houston TX really isn't that difficult, the Lone Star State and one of its largest cities, Houston, is home to many medical and dental facilities that can provide first rate services to individuals at all hours of the day. Irrespective of whether you're looking for a Saturday or Sunday dentist, finding a qualified Houston emergency dentist in those unusual situation when you cannot wait for the weekend to come to a close, is a lot easier than you may have thought, 24 hour dentists in Houston are available!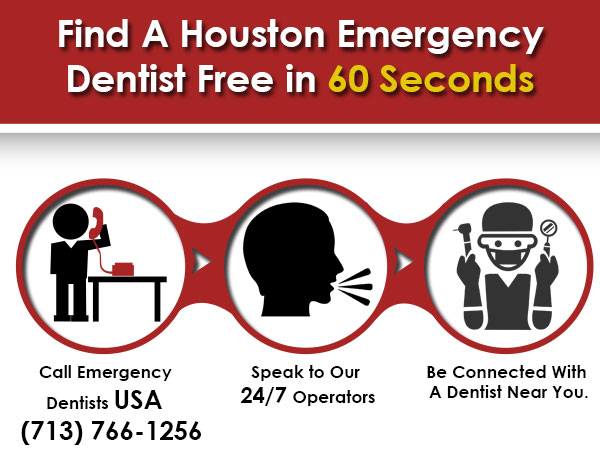 Call 24/7: 1 (877) 507-0879
Thank You Emergency Dentists USA, My young daughter fell off her bike Friday night and chipped a tooth. She was unable to eat or drink, every time she did she would start crying and it was breaking my heart. We didn't have the money to make a trip to the emergency room, and all the dental offices we tried to call were just giving us answering machines. We were able to get into see a Houston urgent dentist that night at a clinic that wasn't that far from our home! Thanks Again!
You saved me over last weekend! I couldn't get any dentists offices to answer the phone but you helped with just a short phone call, found me an appointment right when I needed it!
Emergency Dentist in Houston TX
This is a very prosperous and progressive hub of the southern United States, and many thousands of travelers pass through here every day. Amusements parks, pro sports teams, and many very profitable companies are located here, along with many opportunities to have a sudden dental emergency arise. Our portal can help you quickly locate an emergency dentist in Houston TX, when you don't feel as if you have many options, and time is of the essence.
You can simply pull up our web portal, look up the city of Houston, and locate the dentist that is closest to you. We know that many patients get frustrated when they are looking for a true emergency dentist, and they are bombarded with listings that don't open back up again until the following Monday morning. Now that you have located this website, you can get yourself back on track, and be sitting in the chair of a trained professional quickly.
---
Emergency Dentists USA Referral Service Houston
Phone Number: 1 (855) 401-2701
Address: Referral Service to Various Dental Offices across Houston
Doctors Multiple
Description Call to be connected with the perfect urgent care dentist for you. Houston is a large city and we have the connections to find a dentist to fit your needs, and can get you an appointment immediately. This service is offered throughout Houston and finding a 24 hour dentist is simple and easy because of the emergency dentist partnerships. Let the work be done for you! Get help finding an emergency dentist without insurance, or with your insurance coverage. Easily find Texas emergency dentists with our service.
---
The Heights Modern Dentistry
Phone Number: 713-868-4488
If Closed: Call (855) 276-1128 and let our Operator help you find an emergency dentist.
Address: 1911 Taylor St Ste D Houston, TX 77007
Website: http://www.theheightsmoderndentistry.com/
Doctors: WILLIE CRADOC, III
Description: They pride themselves in their service at the Heights Modern Dentistry. They will take care of you in any emergency dental situation. They have some evening hours on Monday and Tuesday, as well as being open from 9-2pm on Saturday. This should help you take care of your urgent dental problem.
Mon 9:00 AM – 6:00 PM
Tue 9:00 AM – 6:00 PM
Wed 8:00 AM – 5:00 PM
Thu 8:00 AM – 5:00 PM
Fri 7:00 AM – 3:00 PM
Sat 9:00 AM – 2:00 PM
---
Dentistry of Highland Village
Phone Number: (713) 360-7700
If Closed: Call (855) 276-1128 and let our Operator help you find an emergency dentist.
Address: 3651 Weslayan St. #208 Houston, TX 77027
Website: http://www.dentistryofhighlandvillage.com/
Doctors: Dr. Katya Shevchenko
Description: Having hours from 7am to 7pm seven days a week makes this dentist a great option for you to choose to resolve your after hours dental care necessities. They offer a full service dental office and can take of you anytime during their extensive open hours. This makes them an excellent Saturday dentist which means if you're seeking a weekend dentist with hours available, this is a great choice.
Monday – Saturday 7:00am – 7:00pm
---
Oak Forest Dental Group and Orthodontics
Phone Number: 713-263-7913
Address: 1354 W 43rd St Ste C Houston, TX 77018
Website: http://www.oakforestdentalgroup.com
Doctors: EKTA DILAWRI
Description: Oak Forest Dental group has excellent hours of service and offer a great opportunity for finding an emergency dentistry appointment in Houston. They are open til 6pm most weekdays and they have Saturday hours!
Mon 7:00 AM – 6:00 PM
Tue 7:00 AM – 6:00 PM
Wed 7:00 AM – 6:00 PM
Thu 7:00 AM – 6:00 PM
Fri 8:00 AM – 5:00 PM
Sat 9:00 AM – 2:00 PM
---
Signature Smiles Houston Dentist
Phone Number: 713.352.0725
Address: 3800 N. Shepherd Houston, TX 77018
Website: https://www.mysignaturesmiles.com/
Doctors: Dr. Kevin Yeh, DDS
Description: Signature smiles will help take care of whatever your emergency dentist needs are. They have some great hours of service and are excellent at getting new patients in to see the dentist. Check out their Saturday dentist hours from 8am to 3pm!
Monday – Thursday:7am-7pm
Friday – Saturday:8am-3pm
---
Emergency Dental Care USA – Houston
Number: 713-893-5057
Office: 5959 West Loop S, Ste 520, Bellaire, TX 77401
Doctors: Dr. Jama Saba, Dr. Bart Christiansen
Website: www.emergencydental.com/houston
Description: Whether you've chipped a tooth, or you just need urgent relief for a toothache, Emergency Dental Care USA in Bellaire is available for same-day appointments. We can get you in our office and out of pain as quickly as possible. Our experienced, and compassionate staff will help make your visit as quick and comfortable as possible so you can get out of pain and on with your life. The clinic is open evenings, weekends and most holidays. For your convenience, we can usually provide same-day appointments and treatment (whenever possible). We accept most dental insurance on indemnity basis, and offer payment options and financing to suit most budgets.
Monday 9am 9pm
Tuesday Closed
Wednesday Closed
Thursday 9am 9pm
Friday 9am 9pm
Saturday 9am 9pm
Sunday 9am 9pm
---
Memorial Park Dental Spa
Phone Number: (713) 561-5298
Address: 6010 Washington Avenue, Suite D (6010 Washington at Westcott) Houston, TX 77007
Website: http://www.memorialparkdental.com/office-location
Doctors: Dr. Nishano Thomas
Description: Dr Nishano Thomas keeps great hours for those of you who need a non traditional after hours dental appointment. This dental spa will take care of all new patients who call and are looking forward to helping with your Houston Saturday dentist needs.
Monday: 10:00 a.m. to 7:00 p.m.
Tuesday: 11:00 a.m. to 7:00 p.m.
Wednesday: 7:00 a.m. to 3:30 p.m.
Thursday: 7:00 a.m. to 3:30 p.m
Friday: 7:00 a.m. to 3:30 p.m.
Saturday: 7:00 a.m. to 3:30 p.m.
---
Dental Emergency Houston
Number: (281) 980-0101
Office: 15207 Southwest Freeway Sugar Land, TX 77478
Doctors: Dr. Behramji Mehta
Website: http://www.dentalemergencyhouston.com/
Description: Offering true 24-hour service and the ability to see you for anything that occurs while on vacation or at a family gathering, this clinic is known as Houston's true solution for emergency dentistry. When after hours or late night issues occur, it's easy to feel hopeless, and like no doctor will ever be able to see you. Don't worry about your past bad experiences, and know that a competent emergency dentist is ready to see you right here in Houston.
Emergency Dentistry – 24/7
---
The University of Texas School of Dentistry
Number: (713) 486-4000
Office: 7500 Cambridge St. Houston, TX 77054
Doctors: Dr. John A. Valenza
Website: https://dentistry.uth.edu/
Description: For over a century, this university has been providing walkin dentist emergency care, and just 4 years ago completed a 300,000 square foot facility that was deemed a pure success. This is a walk-in clinic that can take care of extractions, root canals, pediatric dentistry, and cracked or broken teeth. You need not be afraid to have students work on you: the discounted rates are well worth it, and this is one of the best dental institutions in the nation.
Driving Directions
---
Help on Finding a 24-hour dentist in Houston TX

When you pull up our listings section for Houston, the fifth listing down is for Emergency Dental Care USA of Houston, and they are open 7 days a week. They are not a true 24-hour clinic, but are at least open Saturday and Sunday from 9AM until 9PM. Memorial Park Dental Spa is the 6th clinic listed, and they have late hours on Mondays and Tuesdays, when they are open until 7PM, and they are open every Saturday from 7AM until 3:30 PM.
The 24-hour dentist in Houston TX clinic is quite a bit different then a standard week clinic: just being open that late into the night can raise the fee considerably. It's definitely worth it, because when you have a serious injury that catches you off guard, you're going to want to be seen immediately. If you are in the worst of pain, x-rays will be the first item on the agenda to pinpoint where exactly the origins of the pain are. If you do need an extraction, try not to be fearful: these are very skilled professionals with years of experience. You may need to come back in the future for items like scaling or root canal therapy, and the staff at the clinic will let you know if you do.
What to Expect during your Houston Emergency Dentist Appointment
You may be in a great deal of pain when you first arrive at the Emergency Dentist in Los Angeles, but be prepared to fill out some formal paperwork when you arrive. This paperwork will assure that you are seen quickly, and you will just be offering some personal information about yourself, and a bit about your medical and dental history to show the dentist on staff what they can expect.
Be aware that no matter how severe your injuries are, you may have to wait just a little bit to be seen. The people that staff these clinics try their best to get you in rapidly, but in a large city with many things going on, you may be waiting just a little while. As soon as you arrive, the dentists and front office personnel will be working as hard as possible to assure that you will be seen rapidly. Emergency dentists are trained to deal with those that may have dental anxiety, and will have numerous options to make you feel more at ease.
What do I Expect From Urgent Dental Care in Houston TX?

Houston is a city that has a very large population base, and where many professionals are scrambling daily to make sure that they get everything on their to-do list completed. Many different kinds of dental emergencies can sneak up on you at any time of the day, and this is why urgent dental care in Houston TX clinics are open so much later than regular ones. Since they are accommodating you at hours that are a bit outside the norm, you can expect a bit of a higher charge.
Make sure that you bring everything you can find in relation to your insurance coverage: you may want to make sure that you are carrying cash or your debit card for payment. Sometimes insurance companies have to go through a pretty long series of events to make a claim, and this is why the urgent care clinics still want payment up front. Many of them do not require an appointment at all, but it's a good idea to call the clinic and check ahead to see what their day is looking like, and inquire about what you can expect.
What to Know about an Emergency Dentist Clinic in Houston TX

An emergency dentist in Houston TX clinic is always standing by to give assistance with issues that are much different than the weekday clinics see. Since a potentially injured jaw or injury such as a tooth knocked out can provide quite a bit of trauma, they are prepared to get you comfortable right away, and will understand if you are noticeably shaken. They are prepared to perform items like extractions on the spot if need be: sometimes the teeth that have been infected for a long period of time just have to come out to regain your dental health.
The emergency dentist will first take a very detailed look at what is happening with you using x-ray diagnosis to see how they can help in the quickest form possible. They may be open very late into the night and on weekend days like Saturday and Sunday, because these are the times that a majority of dental emergencies take place during. Due to the urgent nature of the conditions that find their way here, they can offer you pain medication to make you more comfortable, along with many options for sedation dentistry.
What are the characteristics of a Walk-in Dentist in Houston TX?

If you run into trouble in Houston such as a broken or cracked tooth, aching tooth, or anything else, you are going to want to see a walk-in dentist in Houston TX that has the ability to see you as soon as possible. A walk-in dentist may not be open quite as late as an emergency clinic, but the best thing about them is at least you can show up without an appointment. You may be waiting for just a short while in order to be seen, but the walk-in dentist clinics do a great job of seeing you unannounced, and they can be the best hope you've got at getting rid of intense pain.
You will still want some of your insurance information with you handy to provide, but be aware that even the best of policies don't always cover walk-in dental visits. Most walk-in dentists pride themselves on being truly flexible, and are prepared to offer affordable services. In large cities such as Houston, many of them offer in-house financing, just another reason they can be so convenient.
What if I need a Tooth Extraction In Houston TX?

You may need an extraction at a weekend dentist in Houston TX for any number of reasons. Sometimes when a tooth reaches a certain level of infection, it has to come out, and this is an even better solution than root canal therapy. Some of the symptoms you may notice when you need this procedure are intense pain in the tooth, and very extreme sensitivity to hot or cold. When you go to a late-night clinic in Houston to have an extraction, you can rest assured that you'll feel much better when that tooth is out.
After you have your extraction, the pain subsides very quickly. Having an extraction on a tooth that desperately needed it sometimes does not hurt nearly as bad as having wisdom teeth pulled, and the pain may only last for about two days. The gums in the affected area will take awhile to heal, and you should not attempt to eat very sharp foods such as chips or apples. Some of the options that are softer and easier are applesauce, corn, and softer elements of nutrition such as oatmeal.
Our portal is a great place to locate a 24-hour dentist in Houston TX, when pain has got the best of you, and you don't know where else to turn. There are clinics that are here to help you immediately, and won't make you wait until the next week begins to be seen. Issues ranging from abscessed teeth and wisdom teeth coming in are among those that you will need looked at quickly, and the types you can get help with at these clinics. So many instances occur during which you have to have someone on hand at the late-night or weekend hour, and we are here to provide you their listings and contact info, on the double.