Helping Residents Find LOCAL FEMALE Dental Services Everyday.
Female dentists for emergency dental services and dental maintenance
Find the best female dentist for your needs
Emergency dental surgery.
Female Dentist Near Me – Find a Local Female Dentist
It's no surprise that many female patients would prefer to see a female dentist. That doesn't present a problem at all when we assist you with finding a local dentist. Instead of searching phonebook listings or random listings online, we can help you find a female dentist nearby that can assist with your dental needs quickly.
When you visit emergencydentistsusa.com, you're able to view a list of dentists that are close to you. You can see the office location, hours, dentists available, and even the types of insurance and payment methods that they accept. Finding a female dentist is a lot easier when you can see the hours that they are open as well as some of the dental treatments they provide all in one quick view. All you'll need to do is enter the city and state that you're in to view dentist offices in that city and nearby that will suit your dental needs.
If you're unable to get online, you can call our toll free dental finder hotline. We have friendly operators that are ready to assist you with finding a female dentist nearby 24/7. They'll go over the choices with you, and once you decide the one that you'd like to see, they can even schedule your first appointment for you and provide directions directly to that office.
How to Prepare for Your First Appointment
When you're going to a new office for the first time, there will definitely be plenty of paperwork for you to fill out as well as documents that you need to sign. In order to get this stuff completed prior to your appointment, you should arrive at least 15 minutes ahead of time. This will give you time to fill out the papers without feeling rushed.
When you're going to a first appointment, there are few things that you should bring with you. Make sure that you bring a valid ID, a copy of your insurance card if you have one, and a list of any current medications that you are taking. If you don't have insurance or if you are aware of the copay that you will owe, make sure you bring any money that is due at the time of service. Doing these basic things will ensure that your first appointment goes smoothly.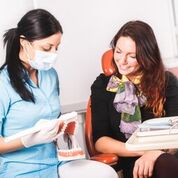 FAQ
Will it be hard to find a female dentist nearby?
No. When you choose emergencydentistsusa.com to help you find a female dentist nearby, it won't be hard to find one at all. You'll search by the city and state that you would like your appointment in and be able to view offices, their dentists, hours, and various details. We make it simple for you to find a woman dentist near you that is ready to assist with your dental needs.
Will I be able to see if there is a female dentist at a location when I look at listings?
Absolutely. When you look at listings on our site, you'll be able to see the dentists listed for each location as well as the dentist office's website. Most of the dental sites include pictures of their dentists along with their bios, so you will know right away if they have a female dentist there that can suit your dental needs.
Are there female dentists available to see my family?
Yes. Many of the general family dentists have at least one female dentist available. They are able to see patients of all ages. From children to the elderly, you'll be able to find a female dentist that can assist your entire family with their dental needs.
When I call the office, can I request seeing a female dentist?
Of course. When you find a dental office on our site and view their dentists listed, you can definitely request to see the dentist that you would like to see when you call their office. Many dentists understand that women prefer to see a female dentist and have no problem setting up an appointment with the dentist that you will be most comfortable with.
Preparing for Your Female Dentist Appointment Ahead of Time
Whether you're seeing a male or female dentist at your first visit to any practice, you should always check to make sure that they have the proper licenses and credentials to practice. You can check this before your first appointment by looking online, or if you would rather wait, you can check in the office at the time of your appointment. If you choose to check prior to the appointment, type in your female dentist's name on your state's Dental Association website. You'll be able to see all of the credentials and licenses that are current for that dentist immediately. If you'd prefer to ask at the time of your first appointment, then simply ask the receptionist when you arrive for your appointment. Most dentists frame their achievements and certifications to hang them throughout the practice. The receptionist will gladly show you these before your appointment.