Helping Dallas Residents Find IMMEDIATE Dental Services Everyday.
Get relief from chipped, cracked or lost tooth
Abscess, toothache, mouth pain
Emergency dental surgery
24 hour services - Includes weekends, nights and holidays
Find a Dentist 24/7
Near You IMMEDIATELY
Click or Call Toll-Free
1 (972) 432-7965
Emergency Dentist Dallas Texas
---
We Specialize in Dallas Emergency Dentistry: Call 24/7: 1 (972) 432-7965
Monday – Friday, See A Dallas Dentist The Same or Next Day/Night You Call!.
Saturday And Sunday, "See A Dallas Emergency Dentist In Hours."
Dallas is a big, beautiful city. With so many people wanting to live downtown, it can be difficult to get into a emergency dental care office at the spur of the moment. This can be incredibly frustrating, especially when you are in a great deal of pain. Fortunately, there are 24 hour dental clinics in Dallas. You can use these Dallas emergency dentists in the middle of the night and on the weekends, which makes it easy to get the dental care you need when you need it.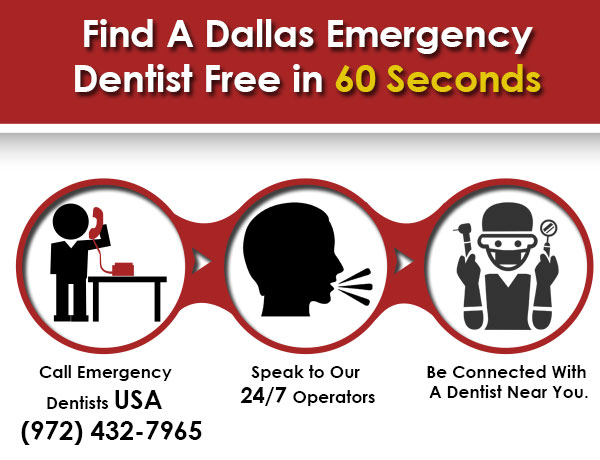 Call 24/7: 1 (972) 432-7965
Directory of Emergency Dentists in Dallas
The following are some of the best weekend dentist in Dallas. You will also find some 24/7 dental clinics. Be sure to call them before you head over to them to make sure they are not compounded with many patients, which would mean you would have to wait. Waiting can be so cumbersome when you are in so much pain. Now that you have this information, let's get started with one of the best directors for urgent care dentists in Dallas.
If you'd rather have us do the work for you, simply call the hotline number at the top of this page and we'll help you connect with an emergency Dallas Dentist in minutes!
---
Emergency Dentists USA Referral Service Dallas
Phone Number: 1 (877) 507-0879
Address: Connected To Various Dental Offices across Dallas
Doctors Multiple
Description Call to be connected with the perfect dentist for you. Dallas is a large city and we have the connections to find a dentist to fit your needs, and can get you an appointment immediately. Get help finding an emergency dentist without insurance, or with your insurance coverage. Find Texas 24 hour dentists today.
---
Dossett Dental
Phone Number: 972-330-4357
Address: 6959 Arapaho Rd Ste 595 Dallas, Texas 75248
Website: www.dallasdentalemergency.com
Doctors: Dr Dossett & Associates
Description: This Dallas emergency dentist has comprehensive dental care services. They provide  cosmetic dentistry services including teeth cleaning and whitening, dentures, polishing, and
veneers plus more. While you may not be able to get all of these services in the middle of the night or on the weekends, you should be able to get your most pressing matters resolved quickly.
Monday 8:30am – 5:30pm
Tuesday 8:30am – 8:00pm
Wednesday 8:30am – 8:00pm
Thursday 8:30am – 5:30pm
Friday 8:30am – 4:00pm
Saturday 8:00am – 2:00pm
---
Emergency Dental Care USA – Dallas
Number: 214-960-5656
Office: 4801 Spring Valley Rd, Suite 30, Farmers Branch, TX 75244
Doctors: Dr. James Vu, Dr. Vladimir Melnikov, Dr. Yaser Hamdan, Dr. Bart Christiansen
Website: www.emergencydental.com/dallas
Description: Open 9am-9pm, seven days a week, including most holidays. Our skilled dentists and caring staff can help get you out of pain quickly. We accept most dental insurance and offer other payment and financing methods to suit nearly any budget. Located in Farmers Branch, and easily accessible from downtown Dallas, Richardson, Lewisville, Irving, Carrollton and The Colony.
Monday 9am 9pm
Tuesday 9am 9pm
Wednesday 9am 9pm
Thursday 9am 9pm
Friday 9am 9pm
Saturday 9am 9pm
Sunday 9am 9pm
---
Dossett Dental Dallas
Number: 1-888-350-1340
Office: 6959 Arapaho Rd, Dallas, TX 75248
Doctors: Dr. Kevin Davis
Website: http://www.emergencydentalservice.com/emergencydentist/Dallas-TX
Description: At Dossett Dental in Dallas, Dr. Kevin Davis starts by gaining a thorough understanding of your unique, individual needs in order to provide the most effective treatments possible. From a Dallas family dentist to the practice-wide services of a leading oral surgeon, all the professionals at our Dallas TX dental office make highly individualized care a top priority. Dossett Dental provides top quality dentistry at reasonable prices and excellent service. You will experience relief, ease, & well being when you join our family of patients.
Mon 8:30am – 5:30pm
Tue 8:30am – 8:00pm
Wed 8:30am – 5:30pm
Thu 8:30am – 5:30pm
Fri 8:30am – 4:00pm
Sat 8:30am – 2:00pm
---
Midway Crossing Dallas Emergency Dental
Number: 214-449-1854
Office: 4235 West Northwest Highway Suite 600 Dallas, TX 75220
Doctors: Dr. Stephen Breaud
Website: www.midwaycrossingdental.com/emergency_dentistry.html
Description: This is one Dallas emergency clinic that all patients are said to love, and so will you! There are many different reasons why an emergency dentist in Dallas may be urgently needed, and it can be frustrating to realize that the most annoyingly select few of them occur at night and on weekends. As menacing as it may seem to a few parents who want their child's dental well-being to stay intact, they urge you to come see them if "Your 6-year old loves the tooth fairy, and has decided to take matters into their own hands".
Monday 8:00 AM to 5:00 PM
Tuesday 8:00 AM to 5:00 PM
Wednesday 8:00 AM to 5:00 PM
Thursday 8:00 AM to 5:00 PM
Friday 8:00 AM to 5:00 PM
Saturday 9:00 AM to 2:00 PM
---
Jefferson Dental Clinics
Number:214-545-0111
Office: 5848 Abrams Rd. Dallas, TX 75214
Website: www.jeffersondentalclinics.com/
Description: The Jefferson Dental Clinic offers a Dallas after hours dentist office that has great hours. They are open til 7pm 3 days a week, Tuesday, Wednesday and Thursday. They are also open Saturday from 9am til 5pm. This means you can easily see a dentist at this office on Saturday in Dallas!
Monday 8:00am – 6:00pm
Tuesday 10:00am – 7:00pm
Wednesday 10:00am – 7:00pm
Thursday 10:00am – 7:00pm
Friday 9:00am – 5:30pm
Saturday 9:00am – 5:00pm
---
Milestone Dental Dallas
Number: 469-513-1868
Office: 10455 N. Central Expressway Suite 113, Dallas, TX 75231
Doctors: Dr. Sulman Ahmed
Website:www.dentist-northdallas.com/
Description: If you're looking for a Saturday dentist in Dallas, the Mileston Dental Dallas group is one of the best with great available hours. They are open on Saturday from 9am til 3pm. They are however, very limited with their weekday hours because they close at 5pm on all weekdays.
Monday 8:00 AM to 5:00 PM
Tuesday 8:00 AM to 5:00 PM
Wednesday 8:00 AM to 5:00 PM
Thursday 8:00 AM to 5:00 PM
Friday 8:00 AM to 5:00 PM
Saturday 9:00 AM to 3:00 PM
---
Atlantis Dental
Number: 214-941-9400
Office: 330 S. Zang Blvd. Suite 100, Dallas TX, 75208
Doctors: Dr. Lalit Bhardwaj
Website:www.atlantisdentalcare.com/
Description: Atlantis Dental on Zang Blvd in Dallas offers a good opportunity for you to see a night dentist in Dallas on weeknights. You can call the office during the day and setup your appointment for 530pm when you get off work because the Atlantis Dental office is open til 6pm Monday through Thursday.
Monday 10:00am – 6:00pm
Tuesday 10:00am – 6:00pm
Wednesday 10:00am – 6:00pm
Thursday 10:00am – 6:00pm
Friday 09:00am – 4:00pm
Saturday By Appointment Only PM
---
Preston One Emergency Dental Care Dallas
Number: (214) 317-4621
Office: 18111 Preston Rd Suite 100, TX 75252
Doctors: Dr. Brenda Jennings
Website: http://prestononedentalstudio.com/services/general-dentistry/emergency-dental-care/
Description: Preston One studio and orthodontics is located on the first floor of the Plains and Capital bank building, in Preston One Center. Here you can receive care for a broken or cracked tooth, broken jaw, permanent tooth knocked out, object caught between teeth, or a severe tooth ache. Even in the sometimes fearful-for-the-patient realm of emergency services, they offer an experience that is interactive, safe, and effective. Also a great clinic to see for dental needs such as orthodontics, you'll feel wonderful when you are finally seeing a professional for the sudden pain that is ailing you.
Driving Directions
---
It takes special dentists to be willing to open their doors in the middle of the night and on the weekend. This is why you can see these emergency dentists in Dallas after hour dentists as some of the best in the city. They are sacrificing their free time and time with their families to be able to help you and your family. Take advantage of these urgent dental care services, so you can have the oral health you need to stay healthy physically.
Have you found the emergency dentist that you need? With so many to choose from, you must have found at least one so far. Sometimes, it just takes making that small step to trying out the dentist to make it a bigger step towards good oral health.
If you ever need a regular dentist, be sure to come back to this website. Even though we specialize in providing emergency dental clinics in Dallas, all of them have practices during normal hours. As mentioned before, dentists that offer after hour dental care are pretty special, so they would make a great regular dentist.
Be sure to let everyone you know about this website. No one ever knows when they will have a dental emergency, and you can be a great friend to someone by letting him or her know to come here for all of the Dallas 24 hour dentist options available in this great city.