Helping Thousands of People Each Year Find Dental Services
Emergency dental surgery, cavities, general dental care.
Find immediate help, no insurance required.
Get relief from chipped, cracked or lost teeth, abscesses or toothaches.
Grand Prairie, TX Emergency Dental Offices
We specialize in Grand Prairie Emergency Dentistry:
Click to go to list of Dentists
Table of Contents
When you experience a dental emergency, things tend to become a bit overwhelming and worrisome. Instead of becoming stressed about where you should go to seek treatment, you can contact our referral service. We have done the work for you and have created a detailed list of emergency dentists in Grand Prairie, Texas who are available when your emergency rises.
Emergency Dentists USA was there when I needed it most! Their employees are great and they can find dentists near you and help you find an appointment.
Finding A 24 Hour Emergency Dentist in Grand Prairie, Texas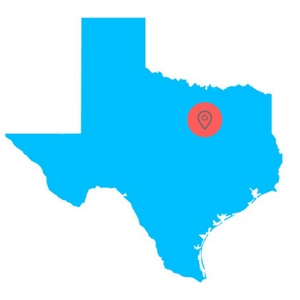 Grand Prairie, Texas offers a few different dental treatment options for emergency services when you are in a dental crisis.
An after hours dental clinic is a regular dental office, but they provide services beyond typical operating hours. Some are open as late as 7 pm on the weekdays and even provide weekend hours on Saturdays for more convenience. If you are experiencing an emergency, this is a good solution for treatment as it allows you to be seen on a more flexible schedule. For those who work during the week and require later weekday or weekend appointments, these clinics provide the ability to schedule an appointment that is more suitable to your schedule.
Walk in dental clinics offer more flexibility of being seen without a prior appointment. This option also offers a suitable solution if you find yourself in need of emergency dental treatment and all other offices are booked with appointments.
Emergency Dentist Listings in Grand Prairie, Texas
Here you will find yourself a detailed listing of emergency dentists in Grand Prairie, Texas. Instead of spending valuable time looking through various dental listings and contacting everyone on the list to find out who is open, you can instead get all the information you need right here.
---
Emergency Dentists USA Referral Service Grand Prairie
Phone Number: 1 (855) 401-2701
Address: Referral Service to number of Dental Offices running inside Grand Prairie
Description: Don't let your visit to the land of open skies and starry nights get ruined with emergency dental pain! One easy and painless call to our 24-7 referral service will have you happily going about your business again pain-free.
---
Lake view Dental Care of Grand Prairie, Texas
Telephone: (972) 314-3104
If Closed: Call 1 (855) 276-1128 and let our Operator help you find an emergency dentist.
Address: 5244 South State Highway Grand Prairie, Texas 75052
Website: www.lakeviewdentalcare.dentalworks.com/Lakeview-Dental-Care
Description: This dental emergency clinic in Grand Prairie, Texas offers flexible appointments and make your dental care an affordable situation given their latitude with financing planning. You can go online to explore your dental options and get an appointment underway or call if you suffer from any form of dentistry malady requiring the assistance of a trained and licensed dentist.
Monday 9am – 6pm
Tuesday 9am – 6pm
Wednesday 7am – 4pm
Thursday 7am – 4pm
Friday 9am – 4pm
Saturday Closed
Sunday Closed
---
Active Dental Grand Prairie, TX (Two ER Oral Health clinics)
Phone: (972) 556-0600
If Closed: Call 1 (855) 276-1128 and let our Operator help you find an emergency dentist.
Active Dental (Irving) 2240 Market Place Blvd #140, Irving, TX 75063
Phone: (972) 606-2999
Active Dental (Grand Prairie) 2205 W I-20, Ste 100, Grand Prairie, TX 75052
Website: activedentalonline.com
Description: Active Dental provides a wide variety of dental services and procedures to address all of their patients' dental health needs. By combining quality patient care with up-to-date technology, they are able to treat patients of all ages in a comfortable and relaxing setting.
Monday 12pm – 6pm
Tuesday 10am – 6pm
Wednesday 7am – 12pm
Thursday 10am – 6m
Friday 9am – 2pm
Saturday Closed
Sunday Closed
Driving Directions – Grand Prairie
---
The Dental Place (Grand Prairie)
Telephone: (972) 264-5795
Address: 2126 Virginia Street Grand Prairie, TX 75051
Website: cosmeticdentistsgrandprairie.com
Description: This practice led by Cecil F. George makes it a point to be open late hours due to emergencies and is led by staff that knows emergencies happen during evening hours frequently when patients may need the most attention. They will get to know you and take the time to really listen to your needs and desires.
Monday 8am – 5pm
Tuesday 8am – 5pm
Wednesday 8am – 5pm
Thursday 8am – 5pm
Friday 8am – 5pm
Saturday Closed
Sunday Closed
---
The kid´s Dentist
Telephone: (972) 282-9444
Address: 2337 S. Beltline Rd. Suite 100 Grand Prairie, TX 75051
Website: www.drjoethekidsdentist.com
Description: Dr. Joseph Anwah is an experienced pediatric dentist who works wonderfully with children. The staff at Dr. Joe's office is well equipped to handle the sensitive nature of a child at the dentist. They also offer weekend appointments on Saturdays twice a month to allow for greater flexibility for working parents. Evening appointments are available Monday through Thursday until 7 pm as well.
Monday 1pm – 7pm
Tuesday 1pm – 7pm
Wednesday 9am – 7pm
Thursday 1pm – 7pm
Friday 9am – 5pm
Saturday Twice a month
Sunday Closed
---
Here's How To Prepare For Your Grand Prairie Emergency Dental Visit
Preparing for a Grand Prairie, Texas emergency dental appointment is very similar to a new patient appointment. Because the dentist is unfamiliar with you and your dental history, it would be beneficial to bring along any vital medical or dental records you may have.
If you have a scheduled appointment, remember to arrive at least 15 minutes before it begins to fill out any necessary paperwork you may have. This can help to speed along the progress of your visit.
Because those in the office are not familiar with you, it is a good idea to inform them of any allergies to medications you may have. You don't want to end up with a surprise adverse reaction, as this could delay your healing time.
Common 24 Hour Dental Emergencies
If you are experiencing any of the symptoms below, it is likely that you need to visit an emergency dentist ASAP. All of these common emergencies can leave you in a lot of pain. Getting it fixed quickly will be the key to avoiding further problems with your teeth.
Chipped or Broken Tooth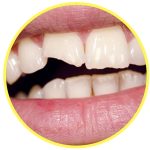 A chipped or broken tooth is one dental emergency that must be handled in a timely manner. To help alleviate any discomfort or pain, you can apply a cold ice pack to the outside of the affected region. This can help to reduce any swelling. Covering the portion of the broken or chipped tooth with dental cement can help as a temporary solution. It is vital that you see a Grand Prairie emergency dentist immediately for the proper care and treatment.
Knocked Out Teeth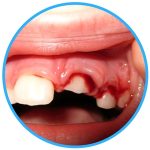 A knocked out tooth can definitely be worrisome and a reason to contact an emergency dentist. There are a few things you can do to help preserve the tooth and increase your odds of saving it. Never pick up the tooth by the root, this can only damage it further. Instead, pick it up by the crown, if it is dirty rinse it gently with milk or water, never scrub it. Try to reposition the tooth back into the socket to help keep it moist. Make sure you don't try to jam it in there hard, as this can cause additional damage as well. If you are unable to put it back in place, putting it in a small container of milk until you are able to see a Grand Prairie emergency dentist is your next best option.
Tooth Trauma Caused by an Accident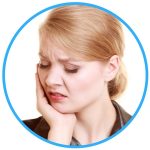 The nature of the tooth trauma as well as the length of time since the injury occurred will all factor into the healing of a dental trauma. This is why it is very important to see a Grand Prairie emergency dentist immediately when you experience any trauma to the mouth. Timely treatment can help to increase your chances at a much faster and comfortable healing time.
Is An Emergency Tooth Extraction Needed?
Dentists always work to prevent any damage to your natural teeth. They love to help you keep your teeth happy and healthy for a lifetime, but sometimes there are circumstances that come up that cause a dentist to recommend an emergency tooth extraction.
When a tooth is unable to be fixed due to an accident or severe decay, an emergency extraction may be the best route. Your teeth are supported by bone. When enough damage is done to the bone structure due to periodontal disease, an emergency extraction may also be necessary. Severe abscesses that don't respond to a root canal treatment may also require extraction to help prevent the spread of infection in the mouth.
Having an emergency extraction may sound scary, but with today's procedure methods and anesthesia, there is nothing to worry about. It is common for the full healing process to take anywhere from 3 to 6 months. However, you will notice initial healing within 1 to 2 weeks after the procedure.
Emergency Room Versus Emergency Dentist

When a dental emergency strikes, it can be rather confusing on where to seek out treatment. Most people do not realize that there are emergency dentists in Grand Prairie, Texas available to help in their time of need. This is why more often than not, many people rush off immediately to their local emergency room. However, many times this is not always the best choice.
Dental emergencies should be handled in a timely manner by those experienced in conditions of the teeth and mouth.
Some severe soft tissue injuries and dental abscesses may be best treated at an emergency room. A Grand Prairie emergency dentist can help advise you on if this is certain in your case or not. Additionally, if you are someone who also suffers from a chronic condition or immune system illness, it might be in your best interest to go to your local emergency room so that they can help choose the best treatment route for all conditions.
Grand Prairie, Texas Emergency Dental Info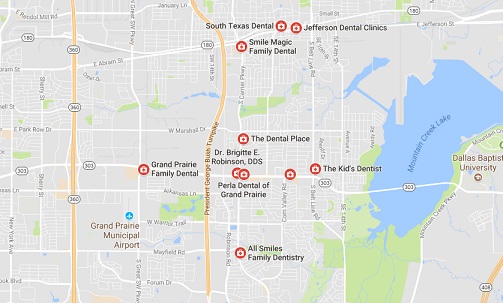 This Emergency Dentists USA portal is a website for information only and should be not used to replace the actual advice of a medical professional. If a patient is having an emergency and cannot reach a dentist, call 911 to assure immediate response and safety.
Emergencies aren't something we're every prepared for, but when they do come you want to have comfort in knowing you can get the right treatment. When you experience a dental emergency, instead of running off to the first nearby hospital, it might be best to check out our referral service to find out which dentists are available to suit your needs.
Don't forget with every new provider, you will want to check out their certification through your Texas Dental Society, or Grand Prairie Dental Society. This can help to ensure you are being seen by a qualified dental professional.
Medically Fact-Checked & Written by Our Dental Editorial Team
You can read more about our editorial guidelines by clicking this link and learn more about the Emergency Dentists USA editorial team here.