Call for Fast Denture Repair Services.
Dentists who Specialize in Denture Repair
Same Day Dentures Repair Available
Same Day Denture Repair Near Me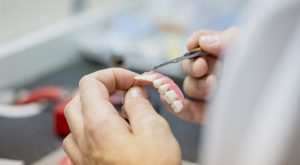 Like natural teeth, dentures are an integral part of your everyday life—from aiding you in chewing to affecting the way you talk, and even making you more confident in your appearance.
When an accident happens and your dentures break or fracture or you have problems with partial dentures problem and you can no longer use them, you may feel a little overwhelmed.
You need them, after all, to carry on life as normal. For most denture or partial denture wearers, broken dentures are cause for an emergency.
Don't worry, though, because there are several options for getting your dentures fixed quickly at a local denture repair lab near you, so you can get back to eating all of your favorite foods and showing off your confident smile!
Some options may even allow you to have your dentures fixed while you wait, so you don't have to go without them very long.
Same day denture repairs are typically done by a denturist. A denturist is a formally trained professional who specializes in the construction and fitting of removable prosthodontics (dentures). Denturists perform routine oral health examinations, take impressions, and deliver both partial and complete dentures. They also repair broken dentures and reline loose ones.
A denturist creates dentures to replace missing teeth by first examining and then taking impressions of a patient's mouth to construct the dentures. Denturists also insert the dentures and make the necessary adjustments to make them as comfortable as possible for the patient in question.
"Repairing dentures is best left up to the professionals. Many patients will attempt to repair their own denture by using Super Glue or a similar product. The only time you should do this is if you plan to get a replacement denture made right away. In most cases, the denture will be ruined by the glue and cannot be repaired to fit correctly even by the most skilled technician."
Find Denture Repair Labs Near You & Get Your Dentures Fixed Fast
As with natural teeth, if your dentures break on the weekend or late at night, you may feel like you just have to go without. This isn't always the case. Often, even if your regular dentist office isn't open, you can easily find a walk in denture repair lab.
Emergency denture repair offices are usually open later than typical dentist offices during the week and often have limited hours on Saturday. Some offices are open on Sunday, and some of the best offices may have been able to repair your dentures while you wait.
Finding a great emergency dentist means that there is a chance that you can fix your broken dentures.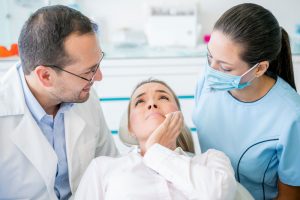 How Do I Find Denture Repair Near Me?
Finding a good denture repair dentist can be difficult, particularly if you are looking for a specialist who has a lot of experience, qualification, referrals, and friendly staff. If you are looking for denture repairs, you can try using online directories like Emergency Dentists USA, which works to find listings of dental professionals in areas all across the United States. Finding a denturist who is the best fit for you can take some time and effort. You'll need to do your homework to make sure you are putting all your dental needs in the right hands.
Finding a denturist near you to help you with your dentures doesn't have to be hard. All it takes is performing a little bit of research, doing some online digging, and maybe even making a few phone calls. Talk to your family and friends, your dentist, and even your physician to see if they have any recommendations for your denture treatment. Use useful online directories to help you find denturists near you that are not only qualified but have good reviews and offer stellar service that will put you at ease every step of the way.
Getting dentures can be stressful and can make certain people anxious or embarrassed. Make the process an easier one by finding the best dentist for dentures who is trusting, helpful, and qualified to get you the dentures you deserve to brighten up your smile once again.
Our directory is particularly useful when seeking a weekend dentist open Sundays, give us a call.
Why Emergency Denture Repair?
When damage occurs to your dentures it's important to get it fixed as soon as possible. Our directories can help you find emergency denture repair near you. Not only are broken dentures uncomfortable and embarrassing, but they can also cause additional health problems or make existing conditions worse. Getting them fixed as soon as possible by finding a local denture repair service is key to preventing other dental emergencies and continuing on with your life.
Common Denture Issues
There are several reasons you may need an emergency repair to your dentures or partial dentures. First, it is important to understand that an improper fit can cause your dentures to grind against themselves unnecessarily while chewing. This can result in your dentures breaking or chipping more easily while eating meals. Also, dentures are not meant to last forever. As dentures age, the material becomes thin and weakened, leaving your dentures susceptible to fractures and damage.
Dentures are not bulletproof and they often break upon impact with the ground (even though they can be so slippery!). Over time, the gums underneath your dentures can begin to change. Usually, the area shrinks, leaving your dentures to fit more loosely than they should. This can also result in broken or damaged dentures. However, it can be hard to tell if your dentures are not fitting properly, so be sure to attend regular checkups with your dentist.
A broken set of dentures is also simply uncomfortable and can seriously impact your quality of life. Not being able to chew correctly is a big issue that can arise from damaged dentures. This can lead to stomach and digestion issues, which only adds to the uncomfort. If your dentures are damaged, fixing your cracked dentures should be high on your priority list.
If the gum area under your dentures have changed and the dentures no longer fit, you may need your dentures to be repaired to fit once again, a process many dentists call "relining" or "basing" the denture. Denture relining is usually a pretty quick and easy process so you can be back to wearing your dentures in no time.
It's easy to see why it's important to get your dentures repaired as soon as possible, and just as easy to find a dentist to do so. With a wide variety of emergency and after hours denture repair services, there's likely to be one near you that can get your dentures back in working order in no time.
"If the same denture has broken multiple times, the denture is telling you it really doesn't fit as well as it should. If you had teeth extracted before having the denture made or if you have worn the same denture for many years, the shape of your gums has changed. This causes it to not fit the contour of your mouth, making the denture prone to breakage. Don't waste time and money trying to repair it – have a new denture made."
Same Day Dentures Near Me
In most cases, an emergency denture repair specialist will be able to provide you with same day denture repair, but not all dentist offices are equipped for repairing broken dentures.
You should call the office ahead of time to ask important questions. The receptionist or office assistant should be able to answer questions. If you're seeking denture repair while you wait to make sure and advise them of this.
Things you need to know to include the office's hours when they have a dentist available, and if they are able to repair your dentures. Some offices may also offer same day denture repair, which can get you a quick fix so you don't have to wait.
You should also ask the dentist office what paperwork and payment you need to bring with you for your visit.
When visiting a new dentist, you will likely need to provide information regarding your dental insurance as well as identity verification.
Expect to be asked questions regarding your medical history and allergies.
Some emergency dental offices may require payment up front until your insurance can be processed.
The receptionist should be able to give you a complete list of what to bring as well as an estimate of your payment. The paperwork will need to be completed before your dentures can be fixed.
What Is Same-Day Denture Repair?
You may see or hear about a service called same-day denture repair when speaking to the emergency dentist of your choice. This means that the office will be able to repair your dentures in a day near you and return them quickly, at least within 24 hours, sometimes much sooner.
This probably means that the office works closely with a specialized technician at a nearby lab who can use special materials designed for dentures to make repairs. This type of lab setting is often required, especially for more severe fractures or damages.
The technician will use a form of acrylic material as well as a special adhesive designed for denture repair to make corrections to your broken dentures. When returned to you, your dentures should be good as new, and you should be able to wear them immediately.
In rare cases, dentures may be severely damaged and you may need to have a new set made instead of repairing your current set. The emergency dentist may be able to aid you in getting a new set of dentures, but you may prefer to see your regular dentist instead.
Sometimes an emergency dentist may be able to do teeth extractions, denture repairs, or partial dentures in the same day. When you're talking to a dentist, be sure to lay out all the care that you will be needing.
Can I get walk-in denture repair?
When you Not all dentist offer walk-in appointments, but our city directories may be able you find a dentist who offers walk-in denture repair. If you do find a dentist who takes walk-in appointments, be sure to bring recent dental records and any insurance information with you. This will make it easier for the staff to get payments and other information in order while you wait for your denture repairs.
"A common example why dentures cannot be repaired is damage done to them by animals. Dogs, in particular, love to chew on dentures that have been left out on a table or bed. Once a dog has broken your dentures, denture repair is usually not an option. Remember to always maintain control over your dentures at all times. When you're not wearing them, keep them in a sealed container."
Affordable Dentures Near Me
You may be having difficulty finding dentures near you or the cost of denture repair may be keeping you from finding care. Luckily, there are ways to receive affordable dentures near you. By finding the best dentist for dentures near you, you may be able to work out payment options with them. Plus, if you have dental insurance, some of the costs of dentures and denture repairs may be covered. Our directories can help you find dentures and denturists near you.
How Much Does it Cost to Repair Dentures?
In general, denture repairs will cost you around $200. However, Denture repair costs may vary depending on the condition of your dentures, bones, and gums. If there are a substantial amount of damages to your dentures, it may cost more. Always talk with your denturist to discuss fees and work out payment options.
How to Prevent Denture Damage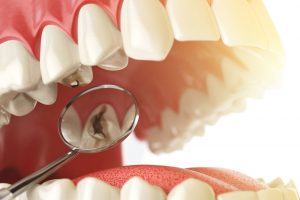 Dentures are not made of steel. In fact, the materials used to make a secure and comfortable fit in your mouth, as well as the materials used to mold the teeth on your dentures, are typically easily broken.
Dentures that are misaligned or do not fit properly may rub or grind against each other unnecessarily.
If your dentures do not fit correctly, it is possible that they break while you are eating. Dentures also can break or crack easily if they are dropped. Even small breaks can change the form of your dentures, making them impossible to wear or use properly.
Because your dentures are so important to your everyday life, you should practice precautions when handling your dentures. The American Dental Association has provided a useful guide to denture maintenance, which we paraphrase below.
Your gums and bones underneath your dentures can still change after your dentures are made, meaning that they can eventually become loose and, therefore, more susceptible to damage.
However, it is not always easy to notice when your dentures aren't fitting correctly anymore.
Therefore, it is important to see your dentist regularly. They can inspect your mouth and your dentures to ensure that you are still getting a proper fit. If not, your dentist may suggest a denture reline.
You should also inspect your dentures regularly for damage, such as small cracks or fractures or abnormalities you have not noticed before.
When you clean your dentures, check them all over for new indentions or damage. Catching damages early gives you plenty of time to see a dentist before they break completely so the time you have to go without your dentures is minimal.
When you clean your dentures, place a towel underneath them. They can be slippery and hard to grip. The towel will help to ensure that they do not break if you accidentally drop them.
Practicing careful handling and attending regular office visits to have your dentures checked can help you avoid damages and those inconvenient denture emergencies.
"If the same denture has broken multiple times, the denture is telling you it really doesn't fit as well as it should. If you had teeth extracted before having the denture made or if you have worn the same denture for many years, the shape of your gums has changed. This causes it to not fit the contour of your mouth, making the denture prone to breakage. Don't waste time and money trying to repair it – have a new denture made."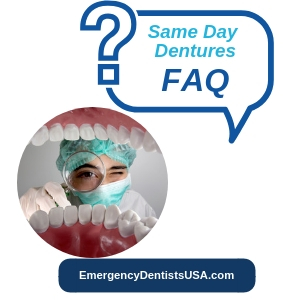 Same Day Dentures – FAQs
What are dentures?
Dentures are replacements for teeth which are custom-made for each patient. They are removable, comfortable, and natural looking. They are typically used for the elderly who have missing teeth and want to improve their smile. Dentures can also help people speak and eat in comfort. They are artificial gums and teeth and are specially formed to fit a patient's mouth.
Dentures are created by denturists and can come in complete or partial forms, meaning they can replace all of a person's teeth or just a few of them. Click the link in this sentence to read more information about denturists from Stephen Barrett, M.D.
Today, most modern dentures are made out of acrylic resin and must be replaced every five to eight years. They can help improve a person's smile and also provide support to the structure of the mouth, cheeks, and lips, making it easier for people to eat foods that need to be chewed. Dentures are also a good solution to replace teeth which cause pain and put a patient's oral health at risk, giving people a beautiful and pain-free alternative to teeth which are causing them pain.
What is a denture reline?
A denture reline is a simple procedure that reshapes the underside of a denture to make it more comfortable as it rests against your gums. You can receive soft or hard relines.
Soft relines are the preferred method as they are more comfortable. A soft denture reline can be done chairside so the procedure can be done much faster.
A denture hard reline is more permanent and lasts for more years. Many dentists recommend that a hard reline is sent to a denture lab to avoid complications.
How long does it take to repair dentures?
How long it takes depends both on the dentist as well as the damage. Some dentists offer same day repair, while others might not work as closely with a denture specialist and need more time. In either case, if the dentures are excessively damaged they might need additional time to repair or need to be replaced entirely.

Here's some statistics from 2017 on common denture procedures, based on information gathered by the ADA.
Can I get my dentures repaired at any time?
It depends on the dentist. Some offer 24 hours or after hour emergency denture repair services, while others might only take work during standard business hours.
What kind of glue can you use to fix dentures?
Denture repair kits may be available to purchase from a pharmacy near you. You should still schedule an appointment with a denturist after you use a denture repair kit to make sure that everything was fixed properly and no further repairs need to be made.
If your dentures are broken do not try to glue them together with super glue. Denture repair kits will have denture repair glue to temporarily fix your dentures until you can see a dentist.
What happens if I don't repair my dentures?
Not only is it uncomfortable, but it can lead to some serious health issues. Broken or improperly fitting dentures can irritate and damage the gums and mouth, which can eventually lead to infection.
Don't Waste Time!
Finding yourself with broken dentures will really make you want to find the nearest dentist office fast.
If you have realized that your dentures are damaged, don't wait up! Get on the phone immediately with an available dentist who can repair dentures near me. While denture repairs can often be pretty quick, in the event that you can't find a dentist's office that offers same-day denture repairs, you will want to get the ball rolling as quickly as possible. Living without your dentures can prove to be difficult, to say the least.
If you begin to notice that your dentures are showing signs of wear and tear or weakness, but are still functional, you may not have an emergency on your hands. You should, however, make an appointment to follow up with your regular dentist to have your dentures examined. They will be able to aid you in preventative repairs or replacement so that accidents are less likely to happen.
We hope this article has helped you understand essay helper the need for emergency denture repair and has helped you find someone who can provide same day dentures "near me" if you need them!
Medically Fact-Checked & Written by Our Dental Editorial Team
You can read more about our editorial guidelines by clicking this link and learn more about the Emergency Dentists USA editorial team here.