Helping San Diego Residents Find IMMEDIATE Dental Services Everyday.
Get relief from chipped, cracked or lost tooth
Abscess, toothache, mouth pain
Emergency dental surgery
24 hour services - Includes weekends, nights and holidays

Emergency Dentist San Diego
We Specialize in San Diego Emergency Dentistry: Call 24/7: 1 (877) 507-0879
Here's a scenario in which we find a lot of our clients. You're in pain, you need an Emergency Dentist San Diego . You don't know what you're going to do because your dentist isn't available until the next day. How will you sleep? How will you go to work? Finding San Diego emergency dentist offices is your only choice, but it can be so hard to do that. Most dental offices close at 5 PM, and if you aren't a patient already, you may never get into it if they are booked. Luckily, you've found this website.
We've done all of the research for you, so all you have to do  is pick one of the emergency dentists below. These dentists are known for their good dental work during and after normal business hours.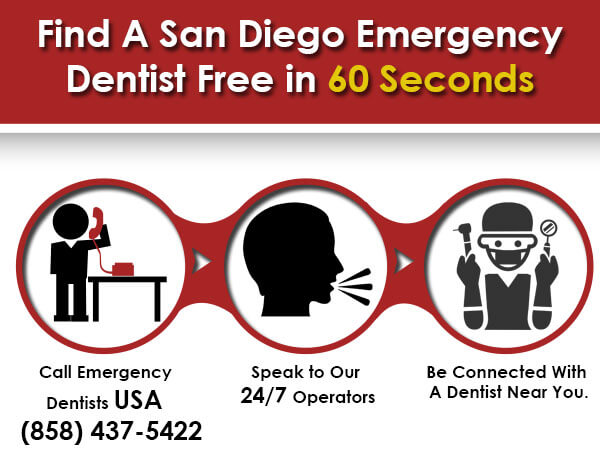 Call 24/7: 1 (877) 507-0879
Emergency Dental San Diego
These dentists are known to provide emergency dental care in San Diego, California. You may call them at anytime to see if you can come right in. Alternatively, you can walk in and ask to be seen. Most people who use this website will start with the one that is closest to their home. Choose the one that will make it easiest for you to get the care you need.
If you're stuck thinking "What Am I going to do to find an emergency dentist near me?" Don't worry we've got you covered.
---
Emergency Dentists USA San Diego
Phone Number: 1 (855) 401-2701
Address: Referral Service to Various 24 hour dentist San Diego offices. It's simple to find a 24 hour emergency dentist San Diego office by working with our operators.
Doctors Multiple
Description Call to be connected with the perfect dentist for you. This is a large city and we have the connections to find a dentist to fit your needs, and can get you an appointment immediately. We help you find an emergency dentist even without insurance. You can get emergency dental help in California fast.
---
Soft Touch Dental
Phone Number: 858-274-8200
Address: 3735 Clairemont Mesa Blvd. San Diego, CA 92117
Doctors: A. Fakhimi, DMD
Website: www.softtouchdental.com
Description:Soft Touch Dental is a renowned dental care office in San Diego. Not only do they offer a wide range of services such as general dentistry, dental implants, orthodontics, cosmetic dentistry and Invisalign, they also have emergency dental services. The emergency dentist
San Diego CA office treatments they provide are: dental fillings, toothache, trauma dentistry, extractions, and care for infections. With nearly 20 years of experience, you can trust this emergency dentist with your dental care. Just give him a call and he will fit you in as early as possible. Please note that this office may not offer appointments after hours, so it's important to call ahead to check if they offer 24 hour emergency dentist San Diego services.
Monday: 9:00 – 6:00
Tuesday: 8:00 – 5:00
Wednesday: 12:00 – 7:00
Thursday: 8:00 – 5:00
Friday: 8:00 – 12:00
---
Dentistry of Del Mar
Phone Number: 858-793-7107
Address: 811 Camino Del Mar, Del Mar, CA 92014
Website: www.dentistryofdelmar.com
Doctors: Dr. Mark Rutley
Description: Day or night Dr. Rutley is at your service. He has over 29 years of experience in the field of dentistry, which makes him the perfect emergency dentist in San Diego, California. You can see him for veneers, crowns, cosmetic surgery, teeth cleaning, Invisalign, and more.  When you need emergency dental care he's there for you.
Monday 8 am to 5 pm
Tuesday 8 am to 5 pm
Wednesday 8 am to 5 pm
Thursday 8 am to 5 pm
Friday 8 am to 1 pm
Saturday Appointments Available
---
After Hours Emergency Dentistry
Phone Number: (619) 276-1172
Address: 4295 Gesner St. Ste.3-L, San Diego, CA 92117
Website: www.emergency-dentalservice.com
Doctors: J. Wesley Taylor, D.D.S
Description: This is another popular emergency dentist in San Diego, California. Dr. Taylor's office is open 24/7 and provides immediate treatment for tooth pain, cavities, broken teeth, partials, abscesses, and periodontal. When you're ready to be seen for your dental care, all you have to do is call the office.
Day time and Evening Emergencies
Saturday,Sunday and Holidays
Immediate Appointments
---
On Demand Dentist
Phone Number: 619-342-3577
Address: 5210 Balboa Ave., Suite A2, San Diego, CA 92117
Website: www.ondemanddentist.com
Doctors: Dr. Pantangco
Description: This emergency dental clinic in San Diego isn't known to be the "Emergency Room for Toothaches" for nothing. They are open all day and night and provide all of the treatments you need if you're suffering from tooth pain right now. What many patients love about this On Demand Dentist in San Diego is that they are affordable, fast, and convenient. No matter if you need extractions, fillings, root canals, or a re-cementing of your crowns, you can get it all done with this team of experienced emergency dentists.
Emergency Dentist open nights and weekends
Providing after-hours dental care and toothache relief in San Diego
---
Steven Byers, San Diego Emergency D.D.S.
Number: 619-282-7060
Office: 4403 Marlborough Ave, San Diego, CA 92116
Doctors: Dr. Steven Byers
Website: www.emergencydentistsd.com/
Description: Dr. Byers is one of the few San Diego emergency dental clinic dentists who offer 24 hour emergency dental services: this even includes weekends and holidays. The staff here has been successful for years in treating pain and infection, dental fillings for cavity treatment, tooth extractions, root canal therapy, and doing it while the patient may be under severe duress. If you are here from out of town looking to escape winter, or to see all of the sites sunny southern California has to offer, here's one clinic that will rush to your aide, and quickly get you on the mend.
San Diego 24 Hour Emergency Dentist
---
Oasis Dental Arts
Number: 858-271-1010
Office: 9999 Mira Mesa Blvd. STE 105, San Diego, CA 92131
Doctors: Dr. Ramin Goshtasbi
Website: www.oasis-dental-arts.com/
Description: Open on Saturdays and staffed with professionals Dr. Maksim and his excellent counterparts, this is a Rancho area clinic that is very experienced in handling issues like sudden toothaches, abscessed teeth, extractions, and x-ray diagnostics. When you feel a sudden aching and you don't want your entire week to be a hellish void of sleep loss and pain, make sure that Rancho Dental Care has a top spot in your contact book. Let this emergency dental clinic take care of whatever your problem is!
Monday: 8 a.m. to 5 p.m.
Tuesday: Closed but you can call to schedule an appointment
Wednesday: 9 a.m. to 6 p.m.
Thursday: 9 a.m. to 6 p.m.
Friday: 8 a.m. to 1 p.m.
Saturday: 8 a.m. to 1 P.M.
---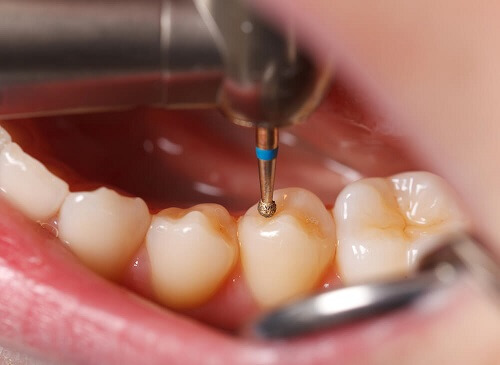 Expectations For Your Emergency Dental San Diego Appointment
One of the greatest things about San Diego emergency dental clinics is that they aren't usually busy. Since they are open all of the time, people that come see them vary throughout the day and night. What this means for you is that if you're in pain, you can be seen quickly. What a relief it will be to only wait a few minutes before having the dentist examine your teeth and start the procedures to make the pain go away.
It's important to know that you will need to complete paperwork when you see the emergency dentist in San Diego. Usually, they will ask for your personal information, insurance company, and then your medical information. This is to ensure that you can get your visit at least partially paid for and none of the work done to your teeth will end up causing you medical problems.
The dentist will be able to tell you during the exam what he can do for you at that appointment. Sometimes, it may be just removing the tooth or teeth that are giving you problems. Other times, you may need surgery or a more extensive procedure, which means you'll have to schedule another appointment. Don't be disappointed, though. The dentist will usually prescribe pain medication to get you to the time of your next appointment.
Finding a 24 Hour Dentist San Diego

When creating our listings for San Diego, we were unable to find a 24 hour dentist in San Diego. The best bet is our 24 hour dentist San Diego referral service in which we will be able to find you the next available 24 hour dental clinic available in the general area. Otherwise On Demand dentistry may be a good option from our dental listings.
You can find them listed in the #3 spot, they are an on demand facility in which you call and get an appointment and they may offer 24 hour dentist services in San Diego. Whether or not you are able to find a 24 hour dentist, we definitely can help you find the next available emergency dentist near you.
Situations of Emergency Dental Care San Diego

Emergency dental care can take the shape of many different situations. If you are suffering from a lip or tongue bite, you may need stitches and should call for an emergency dental clinic in San Diego right away. Furthermore you may be suffering from damaged braces or an injury to your jaw. Each of these are emergency dental care problems that can't wait for whenever you can get into you regular dentists office.
Finally, if you have a tooth that has been knocked out, you also need to get to an emergency dental care clinic right away if you want to have a chance to save that tooth.
Find Your Urgent Dental Clinic San Diego

The listings in our San Diego Dental directory are all urgent dental clinics. You can rest assured that when you speak to our operators or to one of the dentists directly they will be in a hurry to get you seen and fixed up. Whether you're suffering from a loose tooth, lost filling or crown or an object lodged between your teeth. These urgent dental clinics in San Diego are going to be there to help you. We suggest you don't waste anymore time and call now in order to get see one of the dentists at the urgent dental clinics in San Diego today.
Are There Walk In Dentists in San Diego?

A walk in dentist is a dental office in which you can show up without having called first and attempt to have dental work done. The number of dentist offices who accept these types of patients is very limited.
The quick answer to this question is yes, there are walk in dentists in San Diego. The listings above, each dentist is available to take walk in dentist appointments. However, we always suggest that it is best to call ahead in order to insure that you will be seen more quickly. Also please refer to our description of the expectations for visiting a walk in dentist in San Diego above, there is paperwork and insurance to be considered.
Do You Need An Emergency Tooth Extraction San Diego?

Having an emergency tooth extraction in San Diego is a very simple process. Each of the emergency dentists in our directory is fully qualified to perform an emergency tooth extraction.
This type of procedure may be required if you have a loose or infected tooth that needs to come out right away. This can happen because of an object having been lodged between your teeth, as well as potentially from an abscess or cavity that you were not aware of. An emergency tooth extraction will mean that the dentist is going to have to remove the tooth right away due to an unhealthy level of infection or decay inside or around the tooth. This is a very common procedure and you needn't worry that it will be too painful or dangerous, dentists do these procedures everyday.
Suffering From A Dental Emergency San Diego?
Facing a dental emergency can be scary. You don't appreciate your teeth until you end up feeling their pain or risk losing them. Once you get your teeth worked on this time, why not continue to take care of your teeth with regular dental appointments? Many of the emergency dental clinic San Diego dentists will see you on a regular basis to ensure that your teeth remain strong and healthy. This can prevent any further problems in the future. Whatever dental emergency you're suffering from, there is a dentist in San Diego who can help you.
We hope that our list of emergency dentists in San Diego, California has helped you find the dental care you need right now. We are here for you day or night to give you the information you need when you need it. Please let others know of this valuable resource, so they too can find emergency dental care.