Helping Pittsburgh Residents Find IMMEDIATE Dental Services Everyday.
Get relief from chipped, cracked or lost tooth
Abscess, toothache, mouth pain
Emergency dental surgery
24 hour services - Includes weekends, nights and holidays
Find a Dentist 24/7
Near You IMMEDIATELY
Click or Call Toll-Free
1 (412) 906-4429
Emergency Dentist Pittsburgh, PA
---
We Specialize in Pittsburgh Emergency Dentistry: Call 24/7: 1 (412) 906-4429
Monday – Friday, See A Pittsburgh Dentist The Same or Next Day/Night You Call!.
Saturday And Sunday, "See A Pittsburgh Emergency Dentist In Hours."
Imagine waking up on a Saturday morning experiencing an awful pain in the back of your mouth. You have tossed and turned all night and you come to the conclusion that the pain must be either a toothache or a broken filling, but whatever it is your next thought is likely to be where can I find an emergency dentist in Pittsburg? Well, you are in pretty good shape, relatively speaking, if you reside in Pittsburgh and are in dire need of a 24 hour care. We have put this page together for folks who live in the steel city or it's surrounding towns. Our goal here is to help find an emergency dentist in Pittsburgh, PA that can solve your problem in the fastest manner possible. We hope this page can solve your emergency dental care needs.
Business travel brought me to Pittsburgh, so obviously I didn't have a dentist to see when I had intense nerve pain sunday afternoon when I arrived, I called your number and you had me connected right away for an appointment the next morning bright and early!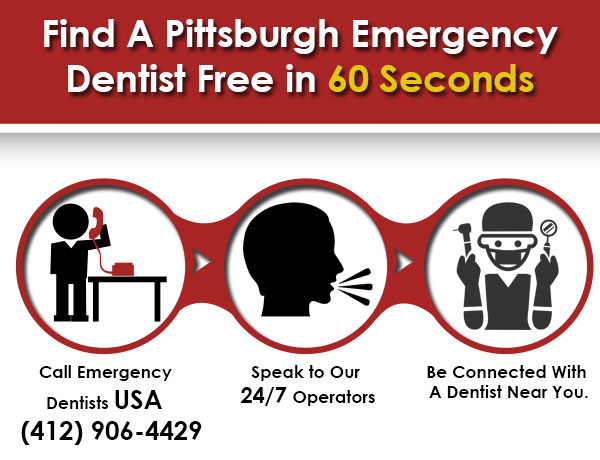 Call 24/7: 1 (412) 906-4429
Urgent Dental Care Clinics in Pittsburgh
When it comes to locating a dental clinic that is open weekends, evenings, or even holidays, are you aware of what choices you have? Well, we are which is why we put together this resource for you. We are going to tell you exactly where you can go to get the much needed pain relief you deserve. We strongly encourage you to bookmark our website, because whether you are hurting now or later, someday it might happen when your regular dentist is unavailable. If such is the case, this 24 hour dentist resource is for you.
---
Emergency Dentists USA Referral Service Pittsburgh
Phone Number: 1 (877) 507-0879
Address: Connect to Various Dental Offices across Pittsburgh
Doctors Multiple
Description Call to be connected with the perfect dentist for you. Pittsburgh is a large city and we have the connections to find a dentist to fit your needs, and can get you an appointment immediately. You can get emergency dental help in Pennsylvania fast.
---
Nova Dental Associates (multiple locations)
Etna Nova Dental: 369 Butler St Pittsburgh, PA 15223 Tel: 412-219-4004
Tarentum Nova Dental: 215 First Ave Tarentum, PA 15084
Telephone: 724-409-4205
Bloomfield Nova Dental: 4600 Liberty Ave Pittsburgh, PA 15224
Telephone: 412-301-3381
Jeannette Nova Dental: 134 Bigelow St Jeannette, PA 15644
Telephone: 724-405-7033
TWest Newton Nova Dental Associates: 501 Vine St West Newton, PA 15089
Telephone: 724-590-0547
Website: iarbiz.com
Description:
Providing four dental emergency clinics in the Pittsburgh, PA, surrounding area, this quality dental care facility can aid you in those situations when an urgent dentistry matter occurs in your life. Offering convenient weekend, evening, and off hour appointments, you can reach out by phone, email, or through their website. No interest financing is available and a dental plan is offered to those without insurance. Senior citizen discounts are available. A weekend dentist in Pittsburgh, PA., is always in demand for those unexpected dental complications. Nova Dental Associates provides treatment in all facets of dentistry, whether you need an orthodontist, oral surgeon, or dental anesthesiologist, this clinic can deliver. Consultations are free. Dr. Ronal Zatman, Dr. Michael Wolff, Dr. Joshua Waskowitz, and Dr. Adeel Khan make up the dentistry team.
Contact this Pittsburgh emergency dentist now!
Map Is Not Available
---
Nista Family Dental Center
Number: 724-733-3762
Office: 105 Pfeffer Road, Suite 2 Export, PA 15632
Doctors: Dr. Mark
Website: http://seedrmark.com/
Description: A 24 hour dentist in Pittsburgh, PA or nearby town is what the doctor ordered if you find yourself in the grips of a painful toothache. Dr. Mark Nista, making use of state of the art dental equipment and can address your urgent dental needs promptly as advertised. Providing service to Apollo, Murrysville, Export, Delmont, Saltsburg and nearby towns, this dental practice can serve your general dentistry needs as well as cosmetic and restorative, single visit root canals, fittings for dentures, and restoration of dental implants. Emergency callers or walk-in are encouraged. Office hours include Saturdays and some evenings for those unexpected emergencies. The need to find a Saturday dentist is one of the things that patients require when emergency strikes, and this office has got you covered.
Hours of Operation:
Monday-Wednesday: 9:00am-5:00pm
Tuesday-Thursday: 11:00am-8:00pm
Saturday: 9:00am-1:00pm
---
Horvath Family Dentistry
Number: 412-837-2963
Office: 734 West Ingomar Rd. ,Pittsburgh, PA 15237
Doctors: Dr. Horvath
Website: http://horvathfamilydentistry.com/
Description: Meeting your Saturday or Sunday dentist care needs in Pittsburgh, PA., is a critical advantage if you are facing a painful fracture of the jaw, laceration in the mouth, or broken tooth trauma. Fortunately, this family clinic, whose dentist is open on Sunday and Saturday in Pittsburgh can offer such emergency appointments. Headed up by Dr. Kristin Horvath, who graduated from the University Pittsburgh School of Dental Medicine, this friendly family practice can help you in a pinch. The doctor completed her residency in 2003 and resides in Cranberry Township, PA, and is a member of the American Dental Association.
Hours of Operation:
Monday-Wednesday: 9:00am-6:00pm
Friday: 9:00am-4:00pm
---
Emmert Dental Associates
Number: 412-434-6060
Office: 433 Market St, Pittsburgh, PA 15222
Doctors: Dr. Emmert
Website: http://www.emmertdental.com/
Description:
Hours of Operation: Having a walkin dentist such as Dr. Emmert and his reliable crew will put your mind at ease immediately, when you know that any time you have something happen to you they will be there. Saturday hours from 8AM until 3PM, a staff that will be able to cater to all of your dental needs, and experience to guide you through anything from a cracked tooth to an abscess are all on hand here waiting for you. Having a contact like this in your address book will make you feel prepared for the worst that your dental health can throw at you, and confident when the time comes to get worked on. A weekend dentist is very sought after when you have a busy schedule, and always going to be waiting for you if the need arises.
Monday-Thursday: 9:00am-9:00pm
Friday: 9:00am-6:00pm
Saturday: 8:00am-3:00pm
---
Chestnut Hills Dental
Number: 412-345-5134
Office: 5986 Centre Ave C-201, Pittsburgh, PA 15206
Doctors: Dr. Shannon Passineau
Website: http://www.chestnuthillsdental.com/locations-providers/pittsburgh-shadyside/
Description: Dr. Passineau and the others are a great after hour dentist clinic that can help you with anything you may encounter from aching teeth, wisdom teeth coming in, or teeth that have accidentally been knocked out. When any of these things happen to your family, you want to be sure to have someone on hand who can provide the best of care, skilled approach, and who has seen many different kinds of patients in their day. After deciding to stay open on Saturdays, the practice was praised locally by many who needed a clinic with an open schedule.
Hours of Operation:
Mon-Thurs: 8:00am-7:00pm
Tues: 8:00am-6:00pm
Wed: 8:00am-5:00pm
Fri: 8:00am-4:00pm
Sat: 8:00am-2:00pm
---
Warwick Dentistry
Number: 412-391-1130
Office: 500 Grant St # 232, Pittsburgh, PA 15219
Doctors: Dr. John Warwick
Website: http://www.downtownpittsburghdentist.com/
Description: This choice for an urgent care dentist in downtown Pittsburgh has a ready and reliable staff, proven track record of experience, and ability to fix you up after you encounter major dental issues. Anything from a bitten-down on lip or tongue, tooth that has become dislodged, or injury to the jaw will make you need to see an emergency dentist right away. Opening earlier on Monday-Thursday helps patients be able to come in early if they feel the need, and take care of their dental needs before the workday begins.
Hours of Operation:
Mon: 8:30am-6:00pm
Tue-Thurs: 7:00am-7:00pm
Wed: 7:00am-3:00pm
Fri: 7:00am-2:00pm
---
Bellios George G DMD
Number: 412-344-5288
Office: 3247 W Liberty Ave, Pittsburgh, PA 15216
Doctors: Dr George G Bellios
Website: http://www.belliosdental.com/
Description:This great choice for a dentists office in Pittsburgh is open later hours on Tuesdays, and you can come get care here until 8:00PM. Dr. Bellios and the staff are on hand to make sure that you receive quick care, attention to any dental problem that has been ailing you, and a listening ear if you have fears for the future about your dental health. Anything from an abscess or need for root canal therapy may have you seeking a Pittsburgh dentist to help you if something sneaks up on you, and Belliosdental will be there to make sure that you head home healthy and happy.
Hours of Operation:
Monday: 10:00am-6:00pm
Tuesday: 1:00pm-8:00pm
Wednesday-Thursday: 9:00am-5:00pm
---
We are committed to helping you with your dental emergency. We hope you have found the dentist you needed. Consider bookmarking this page, so you can come back to it if you have another dental emergency in Pittsburgh, PA. Remember, emergency dentists are open in the evenings and on Saturday and Sunday, so you don't have to wait until business hours to be seen.
If you're looking for a regular dentist or want to learn more about your oral health, please visit the Pennsylvania Dental Association website. They have a wealth of information that can help with your dental needs. You can find dentists, learn about good oral hygiene and so much more.
Please share our website with your family and friends! We have many cities with lists of emergency dentists for you.