Helping Milwaukee Residents Find IMMEDIATE Dental Services Everyday.
Get relief from chipped, cracked or lost tooth
Abscess, toothache, mouth pain
Emergency dental surgery
24 hour services - Includes weekends, nights and holidays
Find a Dentist 24/7
Near You IMMEDIATELY
Click or Call Toll-Free
1 (414) 455-7508
---
We Specialize in Milwaukee Emergency Dentistry: Call 24/7: 1 (414) 455-7508
Monday – Friday, See A Milwaukee Dentist The Same or Next Day/Night You Call!.
Saturday And Sunday, "See A Milwaukee Emergency Dentist In Hours."
Are you looking for an after hour emergency dentist in Milwaukee, WI? If so, you're in the right place. Emergency Dentist USA specializes in helping people like you find a 24 hour dentist. These dentists work throughout the day, but then are willing to open their clinic during the night and weekends to accommodate those who are suffering a dental emergency. This is not for people who are seeking routine dental care. Those needing routine oral health visits should make an appointment with the dentist for care during office hours.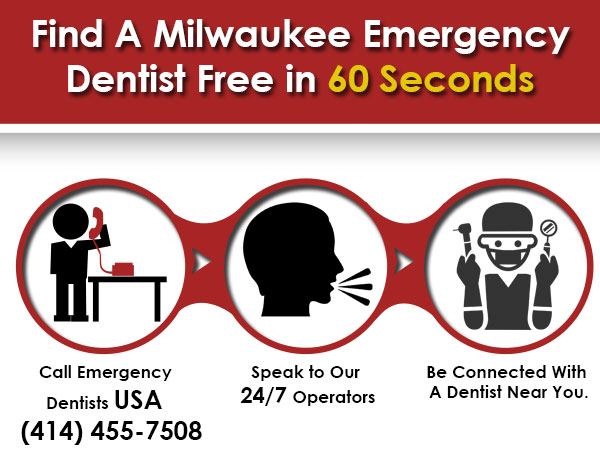 Call 24/7: 1 (414) 455-7508
An alternative method of finding an emergency dental clinic is calling our directory below. Instead of reviewing our list of emergency dentist 24/7, you can ask them for the name, phone number and address of one closest to you. Many people take this route if they are unconcerned with the dentist they choose for dental care.
Urgent Dental Care in Milwaukee, Wisconsin
The following late night dentists and weekend dentists in Milwaukee, Wisconsin have been reviewed by us. However, you will need to do your own research to determine if a particular dentist is right for you. Browse the list now to find all of the information you need to make a well-informed decision.
---
Emergency Dentists USA Referral Service Milwaukee
Phone Number: 1 (877) 507-0879
Address: Referral Service to different Dental Offices crosswise Milwaukee.
DescriptionFind the best emergency dentists for you in Milwaukee. Use our 24-7 referral service and be connected to a dentist near you in minutes! We help you find an emergency dentist even without insurance. Easily find Wisconsin emergency dentists with our service.
---
Confidental Grant Park
Number:414-764-6070
Office:1333 College Avenue, Suite C South Milwaukee, Wisconsin 53172
Website:http://www.confidentalmke.com/grant-park.shtml
Doctors: Dr. Michael Costello
Description: Dr Costello offers great hours at the Confidental Grant Park office. You can count on evening hours until 6pm (so you can get there after work) every day of the week except Friday. They also have weekend dentist hours by offering to be open 7am til 2pm on Saturdays. Take advantage of their excellent hours and office environment to have your dental emergency cared for. The potential is there for Sunday dentist hours, call ahead to the office and ask about if the Dentist is available at all on Sundays. The hours for Sunday are not included on the website but most dentists will at least consider helping if you're under an emergency.
Monday 8:00 am – 6:00 pm
Tuesday 7:00 am – 6:00 pm
Wednesday 7:00 am – 6:00 pm
Thursday 8:00 am – 6:00 pm
Friday 7:00 am – 3:00 pm
Saturday 7:00 am – 12:00pm
---
Edgewood Dentistry, LLC
Phone Number: 414-281-4811
Address: 4811 S. 76th Street Suite 109 Greenfield, WI 53220
Website: www.edgewooddentistry.com
Doctors: James R. Sherman, DDS
Description: This emergency dentist in Milwaukee, WI offer general dentistry services as well as cosmetic dentistry. You will be able to relieve the pain by Dr. Sherman, who has been in practice for many years. One of the greatest benefits of seeing Dr. Sherman is that he has an office that is centrally located in Greenfield, WI, in a very nice area. Call Dr. Sherman now for more information about his emergency dental services.
Monday: 8 a.m. – 5:00 p.m
Tuesday: 8 a.m. – 5:00 p.m.
Wednesday: 8 a.m. – 5:00 p.m.
Thursday: 9 a.m. – 6:00 p.m.
All Emergencies Seen Same Day
---
Dr. Frank R. Galka
Phone Number: 414-276-4455
Address: 1845 N. Farwell Avenue, Suite 105, Milwaukee, WI 53202
Website: www.drfrankgalka.com
Doctors: Anne T. Riebau D.M.D. is a walk-in dentist in Milwaukee who provides the highest quality dental services including assistance in these areas: endodontics, general dentistry, cosmetic restorations, adolescent and adult, comprehensive periodontal program orthodontics, Invisalign, tooth whitening, bleaching, oral surgery, smile enhancements, teeth replacements and emergency dental care. Her office is located in an office complex which means there is a good parking lot that is well-lit for those who need to be seen late at night. She also offer weekend dental office hours. Simply call her number above to learn more about this after hours and weekend dentist.
Monday-Friday: 8:00 a.m.- 5:00 p.m.
Saturday: By appointment only
---
West Allis Dental Care
Number: 414-258-2500
Office: 7130 W. Greenfield Ave. West Allis, WI 53214
Doctors: Dr. Douglas Persich
Website: www.westallisdentalcare.com/regular-hours-and-emergencies
Description: This emergency dental clinic is open Monday through Saturday, and most Sundays (call ahead for Sunday) as they know that severe pain and the inconvenience of tooth discomfort can drastically alter the course of an easy-going week. All of the dentists here stay up on the best ways to handle emergency dentistry by attending many hours of continuing education, and are committed to making their practice the one that many want to go to when they once again encounter that nagging tooth pain.
Monday & Tuesday 8:00 a.m.- 5:00 p.m.
Wednesday & Thursday 8:00 a.m.- 6:30 p.m.
Friday 8:00 a.m.- 4:00 p.m.
Saturday 8:00 a.m.- 12:00 p.m.
---
Dr. Michael Schmidt
Number: 414-543-5440
Office:6316 West Forest Home Avenue Milwaukee, WI 53220-1980
Website:www.milwaukeedentistoffice.com/
Description: Dr Schmidt is an excellent choice if you're looking for a Saturday dentist in Milwaukee. Their office is open from 8am til 2pm on Saturday which gives you a great opportunity to be seen for your emergency.
Clinic Hours
Monday-Thursday-Friday: 8am-5pm
Tuesday-Saturday: 8am-2pm
---
St. Elizabeth Ann Seton Dental Clinic
Number: 414-291-1000
Office: 2301 N. Lake Dr., Milwaukee, WI 53211
Website: www.columbia-stmarys.org/Ann_Seton_Dental
Description: The St. Elizabeth Ann Seton Dental Clinic receives support from many organizations, and sees to around 13,000 dental patients every year. This clinic is not open on weekends for emergency dental care, but is instrumental in providing those with lower incomes that may have limited access to insurance and funds a chance to see a competent emergency dental professional that will have them on their way happily again during the shortest amount of time possible. This clinic offers somewhat limited hours but we have kept it included in our listings because they offer low cost dental care in Milwaukee and we know that is what some of our users are seeking.
Clinic Hours
Monday through Thursday 8:00 am to 4:30 pm
Friday 8:00 am to 12:00 pm
---
Gentle Care Dentistry
Phone Number: (414) 545-8226
Address: 6919 W. Forest Home Ave. Greenfield, WI 53220
Website: www.gentlecare-radke.com
Doctors: Thomas J. Radke D.D.S.,S.C
Description: Thomas J. Radke is a late dentist that offers general dentistry as well as cosmetic dentistry. He offers endodontics, periodontics, bonding, veneers, oral surgeries, implant restoration, and tooth whitening. When you choose Dr. Radke for you and your family, you will find that he truly cares about people's oral health. That is what matters when you choose a dentist for urgent care or just routine care. Give him a call to learn more about him or visit his website.
---
When you've hurt yourself in an accident or you've all of a sudden suffered a lot of tooth pain, all you have to do is review our list of walkin dentist offices open on the weekend and emergency after hours dentist locations. You can research them by following their website and then calling them to ask questions about your particular dental situation. Once you find a dentist you feel will help you, all you have to do is go to their client – it's usually only a short drive or even walk from your home.
Emergency Dental Milwaukee Recommendations
The Milwaukee Dental Association recommends that people make healthy choices when it comes to protecting their oral health. Many people find themselves too busy to seek the regular dental care they need to keep their teeth,  gums and the rest of their body healthy. Through healthy eating and cleanings, you can avoid dental emergencies that do not have to do with an accident. Take time to get your teeth cleaned and checked every 6 months, especially if you have dental coverage. This is the only way you will be able to keep your teeth in good shape, so you don't end up in the pain you're in right now.
For more information about dentists in your area who offer emergency dental care, contact any of the urgent care dentists above. We are always adding new dentists to the list, so check back if you need one at a later time. Please share this resource with your friends and family, so they can also use the information provided here. With just a few dentists in the city offering after hours, you can make a difference in a loved one's life by helping them find the after hours dentist in Milwaukee, WI or any other city in the U.S.