Helping Thousands of People Each Year Find Dental Services
Emergency dental surgery, cavities, general dental care.
Find immediate help, no insurance required.
Get relief from chipped, cracked or lost teeth, abscesses or toothaches.
Emergency Dentist in Detroit, MI – Find A 24 Hour Dentist Now
We specialize in Detroit Emergency Dentistry:
Click to go to list of Dentists.
Table of Contents
Emergency dental clinics can get you on your way to recovery in no time at all, even on the weekends. If you are unfamiliar with those who offer emergency services in the Detroit, Michigan area you are in luck. Emergency Dentists USA has made it convenient and stress-free with our listings of emergency dentist offices in Detroit. Locate emergency dental clinics and a reputable 24 hour dentist you can trust.
We are open 24 hours a day, 7 days a week and will find an emergency dentist near you, and even assist in getting an appointment set up.
I chipped a tooth last weekend and couldn't find a dentist open after calling several offices! With just a quick call to Emergency Dentists USA, I was able to get an appointment right when I needed it!
Finding A 24 Hour Emergency Dentist in Detroit, Michigan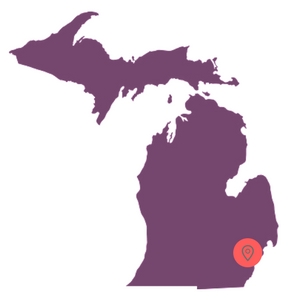 When a dental issue requires urgency, a walk in or after hours clinic provides emergency services for a variety of dental emergencies that cannot wait for a regular dental visit. The best example of this type of clinic from our list below, is Bright Side Dental. They are open six days a week and also take emergency appointments on Sunday. They accept walk-ins and have a phone number set up just for emergency situations.
There were no 24 hour dental clinics in the Detroit, MI area that we found through our research. However, Affordable Dental Care is open extended weekday hours Monday through Friday and also offer Saturday and Sunday hours, making this the best clinic to visit in an emergency.
---
Emergency Dentists USA Referral Service Detroit
Phone Number: 1 (855) 401-2701
Address: Referral Service to Various Dental Offices across Detroit
Doctors Multiple
Description We have the connections to find a dentist to fit your needs, and can get you an appointment immediately. We can help you find a Detroit emergency dentist quickly and easily! Get help finding an emergency dentist that can help you out in an emergency, whether you have insurance coverage or not. Easily find Michigan emergency dentists with our service.
---
Affordable Dental Care
Number: (248) 849-9310
Office: 18181 W 12 Mile Rd. Suite 1 Lathrup Village, MI 48076
Doctors: Dr. Neha
Website: https://www.affordabledentalcaremi.com/emergency-dentistry.html
Description: Affordable Dental Care offers emergency care and same-day appointments for patients who need treatment as soon as possible so that they can get the relief they need. This clinic is great because they accept all insurance plans and work hard to maximize your benefits. They treat adults and also children in general denistry and emergency situations.
Monday – Friday: 8 AM – 8 PM
Saturday – Sunday: 8 AM – 5 PM
They accept any and all insurance plans.
They accept most forms of payment and also offer financing through CareCredit.
---
Dentalworks Lincoln Park
Number: (319) 389-9650
Office: 3201 Fairlane Drive Allen Park, MI 48101
Doctors: Dr. Suzanne Hawley, DDS and Dr. Riyad Al-Qawasmi, MDS, PHD
Website: https://lincolnpark.dentalworks.com/Services/Emergency-Care/Emergency-Dental-Care-Lincoln-Park-MI
Description: DentalWorks offers excellent emergency care! For after-hours emergencies the patient can contact DentalWorks and talk to the answering service, who will connect them with a dentist. They are open extended weekday hours and even have weekend hours to help care for you in any dental emergency.
Monday – Tuesday: 9:30 AM – 7:00 PM
Wednesday – Thursday: 9:30 AM – 5:00 PM
Friday: 9:30 AM –3:00 PM
Saturday: 9:00 AM – 3:00 PM
They accept most insurance, call to verify if your specific plan is covered.
They also accept most forms of payment and offer several financing offers.
---
Bright Side Dental
Number: (734) 207-1800, for emergencies call (800) 234-7645
Office: 6460 N Canton Center Rd. Canton, Michigan 48187
Doctors: Dr. Monika Hall-Camilletti DDS, Dr. Mouhamad Ahmad DDS, and Dr. Clement Adams, DDS
Website: https://www.brightsidedental.com/dental-services/emergency-dentistry/
Description: Bright Side Dental has great hours including evening hours 4 days a week, as well as Saturday. Another great option is the ability to call and seek an appointment on Sundays if you are dealing with an emergency. They have numerous locations throughout the Detriot metro area.
Monday:9:00 a.m. to 7:00 p.m.
Tuesday:12:00 p.m. to 7:00 p.m.
Wednesday:9:00 a.m. to 6:00 p.m.
Thursday:11:00 a.m. to 6:00 p.m.
Friday:9:00 a.m. to 5:30 p.m.
Saturday:8:00 a.m. to 1:00 p.m.
Sunday: Call for Emergencies
They accept most insurance, call to verify if your specific plan is covered.
They offer financing through CareCredit.
How To Prepare For Your Detroit, Michigan Emergency Dental Clinic Visit
Your Detroit emergency dental visit will be similar to a regular dental visit. Make sure you have all your vital paperwork with you such as your health records and current insurance information, as this will help to speed up the process of your visit.
Even though you weren't prepared for this dental emergency to arise, you will want to know ahead of time how you will pay for your visit and if the office accepts your insurance or the forms of payment that they accept.
Just like all your other medical appointments, you will want to know what allergies you may have and inform the Dr.
Common 24 Hour Dental Emergencies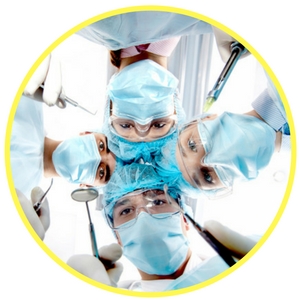 There are a vast amount of dental issues that are considered to be serious and need immediate attention from a dental professional. These issues range from an abscess, soft tissue injury, lost crown or tooth, broken braces and wires, chipped or broken teeth, emergency tooth extractions and many more.
Here are some of the more common types of dental situations that qualify as emergencies and some tips on how you can handle them appropriately.
Abscess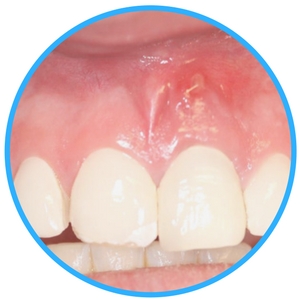 An abscess is a serious dental infection around the root of your tooth, or between your gums and teeth.
Common symptoms of an abscess may consist of a low-grade fever, pain when eating, a bitter taste or foul smell to your breath, redness or swelling on the gums, an open sore on the inside of your mouth, swollen glands on your neck, tooth sensitivity to cold or hot liquids or food, or the general feeling of being ill.
Some home solutions such as rinsing your mouth with a mixture of salt water a few times each day may help to relieve any discomfort that you are experiencing. To mix this solution you will want to use ½ tsp of salt mixed into 8 oz. of water.
Loose or Lost Crown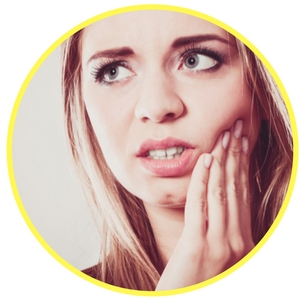 If you noticed that you have lost your crown entirely, you will want to make an appointment with a dentist as soon as you possibly can. Be sure you place your crown in a cool, safe location until you see the dentist.
To help alleviate any pain associated with a lost or loose crown until you are able to see a dentist, you can try applying clove oil directly to the tooth.
You can try to reattach the crown using dental cement which can be found at your local pharmacy over the counter. If your crown is completely lost, place a small portion of dental cement over the tooth to help alleviate any pain or discomfort.
Broken or Loose Braces & Wires
Broken brackets on your braces or even loose bands and wires require immediate attention of a dentist to repair.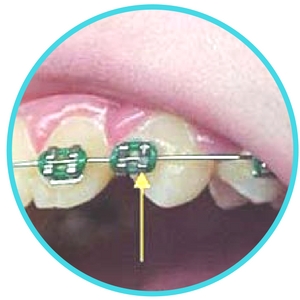 A broken wire is one of the more common dental emergencies with braces. Using an eraser from a pencil may sometimes work to push the wire into a much better position in your mouth. If this fails, simply place some of the wax over the wires end, and rinse your mouth with a salt-water solution. This will help to temporarily relieve pain and discomfort until you are able to get to a 24 hour or after hours dental clinic.
Chipped or Broken Tooth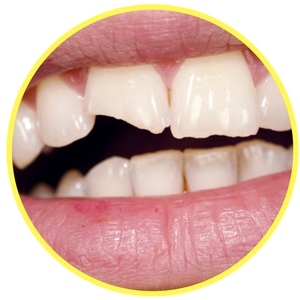 Minor cracks or breaks in your tooth may not cause much pain at all, but if a larger portion happens to break off, it can really hurt. The nerves inside of the tooth may end up being damaged, which can cause extreme pain and discomfort.
Visiting an emergency dentist in Detroit immediately is important to not only save the tooth, but to figure out if a cavity was the underlying cause of the break. For temporary relief, you can try rinsing your mouth out with warm water and applying a cold pack on your cheek or even your lips over the position of the broken tooth.
Emergency Room Versus Emergency Dentist

When you experience a dental emergency, it's vital to know which form of treatment is your best option. Dental emergencies need to be handled in a swift and quick manner to avoid infection, permanent tooth damage or loss, or even other, more serious conditions.
Emergencies that involve your mouth or face may require emergency room services as well as conditions such as dislocations, fractures, soft tissue injuries, and even some dental abscesses that involve major swelling in the mouth.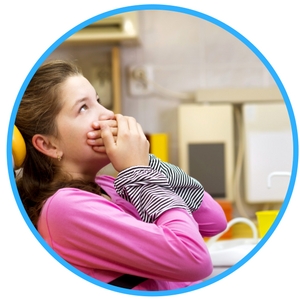 You may be denied care at an emergency room if the emergency is only dental in nature and you will want to see an emergency dentist for these issues. At a dental clinic, you will have more treatment options available to you along with continued preventative care in the future. Dentists understand the anatomy of your mouth and teeth much better than emergency room doctors do.
FAQ
What should I do if my tooth gets knocked out?
When you find your tooth has been knocked out, be sure to first handle the tooth very carefully. Do not touch the root, as it can be damaged rather easily. If you notice that your tooth is dirty hold it by the crown, or upper region, and rinse it off with milk. If there is no milk available, rinse it with water. Do not under any circumstances wipe it dry with a shirt, cloth or other type of fabric, this could also damage the tooth.
Ensure you keep your tooth moist by putting it into a glass of milk, If you are not able to do this, put the tooth between your gum and cheek.
What are my options for replacing a missing tooth?
There are a few options available to you to help replace any missing teeth including implants, removable partial dentures, and fixed bridges.
Many people prefer implants to replace a single tooth or as support for a full set of dentures. They are surgically placed into your lower or upper jaw to act as a strong anchor for replaced teeth.
A removable partial denture is easily removed from your mouth so you can clean it efficiently. They usually have fixed replacement teeth attached to a plastic base that will match the color of the gums in your mouth.
Fixed bridges is a tooth restoration procedure where the tooth is cemented or bonded into position, and can only be removed by a dental professional.
When it comes to you or a family member's smile, you must be prepared, especially when an emergency happens. Emergency dental clinics and 24 hour offices provide you with a high quality of care in your time of need. Emergency Dentists USA can help you find a dentist before an emergency occurs!
Remember to check with your local dental society to verify all certification from any new dentist that you are planning to visit. You may be able to find out more about the possible dentist using your local Detroit Dental Society as well.
Medically Fact-Checked & Written by Our Dental Editorial Team
You can read more about our editorial guidelines by clicking this link and learn more about the Emergency Dentists USA editorial team here.