Helping Detroit Residents Find IMMEDIATE Dental Services Everyday.
Get relief from chipped, cracked or lost tooth
Abscess, toothache, mouth pain
Emergency dental surgery
24 hour services - Includes weekends, nights and holidays
Find a Dentist 24/7
Near You IMMEDIATELY
Click or Call Toll-Free
1 (313) 818-1019
24 Hour Emergency Dentist Detroit Michigan
---
We Specialize in Detroit Emergency Dentistry: Call 24/7: 1 (313) 818-1019
Monday – Friday, See A Detroit Dentist The Same or Next Day/Night You Call!.
Saturday And Sunday, "See A Detroit Emergency Dentist Within Hours."
Finding an emergency dentist in Detroit, Michigan should not be a difficult task. We are here to provide you quick and easy access to a 24 hour dentist near you. The Motor City is, by far, one of the most well known major cities in the United States, and if you find yourself in a pinch where you need to seek an emergency dental provider in Detroit, you are in luck.
There is no doubt that when it comes to getting relief from pain of a dental nature, you will want to quickly visit a dental office that can provide you with proper care. When your injury occurs over the weekend, you will definitely want to find a 24 hour emergency dentist in Detroit that may be open Saturdays, Sundays, 7 days a week. When facing a situation where the pain reaches a high threshold, the last thing you want to do is put off treatment until the weekend is over. Detroit emergency dental clinics are in business to serve the needs of folks like you and I when our regular dentist is unavailable.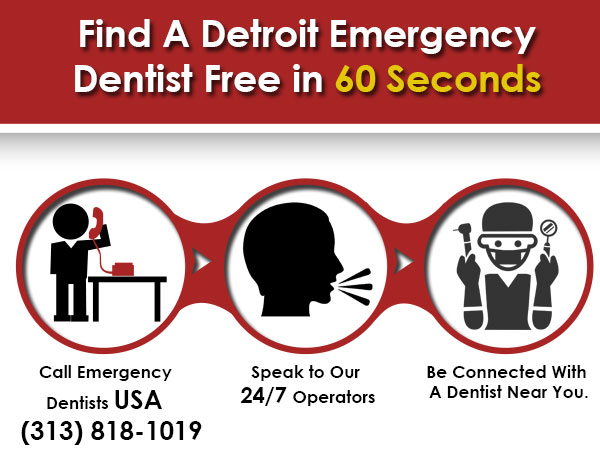 Call 24/7: 1 (313) 818-1019
What a great website! I never knew this was something I would need until I found myself in pain on a saturday afternoon and no dentist offices were answering their phones! Thank you so much for finding me a dentist who could fix my problem fast!
Urgent Dental Care Clinics in Detroit, Michigan
If you or one of your family members are suffering, get help. It is simply not worth waiting for another day and night to pass, hoping the discomfort improves. There are some fantastic dentists available on our page, and you can check their listings below. Otherwise just call our hotline number, and we will connect you with a great dentist in your area quickly and easily. The hotline is here for your needs. Day and night, you can reach our operator, give them some information, and quickly find a dentist who fits your needs in your local area.
Don't spend another second wondering to yourself "Will I ever find an emergency dentist near me?" take action and get seen by a dentist today!
---
Emergency Dentists USA Referral Service Detroit
Phone Number: 1 (877) 507-0879
Address: Referral Service to Various Dental Offices across Detroit
Doctors Multiple
Description Call to be connected with the perfect dentist for you. Detroit is a large city and we have the connections to find a dentist to fit your needs, and can get you an appointment immediately. We can help you find a Detroit emergency dentist quickly and easily! Get help finding an emergency dentist without insurance, or with your insurance coverage.
---
Dentalworks Lincoln Park
Number: (888) 898-9078
Office: 2100 Southfield Rd, Lincoln Park, MI 48146, United States
Doctors: Dr. Suzanne Hawley
Website: https://www.dentalworks.com/practice/45/Lincoln-Park-MI-48146-DentalWorks-Lincoln-Park
Description: Doctors Suzanne Hawley and Ridad Al-Qawasmi are heads of this practice that can see to it that emergency dental problems are looked at as soon as the trouble arises, and keep their practice open on into the weekend to do so. There is nothing quite as frustrating as having yourself or a family member fall prey to very intense and looming dental pain, and the staff here is on hand to get rid of that pain for you and do so with confidence.
Mon: 9:30 AM – 5:00 PM
TUE: 9:30 AM – 8:00 PM
WED: 9:30 AM – 8:00 PM
THU: 9:30 AM – 5:00 PM
FRI: 9:30 AM – 5:00 PM
SAT: 9:30 AM – 2:00 PM
---
West Grand Dental, PLLC
Phone Number: (313) 875-3440
Address: 2617 West Grand Blvd. Detroit, MI 48208
Website: www.westgranddentalpllc.com
Doctors: Dr. Kok-heng Chong
Description: Dr. Chong is a Detroit Mich. dentist specializing in prosthodontics, cosmetic, emergency dental care and implant dentistry service. Get an appointment at his dental office on a Saturday from 9am to 1pm.
Monday, Wednesday and Friday: 9 a.m. to 6 p.m
Tuesday and Saturday: 9 a.m. to 1 p.m.
---
Bright Side Dental
Number:(734) 207-1800
Office:6460 N Canton Center Rd. Canton, Michigan 48187
Doctors:Dr. Kamini Kapoor D.D.S., M.S.
Website:http://www.brightsidedental.com/office-locations/canton-office-location/
Description: Get ahold of this emergency dentist near detroit now and find yourself with an appointment asap. They have great hours including evening hours 4 days a week as well as Saturday Dentist hours from 8am to 1pm. Another great option is the ability to call and seek an appointment if you're looking for a Sunday dentist.
Monday:9:00 a.m. to 7:00 p.m.
Tuesday:12:00 p.m. to 7:00 p.m.
Wednesday:9:00 a.m. to 6:00 p.m.
Thursday:11:00 a.m. to 6:00 p.m.
Friday:9:00 a.m. to 5:30 p.m.
Saturday:8:00 a.m. to 1:00 p.m.
Sunday: Call for Emergencies
---
Affordable Dental Care Emergency Services
Number: (888) 233-6732
Office: 18181 W 12 Mile Rd. Suite 1 Lathrup Village, MI 48076
Doctors: Dr. Tanaya Porter
Website: http://www.affordabledentalcaremi.com/emergency-dentistry.html
Description: All you have to do is pick up the phone and call Lathrop Village Emergency Dental Care, and your new aching pain will be subsided soon. From gum and jaw pain to an infected or knocked out tooth, the staff here can see to it that your after hours dentist emergency will be seen to quickly and effectively. Always promising to see same-day appointments when it is at all within their reach, this walkin dentist clinic is a blessing and great ray of sunshine for those in pain within the Detroit metro area.
Monday 9:00AM – 6:00PM
Tuesday 12:00PM – 8:00PM
Thursday 12:00PM – 8:00PM
Friday 9:00AM – 5:00PM
Saturday 9:00AM – 2:00PM
---
Metropolitan Dental Center Emergency Dentistry
Number: (248) 365-7737
Office: 4664 West Walton Blvd., Waterford, MI 48329
Doctors: Dr. Ingber
Website: http://www.mdcsmile.com/emergency-dentistry/
Description: Here at metro dental center, there is care offered 24 hours a day and seven days a week for patients who need help when time is of the most essence. From auto accidents to mishaps that can occur during action sports, Dr Ingber is an on-staff dentist at St. Joseph Mercy Oakland Hospital, and can provide emergency room care for the most serious types of dental injuries. It's time to figure out which clinic you want to take care of you when the worst in life happens: Metro Dental Center is well-equipped, generous, and able.
Monday to Thursday 8:30 a.m. – 5 p.m.
Friday 7:30 a.m. – 3:30 p.m.
Saturday by appointment only
---
Covenant Community Care, Inc.
Number: (313) 554-0485
Office: 559 West Grand Boulevard Detroit, MI 48216
Doctors: Dr. Lynn Eickholt
Website: http://www.covenantcommunitycare.org/about
Description: Healing Detroit Together is a notion that some think may take an entity that can move mountains to accomplish! Covenant Community Care is a faith based charitable non-profit organization that serves the people of Metro Detroit who are in desperate need of emergency care. This is one emergency dental entity that is able to do what they do because of donations, and are proud to be a provider of services that residents need most when dental pain begins to take over.
Dental Hours- Monday through Friday 8am-4pm
---
Emergency Dental Situations
Home remedies are not always effective with certain dental problems, and waiting for the pain of a injury to subside can be a regretful decision. This could make matters worse! If you have a tooth knocked out, getting to a dentist immediately can be the difference in saving the tooth. Here's some quick tips if that happens.
Tooth Knocked Out
1. Call us immediately to find an emergency dentist.
2. Pick up the tooth by the top (crown) of the tooth. Do not touch the root of the tooth.
3. Rinse the tooth off very gently. Do not scrub or remove any tissue attached to it.
4. If possible, place the tooth back into the socket. Hold it in place by gently biting down. If you can't place the tooth back in the socket, tuck it into the cheek pouch. As a last resort, put the tooth in a small container of milk.
5. Get quickly and safely to the emergency dentist.
Detroit, Michigan is an iconic city that you should be enjoying instead of worrying about a dental emergency. Sometimes if can be difficult to find a dentist at night or on the weekends, but we strive to find you the best urgent care dentist to suite your needs. To check the status of a dentist in Detroit, please check the Detroit Dental Association website.