Helping Thousands of People Each Year Find Dental Services
Emergency dental surgery, cavities, general dental care.
Find immediate help, no insurance required.
Get relief from chipped, cracked or lost teeth, abscesses or toothaches.
Emergency Dentists Warren MI
24 hour dentist Warren, Michigan
Dental emergencies can occur at unexpected times- in the middle of the night, during important occasions or very early in the morning. Young children and senior citizens may also hurt themselves suddenly, which is why injuries like these need immediate medical attention. Sometimes, waiting for the next morning or until after the weekends are over, is not the most feasible solution. Hence, emergency dentists are of utmost importance in a city as any other emergency service. Keeping some contact numbers handy for emergencies as such is always a wise approach. Emergency dentists are open round the clock, which gives one the chance to visit the dentist at any time of the day for a chipped tooth or during the weekends, a time when normal clinics remain closed. One never knows when one might experience severe toothache or bleeding gums. Therefore, dental issues must not be taken lightly. Those with busy work schedules cannot make time to visit the dentist during weekdays, which is why emergency dentists in Detroit metro area offer them a great opportunity to get their teeth looked at during the weekend.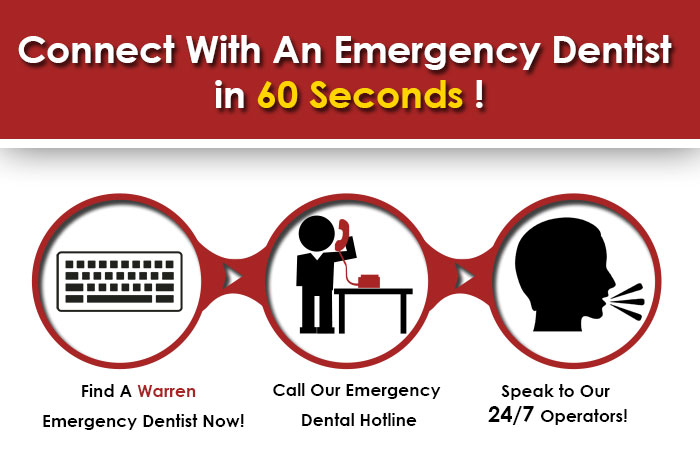 "You never want to put off a dental visit if you are having an acute issue such as a toothache. Even a mild or moderate toothache can be indicative of a serious problem that needs immediate treatment. Worst of all, you may actually make the situation worse by putting off an emergency dental visit, which could result in the need for more costly treatments."
Emergency Dental Warren
For the residents of Warren, the largest city in Macomb County and the third largest in Michigan, emergency services are in high demand for the population of around 134,056. Warren, Michigan, being Metro Detroit's largest suburb, is the home to businesses and establishments such as General Motors Technical Center and the US Army Detroit Arsenal, etc. For a busy city like Warren, having some contact numbers of emergency services are essential.
It is always a good idea to keep some names and numbers of emergency dentists noted down, as you never know when you might need them. If the situation goes from bad to worse, one could always dial 911, but sometimes the solution may not be as straightforward. Hence, numbers of emergency dentists could come in handy, and so, here are a few places where you could go to for an emergency checkup.
Warren Emergency Dentists
List of Emergency Dentists Warren, Michigan
---
Emergency Dentists USA Referral Service Warren
Phone Number:
1 (855) 401-2701
Address: Connected To Various Dental Offices across Warren
Doctors Multiple
Description Call to be connected with the perfect dentist for you. Warren is a large city and we have the connections to find a dentist to fit your needs, and can get you an appointment immediately.
---
Lifelink Home Health Care Services
Address: 11885 E Twelve Mile Rd #100b, Warren, MI 48093, United States
Telephone: (586) 558-9112
Website: www.lifelinkhomehealthcare.com
Description: Lifelink Home Health Care Services is not just a dentistry, as it also provides other services, such as Nursing Care, Physical Therapy, Home Health Aid, etc. In fact, this is a one stop destination for all medical emergencies. The clinic also specializes in senior citizen healthcare.
Monday 9am – 5:30pm
Tuesday 9am – 5:30pm
Wednesday 9am – 5:30pm
Thursday 9am – 5:30pm
Friday 9am – 5:30pm
Saturday Closed
Sunday Closed
---
Gentle Dental of Warren
Address:29753 Hoover Rd b, Warren, MI 48093, EE. UU.
Website: gentledentalwarren.com
Telephone: (248) 439-1108
Description:
Monday 10am – 7pm
Tuesday 9am – 5pm
Wednesday 10am – 7pm
Thursday 9am – 5pm
Friday 8am – 2pm
Saturday 8am – 1pm
Sunday Closed
---
Your Neighborhood Dentist
Address: 30301 Schoenherr Rd B, Warren, MI 48088, EE. UU.
Telephone: (586) 573-4970
Website: www.yourneighborhooddentists.com
Description: Dr. Tanya Saour of Maplecrest Urgent Care provides careful emergency services for all your dental necessities, including Root Canals, Cosmetic Dentistry, Orthodentistry, etc.
Monday 9am – 7pm
Tuesday 9am – 6pm
Wednesday 9am – 4pm
Thursday 9am – 6pm
Friday Closed
Saturday 9am – 2pm
Sunday Closed
Village Place Dental
Address: 6213 Chicago Rd #100, Warren, MI 48092, EE. UU.
Telephone: (586) 264-5410
Website: www.villageplacedental.com
Description:
Monday 11am – 7pm
Tuesday 7am – 5pm
Wednesday 7am – 7pm
Thursday 7am – 4pm
Friday 8am – 1pm
Saturday 8am – 2pm
Sunday Closed
---
Medically Fact-Checked & Written by Our Dental Editorial Team
You can read more about our editorial guidelines by clicking this link and learn more about the Emergency Dentists USA editorial team here.