Helping El Paso Residents Find IMMEDIATE Dental Services Everyday.
Get relief from chipped, cracked or lost tooth
Abscess, toothache, mouth pain
Emergency dental surgery
24 hour services - Includes weekends, nights and holidays

Emergency Dentist in El Paso – Find A 24-Hour Dentist Now
Emergency Dentist El Paso Table of Contents
Table of Contents
Navigating the streets of El Paso in a frantic search for an emergency dentist is no one's idea of a good time. Anyone with a dental emergency desperately needs a high quality local emergency dentist, and Emergency Dentists USA has all of the details on El Paso's best walk in dental clinics and after-hours dentists.
A fast, free, and efficient referral service allows you to connect with the staff of a walk-in clinic in your El Paso neighborhood, or makes it easy to find the right emergency dentist for your specific after-hours dental emergency. Whether you have a cracked tooth, a missing filling, or an emergency tooth extraction on the agenda, Emergency Dentists USA has the right El Paso dentist to treat you on your own schedule.
Our emergency dental referral number directs you to the exact dental service you require 24 hours a day and seven days a week without the hassle of calling each dentist's office directly. With Emergency Dentists USA, you can find a dentist who is open right away or choose to make an appointment with a dentist who offers office hours that suit your schedule, even on the weekends.
Finding A 24 Hour Emergency Dentist in El Paso, Texas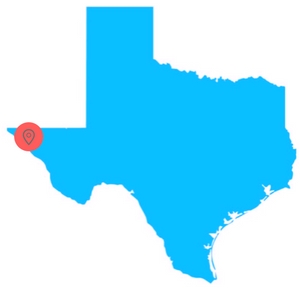 El Paso, Texas with its population of over 500,000 residents has a huge selection of emergency dental service options for anyone suffering with the misery of a toothache or another painful dental emergency. Over 1000 dental clinics offer services that include both after-hours dental care for weekend or evening emergencies, and walk-in dental care for patients who just cannot wait for an existing appointment. Perfect for travelers with a dental emergency, our 24/7 access to emergency dental clinic information offers peace of mind even when you are away from home.
After hours dental care occurs in a dental clinic that offers regular hours with a variety of after-hours appointments for patients with a dental emergency. Many of the after hours dental clinics in the El Paso area provide patients with appointments as late as 7 p.m. or offer appointments on weekends.
Walk-In dental clinics cater to a variety of dental emergencies without the need for an appointment. Walk-in clinics are an excellent choice for patients with a dental emergency that requires quick treatment when making an appointment just takes too long.
It is important that this section is unique for each article that you write. Give information as to what each time of emergency dentist is available for the specific city. For example, if you look at the listings and there isn't a walk-in dental clinic, then that would need to be left out of this section.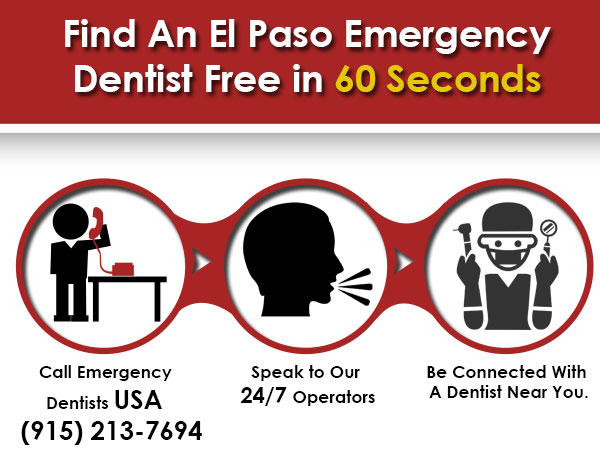 Emergency Dentist Listings in El Paso, Texas
Our simple-to-use El Paso Emergency Dentist directory lists a variety of dental offices with weekend hours or evening appointments for your convenience. The 24/7 dental emergency referral hotline for El Paso provides you with convenient service any time you are not able to contact a dentist listed on the directory, and connects you with a person who can assist you in finding the right dentist for your dental emergency.
Browse the dental offices listed below, and choose an El Paso dentist with hours that fit your scheduling requirements or find the emergency dentist who is available when you need service.
---
Emergency Dentists USA Referral Service El Paso
Phone Number: 1 (855) 401-2701
Address: Referral Service to Various Dental Offices across El Paso
Doctors Multiple
Description Call to be connected with the perfect dentist for you. El Paso is a large city and we have the connections to find a dentist to fit your needs, and can get you an appointment immediately. Finding an emergency dentist El Paso TX is simple here! Get help finding an emergency dentist without insurance, or with your insurance coverage.
---
Kool Smiles El Paso
Number: (915) 317-7567
Office: 6910 Mesa St., El Paso, TX 79912
Doctors: Dr. Andre Singleton
Website: https://www.mykoolsmiles.com/
Description: Here skilled doctors Andre Singleton, Robert Naffah, Kenny Lim, Dale Mayfield, Stephen Petty, and Jay Rasmussen all form an emergency dental team that stays open on Saturdays for those who are incredibly busy, and they understand full well the stress of having extreme tooth pain. Whether it's a full-blown extraction or just x-ray consultation you need, Kool Smiles is an awesome clinic to have headquartered right in the center of the city.
Mon-Fri: 7am-9pm (Eastern)
Saturday: 9am-2pm (Eastern)
Sunday: Noon-6pm (Eastern)
---
Sunny Smiles Dental Care
Number:915-849-9000
Office:1788 N. Zaragoza Rd., El Paso, TX 79936
Doctors:Dr. Nasim N. Ravari
Website:http://www.sunnysmilesep.com/
Description: They create healthy smiles at Sunny Smiles Dental Care. You can expect to find these emergency dentists in their offices to 7pm every weeknight as well as Saturdays from 9am to 3pm. That's great for those of you looking for an evening or Saturday dentist in El Paso.
Monday-Friday 8am to 7pm
Saturdays 9am to 3pm
---
Sol Dental
Number: (915) 213-3090
Office:1188 N Yarbrough Dr, Ste A, El Paso, TX 79925
Doctors:Dr. Nasim N. Ravari
Website:http://www.soldentalcare.com/
Description: Sol Dental Care is a great choice for an after hours dentist or Saturday dentist in El Paso. They have hours until 7pm monday through wednesday, as well as Saturday hours from 9am to 4pm. Unfortunately they don't offer any Sunday dentist hours.
M – W: 10am – 7pm
Th – F: 9am – 6pm
Saturday: 9am – 4pm
---
Star City Dental
Phone Number: 915-591-7117
Address: 1806 McRae Blvd,El Paso, TX 79925
Website: www.starcitydental.net
Doctors: Dr. Juan M. Gonzalez
Description: General family dentistry clinic offering help for your urgent care dental health care needs. Available to the entire family when you need a professional dentist for healthy teeth.
---
Brightwood Community Emergency Clinic
Number: (915) 595-1935
Office: 8360 Burnham Road, Suite 100 El Paso, TX 79907
Website: https://www.brightwood.edu/el-paso-tx/
Description: This college wants everyone, even walkin dentist patients, who come through the doors to leave with a healthy mouth and to be pain-free, and also has Saturday hours for those that are too tied up during the week to take care of their tooth pain. A provider of low-cost emergency dental services that the entire community trusts and has faith in, you can obtain root canals, crowns, dentures, extractions, and other emergency services here. The university clinic option is the best for many who are needing a sliding scale for fees, but are still in dire pain.
Driving Directions
---
Southwest Celebrity Smiles Emergency Services
Number: (915) 595-3333
Office: 7878 Gateway Blvd E # 101, El Paso, TX 79915
Doctors: Dr. Antonio Solis
Website: http://www.mycelebritysmiles.com/emergency-dental-care
Description: Doctors Antonio Solis, Shelly Gallegos, and Kambiz Sadrei are all at the helm of this clinic that is a stellar choice for late night and emergency dental care services. Knowing full well that many need attention after hours, even a small object caught between your teeth is looked at in grave detail for emergency potential, as no patient wants to encounter an infection.
Driving Directions
---
Don't waste time sitting around at home thinking "Will I ever find an emergency dentist near me?" Get up and make a phone call and you'll be sitting with a dentist shortly!
How To Prepare For Your El Paso,Texas Emergency Dental Clinic Visit

Emergency dental clinics offer visit options that are similar to a regularly scheduled dental office visit. This might include x-rays, examinations, and emergency tooth repairs.
Gather any existing dental records, previous dental x-rays, medical records, paperwork, and your insurance information to give to the El Paso emergency dental clinic.
Arrive at least 15 minutes prior to your appointment time to fill out office paperwork. If you have questions, feel free to speak to the El Paso emergency dental office staff for help when filling out forms. Many El Paso dental offices have a bilingual staff member to assist with dental forms.
Check to ensure the dental office accepts your dental insurance. This can seriously impact the amount that you pay following the visit.
Make sure that you understand payment practices up front. Ensure that the dental office accepts your method of payment including cash, credit card, or insurance. If a payment plan is required, ensure that the dental office offers this service.
Let the El Paso emergency dental clinic know if you have allergies to any medications.
Afraid of dental examinations or of pain during the visit? Let the receptionist know so that they can help to accommodate this need.
Quality of Urgent Care Dentists In El Paso, Texas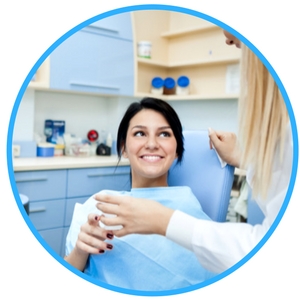 -El Paso, Texas is ranked number 9 in "quality of life" by U.S. News and World Report in 2016, making it one of the top 10 Best Cities in the United States. With a population that exceeds 500,000 people, the "city with a legend" makes a perfect location for settling down with the family, building a great future, spending time outdoors, enjoying the many museums and parks, and finding excellent dental or medical care when it is required. A large selection of medical offices, dental facilities, and hospitals make it easy to get quality emergency dental assistance right in El Paso at a time that suits your schedule.
-El Paso offers a fun and fast-paced living environment that encourages residents to live a healthy and active lifestyle. Skiing, rock climbing, hiking, and swimming make El Paso a great tourist destination with gorgeous parks, and plenty of options for great dental care mean no one has to panic when a dental emergency comes up during that fantastic vacation.
-Visiting museums, celebrating delicious Texas dishes, and taking part in the Downtown Kidsapalooza make El Paso the perfect destination for families with children, and a cracked tooth or a lost filling won't end the vacation with a disaster.
-The El Paso metro area offers a selection of hospitals with emergency facilities that can accommodate a dental emergency when a standard dentist office is not available. These hospitals include Complete Emergency Care on Redd Road with its state-of-the-art medical facility designed to treat everything from a cracked tooth to a major heart attack and The Hospitals of Providence with several locations inside El Paso offering 24 hour emergency dental assistance without an appointment.
-Also located in El Paso is the El Paso Children's Hospital with a complete emergency department dedicated to providing healthcare to children and teens. After-hours care at a hospital emergency room is an excellent choice when dental offices are not available to provide necessary treatment.
-When you have a dental emergency, it is extremely important to find medical care at a hospital or emergency dental clinic in a timely manner. Choose a hospital emergency room when a dental office is not available, or when you are unable to choose a local dentist. Call 911 if you have an emergency that requires immediate attention.
Common 24 Hour Dental Emergencies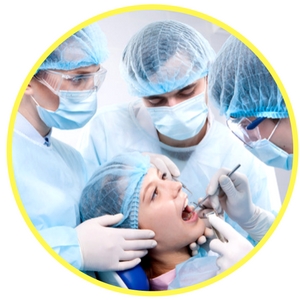 There are a variety of common 24 hour dental emergencies that require immediate treatment from an El Paso dental professional. These types of emergencies include damage to teeth due to an accident or injury, bleeding of the lips or gums, lost crowns, a lost filling, or even a broken or lost tooth.
Many of these emergencies are extremely painful and become more difficult to treat if treatment is delayed. El Paso's emergency dentists are able to treat all of these dental emergencies in clinics located right in your neighborhood without the long wait for an appointment. The information below is offered for informational purposes only.
The advice given by EmergencyDentistUSA.com is not a substitute for seeking care from a medical professional. Since every dental emergency is unique, you should see a dentist or go to the emergency room if you are experiencing any of the dental emergencies listed below.
Soft Tissue Injuries

A soft tissue injury might include damage to the lips, the tongue, the gums, or the cheeks. This type of injury often results in bleeding that may be controlled by following some simple steps. If the bleeding is severe or difficult to control, an El Paso emergency dentist or medical professional should be contacted immediately.
Begin by rinsing the mouth with a mild solution made from salt and water. Using a cup of warm water, mix ½ of a teaspoon of salt until it dissolves completely. Take a mouthful of water and rinse several times. This type of rinse soothes sores inside of the mouth and aids in healing.
Choose a small piece of moistened gauze or a moistened tea bag to place pressure on the bleeding area.
Hold the gauze or tea bag in place for at least 15 to 20 minutes to stop the bleeding. Gauze or a tea bag may be placed between the cheek and gum inside of the mouth for injuries that involve that area.
Select a cold compress to hold against the outside of the mouth or cheek to relieve pain and lessen swelling. Hold the compress against the affected area for 5 to ten minutes.
Continue to hold pressure against the bleeding site and visit a medical professional, an El Paso dentist, or the hospital emergency room if the bleeding does not stop. If you become dizzy at any time during this dental emergency, dial 911 rather than driving to an emergency room or dentist's office.
Lost Filling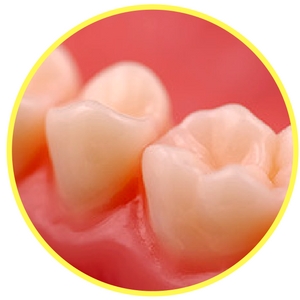 A lost filling leaves an opening in the tooth for bacteria to enter and further damage the tooth. Fillings are generally made from materials that include porcelain, gold, composite resin, or an amalgam. The tooth is prepared for the filling when the El Paso dentist removes decayed portions of the surface in order to prevent further decay.
A filling is often lost while eating or chewing gum, and the loss can cause the tooth to become sensitive to pressure, heat, or cold. If you lose a filling, it is always important to contact your El Paso dentist immediately to have the filling replaced. While waiting for professional treatment, you can follow some simple steps to keep your mouth comfortable.
Chew a small piece of sugarless gum until it is soft. Place a small piece of the gum into the cavity left by the missing filling. This will help to protect the exposed area until you can reach your dentist or located an emergency dental clinic. Do not use gum that contains sugar as this can increase pain or sensitivity in the tooth.
Select an over-the-counter dental cement. Follow the directions on the product to create a temporary filling to replace the lost filling. Two-part dental cement tends to hold slightly better than the single part products. Dental cement can be purchased without a prescription at most drug stores or large grocery stores.
Make an appointment to visit your dentist to have the filling replaced. This is the most important step when it comes to handling a lost filling dental emergency. If the filling is not replaced in a timely manner, the tooth will continue to decay. This can become painful in a short time. Seeking timely care by an El Paso urgent care dentist makes this type of emergency simple to handle.
Emergency Toothache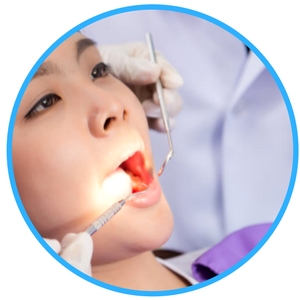 An emergency toothache can definitely ruin a fun evening in El Paso. The pain of a toothache is not the only emergency because toothache pain could be caused by a broken tooth, damage to the gums, or even an abscess or infection that requires immediate treatment. Several simple steps help to alleviate the toothache pain while you wait to see your El Paso urgent care dentist, head to the emergency dental clinic, or visit the emergency room.
Rinse the inside of your mouth with warm water. Ensure that you have rinsed thoroughly to dislodge any food particles that might be causing pain while trapped between teeth or between gums and teeth.
Use dental floss or a dental pick to remove any food particles from the affected area. Often, the pain will lessen when the food is removed and pressure on the tooth is relieved. If you are not able to dislodge the food item, proceed immediately to your urgent care dental office.
For swelling outside of the mouth, apply a cold compress to the swollen area. You can make a simple compress by placing ice inside of a damp washcloth. Press the compress against the swollen area for 5 minutes at a time.
Never place aspirin or any other medication directly inside the mouth against the affected tooth or gums. The aspirin or medication could burn the gum tissue and create even more pain, making it difficult to treat the toothache.
Contact your El Paso urgent care dentist or an emergency room for an immediate appointment. Because toothache pain could come from a variety of causes, it is extremely important to visit an El Paso dentist as soon as possible.
Chipped or Broken Tooth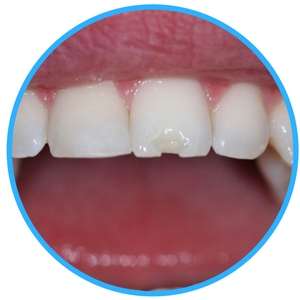 A chipped or broken tooth is a common El Paso dental emergency. Children playing sports often end up with injuries that include chipped teeth. Biting down on something that is hard, being hit in the face, or having cavities that have not been addressed can also cause chipped or broken teeth.
A chipped or broken tooth may or may not be painful, but requires a visit to an El Paso urgent care dentist regardless of the circumstances. While you are waiting to see your dentist, there are several steps that can be taken to ensure that the tooth repair goes well.
Find and save any pieces of the tooth that has been broken or chipped. Rinse the pieces carefully and bring them with you to your El Paso urgent care dentist's office.
Using warm water, rinse the inside of your mouth carefully to remove tiny pieces of tooth and to soothe any pain.
Moisten a small piece of gauze and apply it to any area of the mouth that is bleeding. Applying steady pressure for 10 to 15 minutes should stop any bleeding. If bleeding does not stop, visit your El Paso emergency dentist or emergency room immediately.
Use a cold compress to reduce swelling and pain on the outside of the mouth. A damp washcloth filled with ice makes an excellent compress. Apply it to any affected areas (outside of the mouth) for five minute intervals. Applying the compress to any area near the chipped tooth will also help to lessen the pain.
Make an appointment to see your El Paso urgent care dentist as soon as possible. If the pain is intense or includes bleeding, visit an emergency room or a walk-in dental clinic as soon as you are able.
Do You Need an Emergency Tooth Extraction?
A variety of situations can cause the necessity of an emergency tooth extraction. No one wants to visit the dentist to have a tooth removed, but understanding the procedure can help to lessen the fear. An emergency tooth extraction often occurs when a tooth is damaged due to trauma, decay, or crowding. When a tooth cannot be repaired with a crown or a filling, or when a tooth is badly damaged through extensive decay or an accident, an El Paso dentist will often recommend that the tooth be extracted.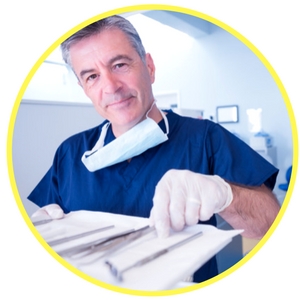 An emergency tooth extraction often occurs when a tooth becomes infected. When decay in the tooth extends to the center or pulp of the tooth, bacteria in the mouth leads to infection. This type of infection is not only dangerous but also painful.
A person with a compromised immune system or a person in need of an organ transplant might have a tooth pulled in order to decrease the risk of infection. Waiting to have the tooth extracted might cause the infection to spread to other parts of the mouth, jaw, and even the entire body. Having a tooth extracted before the infection is able to spread makes the outcome better than waiting since early treatment negates the necessity for large doses of antibiotics or pain medications.
Choosing the right El Paso dentist for an emergency tooth extraction means that you have options when it comes to this procedure. Some dental clinics offer general sedation for tooth extractions while others prefer to use a numbing agent to reduce any discomfort you might feel during the procedure.
After the emergency tooth extraction it is important to follow all instructions carefully. Make sure that pain medications are taken as prescribed and bite firmly on the gauze pad that covers the gum where the tooth was located. Apply a cold compress to the area outside of the mouth to lessen swelling.
Limit activity following the extraction for at least 24 hours and avoid forceful spitting or rinsing until the clot has formed on the gum. Avoid drinking from a straw or smoking following the extraction as this can impede the healing process.
Eat soft foods like soup or yogurt to ensure that you are not placing pressure on the newly exposed gum area. Rinse the area with warm saltwater after 24 hours. The healing time is generally one to two weeks depending on the location of the extraction.
Emergency Room Versus Emergency Dentist

While visiting the emergency room for a dental emergency might seem like a quick fix, an El Paso emergency dentist is definitely the best choice for dental issues that cause pain or damage to the teeth.
The American Dental Association's recent study states that a person visits an emergency room every 15 seconds for a dental emergency that might possibly be treated at a dentist's office rather than the emergency room. Many people choose the emergency room because they are frightened of dentist offices, because they lack dental insurance, because a dentist is not available at the time, or because they simply aren't aware of where they should go for their dental treatment.
There are times when skipping the dentist and heading straight to the emergency room is definitely the best option. Visiting an emergency room is important if your tooth damage has come from an accident that includes a head injury, a fall that damages the mouth, or a sports injury that causes a tooth to break. These types of injuries can involve parts of the body that a dentist does not routinely serve, making it important to check with an emergency room doctor first.
A car accident that causes teeth to be damaged should always be treated first in the emergency room and then by an emergency care dentist to ensure that there are no broken bones or injuries other than the actual tooth damage. Any time an injury occurs to the head or body and to the mouth, an emergency room visit is absolutely a priority.
Many people choose to visit an emergency room rather than an emergency dentist because they do not have dental insurance, because they are frightened of the dentist's office, or they do not know of a dentist in their area. Although this seems like a simple solution, most emergency rooms do not actually treat dental problems.
A visit to the emergency room generally includes antibiotics to control any infection in the mouth and painkillers that mask the pain. The patient is then referred to an El Paso area dentist to treat the actual dental problem, making the trip to the emergency room simply a stop on the way to the dentist's office anyway.
Emergency room doctors are not equipped to treat the underlying tooth problem in many cases, and a chipped tooth that becomes infected will still require treatment from an El Paso urgent care dentist. In many cases, the visit to the emergency room will cost quite a bit more than that same visit to an emergency dentist and the patient will end up visiting a dentist anyway. Even without dental insurance, a visit to the right dental clinic will probably be much less expensive.
FAQ
What should I do if my tooth gets knocked out?
If your tooth gets knocked out, pick up the tooth by the chewing surface (the crown) and never by the root. Handling the tooth by the root rather than by the crown can cause damage to the tooth, making it more difficult to replace the tooth at the dentist's office.
Gently rinse the tooth with warm water if it has dirt or debris on it. Never scrub the tooth or use soap to clean the tooth. Rinsing your mouth with a mixture of warm salt water will lessen the pain and sooth the gum area.
Place the tooth into the socket by holding the tooth in place and gently biting down on the tooth. Try to keep pressure on the tooth to ensure that it remains in the correct position in the socket.
If you cannot place the tooth back into the socket, ensure that it remains moist at all times. Place the tooth in a container of milk, in your mouth next to your cheek, or in an emergency preservation kit like Save-a-Tooth to keep it moist. Do not wrap the tooth in a napkin or place it in a bag to transport it to the dentist's office.
Visit your El Paso urgent care dentist within 30 minutes if possible. The faster you are able to visit the dentist, the more likely the dentist will be able to save the tooth without the need for more extensive reconstruction.
Now that I'm pregnant, my gums are more sensitive and bleed more easily. Why? What happens if I have a dental problem when I am pregnant?
Being pregnant means that your body is going through so many changes so quickly that things can get confusing. The pregnancy hormones actually increase the risk of gum disease which is why you might have sensitive gums that bleed easily even when your brushing and flossing routine hasn't changed.
Routine and urgent dental care can all be accomplished at any stage of pregnancy, so it is important to keep up with those regular dental visits for cleanings and tooth repairs. Eating a balanced diet and brushing with an American Dental Association approved fluoride toothpaste twice daily is recommended throughout the pregnancy.
If you have a dental problem while you are pregnant, be sure to let your El Paso dentist know that you are expecting a child, and provide him or her with a complete list of the medications that you are taking. If your OBGYN has provided you with special instructions during your pregnancy, ensure that your dentist is aware of these instructions.
Most dental procedures aside from elective procedures like tooth-whitening are considered safe during pregnancy. Routine x-rays and elective dental work can be accomplished following the birth, and all dental work should be accomplished using as little medication as possible.
The American College of Radiography has noted that the dose of radiation from single diagnostic x-rays are not significant enough to damage the fetus, so emergency x-rays are considered safe for pregnant women. When having a dental procedure during your pregnancy, remember to maintain healthy circulation by uncrossing your legs while you are in the dentist's chair.
My child's baby teeth have cavities. Why should they be filled if they're just going to fall out in a few years?
Believe it or not, baby teeth are just as important as those permanent teeth lying below the surface. Cavities in baby teeth are often caused by too much sugar in the child's diet. Sugar that remains on the teeth causes bacteria to form, which later causes plaque. Milk is one of the biggest culprits when it comes to sugar in a child's diet.
Drinking milk right before bedtime means that your child goes to sleep without the protection of brushing and flossing. Plaque sticks to the teeth and eats away at the surface creating a cavity. Cavities that are very deep or that are left untreated can affect the adult tooth below the baby tooth. Bacteria and infection often spreads from the baby tooth to the adult tooth causing permanent damage.
A child who has cavities in his or her baby teeth will benefit from regular dental visits and a change in diet to include less sugar. This change will promote healthy teeth for the child's future. Early dental care often allows the dentist to detect problems with the child's teeth before they become a major issue. The American Dental Association advises that children visit the dentist as soon as they pass their first birthday.
This allows the dentist to evaluation the child's mouth and to teach the parent's how to care for those new teeth. The dentist can also advise parents regarding oral habits like thumb-sucking and will evaluate the child's bite to examine the way the teeth come together.
What are sealants and why are they done?
Dental sealants are actually thin coatings made of clear plastic and dental materials that are designed to stick to the chewing surface of your teeth. These sealants cover the areas of the teeth where cavities are likely to form and protect the tooth from bacteria.
Dental sealants are used along with brushing and flossing to reduce tooth decay and create a healthy mouth. Sealants are noted to reduce tooth decay in molars by up to 80% when applied to undamaged teeth.
Dental sealants are applied by first cleaning the teeth carefully. An acidic gel is then placed on each tooth to roughen the surface and provide a firm area for bonding. The gel is then rinsed from the tooth surface, and the sealant is applied to the tooth's surface.
The dentist uses a blue light to cure or harden the sealant. Sealants can be applied over teeth that have early signs of decay. The actual sealant is clear and the dentist is able to monitor the tooth to ensure that the decay does not continue.
Sealants are designed to last several years and then are generally reapplied. Some dental insurance plans cover this type of dental service, and sealants are an excellent way to prevent tooth decay. Dental sealants can be applied as soon as the second molars appear, generally at the age of 12 years. Adults also benefit from sealants which can help to minimize tooth decay and stop damage to the molars regardless of age.
My dentist says I have a cavity and that I need a filling. But why doesn't my tooth hurt?
In many cases, a cavity doesn't hurt because the damage to the tooth is not extensive at this point. There are several layers to a healthy tooth. The top layer, or the enamel, is the protective portion of the tooth. Underneath this protective layer is the more sensitive portion of the tooth where the nerve is located.
Once the bacteria in your mouth creates enough acid to eat through this protective enamel layer, the cavity may become painful. It is important to treat cavities with fillings before they become painful if possible because this makes the procedure less invasive and painful. Once the bacteria has eaten its way into the center of the tooth, a filling is no longer possible and the tooth might have to be removed.
When a cavity requires a filling, there are two types of materials that are commonly used by dentists to fix the tooth. Amalgam fillings are comprised of a combination of metals that bond together to create a long-lasting and stable surface for chewing. Amalgam fillings are generally silver in coloring and are visible in the mouth.
Composite resin fillings are white in coloring and are less noticeable than the standard amalgam fillings. Composite resin fillings tend to be slightly more expensive than amalgam fillings and do not last quite as long. Both types of fillings are applied using a numbing agent and then a local anesthetic. A dental drill removes most of the tooth decay, and the dentist sometimes chooses hand tools to refine the area where the cavity was located before applying the filling.
24 Hour Dentist El Paso Options
There are no 24 hour dentist options in El Paso, but there are plenty of urgent care dental clinics that offer after-hours care as late as 7 p.m. in some cases. Some dental offices also have hours on Saturdays for patients who are unable to obtain a weekday appointment.
There are no emergency dental clinics with hours on Sundays, but a dental emergency might also be treated at the nearest emergency room. Emergency rooms are open 24 hours a day and seven days a week, making them an excellent choice for anyone with an dental emergency that occurs late at night or on the weekend when you cannot reach your preferred El Paso urgent care dental office.
This Emergency Dentists USA portal is a website for information only, and should be not used to replace the actual advice of a medical professional. If a patient is having an emergency and cannot reach a dentist, call 911 to assure immediate response and safety. All head or face injuries should be treated in an emergency room prior to visiting a dentist.
It is always important to verify the certification of any new dentist that you choose. For dentists in the El Paso area, you can use the El Paso District Dental Society's website at: www.epdds.org to verify the credentials of your dentist by searching for the dentist by name and location. The state of Texas also offers verification access at the Texas Dental Association's website at: www.tda.org. Simply enter your dentist's name and it is simple to ensure that the dentist you have chosen is currently licensed in the state of Texas.
The Emergency Dentists USA website is written for informational purposes only and should never be used in place of the advice of a medical professional. If you are having a medical emergency and cannot reach your dentist, it is important to call 911 or proceed to the nearest emergency room.