Helping El Paso Residents Find IMMEDIATE Dental Services Everyday.
Get relief from chipped, cracked or lost tooth
Abscess, toothache, mouth pain
Emergency dental surgery
24 hour services - Includes weekends, nights and holidays
Find a Dentist 24/7
Near You IMMEDIATELY
Click or Call Toll-Free
1 (915) 213-7694
Emergency Dentist El Paso Texas
---
We Specialize in El PasoEmergency Dentistry: Call 24/7: 1 (915) 213-7694
Monday – Friday, See An El Paso Dentist The Same or Next Day/Night You Call!.
Saturday And Sunday, "See An El Paso Emergency Dentist In Hours."
There is an El Paso emergency dentist for whatever your situation. We have gone through the city of El Paso with a fine toothed comb in order to obtain the details on the best 24 hour dentists available in El Paso. Emergency Dentists USA provides high quality listings for local emergency dentists near you. We also have a referral service that can connect you with the nearest walk in dental clinic to your home. Please call our emergency dental phone line listed above and we will refer you to a dentist who is open right away, or get you an appointment with a dentist whenever they next have open hours. You can try digging through all the dentists in your area and calling them direct or you can use our 24 hour a day 7 day a week fast and free referral hotline and let us do all the work for you!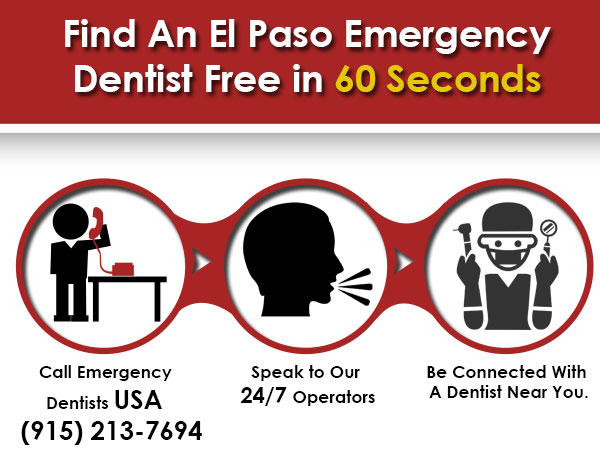 Call 24/7: 1 (915) 213-7694
Often it is a complicating issue to try to find an emergency dentist for individuals when they discover that they are suffering from some dental problem during evening or weekend hours.  It is especially true for travelers, who aren't aware of where the dentists are in whichever city they are travelling in. Fortunately there are several emergency dentists in El Paso, Texas and so essentially the decision at that stage is to select where you wish to go.
Urgent Dental Care Clinics in El Paso, Texas
You'll find in our El Paso Emergency Dentist directory a variety of dentists who offer evening and weekend dentist hours. Take a moment to scan the results below and choose the dentist that fits your scheduling needs. Give them a call directly and setup an appointment with their office, or if you're unable to reach any of the dentists listed, don't hesitate to call our 24-7 emergency dental referral hotline.
---
Emergency Dentists USA Referral Service El Paso
Phone Number: 1 (877) 507-0879
Address: Referral Service to Various Dental Offices across El Paso
Doctors Multiple
Description Call to be connected with the perfect dentist for you. El Paso is a large city and we have the connections to find a dentist to fit your needs, and can get you an appointment immediately. Finding an emergency dentist El Paso TX is simple here! Get help finding an emergency dentist without insurance, or with your insurance coverage.
---
Kool Smiles El Paso
Number: (915) 317-7567
Office: 6910 Mesa St., El Paso, TX 79912
Doctors: Dr. Andre Singleton
Website: https://www.mykoolsmiles.com/
Description: Here skilled doctors Andre Singleton, Robert Naffah, Kenny Lim, Dale Mayfield, Stephen Petty, and Jay Rasmussen all form an emergency dental team that stays open on Saturdays for those who are incredibly busy, and they understand full well the stress of having extreme tooth pain. Whether it's a full-blown extraction or just x-ray consultation you need, Kool Smiles is an awesome clinic to have headquartered right in the center of the city.
Mon-Fri: 7am-9pm (Eastern)
Saturday: 9am-2pm (Eastern)
Sunday: Noon-6pm (Eastern)
---
Sunny Smiles Dental Care
Number:915-849-9000
Office:1788 N. Zaragoza Rd., El Paso, TX 79936
Doctors:Dr. Nasim N. Ravari
Website:http://www.sunnysmilesep.com/
Description: They create healthy smiles at Sunny Smiles Dental Care. You can expect to find these emergency dentists in their offices to 7pm every weeknight as well as Saturdays from 9am to 3pm. That's great for those of you looking for an evening or Saturday dentist in El Paso.
Monday-Friday 8am to 7pm
Saturdays 9am to 3pm
---
Sol Dental
Number: (915) 213-3090
Office:1188 N Yarbrough Dr, Ste A, El Paso, TX 79925
Doctors:Dr. Nasim N. Ravari
Website:http://www.soldentalcare.com/
Description: Sol Dental Care is a great choice for an after hours dentist or Saturday dentist in El Paso. They have hours until 7pm monday through wednesday, as well as Saturday hours from 9am to 4pm. Unfortunately they don't offer any Sunday dentist hours.
M – W: 10am – 7pm
Th – F: 9am – 6pm
Saturday: 9am – 4pm
---
Star City Dental
Phone Number: 915-591-7117
Address: 1806 McRae Blvd,El Paso, TX 79925
Website: www.starcitydental.net
Doctors: Dr. Juan M. Gonzalez
Description: General family dentistry clinic offering help for your urgent care dental health care needs. Available to the entire family when you need a professional dentist for healthy teeth.
---
Brightwood Community Emergency Clinic
Number: (915) 595-1935
Office: 8360 Burnham Road, Suite 100 El Paso, TX 79907
Website: https://www.brightwood.edu/el-paso-tx/
Description: This college wants everyone, even walkin dentist patients, who come through the doors to leave with a healthy mouth and to be pain-free, and also has Saturday hours for those that are too tied up during the week to take care of their tooth pain. A provider of low-cost emergency dental services that the entire community trusts and has faith in, you can obtain root canals, crowns, dentures, extractions, and other emergency services here. The university clinic option is the best for many who are needing a sliding scale for fees, but are still in dire pain.
Driving Directions
---
Southwest Celebrity Smiles Emergency Services
Number: (915) 595-3333
Office: 7878 Gateway Blvd E # 101, El Paso, TX 79915
Doctors: Dr. Antonio Solis
Website: http://www.mycelebritysmiles.com/emergency-dental-care
Description: Doctors Antonio Solis, Shelly Gallegos, and Kambiz Sadrei are all at the helm of this clinic that is a stellar choice for late night and emergency dental care services. Knowing full well that many need attention after hours, even a small object caught between your teeth is looked at in grave detail for emergency potential, as no patient wants to encounter an infection.
Driving Directions
---
Don't waste time sitting around at home thinking "Will I ever find an emergency dentist near me?" Get up and make a phone call and you'll besitting with a dentist shortly!
Also read here on our post about finding the best dentist in El Paso, TX.
Which office is the best 24 hour emergency dentist in Austin, Texas?