Helping Philadelphia Residents Find IMMEDIATE Dental Services Everyday.
Get relief from chipped, cracked or lost tooth
Abscess, toothache, mouth pain
Emergency dental surgery
24 hour services - Includes weekends, nights and holidays

Emergency Dentist Philadelphia Pennsylvania
We specialize in Philadelphia Emergency Dentistry:
Click to go to list of Dentists.
It's late at night. You've just woken up with the worst toothache you've ever experienced. You've tried all of the over the counter pain medication, and nothing will work. You have to go to work tomorrow, but you don't know how you'll be able to with such a horrible pain in your mouth. If this sounds like you, you are in the right place to find an emergency dentist in Philadelphia.
Emergency Dentist USA offers a list of after hours dental offices open on Saturday and dental offices open on Sunday in Philadelphia. The city is big, and having this list will help you narrow down where you should go to see a walk in dentist any time of the day or night.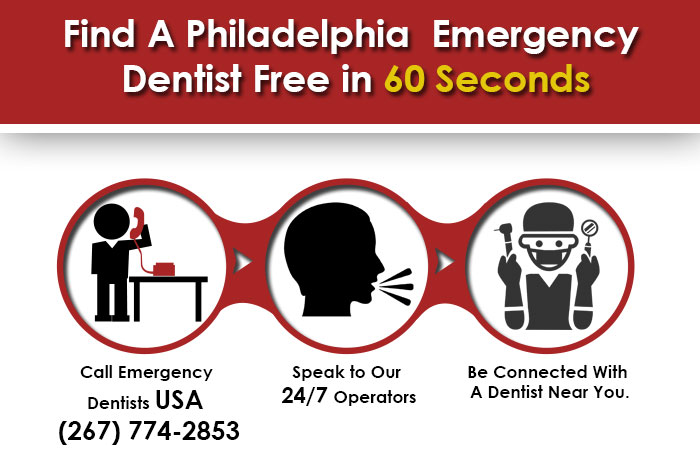 Call 24/7: 1 (877) 507-0879
Thanks for the help getting me into a dentist office for my injury. I caught a baseball with my mouth at a Friday night game and I was able to use your number to get into see a dentist ASAP, they fixed me right up! Once again, thanks!
Emergency Dentist in Philadelphia PA
This very large east coast hub sees a high amount of traffic every single day, as travelers pass through here for business, touring one of the most historic locations in the nation, and other elements. Many situations here could lead to a sudden emergency such as a cracked tooth, and this portal allows you to locate an emergency dentist in Philadelphia PA when you need one most. After a very severe dental injury, you're going to want to find a clinic just as fast as possible, and make sure that it is one who has the experience to fix you up to your liking.
All you have to do is pull up our Emergency Dentists USA website, and quickly scan through it to find the dentist located closest to you. If you have the need for an extraction, root canal therapy, or anything else within the emergency dental realm, finding an emergency or walk-in dentist will be a great way to put a high dose of relief into your stressful weekend. With our help, you can get back to a healthy state, and forget about the aching in your teeth.
---
Emergency Dentists USA Referral Service Philadelphia
Phone Number:
1 (855) 401-2701
Address: Connected to Various Dental Offices across Philadelphia
Doctors Multiple
Description This is a directory to help you find a walk in dentist. You will need to give the operator your name, phone number, and address. He or she will then provide you with information about an emergency dentist in Philadelphia, PA. You can ask for other options, but since you have to write them all down, we recommend just browsing the list below. Many of them are the same ones you will get with the directory but all of the information is already right here in front of you. We help you find an emergency dentist even without insurance. Easily find Pennsylvania emergency dentists with our service.
---
Afton Family Dental
Phone Number: 215-462-6229
If Closed: Call 1 (855) 276-1128 and let our Operator help you find an emergency dentist.
Address: 1815 South Broad St. Philadelphia, PA 19148
Website: www.aftondental.com
Doctors: Dr. Nikunj Zalavadia (Dr. Nick)
Description: This Philadelphia emergency dentist is a practice located in South Philadelphia, which is easily accessible to all public transportation. The parking lot is well-lit with ample space. You will find the clinic is well decorated and light, which gives you a comfortable feel. After Family Dental provides services such as bonding, teeth whitening, root canals, implants, dentures, and cosmetic procedures. Not all services are offered on an emergency basis, so call them to find out if they can help you.
Monday 10AM to 7PM
Tuesday 10AM to 7PM
Wednesday 10AM to 7PM
Thursday 9AM to 1PM
Friday Opening Soon
Saturday 9AM to 4PM
---
Harold & Joni Marcus
Number: 1-888-350-1340
If Closed: Call 1 (855) 276-1128 and let our Operator help you find an emergency dentist.
Office: 7215 W. Passyunk Avenue, Philadelphia, PA 19142
Doctors: Dr. Harold & Joni Marcus
Website: http://www.emergencydentalservice.com/emergencydentist/Philadelphia-PA
Description: At the dental office of Dr. Harold & Joni Marcus we have been partners with the Philadelphia community in their dental health for 50 years. We have treated four generations of families. We welcome you find out what a friendly and efficient office we have. We have an in-house dental laboratory for quick repairs to full dentures. We utilize the latest in dental technology including low yield digital x-rays. For those anxious about seeing a dentist, we offer different sedation techniques to help you get a beautiful, healthy smile.
Mon 8:00am – 5:00pm
Tue 8:00am – 5:00pm
Thu 8:00am – 5:00pm
Fri 8:00am – 5:00pm
Sat 8:00am – 12:00pm
---
Philadelphia Emergency Dentist
Phone Number: 215-240-4875
Address: 7718 Castor Avenue First Floor Philadelphia, PA 19152
Website: www.emergencydentistphiladelphia.net
Doctors: Dr Lee Schriftman
Description: This late dentist offers all dental services during the night and on weekends. He is one of the best dentists in the city, and has a team working with him to ensure everyone gets the dental care they need to maintain their oral health. You will love her upbeat attitude and willingness to help you understand the importance of taking care of your teeth.
Monday 7am – 7pm
Tuesday 7am – 7pm
Wednesday 7am – 1pm
Thursday 7am – 7pm
Friday 7am – 1pm
Saturday 7am – 1pm
Saturday 7am – 1pm
---
Philly Smiles
Phone Number: 215-735-9000
Address: 1804 Rittenhouse Square, Philadelphia, PA 19103
Website: www.phillysmiles.com
Doctors: Joseph Roberts, DDS
Description: This weekend dentist offers after hours too. Dr. Roberts is a certified sedation dentist, which means you will remain comfortable during procedures. For this urgent care dentist, call to make sure someone will be there when you arrive. They are open late, but you always want to make sure somewhere is there for you when you get there.
Monday – Friday 9:00 am – 5:00 pm
Emergency weekend hours available by appointment
---
Center City Emergency Dentist
Number: 215-315-7691
Office: 220 S. 16th Street, Suite 901 Philadelphia, PA 19102
Doctors: Dr. Jerome Tumillo
Website: http://www.centercityemergencydentists.com/
Description: Within the confines of this late night emergency dental clinic, one patient gave the sparking testimonial that she felt as safe and secure as if she was at home, and it would always be her number one choice for dental care that was available 24/7. They offer a staff of in-house dentists who are experts in all aspects: here you can obtain a root canal, cracked or broken tooth work, extraction, and other services that come up in the emergency dental spectrum. They have been here for over 65 years, and have always had an incredible sense of dedication.
Monday 9 am to 6 pm
Tuesday 9 am to 6 pm
Wednesday 9 am to 9 pm
Thursday 9 am to 6 pm
Friday 9 am to 9 pm
Saturday 9 am to 5 pm
Saturday 9 am to 2 pm
---
A-Plus Dental Associates, Dr. Lee Schriftman
Number: 215-240-4875
Office: 7718 Castor Avenue First Floor Philadelphia, PA 19152
Doctors: Dr. Lee Schriftman
Website: http://philadelphiadentalemergency.com/
Description: Located on Castor avenue and open 7 days a week to help with all types of emergencies you may encounter, they have been servicing the area for over 30 years, and provide an excellent solution for quality same-day emergency dental care. Head dentist Dr. Schriftman graduated right here from Temple University School of Dentistry, and has always looked forward to giving back his skill to the Philadelphia community he loves calling home. This practice understands that some patients may have extreme dental anxiety as well, and will get you on the way to comfort immediately.
Monday 7:00am – 7:00pm
Tuesday 7:00am – 7:00pm
Wednesday 7:00am – 7:00pm
Thursday 7:00am – 7:00pm
Friday 7:00am – 5:00pm
Saturday 7:00am – 1:00pm
Saturday 7:00am – 1:00pm
---
Dr. Gerald Regni, DMD
Number: 888-296-6746
Office:937 Christian Street Philadelphia, PA, 19147 USA
Doctors: Dr. Gerald Regni, DMD
Website: http://www.philly-dentist.com/
Description: Dr. Gerald Regnic, DMD is a fantastic choice for an emergency dentist in philly. The reason being they have hours into the evenings on at
least 3 days a week. Monday Tuesday and Thursday they are open til 6pm. Also a great thing about this dental clinic is their Saturday dental hours. You can get in to see
this dentist from 9am til 2pm on Saturdays.
Monday 9:00am – 6:00pm
Tuesday 9:00am – 6:00pm
Wednesday 9:00am – 5:00pm
Thursday 9:00am – 6:00pm
Friday 9:00am – 2:00pm
Saturday 9:00am – 2:00pm*
---
How can I find a 24-Hour Dentist in Philadelphia PA?

When you pull up our portal to look for a 24-hour dentist in Philadelphia PA, DR. Jerome Tumillo's office is the fifth one down on the list, and they are open 7 days a week. You can visit them from 9AM until 6PM on weekdays, until 9PM on Fridays, and Saturday from 9AM until 5PM, and Sunday from 9AM until 2PM. A-Plus Dental associates is the 6th on this list, and they are not open 24 hours either, but until 7PM on weeknights, and from 7AM until 1PM on Saturday and Sunday.
24-hour dentists are quite a bit different than the standard weekday clinics that you visit for routine dentistry. Since they stay open later into the night than standard clinics, you may be surprised at the slightly higher fee they may charge, but keep in mind that you are being seen at a time when you desperately need help. If you are facing pain serious enough that you wind up here, they will most likely do some x-rays first, to try and find out where the pain is originating from. If you need an extraction, you do not need to be worried in the least: The procedure will be over quickly, and your mouth as a whole will be much healthier without an infected tooth.
What can I Expect at my Emergency Dental Philadelphia PA visit?
This can sometimes be a traumatic experience for you, because you may be in a very high level of pain when you first arrive. You should still expect to fill out some formal paperwork, and someone can help you if you are sustaining a large injury. Once you fill out the paperwork it helps speed up the process and get you seen immediately, after you give some basic personal information, and background about any dental or medical issues you may have already had.
All patients should understand that they may have to wait a little bit in order to be seen, especially since you may be in a large metro area such as a weekend dentist in Philadelphia PA Is located. As soon as you get there, the front staff will do their best to get you seen rapidly, because in some situations, you may be losing blood. One great thing about emergency dental clinics in Philadelphia PA is that they have seen numerous patients before you, and are trained well in quick and sensible response time. If you have children with you that have been injured, the emergency dentist will be able to calm them and see to their needs in a professional manner.
How do I prepare for an Urgent Dental Care in Philadelphia PA Visit?

An urgent dental care in Philadelphia PA clinic may not necessarily stay open as late as an emergency or 24-hour clinic, but is prepared to see anyone that comes in with trouble immediately. If you have a tooth that has been knocked-out, you can prepare by trying to bring it in a glass of milk, which preserves it and gives you a chance of salvaging the tooth. Just as you would with an emergency dentist, you can expect the charge to be a little higher, because you have the convenience of arriving unannounced with your dental problem.
It's a good idea to have cash or a debit/credit card with you while you go, because even if you have top-of-the line insurance coverage, dental issues sometimes have to be filed as claims and looked at intensely by the provider. As difficult as it may be due to the circumstances, it's good to call ahead and see if you do require an appointment, especially for a large city and urgent dentist in Philadelphia clinic. Another benefit of calling ahead is just to take not of how many dentists there are on staff that particular day, and what their patient flow has looked like so far.
What It's like to Visit An Emergency Dental Clinic In Philadelphia PA

An emergency dentist in Philadelphia PA is able to provide very rapid assistance with dental issues that are much more severe than what would be seen in an emergency dental clinic. Injuries like knocked-out teeth and serious fractures to the jaw can really traumatize a patient, and the staff will understand that they may not be seeing someone who is in the calmest state of mind. If you do have a tooth that has to come out, don't be nervous, because the emergency dentists have sedation techniques that will make the procedure go as easily and smoothly as possible.
Even in a very large city like Philadelphia, if you do have to come to the clinic in the middle of the night, it may not be crowded, and fairly easy to get in right away. The reason it can be like this is because these clinics are not for the patient who has just realized a faint ache or has a minor issue: this is where you come when the pain is very serious. Since you may be in extreme pain, they have the authority to administer strong medication that can make you comfortable right away, while you wait for their decision. In many scenarios they will take x-rays first, to be able to get a better idea of what is causing the problem.
What is it Like to Visit a Walk-In Dentist in Philadelphia PA?

When you visit a walk-in dentist in Philadelphia PA, you are seeing a professional who is able to see people without much notice, but they may not be open quite as late as an emergency dentist. You may just have to wait a short time to be seen, but if you walk in the door with a throbbing or severe injury, the staff at a walk-in dentist can act about as quickly as those at an emergency dentist's office.
It is still a good idea to have updated insurance information or cards with you when you arrive, but do understand that sometimes in these situations, you will be asked for payment right away. Many walk-in dentists are very affordable for their ability to see you on very short notice, and once they diagnose the problem, usually will be able to perform emergency procedures such as extractions. During the daytime hours, they are very ideal clinics where you can take children after an accident, or pay a visit to if you just can't handle the pain you are experiencing during a work day. In large cities like Philadelphia, many walk-in dentists will even offer financing, so you are not expected to pay the entire amount that day if you need more time.
Details on Getting a Tooth Extraction in Philadelphia PA

Getting a tooth extraction performed at an emergency dentist in Philadelphia PA is not something you have to be worried or anxious about. The dentists who will perform this for you have options such as nitrous gas and other sedation choices that will make the process go smoothly, and keep you as the patient very comfortable. Some of the symptoms of a tooth that needs to be extracted are when it throbs with urgent frequency, has an intense sensitivity to hot and cold, and has already been treated for a fracture or other issue.
After you have an extraction, the area is said to take a few months to completely, heal, but you'll notice yourself nearly relieved of any pain in about 2-3 days. Even the first night when you get home, having the tooth out will feel more comforting then the throbbing it was probably bothering you with leading up to the extraction. In the days and weeks after the surgery, it is good to start with softer foods that are a bit more tender and easier on the impacted area: sharp chips and fruits such as an apple may be too abrasive.
Finding an emergency dentist in Philadelphia PA is a snap with our online portal and referral service, where you can choose the one closest to you on the list, and get ready to sit in the chair and find relief. Philadelphia is a large city, and this is why several of the clinics on our list are open on Saturday and even Sunday for your convenience. Having serious dental emergencies is not something that you are going to remember fondly, but once you locate the proper specialist for the job, the future is going to look brighter, and pain-free.
Many people want to figure out what's wrong with their mouth before they get to the dentist, and that's how the Pennsylvania Dental Association helps. They have a list of resources to help answer most of your questions about emergency dental situations. Even with the answers to your current painful situation, it's still critical that you meet with a dentist. The dentist will be able to exam your mouth and provide you a prognosis on how to relieve your pain and ensure you don't end up with more later on.