Helping Birmingham Residents Find IMMEDIATE Dental Services Everyday.
Get relief from chipped, cracked or lost tooth
Abscess, toothache, mouth pain
Emergency dental surgery
24 hour services - Includes weekends, nights and holidays
Find a Dentist 24/7
Near You IMMEDIATELY
Click or Call Toll-Free
1 (205) 624-0584
---
We Specialize in Birmingham Emergency Dentistry: Call 24/7: 1 (205) 624-0584
Monday – Friday, See A Birmingham Dentist The Same or Next Day/Night You Call!.
Saturday And Sunday, "See A Birmingham Emergency Dentist Within Hours."
When an acute emergency dental problem emerges in your life, sometimes in the night or in the early morning hours, you will want a place that you can turn to that can help you get back to your regular activities. The question you must ask is if there are emergency dentists in Birmingham, Alabama that can help you with your painful dental ailment on a Saturday, Sunday or throughout the entire year.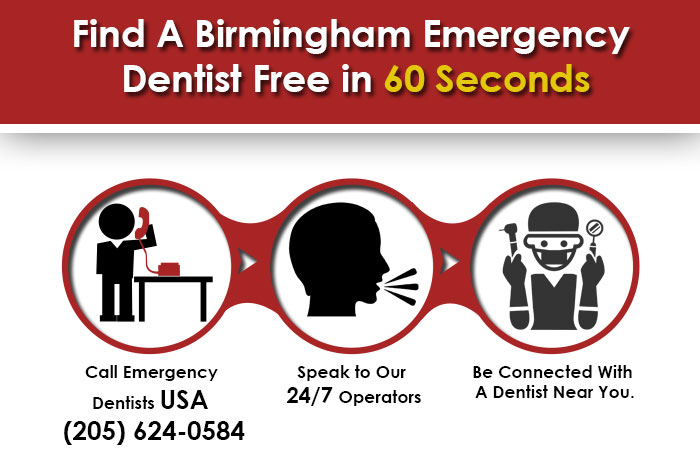 Call 24/7: 1 (205) 624-0584
Well, if you are looking for a 24 hour emergency dentist in Birmingham, AL then you definitely came to the right place. On this page we are going to help you find a quality dentist that you can visit immediately. You will know for a fact that they will take your emergency too because we put every single dental practice through a strict process before including them into our database.
Urgent Dental Care Clinics in Birmingham
Luck is with you because if you are suffering from a loose filling or a crown that needs to be fixed, take a look at the directory of dental clinics that can help you at all hours of the day and week.  Seeking a dentist open 7 days a week is made easier for you, no matter where you live.  Consider bookmarking our website in the event that you need to return for some help in locating a Birmingham emergency dentist that can assist you.
---
Emergency Dentists USA Referral Service Birmingham
Phone Number: 1 (877) 507-0879
Address: Various Dental Offices across Birmingham
Doctors Multiple
Description Call to be connected with the perfect dentist for you. Birmingham is a large city and we have the connections to find a dentist to fit your needs, and can get you an appointment immediately. Easily find Alabama emergency dentists with our service.
---
McCalla Dental
Number: 205-477-4242
Office: 5751 Pocahontas Rd. Ste. A Bessemer, AL 35022
Doctors: Dr. Holt Gray
Website: http://www.mccalladental.com/
Description: Finding a weekend dentist in Birmingham, Alabama to tend to your immediate dental needs is paramount if your suffering takes you to the edge. With four very capable dentists, this dental practice is geared to address and provide your with emergency dental treatment. Serving the broad areas of Birmingham, Hoover, Hueytown, Pleasantgrove, this state of the art dental care facility is able to deliver when needed. Dental accidents and complications happen, whether it be a broken tooth, gum swelling and bleeding, bite splints repair, or molar wisdom teeth extraction. The need for a 24-hour dentist in Birmingham, AL can take on high importance. This facility advertises extended hours if an urgent dental matter occurs in your household.
Hours of Operation:
Monday-Tuesday-Thursday: 8:00am-5:00pm
Wednesday: 10:00am-6:00pm
Friday: 8:00am-4:00pm
---
Midfield Dental
Number: 205-923-6828
Office: 114 Brookwood Road East Midfield, Alabama 35228
Doctors: Dr. Engle
Website: http://midfielddentalcenter.com/
Description: Here at Midfield, the doctors are very concerned about your satisfaction level when you leave, and proudly adhere to a schedule that includes being open on Saturday. They opened during the 1960's, and now have a vision of serving the local community the best way possible, with all of the charms that the past have offered Birmingham residents. Since emergencies can pop up fast, walk-ins are welcome here, and dentists Leslie Nichols, Ben Wortham, Anthony Engle, and Brad Reynolds all are making this a great place for emergency dentistry and after hours services that surpasses more customers' expectations every day. This is a great choice for an emergency dentist, all they lack are Sunday dentist hours!
Hours of Operation:
Mon-Thurs: 8:00am-7:00pm
Fri: 8:00am–5:00pm
Sat: 8:00am–2:00pm
---
Alabama Dental Associates
Number: 205-956-8977
Office: 3920 Grants Mill Rd, Birmingham, AL 35210
Doctors: Dr. Richesin
Website: http://www.alabamadentalassociates.com/
Description: The Alabama Dental Associates emergency dentist in Birmingham AL is open Mondays, Wednesdaysz and Thursdays from 8am until 9pm! These are fantastic urgent care dentist hours which should allow you to get an after hours dental appointment with them any of those days and not interfere with your workday! They also have Saturday dentist hours from 8am til 1pm! Excellent!
Hours of Operation:
Mon-Wed-Thurs: 8:00am-9:00pm
Tues-Fri: 8:00am-5:00pm
Sat: 8:00am-1:00pm
---
Family & Cosmetic Dentistry
Number: 205-967-4080
Office: 3159 Green Valley Rd, Birmingham, AL 35243
Doctors: Dr. Thomas P. Cosgrove
Website: http://www.cosgrovedentalcare.com/
Description: The Family and Cosmetic Dentistry Center of Birmingham Alabama can help you with whatever your emergency dentistry needs. They have somewhat limited hours however and are really open beyond normal business hours only on Mondays until 6pm. But they are none the less an option if you cannot find another dentist with a better set of hours!
Hours of Operation:
Monday: 8:30am-6:00pm
Tuesday-Wednesday-Thursday: 8:30am-5:00pm
Friday: 8:30am-12:00pm
---
Birmingham Eastern Family Dental
Number: 205-836-4044
Office: 524 Red Lane Rd, Birmingham, AL 35215
Doctors: Dr. Wilson Wright
Website: http://www.birminghameasternfamilydental.com/
Description: The Birmingham Eastern Family Dental emergency dental clinic in Birmingham Alabama has hours on Saturday so that you can get your weekend dentist needs covered. If you have any emergency dental situation over the weekend don't hesitate to call this dental office and schedule an appointment. Their weekday hours are limited as they close at 4pm each day.
Hours of Operation:
Mon-Thurs: 9:00am-4:00pm
Sat: 9:00am-12:00pm
---
Brookwood Dentistry
Number: 205-871-3523
Office: 2045 Brookwood Medical Center Dr #2, Birmingham, AL 35209
Doctors: Dr. Craft Andrew
Website: http://brookwooddentistry.com/
Description:The Brookwood Dentistry office is open until 6pm on Mondays which will allow you to make it to your urgent care dentist appointment after work if you get off at 5! Otherwise they are fairly limited on their offering of emergency dental hours.
Hours of Operation:
Monday: 9:00am-6:00pm
Tuesday-Thursday: 7:00am-3:00pm
---
Birmingham Family Dental Services Emergency Care
Address: 2930 4th Ave S, Birmingham, AL 35233
Phone:205-251-8128
Website:http://www.birminghamfamilydental.com/
Description:The goal here at this Emergency Dental clinic is 100% patient satisfaction, and it is a location where emergencies and walk-ins are welcome. Here you can receive treatment for all different ages, and it is conveniently located near downtown. This is a true emergency dental clinic in that they are open every day of the week, and have always understood what satisfaction they can offer when a very painful emergency is at hand. Doctors Swicard and Payne are at the helm of this practice which will do a fine job of seeing to the pain that is bothering you, and making sure that you leave satisfied and feeling healthy.
Driving Direction
---
At Emergency Dentist USA, we care about you. The reason we have research emergency dentist in Birmingham is because we want to be able to provide you with all that you need when you're having a dental emergency. We hope you've been able to find the resources helpful, and will share this with your family and friends in case they end up having an emergency.
We also hope you'll consider visiting the Birmingham District Dental Society website. They have a lot of information for you concerning dental health. Oral hygiene and care is incredibly important, so take some time to get the treatment and prevention you need, so you can stay happy and healthy.
Who's the best 24 hour emergency dentist in Huntsville Alabama, check our page!