Helping Birmingham Residents Find IMMEDIATE Dental Services Everyday.
Get relief from chipped, cracked or lost tooth
Abscess, toothache, mouth pain
Emergency dental surgery
24 hour services - Includes weekends, nights and holidays

Emergency Dentist in Birmingham, AL – Find A 24-Hour Dentist Now
Table of Contents
The city of Birmingham is the largest city in Alabama and boasts its own Statue of Liberty, making visitors and locals feel just like they are living in New York City. With plenty to do and plenty to see, Birmingham is a wonderful place to spend a vacation or raise a family. Emergency Dentists USA makes it simple to find the right Birmingham emergency dentist without having to spend your time and energy searching the internet or the city streets. Emergency Dentists USA provides a comprehensive listing of 24-hour dental services along with emergency dental clinics that offer after-hour care so that you do not have to miss a day at work. Walk-in dental clinics are also provided at Emergency Dentists USA so that you do not have to wait for a dental appointment when you are in pain with a dental emergency. This information makes it simple to pick a wonderful Birmingham emergency dentist and get on with your vacation.
Finding A 24 Hour Emergency Dentist in Birmingham, Alabama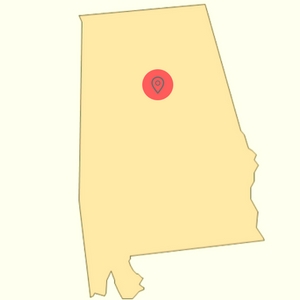 Finding a 24-hour emergency dentist in Birmingham does not have to be a hassle. There are a variety of options for servicing emergency dental needs in this historic southern city. From walk-in dental clinics that allow patients to receive emergency care without waiting for an appointment to true 24-hour dental clinics that have an on-call dentist available no matter what the hour, Birmingham has you covered in your dental emergency.
Walk-in dental clinics – Walk-in dental clinics allow patients to access dental services without waiting for a scheduled appointment. Dr. Engle at Midfield dental has walk-in dental services available in Birmingham.
Emergency 24-Hour Dental Clinics – an emergency 24-hour dental clinic makes it simple to get emergency dental care no matter what time of day or night your toothache strikes. Birmingham Family Dental Services Emergency Care has two friendly dentists available 24-hours per day to provide fast and convenient dental care in an emergency.
After Hour Dentists – Birmingham, Alabama emergency dentists like Brookwood Dentistry and McCalla Dental offer after hours dental appointments so that you can access excellent dental care after work or on the weekends. These offices have evening hours that make it easy to have that crown repaired without missing work.
Emergency Dentist Listings in Birmingham, Alabama
Emergency Dentists USA is your premier source for excellent and caring emergency dentists in the Birmingham area. With a variety of dental clinic options, including 24-hour emergency dental services, walk-in dental clinics, and after hours dental care, Birmingham is a great place to live and work. The 24-hour emergency helpline at Emergency Dentists USA is designed to link you to a live person who can help you find the right Birmingham emergency dentist regardless of your current dental emergency. Our accurate and helpful listings make it simple to get the dental treatment that you need exactly when you need it.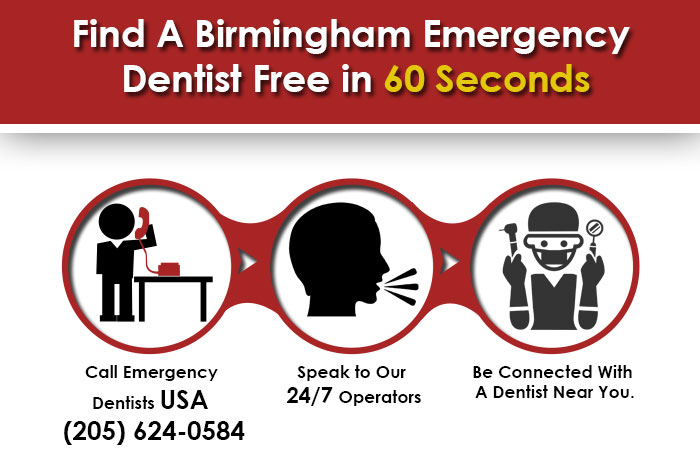 ---
Emergency Dentists USA Referral Service Birmingham
Phone Number: 1 (855) 401-2701
Address: Various Dental Offices across Birmingham
Doctors Multiple
Description Call to be connected with the perfect dentist for you. Birmingham is a large city and we have the connections to find a dentist to fit your needs, and can get you an appointment immediately. Easily find Alabama emergency dentists with our service.
---
McCalla Dental
Number: 205-477-4242
If Closed: Call 1 (855) 276-1128 and let our Operator help you find an emergency dentist.
Office: 5751 Pocahontas Rd. Ste. A Bessemer, AL 35022
Doctors: Dr. Holt Gray
Website: http://www.mccalladental.com/
Description: Finding a weekend dentist in Birmingham, Alabama to tend to your immediate dental needs is paramount if your suffering takes you to the edge. With four very capable dentists, this dental practice is geared to address and provide your with emergency dental treatment. Serving the broad areas of Birmingham, Hoover, Hueytown, Pleasantgrove, this state of the art dental care facility is able to deliver when needed. Dental accidents and complications happen, whether it be a broken tooth, gum swelling and bleeding, bite splints repair, or molar wisdom teeth extraction. The need for a 24-hour dentist in Birmingham, AL can take on high importance. This facility advertises extended hours if an urgent dental matter occurs in your household.
Hours of Operation:
Monday-Tuesday-Thursday: 8:00am-5:00pm
Wednesday: 10:00am-6:00pm
Friday: 8:00am-4:00pm
---
Midfield Dental
Number: 205-923-6828
If Closed: Call 1 (855) 276-1128 and let our Operator help you find an emergency dentist.
Office: 114 Brookwood Road East Midfield, Alabama 35228
Doctors: Dr. Engle
Website: http://midfielddentalcenter.com/
Description: Here at Midfield, the doctors are very concerned about your satisfaction level when you leave, and proudly adhere to a schedule that includes being open on Saturday. They opened during the 1960's, and now have a vision of serving the local community the best way possible, with all of the charms that the past have offered Birmingham residents. Since emergencies can pop up fast, walk-ins are welcome here, and dentists Leslie Nichols, Ben Wortham, Anthony Engle, and Brad Reynolds all are making this a great place for emergency dentistry and after hours services that surpasses more customers' expectations every day. This is a great choice for an emergency dentist, all they lack are Sunday dentist hours!
Hours of Operation:
Mon-Thurs: 8:00am-7:00pm
Fri: 8:00am–5:00pm
Sat: 8:00am–2:00pm
---
Alabama Dental Associates
Number: 205-956-8977
Office: 3920 Grants Mill Rd, Birmingham, AL 35210
Doctors: Dr. Richesin
Website: http://www.alabamadentalassociates.com/
Description: The Alabama Dental Associates emergency dentist in Birmingham AL is open Mondays, Wednesdaysz and Thursdays from 8am until 9pm! These are fantastic urgent care dentist hours which should allow you to get an after hours dental appointment with them any of those days and not interfere with your workday! They also have Saturday dentist hours from 8am til 1pm! Excellent!
Hours of Operation:
Mon-Wed-Thurs: 8:00am-9:00pm
Tues-Fri: 8:00am-5:00pm
Sat: 8:00am-1:00pm
---
Family & Cosmetic Dentistry
Number: 205-967-4080
Office: 3159 Green Valley Rd, Birmingham, AL 35243
Doctors: Dr. Thomas P. Cosgrove
Website: http://www.cosgrovedentalcare.com/
Description: The Family and Cosmetic Dentistry Center of Birmingham Alabama can help you with whatever your emergency dentistry needs. They have somewhat limited hours however and are really open beyond normal business hours only on Mondays until 6pm. But they are none the less an option if you cannot find another dentist with a better set of hours!
Hours of Operation:
Monday: 8:30am-6:00pm
Tuesday-Wednesday-Thursday: 8:30am-5:00pm
Friday: 8:30am-12:00pm
---
Birmingham Eastern Family Dental
Number: 205-836-4044
Office: 524 Red Lane Rd, Birmingham, AL 35215
Doctors: Dr. Wilson Wright
Website: http://www.birminghameasternfamilydental.com/
Description: The Birmingham Eastern Family Dental emergency dental clinic in Birmingham Alabama has hours on Saturday so that you can get your weekend dentist needs covered. If you have any emergency dental situation over the weekend don't hesitate to call this dental office and schedule an appointment. Their weekday hours are limited as they close at 4pm each day.
Hours of Operation:
Mon-Thurs: 9:00am-4:00pm
Sat: 9:00am-12:00pm
---
Brookwood Dentistry
Number: 205-871-3523
Office: 2045 Brookwood Medical Center Dr #2, Birmingham, AL 35209
Doctors: Dr. Craft Andrew
Website: http://brookwooddentistry.com/
Description:The Brookwood Dentistry office is open until 6pm on Mondays which will allow you to make it to your urgent care dentist appointment after work if you get off at 5! Otherwise they are fairly limited on their offering of emergency dental hours.
Hours of Operation:
Monday: 9:00am-6:00pm
Tuesday-Thursday: 7:00am-3:00pm
---
Birmingham Family Dental Services Emergency Care
Address: 2930 4th Ave S, Birmingham, AL 35233
Phone:205-251-8128
Website:http://www.birminghamfamilydental.com/
Description:The goal here at this Emergency Dental clinic is 100% patient satisfaction, and it is a location where emergencies and walk-ins are welcome. Here you can receive treatment for all different ages, and it is conveniently located near downtown. This is a true emergency dental clinic in that they are open every day of the week, and have always understood what satisfaction they can offer when a very painful emergency is at hand. Doctors Swicard and Payne are at the helm of this practice which will do a fine job of seeing to the pain that is bothering you, and making sure that you leave satisfied and feeling healthy.
Driving Direction
---
How To Prepare For Your Birmingham, Alabama Emergency Dental Clinic Visit
Visiting your Birmingham, Alabama emergency dentists is similar to visiting your regular dental office. Emergency dental clinics perform routine services that include x-rays, fillings, and cleanings along with more extensive services like tooth repairs and abscess care.
Have your recent dental x-rays and any dental records prepared prior to visiting your Birmingham emergency dentist. Bring your dental insurance card, the dental records, and your identification to the emergency dental clinic.
Try to arrive 15 minutes before your scheduled appointment to give yourself plenty of time to fill out paperwork. Your first visit to a Birmingham emergency dentists always requires paperwork, and you may even want to ask questions about your upcoming procedure.
Check to see if your Birmingham emergency dentist accepts your payment method before you start your dental visit. Most dental clinics take cash, credit cards, and even personal checks as payment for their services. Many dental clinics will also bill your dental insurance.
Check to ensure that your Birmingham emergency dentist accepts your dental insurance. Your dental insurance plan may require you to see a dentist who is in their dental network. Checking this before your appointment may save you money.
Let the Birmingham emergency dentist know if you have any allergies to medications. If possible, bring a list of your current medications to your dental visit to share with your new dentist.
Do you have intense dental anxiety or fear? If you have anxiety about visiting a dentist, let the dental office staff know prior to your dental appointment. They can help to ease your fears and make your visit to the Birmingham emergency dentist much more comfortable.
Quality of Urgent Care Dentists In Birmingham, Alabama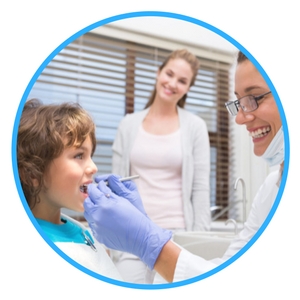 Birmingham has always been a fast-growing city. Nicknamed "The Magic City" for its rapid increase in population and construction, Birmingham is actually the largest city in Alabama. With a population of just over 200,000 residents, the charming southern town invites hundreds of thousands of tourists each year to enjoy the warm sunshine, museums of science, art and flight, and the giant Birmingham Zoo. Known for its production of iron and steel, Birmingham has grown from an industrial city to an exciting and vibrant town that welcomes the increase in residents working in the healthcare industry. Excellent local hospitals and a standard of medical care that is among the best in the south make Birmingham a wonderful place to visit on vacation or to raise a family.
When you are visiting Birmingham on vacation or setting up your new home, a dental emergency is the last thing you are thinking about. Emergency Dentists USA has you covered when it comes to choosing the right Birmingham emergency dentist for your dental emergency. Although there are 24-hour dental clinic options in the city, it is also nice to know that the Birmingham hospitals welcome patients with dental emergencies regardless of the time of day or night.


The University of Alabama Hospital at Birmingham has an emergency department that is open 24-hours per day, and it is rated number one among hospitals in the Birmingham area. Visiting the University of Alabama Hospital at Birmingham is a great solution to a dental emergency that crops up during a car accident, a sports injury or a fall, or when it is important to see a dentist and physician combo to ensure that you have not sustained more serious injuries. Other great Birmingham hospitals include Trinity Medical Center on Montclair Road and Grandview Medical Center on Grandview Parkway. Both of these facilities offer 24-hour emergency departments designed to treat medical emergencies at any time of the day or night.
Spending a weekend in Birmingham enjoying the Birmingham Civil Rights Institute or wandering the haunted Sloss Furnaces makes visiting the city fun for any family. Getting stuck in a strange city with a terrible toothache is definitely not a great experience. Emergency Dentists USA provides a convenient and comprehensive listing of Birmingham emergency dentists to make it simple to choose the right dentist for your emergency.
Common 24 Hour Dental Emergencies
There are a variety of common 24-hour dental emergencies that can make your trip to Birmingham uncomfortable or even painful. These types of dental emergencies can be treated quickly and efficiently by any of the Birmingham emergency dentists listed on Emergency Dentists USA. Some of the most common 24-hour dental emergencies include a painful toothache or a cracked or broken tooth. Other dental emergencies might include a lost filling or a lost crown, a tooth that has been knocked out or partially knocked out and damaged, or loose braces or wires.
Painful dental emergencies like toothaches, soft tissue injuries, or even a dangerous abscess are commonly treated at Birmingham emergency dentist clinics. A chipped tooth or objects caught between the teeth are problems that these Birmingham dentists are trained to handle, making it simple to get the right treatment as soon as you need it. These types of emergencies require prompt treatment and waiting to have them handled can make the situation worse.
Tooth Trauma Caused by an Accident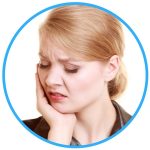 Tooth trauma caused by an accident can mean a quick trip to a Birmingham emergency dentist or a longer trip to the hospital emergency room. If you have tooth trauma caused by a sports injury, a fall, or even a car accident, it is important to visit the nearest hospital emergency room to ensure that you do not have broken bones or other damage caused by the accident. A dental professional can treat any type of tooth trauma, but is not able to perform x-rays of your head or other areas of your body. This makes it important to see an emergency room physician to evaluate your condition prior to going to the dentist to fix your tooth.
Chipped or Broken Tooth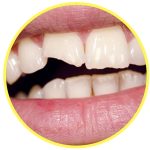 A chipped or broken tooth is a very common dental emergency. If the tooth was damaged during a car accident or fall, visiting a local emergency room will help to ensure that no other part of your body is injured. If you can find the portion of the tooth that is broken off, rinse it with water and place it in a small container of milk to bring with you to the Birmingham emergency dentist. Rinse your mouth with water and apply steady pressure for at least 10 to 15 minutes to any bleeding areas using a piece of gauze. Apply a cold compress to swollen or painful areas of the mouth, and visit your Birmingham emergency dentists as soon as possible to repair the chipped or broken tooth.
Knocked Out Teeth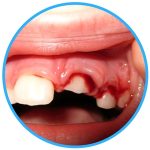 Knocked out teeth are often painful and can be embarrassing. If you can find the tooth that has been knocked out, grasp it only by the crown of the tooth. Rinse the tooth with plain water and see if you can place it back into the hole in the gum. If the tooth will not go back into the gum, place it into a small container of milk or Save-a-Tooth to bring to the dentist. Never grasp the tooth by the root as you can damage the tooth. Never wash the tooth with soap or any other chemical. Visit your Birmingham emergency dentist as soon as possible to have the tooth replaced.
Objects Caught in Teeth
Objects caught in the teeth can be quite painful. If you feel an object is caught in your teeth, first rinse your mouth thoroughly with water to try to dislodge the object. Then, floss your teeth gently to remove the debris. If flossing does not remove the debris, visit your Birmingham emergency dentist as soon as possible. Objects caught in your teeth can damage the gum or even the external structure of the tooth. Never use a sharp tool like a pin to probe between teeth because you can poke or tear the gum around the tooth.
Do You Need an Emergency Tooth Extraction?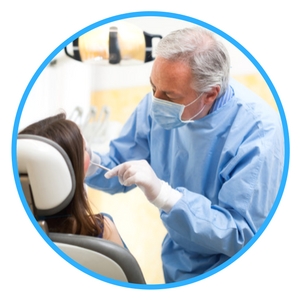 You might need an emergency tooth extraction if you have a tooth that is badly damaged due to decay that has not been treated or damage from an accident or injury. Sometimes an emergency tooth extraction is performed if the tooth is damaged by an abscess or infection. Your Birmingham emergency dentist will generally perform an examination and take an x-ray of the affected tooth prior to deciding whether or not it requires an emergency tooth extraction.
The area of the tooth is usually numbed with a local anesthetic prior to the emergency tooth extraction. The dentist might choose a general anesthetic if the tooth is extremely painful or if he or she is unable to remove the tooth without sedation. A special tool is then used to break the tooth or pull it from the gum. Sometimes the dentist will stitch the gum closed. Usually a piece of gauze is placed in the hole in order to control any bleeding. Full healing generally occurs within one to two weeks of the emergency tooth extraction.
It is important that you follow your dentist's instructions after this procedure. Your Birmingham emergency dentist may prescribe pain medications or an antibiotic and you should avoid eating solid food for a few days after the extraction.
Emergency Room Versus Emergency Dentist

Your Birmingham emergency dentist is trained to handle any dental emergency that arises. He or she is the best option for emergency dental help in most cases. When a tooth is damaged due to an accident like a car accident, a sports injury, or a traumatic fall, the hospital emergency room is where you should go first.
Although the hospital emergency department is not designed to handle dental emergencies, the doctor will be able to ensure that you have no broken bones or other injuries that could complicate your recovery. He or she can give you antibiotics or painkillers and then refer you to your Birmingham emergency dentist for the actual repair of the tooth. Remember that visiting the emergency room is often more expensive than visiting an emergency dentist and the ER physician is not trained to fix tooth problems like lost fillings or crowns. These dental emergencies should be handled by a Birmingham emergency dentist.
FAQ
Are electric toothbrushes better than manual brushes?
Electric toothbrushes and manual toothbrushes provide the same quality of dental care as long as they are used correctly. Remember to brush all surfaces of the teeth for at least two minutes at a time, two times per day. An electric toothbrush might make it easier for a person with arthritis in the hands to brush thoroughly with less effort.
What causes bad breath?
Bad breath comes from a variety of causes but most often arises due to improper tooth care. Tooth decay causes bacteria to build up on the teeth. These bacterium secrete a substance that causes bad breath. Bad breath can also be caused by improper brushing techniques, eating certain foods, or smoking. Some types of medications and even drinking alcohol can cause bad breath.
What are sealants and why are they done?
Sealants are a type of flexible coating that is placed over the chewing surfaces of the teeth. These coatings bond to the teeth very quickly. Sealants are designed to protect teeth, especially the molars, from tooth decay and damage due to chewing and eating. Sealants are often done to protect the teeth of children and to prevent tooth decay from improper brushing.
My dentist says I have a cavity and that I need a filling. But why doesn't my tooth hurt?
You might have a cavity that needs to be filled but is not painful because the decay has not reached the sensitive interior of the tooth. When you visit your dentist for routine examinations and cleanings, he or she seeks to prevent tooth decay and painful dental emergencies by treating small problems before they become large problems. Your tooth can be filled easily when the decay is limited to a small area.
What is a root canal?
A root canal is a dental procedure that begins with a tooth that has decay that has reached the sensitive inner portion of the tooth or pulp. The dentist drills a hole in the tooth to remove the pulp and clean out the infected materials. The tooth is filled with an inert material and the hole is closed and sealed. This prevents further decay of the tooth.
24 Hour Dentist Birmingham Options
There is plenty to do and see on a visit to Birmingham, Alabama. From the beauty of the Birmingham Botanical Gardens to the fun of the McWane Science Center, Birmingham has something for everyone. Growing quickly and offering excellent choices when it comes to healthcare, Birmingham is also an excellent place to raise a family. Birmingham emergency dentists are friendly and reliable, making it simple to get that great dental care that you expect regardless of the time of day or night.
Dr. Gray at McCalla Dental has excellent weekday hours that include after-hours appointments on Wednesdays at 6 p.m. Dr. Engle at Midfield Dental has a walk-in dental clinic that caters to patients who just cannot wait for that next dental appointment. Midfield Dental also has evening hours on Monday through Thursday as late as 7 p.m. with Saturday hours until 2 p.m. When you have a true dental emergency, Birmingham Family Dental Services Emergency Care has a dentist standing by to make you comfortable and fix that terrible toothache.
When a dental emergency comes with an injury from a fall or an accident, Birmingham hospitals offer 24-hour emergency departments that stand by to treat patients who are not able to find a dentist. This is especially important for patients whose dental emergency began with a head injury or other bodily injury. Keep in mind that visiting an emergency room for a simple toothache is probably not the best idea since ER physicians are not trained to handle things like broken teeth or a lost crown or filling.
Remember that when you choose a new Birmingham emergency dentist, it is always a great idea to verify the dentist's credentials with local state and city dental associations. The American Dental Association offers a convenient search options for this process on their website. You can also find information about Alabama dentists and their credentials on the Alabama Dental Association or the city of Birmingham.
The Emergency Dentists USA portal is a website that is designed for informational purposes only. This website should never be used to replace the actual advice of a medical professional. If a patient is having an emergency and cannot reach a dentist, it is important to call 911 or proceed directly to the nearest hospital emergency room to ensure prompt treatment and safety.