Helping Phoenix Residents Find IMMEDIATE Dental Services Everyday.
Get relief from chipped, cracked or lost tooth
Abscess, toothache, mouth pain
Emergency dental surgery
24 hour services - Includes weekends, nights and holidays

24 Hour Emergency Dentist Phoenix, AZ
We specialize in Phoenix Emergency Dentistry:
Click to go to list of Dentists.
Emergency Dentists USA is the best way for you to save time while still finding a 24 hour dentist in Phoenix. We did all the work for you! Call us to get connected with a dentist on Saturday or Sunday in Phoenix. Time is precious, it's a finite resource and surely you don't want to spend an hour on the phone digging through all the different walk in dentist offices in Phoenix in order to find one that has a schedule that matches with your free time.
Let us take care of this problem for you, call our phone line in order to be quickly and easily connected with a dentist near you, whether it be on the weekend or in the evenings. Dental offices are notorious for not having answering services in the evenings and weekends, they are difficult to reach.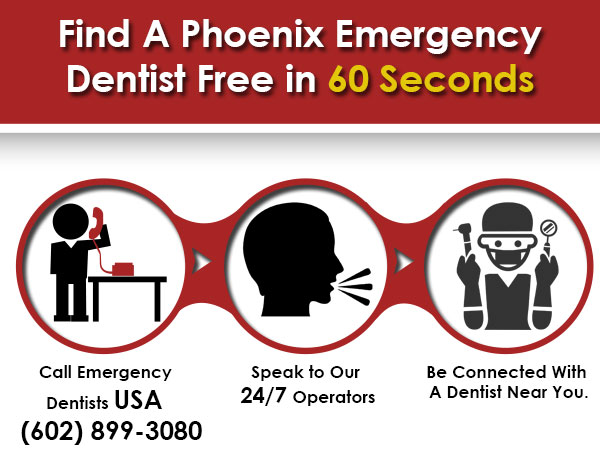 Call 24/7: 1 (877) 507-0879
If you want to do the work yourself, rather than letting us find a dentist for you 24 hours a day 7 days a week for FREE! You can browse the dental listings on this page below. We have gone through Phoenix Emergency Dentists and selected the offices that we have spoken to and have assured us that they have after hours appointment.
Emergency Dentist in Phoenix AZ
Phoenix is a city where many come every year to play golf when the weather is a bit too cool, see the palms and feel the warm breeze during the winter season, and is also a very busy traveling hub for those headed to Las Vegas, Los Angeles, or San Diego. There is enough activity and movement here that it can be hard to find an emergency dentist in Phoenix AZ when the need comes, and many newcomers here may feel frantic at the prospect of a late-night visit to a clinic for help.
All you have to do is choose the dentist that is closest to the location you are staying from this list, and you will very soon be on the way to feeling comfortable and pain-free. Many dentists here in the city close promptly at 5 PM, and may also not give you a good spot in the que if you have not been here for service before. Now that you have found our website and portal, your luck will change for the better, and you can find the specialist that you have been looking for to rid your pain.
When you're shopping for a dentist in Phoenix always make sure you visit the Dental Consumer Information page at the Arizona Dental Board.
---
Phoenix Emergency Dentists USA Referral Service
Phone Number:
1 (855) 401-2701
Address: Referral Service to Various Dental Offices across Phoenix
Doctors Multiple
Description Call to be connected with the perfect dentist for you. Phoenix is a large city and we have the connections to find a dentist to fit your needs, and can get you an appointment immediately. The dentists you will be connected with will be within the Phoenix metro area and are qualified, and professional dentists who fit your needs. We can connect you with a dentist open on Sunday in Phoenix, as well as find you an emergency dental clinic if that's what you're looking for. The reason we exist is to get you an appointment within the smallest amount of time possible. You could spend hours calling every dentist in your city, trying to find someone who can see you right away, like you want, or you can call us and use our services to find a 24 hour dentist that can fix your dental emergency immediately. We help you find an emergency dentist even without insurance. Easily find Arizona emergency dentists with our service.
---
Phoenix Dental Emergency
Phone Number:602-714-2517
If Closed: Call 1 (855) 276-1128 and let our Operator help you find an emergency dentist.
Address: 7617 S Central, Phoenix, AZ 85042
Website: www.phoenixdentalemergency.com
Doctors: Dr Steven Poulos
Description: Phoenix Dental Emergency care and general practice clinic. Dr Poulos is offering emergency dental facilities to whose who need them. You can reach him at the number listed above and you will be happy with his care. He received his Dr. of Dentistry from Creighton University, in Nebraska, and is a fellow of the Academy of General Dentistry.
It should give you comfort, understanding that Dr. Poulos is and has always been in good standing with the Arizona Dental Board. The facilities at phoenix emergency dental are state of the art. This is one place where you can find a dentist open on Saturday in Phoenix.
Along with most insurance plans, they accept Visa, Mastercard, American Express and Discover.
Monday 10:00am – 7:00pm
Tuesday 10:00am – 7:00pm
Wednesday 10:00am – 7:00pm
Thursday 10:00am – 7:00pm
Friday 10:00am – 3:00pm
Saturday 09:00am – 4:00pm
---
Atrium Dental
Phone Number: 480-940-4321
If Closed: Call 1 (855) 276-1128 and let our Operator help you find an emergency dentist.
Address: 4425 E. Agave Rd. #130 Phoenix, AZ 85044
Website: www.atriumdental.net
Doctors: Dr. Shahyar Foroughi, D.D.S.
Description: Atrium Dentel provides Warm and friendly dental care for your whole family. Quality family and cosmetic Dentistry including, Laser Dentistry and 1 hour Zoom® teeth whitening. Each and every patient is provided with the absolute tip top care in an amazingly supporting and nurturing environment. Dentistry can be a stressful situation. Having dental work done is a leading cause of anxiety in the United States, and Dr. Shahyar Foroughi, D.D.S. will take care of you. The highest standards of personal care are always looked out for at this office. We encourage you to call Dr. Shahyar and setup an appointment today, hopefully you will be able to reach her and get an appointment with a weekend dentist in Phoenix in order to resolve the dental pain you're having now!
Monday 8:00 am – 4:00 pm
Tuesday 9:00 am – 6:00 pm
Wednesday 8:00 am – 5:00 pm
Thursday 9:00 am – 6:00 pm
Friday 8:00 am – 2:00 pm
Saturday 09:00am – 4:00pm
---
Puja Dental Group
Phone Number:  888-785-2336
Address: 67 N Dobson Road, Suite A-104 Mesa, AZ 85201
Website: www.pujadentalgroup.com
Doctors: Dr. Anthony Oliveri
Description: Phoenix Arizona dentists, the Puja Dental Group, is your #1 Phoenix Arizona Family and Cosmetic Dentistry clinic located in Phoenix and Scottsdale AZ. Offering painless and quality laser dentistry, tooth whitening and dental implants. These dentists are open on Saturday and Sunday to take care of your needs, they provide excellent emergency dentist care.
Monday 9:00 am – 6:00 pm
Tuesday 9:00 am – 6:00 pm
Wednesday 9:00 am – 6:00 pm
Friday 9:00 am – 6:00 pm
Saturday 08:00am – 03:00pm
---
Metro Dental Center
Number: (602) 995-3900
Office: 3241 West Dunlap Avenue Phoenix, AZ 85051
Doctors: Dr. Hariri
Website: http://metrodentalcenter.com/
Description: This Phoenix emergency dentist is a new venture, and is proud to be open on Saturdays to provide help with those who are seeking urgent and emergency dental care during the time of the week when many pitfalls tend to arise. Most urgent calls can schedule an appointment with Dr. Hariri within 24 hours, and walk-ins are always welcome. When an aching tooth has been bothering you for awhile and you simply don't know what to do, it is not the time to keep pressing on; you need emergency dental care immediately.
Monday-Friday – 9:00am-5:00pm
Saturdays – 9:00am – 2:00pm
---
On Call Dental Urgent Care Phoenix
Number: 602-313-8139
Office: 5940 W. Union Hills Dr., Ste F-110 Glendale, AZ 85308
Doctors: Dr. Brian Harris
Website: http://www.oncalldental.com/
Description: This is a 24-hour on call facility that can provide you great accommodation for an after hours dentist, and they understand that dental emergencies can happen at very odd hours. The mission statement of this clinic is that they want to treat YOU as the most important person in the practice, the patient. Root canals, extractions, checking to see why a patient is in dire tooth pain due to an infection, and the ability to treat those with even the most severe dental anxiety are all great elements of what this Phoenix emergency clinic offers.
Monday – Tuesday: 12pm – 8pm
Wednesday: 2pm – 8pm
Thursday: 12pm – 8pm
Friday – Saturday: 8am – 8pm
Sunday: 9am – 5pm
---
Glendale Dental Group
Number: 623-939-6549
Office: 4419 W. Glendale Ave.Glendale, AZ 85301
Doctors: Dr. Salwin
Website: http://www.glendaledentalgroup-az.com/
Description: The Glendale dental group is right near Phoenix and a great option for finding a phoenix emergency dentist. You can see they have great hours from 8-16 on saturday and 10-5 on Sunday making them one of the best choices for emergency dental services.
Monday – Friday, 8:00 a.m. – 9:00 p.m
Saturday, 8:00 a.m. – 6:00 p.m
Sunday, 10:00 a.m. – 5:00 p.m
---
About Finding a 24-hour Dentist in Phoenix

When you pull up our list of dentists for Phoenix, the 6th one on the list is On Call Dental Urgent Care of Phoenix, with Dr. Brain Harris as the head of operations. While not a true 24-hour dentist, this practice is open on Saturdays from 8AM- 8PM, and on Sundays from 9AM until 5PM. These hours are very close to what many would expect from a full-service 24-hour dentist.
The 7th dentist on this list is the Glendale Dental Group, and while they are not open 24 hours, are open 7 days a week as well. Their hours on Saturdays are from 8AM – 6PM, and on Sundays from 10Am – 5PM. A 24-hour dentist in Phoenix AZ is going to be able to give you some x-rays first so you can see what the problem is, and figure out if you have a very major issue like a fracture that is causing you pain. As soon as the groundwork is finished, the dentist will figure out if you need to come back for anything in the future like crowns or fillings, or a tooth that may need to be removed.
What to Expect During your Emergency Dental Phoenix Visit
When you arrive at the Emergency Dental in Phoenix clinic, you will first be asked to fill out vital paperwork that helps you in your visit. Just some of your personal information, insurance provider details, and other history about your medical background will help greatly with the first steps of your admittance to the clinic. The minute you walk in the door, the process begins to help you feel better quickly, and get you on your way to feeling good.
If you happen to be in very serious pain, you can acquire pain medication at the emergency dental visit that will help make you much more comfortable, and assure that you are feeling well for the long run. The charge may be significantly more than a standard weekday dentist, because you are able to access the facility nearly any time at night, but it is definitely worth it. If you need more dental procedures in the future, these clinics can provide you specialists to follow up with in the near future.
The Details About Urgent Dental Care in Phoenix

Urgent Dental Care in Phoenix clinics tend to be open much later than standard clinics that patients visit during the week, and are geared towards those who are having severe problems in the middle of the night. Being able to be seen at an hour where many simply are not able to is a huge benefit of these clinics, and they are most times ready to see unannounced guests right away.
Even if you have a first-rate insurance provider, you should arrive at the urgent dental care center expecting to pay by cash or debit card. Since many insurance providers have to go through the process of filing claims to make sure they get reimbursement, you may need to have payment up front to make sure that the clinic is taken care of. It's most likely that you won't need an appointment at the clinic to make sure you are seen quickly, but it's sometimes best to call ahead a little to see what kind of schedule they are working with, and if you will have to wait at all to be seen.
What defines an Emergency Dental Clinic in Phoenix?

These are clinics that are prepared to see patients who may have experienced injuries causing them to bleed profusely, teeth that have been knocked-out and cracked, and other issues such as the need for root canal therapy. If you are bleeding profusely or are starting to notice swelling on the outside of your mouth, definitely go to an emergency clinic right away. The first objective will be to get you comfortable, whether it requires pain medication, sedation, or even an extraction.
If you have a tooth that now requires an extraction and has to be removed, don't worry: there are many options to make you feel comfortable during this procedure, and as soon as the job is done, you will immediately feel relieved. Since an emergency dental clinic in Phoenix is open during the weekend, they are a great help when you have the unexpected occur during these times, and have to see someone right away. The ability to show up at any time when you feel you are having extreme issues is one of their best traits: The staff will be immediately looking for ways to fix what's ailing you and causing you dental pain.
How do you define a Walk-In Dentist in Phoenix?

A walk-in dentist in Phoenix may not stay open as late as an emergency or 24-hour dentist, but is ready to see patients immediately when they arrive. They are prepared to see you without an appointment, and are known to deal heavily with toothaches, the potential for an abscessed tooth, or those that may need root canal therapy. It may take a short while to be seen, but your chance at success for a quick diagnosis and trip home without pain is much greater.
Walk-in dentist personnel are skilled at dealing with issues that come up out of nowhere, and have experience with patients that are bleeding heavily, may be experiencing trauma, and a high level of pain. With the fast pace of life and everything you may be trying to get done, you never know when you will quickly need to locate a walk-in dentist, and our portal can provide you with one immediately. The staff here is used to seeing people at the drop of a hat, and can be of great help when something very unexpected arises.
Getting an Emergency tooth extraction in Phoenix

Issues such as an abscess can really sneak up on a healthy tooth: when they do, you may have to look at options such as an emergency tooth extraction in Phoenix. Some symptoms of a tooth that may need extraction are intense sensitivity to hot and cold, aching that comes and goes, and perhaps even a response to antibiotics where the tooth pain goes away, and then really comes back with a vengeance. If you do need an extraction, there are many options available for sedation dentistry, and they will help you feel relaxed and calm while the tooth is being pulled.
After you do have an extraction, you definitely may be sore and tender for about three days. This pain will not be as bad as what you've experienced leading up to the dental visit, and the proper choice of foods will aide you as well. Don't choose to eat anything sharp like tortilla chips and apples, and opt for a much softer regimen. Many of the first teeth that need to be pulled are in the rear, because molars do take the brunt of many different types of impact.
Phoenix is a city where you can find many different opportunities for fun in the sun, and to escape the cooler climates where they live. Finding an emergency or 24-hour dentist is a snap when you use our portal, and you'll be happy to be sitting in the dentist's chair preparing to receive treatment. We have broadly covered some of the many elements that late-night clinics in Phoenix can offer, and hope that you are able to find the best clinic near you soon. Whether you have the need for an emergency extraction or have been bleeding from the tongue or lip for too long, our portal and referral service has got you covered.
Phoenix is a beautiful desert city and if you're having dental problems while visiting or if you live there. We want to be the ones who help you solve that dental emergency. Call Emergency Dentists USA and see how quickly you're able to get in and see a 24 hour dentist near you! If you want to verify the dentist you're going to visit before heading to your appointment please visit the Arizona Dental Association Website.