Helping Glendale Residents Find IMMEDIATE Dental Services Everyday.
Get relief from chipped, cracked or lost tooth
Abscess, toothache, mouth pain
Emergency dental surgery
24 hour services - Includes weekends, nights and holidays

Emergency Dentist in Glendale, AZ – Find A 24-Hour Dentist Now
When you are frantically searching for a great Glendale emergency dentist, Emergency Dentists USA is the perfect resource to end your search. Our convenient listing of the top Glendale emergency dentists includes all of the information that you need to make a good decision about your emergency dental care. Office hours, specialities and even driving directions give you the tools that you need to get your dental emergency taken care of quickly, even when you are unfamiliar with the city of Glendale. A comprehensive listing of emergency dental clinics, walk-in dental clinics and clinics that provide after hours treatment regardless of the problem that you encounter.
Emergency Dentists USA provides a free 24-hour dental hotline that connects you to a friendly operator to help you to schedule your new dental appointment or an emergency appointment right now. Scroll through our Glendale emergency dentist listing to select the right dentist for your current dental emergency, or talk to a live operator who helps you to get the treatment you need without the hassle of searching for a dentist.
Finding A 24 Hour Emergency Dentist in Glendale, Arizona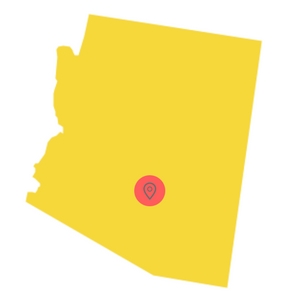 Finding a 24-hour emergency dentist in Glendale, Arizona does not have to be a chore when you simply scroll through our wide selection of great emergency dentists. Choose the clinic with the hours that you require or pick the dentist who suits your needs.
Walk-in dental clinics – Dental clinics that allow patients to get treatment without making an appointment are not available in Glendale, but Arrowhead Foothills Dentistry provides a hotline that allows you to speak with a dentist and set up an appointment quickly.
Emergency 24-Hour Dental Clinics – Clinics that are open 24-hours each day are not available in Glendale, Arizona. Glendale Dental Group offers office hours seven days a week, making this clinic the closest to a 24-hour dental clinic in the city. Glendale does have several hospitals that offer 24-hour emergency services.
After Hours Dentists – Most of the dentists in Glendale offer after hours dental services including Butler Family Dental that opens at 6 a.m. on weekdays and AZ Cosmetic and Family Dentistry that is open until 7 p.m. on Monday through Thursday.
Emergency Dentist Listings in Glendale, Arizona
Emergency Dentists USA has the right Glendale emergency dentist for your current dental emergency and your future oral care needs. Simply scroll through our great selection of Glendale dentists and select the one with office hours or an address that suits you best. Use our 24-hour hotline to speak with a live representative who will even help you to schedule your appointment with a new Glendale emergency dentist.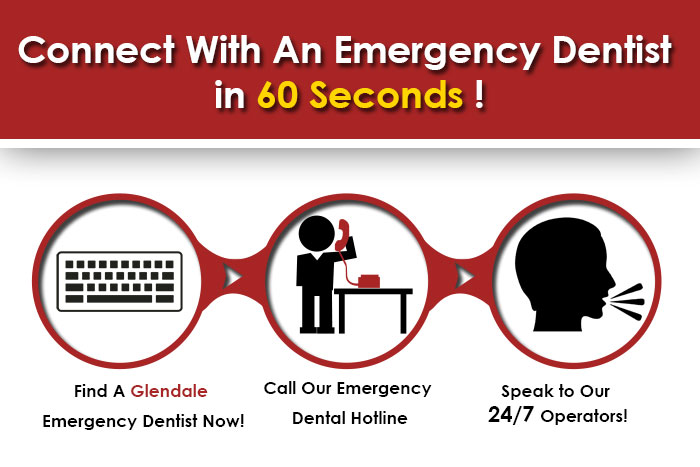 ---
Emergency Dentists USA Referral Service Glendale
Phone Number: 1 (855) 401-2701
Address: Referral Service to lot of Dental Offices situated in Glendale
DescriptionThe last thing you want interrupting your stay in Glendale is very severe dental pain! At the first notice of an aching in your mouth or potential abscess, make the decision to quickly feel better, and link up with our emergency referral service to find yourself on the mend.
---
Arrowhead Foothills Dentistry
Dentist: Dr. Dallas Steele
Address: 19420 N 59th Ave D-400, Glendale, AZ 85308
Website: arrowheaddentistry.com
Phone Number: (602) 978-9794
If Closed: Call 1 (855) 276-1128 and let our Operator help you find an emergency dentist.
Description: Doctor Dallas Steele is the one who runs this practice on a daily basis, and he is excited to give you and your family a 4-star dental experience. This clinic also provides an after-hours hotline to make sure that anyone in severe pain can receive treatment, and this will ease your mind if you are dealing with a loved one in urgent pain. Whether it is routine check-up attention you need or a full-blown emergency, you can count on the staff here to be there for you through thick and thin.
Office hours:
Monday 8 am to 6 pm
Tuesday 7 am to 7 pm
Wednesday 7 am to 7 pm
Thursday 7 am to 7 pm
Friday 7 am to 4 pm
Saturday 8 am to 3 pm
Sunday – Closed
---
Glendale Dental Group
Address: 4419 W Glendale Ave, Glendale, AZ 85301
Website: glendaledentalgroup-az.com
Phone Number: (623) 939-6549
If Closed: Call 1 (855) 276-1128 and let our Operator help you find an emergency dentist.
Description: This well-known local practice is bilingual and can speak Spanish, and also has the very convenient element of being open 7 days a week. If you know you are having a dental emergency, you can be seen during that same day, and by a professional with 4 decades of experience. You can improve the health of your teeth and cut down drastically on tooth decay with cleanings and checkups, and feel confident with these professionals who have been in business since 1987.
Office hours:
Monday 8 am to 9 pm
Tuesday 8 am to 9 pm
Wednesday 8 am to 9 pm
Thursday 8 am to 9 pm
Friday 8 am to 9 pm
Saturday 8 am to 6 pm
Sunday 10 am to 5 pm
---
AZ Cosmetic & Family Dentistry
Dentist: Dr. Vasudha Narra
Address: 5757 W Thunderbird Rd Suite W300, Glendale, AZ 85306
Website: azfamilydentistry.com
Phone Number: (602) 439-1101
Description: This clinic located on Thunderbird Road has had many patients of late claiming that they "love to come here", and that they know from the first second they are in great hands. From the hygienist on up to the doctor, everyone here is always working together to make sure that the patients seen on a daily basis leave happy and healthy. Dr. Narra is known for giving extremely professional care, and this outfit also has an extremely great reputation for customer service.
Office hours:
Monday 8 am to 7 pm
Tuesday 7 am to 7 pm
Wednesday 7 am to 7 pm
Thursday 7 am to 7 pm
Friday 8 am to 2 pm
Saturday – Closed
Sunday – Closed
---
Butler Family Dental, Glendale AZ
Dentist: Dr. L. Nelson Butler, Dr. L.N. Ben Butler
Address: 5406 W Glenn Dr, Glendale, AZ 85301
Website: butlerfamilydentalaz.com
Phone Number: (623) 937-2932
Description: Head Dr. Nelson Butler began his dental career right here in Glendale, and served as the President of the Arizona State Board of Dental Examiners from 1996-2000. Located in downtown Glendale, this is an outstanding practice to track down if you need a standard dental checkup, crowns or a root canal, or emergency procedure help such as an extraction. New patients are treated with a high level of compassion and understanding, and this clinic has a full understanding of just how much people are worried about finances.
Office hours:
Monday 6 am to 5 pm
Tuesday 6 am to 5 pm
Wednesday 6 am to 5 pm
Thursday 6 am to 5 pm
Friday – Closed
Saturday – Closed
Sunday – Closed
---
How To Prepare For Your Glendale, Arizona Emergency Dental Clinic Visit
A Glendale emergency dentist clinic is similar to your regular dentist's office in that both offices perform routine dental procedures like x-rays and examinations, cleanings and fillings. An emergency dentist also offers more complicated procedures and extended office hours.
Get your recent dental records including any x-rays together to bring with you to your dental appointment. These records will help your new dentist to make a treatment plan that suits your needs.
Try to arrive about 15 minutes before your new dental appointment to ensure that you have plenty of time to fill out the paperwork and ask questions regarding your upcoming dental procedure.
Let the dental office know how you plan to pay for your services. Most Glendale emergency dentists accept credit cards, cash, personal checks and even offer low interest payment plans for more extensive dental services.
Check to see if your dentist accepts your dental insurance. This can save you money when you receive the bill for your dental work.
Bring a list of your current medications to the Glendale emergency dentist appointment. Let the dentist know if you have any allergies to medications so that those medications can be avoided.
Do you have intense dental anxiety or fear? Let the dental office staff know so that they can help you to relieve that anxiety. Most offices have staff that are trained to deal with patients who suffer from dental fears.
Quality of Urgent Care Dentists In Glendale, Arizona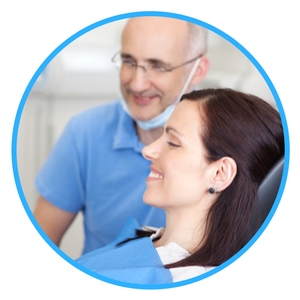 A hike through the Thunderbird Conservation Park in Glendale, Arizona offers gorgeous views of the Arizona desert that are unforgettable. You can spend time wandering the city's many museums or take up a new hobby like hiking, biking or rock climbing while you visit Glendale. When a dental emergency strikes during your visit, Glendale emergency dentists are standing by to ensure that you get out of pain quickly and back on the road to fun and adventure.
The city of Glendale is home to a little over 200,000 people and has outdoor temperatures that reach over 120 degrees in the summer months. Although Glendale is not known for its sports teams, it is the site of two very large sports venues including the University of Phoenix Stadium and the Gila River Arena. Drawing thousands of visitors each year for Arizona Cardinal games, this area of Glendale is very popular with tourists and locals alike. The city itself is filled with antique shops and gorgeous historic ranches that date back to the late 1800s and Glendale is often considered the gateway to Phoenix.
Glendale's healthcare system is rated well among similar cities in the United States. The city has several large hospitals that offer emergency services 24-hours a day and seven days a week. These include Abrazo Arrowhead Hospital located on 67th Avenue with over 900 employees and a large emergency department. Another great hospital in Glendale is the Banner Thunderbird Medical Center located on Thunderbird Road. This hospital also offers a 24-hour emergency department with physicians who are standing by to address any medical or dental emergency. If your dental emergency stems from a car accident, a fall or even a sports injury, any of the excellent Glendale hospitals should be your first stop for medical care to ensure that you are healthy enough to visit a dentist. You may also choose Dignity Health Arizona General Hospital for emergency services if you are near the Olive Avenue area of Glendale. This emergency facility offers 24-hour care right in the heart of Glendale with other locations throughout Arizona. The Dignity Health Arizona General Hospital shares advanced diagnostic equipment and well-trained physicians with visitors and residents alike. The 24-hour emergency department is even equipped with its own pharmacy to make your visit more convenient.
Common 24 Hour Dental Emergencies
There are a variety of common 24-hour dental emergencies that can strike at any time of the day or night. From a lost filling that causes pain when you chew to a loose or lost crown that exposes a damaged tooth to food debris, common 24-hour dental emergencies can sideline your fun while you visit Glendale. Wandering the museums with a painful toothache or a potentially dangerous abscess definitely is not anyone's idea of a good time. The Glendale emergency dentists have just the treatment that you need to get you out of pain and back into your vacation without the hassle of waiting weeks or even months for an appointment.
If you have a common dental emergency like a cracked or chipped tooth, a partially extruded tooth or a tooth that has been knocked out, your emergency dentist can get you fixed up quickly and as painlessly as possible. Other common 24-hour dental emergencies include soft tissue injuries to the mouth, a broken wire or loose or broken brackets on your braces or a tooth that requires an emergency extraction.
Lost Filling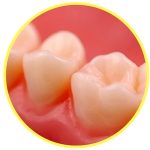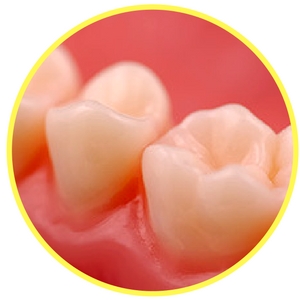 A lost filling is a common dental emergency that may or may not be painful. When a filling is lost, the cavity in the tooth is exposed to food particles that cause tooth decay to begin again. Fill the hole in the tooth with a small piece of sugarless gum to protect the hole in the tooth from debris. Do not use gum with sugar as this can cause pain when applied to the cavity. Make an appointment with your Glendale emergency dentist as soon as possible to have the filling replaced. This ensures that the tooth will not continue to decay while it is exposed to the daily grind of eating and drinking.
Emergency Toothache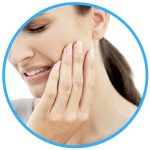 An emergency toothache is a painful but common 24-hour dental emergency that really can strike at any time. A toothache definitely interrupts your enjoyment of your time in Glendale, making it imperative to visit an emergency dentist as soon as possible to find out what is causing the pain and have the dental problem fixed quickly. Apply a cold compress to the outside of the mouth to lessen pain and reduce swelling of the affected area. Never place aspirin between the cheek and gum to reduce pain as this can cause burns of the soft tissues of the mouth. Rinse your mouth with water to remove debris and floss gently to ensure that there is nothing stuck between your teeth that might cause pain.
Broken or Loose Braces & Wires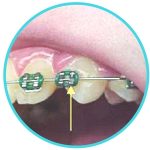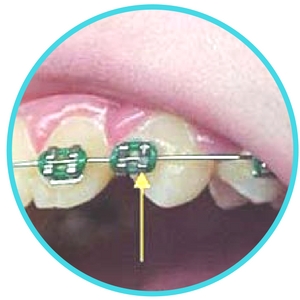 Broken or loose braces and wires are a common dental emergency that can make you extremely uncomfortable. If a wire is poking your gum, use the eraser end of a pencil to push the wire into a more comfortable position. You can also cover the sharp end of the wire with a cotton ball or a small amount of orthodontic wax to protect your cheek and gum. Never cut the wire as this can cause the repair to be much more difficult. Use orthodontic wax to apply the broken bracket or braces against the teeth and make an appointment with your Glendale emergency dentist as soon as possible to facilitate the repair.
Knocked Out Teeth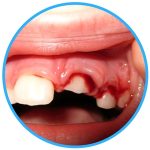 Knocked out teeth are a common dental emergency that can be painful and embarrassing. If you are able to find the tooth that is knocked out, rinse it carefully with water and hold it only by the crown while avoiding the roots. Place the tooth back into the gum and apply gentle pressure. If you are unable to place the tooth into the gum, bring it with you to the dentist in a container of milk or Save-a-Tooth. If your knocked out teeth are due to an accident or a sports injury or fall, visit your local hospital emergency room as soon as possible to ensure that you have no other injuries to your head or body.
Do You Need an Emergency Tooth Extraction?
An emergency tooth extraction is definitely not on the list of fun things to do in Glendale. Unfortunately, you might need an emergency tooth extraction if your tooth has decayed past the point where a dentist can repair it. You might also need an extraction if your tooth is crowding other teeth in your mouth. Waiting to have the tooth extracted rather than visiting the dentist immediately can complicate the procedure and prolong the need for medications like antibiotics or painkillers.
Your Glendale emergency dentist will generally begin the procedure by taking an x-ray of the tooth and performing an examination. He or she then chooses a general or local anesthetic to ensure that you feel comfortable during the procedure. A special tool is used to remove the tooth from the gum and stitches that dissolve over time are used to close the gum. The area is packed with gauze to control any bleeding and full healing generally occurs within one to two weeks.
During the healing portion of your tooth extraction procedure, be sure to follow any instructions given by your dentist. Avoid eating solid foods and drinking through a straw for a few days following the extraction. Smoking and drinking alcohol should also be avoided while the gum heals.
Emergency Room Versus Emergency Dentist

Heading to the emergency room for a toothache probably seems like a good idea, but the hospital emergency room should not be your first choice for a dental problem. Your Glendale emergency dentist is trained to provide emergency care for any dental issue, making him or her the best choice for your dental emergency. Keep in mind that heading to the ER sometimes means a long wait to see a doctor and even after you see that physician, you may be told to follow up with a dentist.
It is important to see a physician at a hospital emergency room if your dental problem stems from an accident like a sports injury, a fall, or even a car accident. In these cases, the physician is able to ensure that you do not have other injuries to your body that could be more serious than a dental problem. Always visit the hospital ER first if your dental emergency comes from this type of accident or injury.
FAQ
What are sealants and why are they done?
Sealants are coatings that are applied to your teeth in order to protect them from damage and decay. Sealants are generally applied to the molars or the back teeth in your mouth so that they are less likely to suffer from tooth decay.
What is in amalgam (silver) fillings, and are they safe?
An amalgam or a silver filling is actually a combination of metals that are designed to be soft enough to apply to a tooth. Copper, tin, silver and mercury are combined to create this type of filling. Amalgam fillings are considered safe for use in adults and teens, and are actually the type of filling that lasts the longest.
How much radiation do I get from a dental x-ray and how does it compare to other medical procedures?
You get very little radiation from a dental x-ray and this type of x-ray is considered to be extremely safe. The amount of radiation from a dental x-ray is approximately 0.005 mSv, which is the same as the radiation from normal background exposure or from a short airplane flight. Radiation from a dental x-ray is less than radiation from many standard x-rays.
What are my options for replacing a missing tooth?
There are several options for replacing a missing tooth, including a dental implant or a bridge. A dental implant is designed to be attached directly to the bone of the jaw and is considered to be the most natural of all tooth replacements. A bridge is usually connected to teeth on either side of the missing tooth. This type of tooth replacement is not a permanent structure in the mouth.
What can I do if I have a dry mouth?
If you have a dry mouth, you can try chewing sugarless gum to keep the mouth moist. You will also need to drink plenty of water during the day and avoid caffeine. You should also avoid smoking or using a mouthwash that contains alcohol because the alcohol can also cause dry mouth.
24 Hour Dentist Glendale Options
There are plenty of fun things to do on your visit to Glendale, but searching for a Glendale emergency dentist probably does not make that list. Fortunately, Emergency Dentists USA has done all of the work for you with our extensive listing of emergency dentists who offer excellent services along with flexible hours for your dental appointment.
Visit Arrowhead Foothills Dentistry on Tuesday through Thursday from 7 a.m. until 7 p.m. for an after hours dental appointment that suits your schedule. Dr. Steele also provides emergency dental appointments on Saturdays until 3 p.m. so that your dental emergency does not ruin your entire weekend. With a friendly staff and a convenient location, Dr. Steele welcomes new patients and emergency visits. Choose Glendale Dental Group to see one of several dentists who offer office hours throughout the week, including on the weekends. Open on Saturdays and Sundays, Glendale Dental Group also offers appointments until 9 p.m. on the weekdays. This schedule of office hours makes it easy to get excellent dental treatment even on an emergency basis.
Dr. Narra at AZ Cosmetic and Family Dentistry has office hours until 7 p.m. on most weekdays, but does not provide weekend appointments. After hours care can even include routine examinations and cleanings. Butler Family Dental is open four days each week from 6 a.m. until 5 p.m. for patients who are early risers and want to get that dental work out of the way before starting the day.
If you have a dental emergency and are unable to contact a Glendale emergency dentist, you can also choose to visit one of the great Glendale hospital emergency rooms. Open 24-hours a day and seven days a week, hospital emergency rooms are a good choice for anyone with a dental emergency that comes from a car accident, a sports injury, or even a fall.
Always check your new dentist's licensing and credentials before you make that appointment. Use the American Dental Association's website located here: www.ada.org to ensure that your dentist is current in his or her licensing and certifications. You can also check out new dentists on the Arizona Dental Association's website here: www.azda.org. You can also find great tips on promoting dental care and keeping your mouth healthy.
This Emergency Dentists USA portal is a website for information only, and should be not used to replace the actual advice of a medical professional. If a patient is having an emergency and cannot reach a dentist, call 911 to assure immediate response and safety.