Helping Thousands of People Each Year Find Dental Services
Emergency dental surgery, cavities, general dental care.
Find immediate help, no insurance required.
Get relief from chipped, cracked or lost teeth, abscesses or toothaches.
24 Hour Emergency Dentist Columbus Ohio
We specialize in Columbus Emergency Dentistry:
Click to go to list of Dentists.
Table of Contents
There are plenty of Columbus emergency dentist offices open with extended weekday hours and some that are also open on Saturdays. There is a list of a few of the best urgent dental care offices below. Emergency Dentists USA also provides you with a phone number listed above to our referral service which can help you get connected to a Columbus 24 hour dentist in seconds. We can help you try to find a dentist near you for whatever emergency you face.
If you live in Columbus, you should feel secure that emergency dentists in Ohio are relatively plentiful and if you are facing an immediate dental situation, you can get help.
The dentist you connected me with recapped my tooth with no problems! I couldn't believe I was able to get help on a Saturday. The best thing was I didn't have to call around and leave messages at dentist office after hours phone numbers and hope for a call back. Thank's for doing all the work for me!
Finding a 24-Hour Emergency Dentist in Columbus Ohio
Walk-in dental clinics are dental clinics that allow patients to come in unannounced, with an urgent occurrence, that needs to be seen immediately. They have experience dealing with urgent emergencies and know how to react when very serious issues and injuries show up at their front door. There are several in the list below that offer walk ins as well as see patients after hours. From the list below, Ohio Urgent Dental Care and Fixari Family Dental have extended weekday hours and also they are open on Saturdays.
While Columbus does not have any true 24 hour emergency dental care clinics, they have one with extended hours from 9 am to 9 pm and is open 7 days a week. This clinic is Immediate Urgent Care Dentist and is listed below. They have four locations throughout Columbus, OH.
"Just knowing there are urgent care clinics in a city provides tremendous peace-of-mind. Columbus is fortunate to have several locations for this type of dentistry."
Emergency Dental Care Listings in Columbus Ohio
Below are the listings of emergency dentists in the Columbus, OH area. These dentists are vetted carefully by Emergency Dentists USA, and you can trust them to offer their talent and years of steady hands when you run into any trouble.
---
Emergency Dentists USA Referral Service Columbus
Phone Number:
1 (855) 401-2701
Address: Connected to Various Dental Offices across Columbus Ohio
Doctors Multiple
Description Call to be connected with the perfect dentist for you, we are available 24 hours a day 7 days a week! We can help you find the best emergency dentist in Columbus Ohio! Easily find Ohio emergency dentists with our service.
---
Immediadent URgent Care Dentist
Phone Number: (614) 473-0400
Address: Four locations throughout Columbus, OH
Website: https://immediadent.com/locations/
Description: This dentist clinic specilizes in after hours and emergencies, but they also offer a full range of general dentistry services. There are 4 convenient locations throughout the Columbus, OH area. This is the best choice for an after hours or walk in dentist clinic in Columbus as they are open 7 days a week!
Open 7 days a week from 9am – 9pm
They do accept dental insurance, contact their office to verify if your specific plan is covered.
They accept Visa, Discover, Mastercard and offer Care Credit financing.
---
Ohio Urgent Dental Care
Phone Number: (614) 875-7070
Address: 4050 Gantz Road Grove City, OH 43123
Doctors: Dr. Steven Huber, DDS and Dr Samuel Pelkey, DDS
Website: http://www.ohiourgentdentalcare.com/
Description: This dental office is open six days a week including Saturday, and of course always welcome walk-ins. With wi-fi in the office and TV's in each treatment room, they are equipped to deal with even the most severe of emergencies while making you feel calm and comfortable.
Mon-Fri 7:30 a.m. – 6:00 p.m.
Sat 9:00 a.m. – 2:00 p.m.
They do accept dental insurance, contact their office to verify if your specific plan is covered.
They offer financing, contact their office to discuss. They also accept cash, Mastercard and Visa.
---
Fixari Family Dental
Phone Number: (614) 429-1213
Address: 4241 Kimberly Parkway Columbus, OH 43232
Doctors: They have two locations and 8 dentists on staff
Website: http://www.fixaridental.com/
Description:This Columbus clinic can help you if you need an exam and cleaning, full-blown emergency services such as an extraction, or full-mouth restoration. They have great hours and are even open on Saturdays, and all of the testimonials available say that they provide stunning results.
Mon – Thurs 7 a.m. – 7 p.m.
Fri 8 a.m. – 5 p.m.
Sat 8 a.m. – 2 p.m.
They do accept dental insurance, contact their office to verify if your specific plan is covered.
---
Oak Creek Dental Care
Phone Number: 614-808-8478
Address: 6865 Oak Creek Drive Columbus, OH 43229
Website: www.oakcreekdental.com
Doctors: Dr. Timothy McDuffee, DDS, FAGD and John Segnini, DDS
Description: Oak Creek Dental clinic's office is a people-friendly practice, and they treat their patients like their friends. They offer general dentistry services and emergency care and are always accepting new patients.
Mon-Tues-Thurs 7:00am – 4:00pm
Wed 7:00am – 6:00pm
Fri 7:00am – 3:00pm
Sat 7:00am – 1:00pm
They do accept dental insurance, contact their office to verify if your specific plan is covered.
They offer a yearly membership program which offers discounts to their patients without dental coverage.
---
How to Prepare For Your Columbus Ohio Emergency Dental Visit
When you arrive at a Columbus OH emergency visit, keep in mind that this is similar to an experience at a regular dentist office. Having paperwork such as health records and insurance information ready will greatly help the smoothness of your visit, and give the staff easier access to your dental background.

Arriving at least 15 minutes early will be a great help in filling out paperwork, and giving the staff a few moments to prepare a ready doctor and room. Even though you are dealing with an event that hit you at the spur of the moment, try to make sure you know how you're going to pay and if the dentist accepts your insurance or payment you wish to use.
Before you get started, make sure you know which medications you may be allergic to, if any and inform the doctor of these.
Common 24 Hour Dental Emergencies


There are many situations that may arise where you will need to track down an after hours dentist in Columbus, OH to make sure that you get the attention you need. Some of them include a lost crown, abscess, soft tissue injury, emergency tooth extraction, broken or bent braces wire, etc. A few of these emergencies that you may encounter are outlined below along with some tips on how to deal with each situation in the best way possible.
Lost Crown
When you lose a crown, you definitely need to see the dentist as soon as possible, and bring the crown along with you. If you are not able to see the dentist right away, one great tactic is to use a little clove oil where the area is very sensitive. This is a known natural remedy among dental professionals and it can help provide temporary comfort.
If at all possible, try to slip the crown back over the tooth. Before you attempt this, you can coat the inner surface with dental cement, adhesive, or even toothpaste will help to hold the crown in place.
Abscess
An abscess is an infection that is very painful at the root of a tooth, most commonly caused by very severe tooth decay. Sometimes if a tooth is broken or chipped, an abscess may occur. Patients who are going through an abscess may have a fever, pain when chewing, sensitivity to hot or cold, and a bitter taste in the mouth.
You can try to rinse your mouth with a mild salt water solution several times a day to improve your comfort level: a well-mixed solution is ½ a teaspoon of table salt in 8 ounces of water. Solutions such as garlic and clove oil may make you temporarily more comfortable, but you need the experience of an emergency dental care specialist to provide you the best care and diagnosis.
Soft Tissue Injuries
You may fall down in an accident, bite down too hard, or put food in your mouth that is too hot and it can cause instant injury to the soft tissue. The main objective to think about when dealing with soft tissue injuries is that you want to control the bleeding
To control bleeding and relieve pain, you can hold a cold compress to the outside of the cheek or mouth in the affected area. If the bleeding does not stop, it is imperative that you see a Columbus 24 hour dentist right away!
Emergency Room Vs. Emergency Dentist in Columbus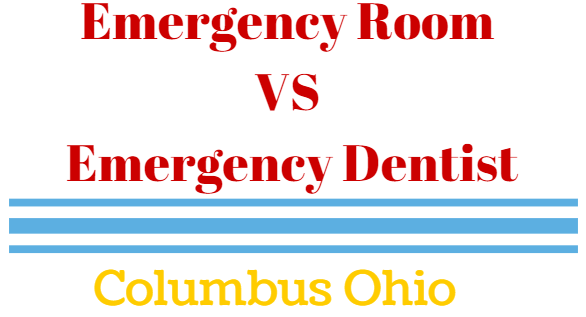 When you do have a dental emergency, it's important to know exactly what to do and which treatment option will suit you best. If dental emergencies are not handled quickly and properly, you can suffer permanent tooth loss, infection, and other very serious consequences.
If you have had a sudden impact to the head or neck or difficulty breathing or swallowing, the hospital may be the best option. One benefit of going to the emergency room is that they are prepared to deal with blunt trauma and very profusely bleeding injuries. The Ohio State University Wexner Medical Center is your best option for emergency care from our research.
Patients with a dental condition that is non-traumatic could be served better in a dental office setting because of the definitive type of care administered, and the likelihood that care will be continual, and focused. One important thing to remember is that dentists are going to know the anatomy of the teeth and the way they respond to care, and will quickly be able to specialize in any problem you may have regarding your teeth.
Columbus Ohio Areas We Serve
We serve a large portion of the Columbus Ohio area, some neighborhoods under our coverage umbrella are these: Downtown Columbus, Short North Columbus, Near South Columbus, South Side, Near East Side, Eastgate, Franklin Park, Franklinton, Hilltop, Clintonville, Southwest Columbus, Westland, Far West Neighborhoods, Near Northwest, University District Columbus, Southeast, Glenbrook, High Five, McKinley Corridor, South Alum Creek, Westland and more.
Whenever you're going to a new dentist in Columbus, make sure you check them out at the Ohio Dental Association!
Medically Fact-Checked & Written by Our Dental Editorial Team
You can read more about our editorial guidelines by clicking this link and learn more about the Emergency Dentists USA editorial team here.