Helping Columbus Residents Find IMMEDIATE Dental Services Everyday.
Get relief from chipped, cracked or lost tooth
Abscess, toothache, mouth pain
Emergency dental surgery
24 hour services - Includes weekends, nights and holidays

24 Hour Emergency Dentist Columbus Ohio
We specialize in Columbus Emergency Dentistry:
Click to go to list of Dentists.
Table of Contents
Columbus, Ohio is not a bad place to have a dental emergency, because there are plenty of Columbus emergency dentist offices open with extended hours and on the weekends. We have provided a list of a few of the urgent dental care offices we spoke to in Columbus that offer same day dentist appointments. Emergency Dentists USA also provides you with a phone number listed above to our referral service which can help you get connected to a Columbus 24 hour dentist in seconds. We have connections with emergency dental clinics in Columbus, and can help you try to find a dentist open 24 hours near you.
We hope that you'll use our referral service because we believe 100% that it is faster and easier than calling walk in dentist offices directly and speaking to their receptionists and trying to get an appointment. Certainly it is much more difficult to reach a dentist office directly in the evening hours, or at the weekend. Please call our referral service hotline now in order to alleviate your dental pain quickly.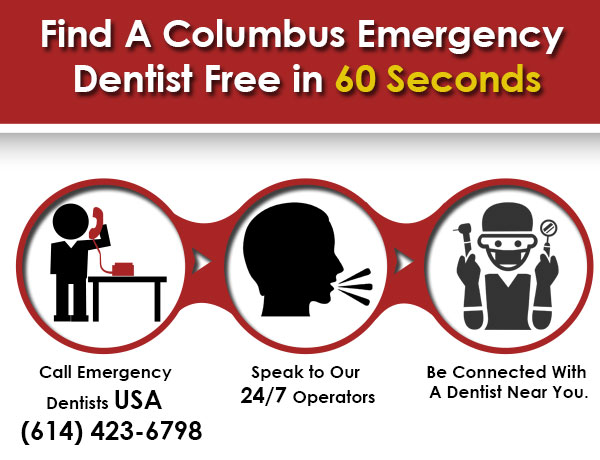 The dentist you connected me with recapped my tooth with no problems! I couldn't believe I was able to get help on a Saturday. The best thing was I didn't have to call around and leave messages at dentist office after hours phone numbers and hope for a call back. Thank's for doing all the work for me!
It goes without saying that no one is going to feel good about waking up some Saturday or Sunday morning over the weekend realizing that they have a dentistry issue. If you live in Columbus, Ohio, you should feel secure that emergency dentists in Ohio are relatively plentiful and if you are facing a 24 hour emergency dental situation, you can get help.
Finding a 24-Hour Emergency Dentist in Columbus Ohio
Walk-in dental clinics are dental clinics that allow patients to come in unannounced, with an urgent occurrence such as a tooth knocked out that needs to be seen immediately. They have experience dealing with urgent emergencies, and know how to react when very serious issues and injuries show up at their front door.
24 hour emergency dental care clinics in Columbus Ohio are ones that specialize in being open 24 hours a day, for those who have run into trouble on the weekend or late in the night. It is a true relief to know that these clinics exist and are staffed with competent workers just for busy people like you, and that they will make sure you are diagnosed and treated for potential pain immediately.
After Hours Dentists are regular dentist offices that allow their hours to stretch into the later times of the evening, and have always seen their fair share of outright emergencies. If the hour is past that of a usual business time and you run into a dire problem with yourself or a member of your family, it's great to know that these clinics will be there for you.
Emergency Dental Care Listings in Columbus Ohio
Here is where you can find the listings you are looking for if you run into a sudden abscess, cracked or broken tooth, or other emergency when you least expect it. Having this handy will increase your chances of having a better experience when something happens to you unexpectedly. These dentists are vetted carefully by Emergency Dentists USA, and you can trust them to offer their talent and years of steady hands when you run into any trouble.
---
Emergency Dentists USA Referral Service Columbus
Phone Number:
1 (855) 401-2701
Address: Connected to Various Dental Offices across Columbus Ohio
Doctors Multiple
Description We're the fastest, easiest method to reach a 24 hour dental clinic after hours or on the weekends. Call to be connected with the perfect dentist for you. Columbus is a large city and we have the connections to find a dentist to fit your needs, and can get you an appointment immediately. Most dentist offices phone lines are shut down after hours and you'll be forced to leave a message, however if you call us we will answer 24 hour a day 7 days a week! We can help you find the best emergency dentist in Columbus Ohio! Easily find Ohio emergency dentists with our service.
---
Oak Creek Dental Care
Phone Number: 614-882-5525
If Closed: Call 1 (855) 276-1128 and let our Operator help you find an emergency dentist.
Address: 6865 Oak Creek Drive, Columbus, OH 43229
Website: www.oakcreekdental.com
Doctors: Dr. Timothy McDuffee
Description: Oak Creek Dental clinic knows what's important to you and strives to provide the highest quality care, convenience and comfort. Their office is a people-friendly practice, and they treat their patients like their friends. Offers general dentistry services and emergency care. They cover all branches of dentistry work in their office. They are always accepting new patients and you will be treated to comfortable, technologically advanced environment during your visit. Weekend dentist hours will fluctuate.
Monday 7:00am – 4:00pm
Tuesday 7:00am – 4:00pm
Wednesday 7:00am – 6:00pm
Thursday 7:00am – 7:00pm
Friday 7:00am – 3:00pm
Saturday 7:00am – 1:00pm
---
Dublin Metro Dental Group
Phone Number: (614) 766-3400
If Closed: Call 1 (855) 276-1128 and let our Operator help you find an emergency dentist.
Address: 420 Metro Place South Dublin, Ohio – 43017
Website: www.dublinmetrodental.com
Doctors: Dr.Aparna Sadineni attributes
Description: Our clinic provides affordable dental care of the highest quality and specialize in crowns, porcelain veneers, Invisalign orthodontics, six month smiles, pediatric dentistry, sedation dentistry, emergency dental care, tooth fillings, extractions, teeth whitening, root canals and dentures. Dr. Sadineni is trained in the most technologically advanced dental equipment and will resolve your dental emergency in Columbus Ohio quickly and comfortably, don't hesitate to call Dublin Metro, especially for their great Saturday dentist hours from 8am til 4pm!
Monday To Friday 8:00 AM – 6:00 PM
Saturday 8:00 AM – 4:00 PM
---
Immediate Urgent Care Dentist
Phone Number: (614) 473-0400
Address: 4044 Morse Rd. Columbus, OH 43230
Doctors:
Website: www.immediadent.com
Description: This after hours dentist clinic that specializes in patients who are encountering the most urgent and threatening forms of pain is open seven days a week until 9 p.m., and offers a full range of emergency dental services. there is no needed appointment to visit, and you can obtain exams and x-rays, cleanings, teeth whitenings, and the most common emergency procedures such as root canals and cracked tooth repair. There are many in-network and insurance options here at this clinic that exists to get patients in extreme dental pain slowly but surely back on the mend. This is the best Sunday dentist in Columbus they have hours from 9am til 9pm on Sundays as well as every other day of the week!
Open 7 days a week from 9am – 9pm
---
———
Emergency Dental Center at Easton Tower
Phone Number: (614) 414-0111
Address: 4030 Easton Station Suite 250 . Columbus . Ohio 43219
Doctors: Dr. Gilmer
Website: http://www.eastondentists.com/
Description: This clinic offers very high quality, affordable dental care with competitive pricing, and is open on Saturdays to be of the most convenience for the customer. Their philosophy is that they no longer want patients to settle for dental care that is unsatisfactory to the patient, and strives to understand that every single patient may be experiencing trauma caused by intense pain. The Chicago walkin dentist center does there best to promote a very green environment, from the techniques they use for x-rays on up to the paperless office approach. A Great place to find emergency dental help with or without insurance.
Monday 8am – 8pm
Tuesday 7am – 5pm
Wednesday 8am – 8pm
Thursday 8am – 5pm
Friday 8am – 5pm
Saturday By Appointment
---
Ohio Urgent Dental Care
Phone Number: (614) 875-7070
Address: 4050 Gantz Road Grove City, OH 43123
Doctors: Dr. Steven Huber
Website: http://www.ohiourgentdentalcare.com/
Description:Here doctors Steven Huber, Samuel Pelkey, and Joshua Shumway are dedicated to providing patients the best experience possible when they are in desperate need of urgent or after hours dental care. They are open six days a week including Saturday, and of course always welcome walk-ins. With wi-fi in the office and TV's in each treatment room, this clinic is equipped to deal with even the most severe of emergencies on short notice.
Monday-Friday 7:30 a.m. – 6:00 p.m.
Saturday: 9:00 a.m. – 2:00 p.m.
---
Fixari Family Dental
Phone Number: (614) 866-7445
Address: 4241 Kimberly Parkway Columbus, OH 43232
Doctors: Dr. Mark Fixari
Website: http://www.fixaridental.com/
Description:This Columbus clinic can help you if you need an exam and cleaning, full-blown emergency services such as an extraction, or full-mouth restoration. They have great hours and are even open on Saturdays, and all of the testimonials available say that they provide stunning results. Dr. Fixari and his crew love serving the residents of Columbus, and providing late night dental services such as extractions, root canals, x-ray diagnostics, and more.
Mon – Thurs 7 a.m. – 7 p.m.
Fri 8 a.m. – 5 p.m.
Sat 8 a.m. – 2 p.m.
---
One of the most common emergency dental situations is Pericoronitis. This shows as an infection, which happens when the patients wisdom teeth will not grow properly into the mouth. The symptoms of pericoronitis are, swollen and irritated gums, bad breath, a bad taste in your mouth, are not being able to fully open the mouth. You should see a dentist right away before this becomes more severe.
How to Prepare For Your Columbus Ohio Emergency Dental Visit
When you arrive at a Columbus OH emergency visit, keep in mind that this is similar to an experience at a regular dentist office, they are just equipped to see you quicker, and immediately perform duties such as extractions. Having paperwork such as health records and insurance information ready will greatly help the smoothness of your visit, and give the staff easier access to your dental background.

Arriving at least 15 minutes early will be a great help in filling out paperwork, and giving the staff a few moments to prepare a ready doctor and room. Even though you are dealing with an event that hit you at the spur of the moment, try if at all possible to make sure you know how you're going to pay: and if the dentist accepts the form of insurance or payment you wish to forego.
Before you get started, make sure you know which medications you may be allergic to, if any: you don't want any sudden surprises if you are offered something for pain or antibiotics. If dentists have given you intense anxiety or fear in the past, let the staff know about that as well, because there are many options to make sure you remain calm and comfortable during your visit.
Quality of Urgent Dental Care in Columbus OH

Columbus is now the 15th largest city in the United States, and is the capital and largest city of Ohio. The all-inclusive metro area itself is the 3rd largest in the state of Ohio, behind Cleveland and Cincinnati.
The Ohio State University here is one of the largest in the nation, and the city is also home to the Battelle Memorial Institute, which is the world's largest research and development foundation. There is also a #1-ranked zoo and aquarium, home of corporations such as Wendy's and Red Roof Inn, and base of operations for NetJets, the world's largest fractional jet aircraft fleet.
This region does have four world-renowned and award-winning healthcare systems, that contribute billions annually to the city's economy, and actively employ more than 45,000 people. The Ohio State University Wexner Medical Center boasts 24 years of national excellence, and has been ranked in the top 1 percent of U.S. Hospitals, No. 2 hospital in Ohio, and the Best hospital in Columbus for 24 years.
The Nationwide Children's Hospital is one of America's largest pediatric health care and research centers, delivering care for over a million patients annually. There are nationally-ranked programs here for neonatology, oncology, and neuroscience, and this is a hive of health professionals who always go above and beyond in their daily work.
The Fairfield Medical Center is a non-profit healthcare facility in the area that is committed to providing medical treatment to those in need, without taking into consideration their overall ability to pay. They have been named one of the Top 10 Workplaces in Central Ohio for the year 2014, and have long been known for delivering outstanding healthcare for patients, families, and the community overall.
The Licking Memorial Health Systems Facility in Columbus has 1,700 employees who are highly trained and compassionate individuals, and has been ranked on multiple top 100 lists over the past decade. Here they have remained at the forefront of patient safety, and implementing the latest technology to provide the highest quality care for both visitors and patients.
If you are suffering from a serious dental emergency, sometimes a hospital is the best choice among local resources to go to, especially if the time is after hours. Columbus definitely has more than its fair share of these fine healthcare locations, and the Mount Carmel Healthcare System is another that offers amazing care and resources.
Common 24 Hour Dental Emergencies



We want to stress that reading advice from Emergency Dentists USA is no substitute for seeing a medical professional, and every situation is unique, so you should see a dentist for any of the situations below.
If the hour is very late and you encounter a sudden and desperate emergency, a late night dentist in Columbus Ohio will be a welcome location for you to visit, and the staff will be more than ready to assist you to immediately make you comfortable. It may be a sudden fall while on a bike, injury incurred to children during playing, or accident that happens during the night, when there is not enough light and you bump your mouth while trying to find something.
There are several different conditions that remain so serious you will very likely need to track down 24 hour dentist in Columbus OH to make sure that you get the attention you need. You will feel much better after you are beginning your journey home with pain medication or antibiotics that you need, and after you have seen a professional about your condition.
Here are a few of the most common dental emergencies that patients run across, and some tips on how to deal with them in the best way possible.
Lost Crown
When you lose a crown, you definitely need to see the dentist as soon as possible, and bring the crown along with you. If you are not able to see the dentist right away, one great tactic is to use a little clove oil where the area is very sensitive. Even though this is a known natural remedy among dental professionals, it can help provide temporary comfort during the most difficult of times.
If at all possible, try to slip the crown back over the tooth. Before you attempt this, you can coat the inner surface with dental cement, adhesive, or even toothpaste will help to hold the crown in place. It is very important to not use super glue in this situation, as you do NOT want to create a permanent seal where no one can work on the gap in the future.
When you are dealing with an issue such as a lost crown, make sure that you see an urgent dental care clinic in Columbus Ohio soon; they will best be able to diagnose and remedy your emergency concern.
Abscess
An Abscess is an infection that is very painful at the root of a tooth, most commonly caused by very severe tooth decay. Sometimes if a tooth is broken or chipped, you may have this occur, as well as if you have already had prolonged bouts with Gingivitis.
Eventually, these problems lead up to causing openings in the enamel of the teeth, which allows bacteria to infect the center, or pulp, of the tooth. This infection may also spread from the root of the tooth, to the bones that are very essential in supporting the tooth. Patients who are going through an abscess may have a fever, pain when chewing, sensitivity to hot or cold, and a bitter taste in the mouth.
You may also notice redness and swelling around the gums, a swollen area of the upper or lower jaw, and open and draining sore on the side of the gum, and swollen neck glands as well. This is a very serious infection, and almost always begins with a telltale throbbing tooth.
You can try to rinse your mouth with a mild salt water solution several times a day to improve your comfort level: a well-mixed solution is ½ a teaspoon of table salt in 8 ounces of water. See your dentist as soon as you possibly can, especially if you see a pimple-like swelling on the gum that is painful.
Many times patients try to use home remedies to improve their comfort level during an abscess: solutions such as garlic and clove oil may make you temporarily more comfortable, but you need the experience and guidance of an emergency dental care specialist in Columbus OH to provide you the best care and diagnosis for this.
Soft Tissue Injuries
The soft tissues located in the mouth are very sensitive, and any patient is going to notice immediately when they are damaged. You may fall down in an accident, bite down on them, or put food in your mouth that is too hot to cause instant injury to the soft tissue.
Chewing on very hard objects also can damage soft tissues, and the tongue sometimes happens to be the most common area affected. The main objective to think about when dealing with soft tissue injuries is that you want to control the bleeding.
To better get a handle on the bleeding that is occurring, you can rinse your mouth with a mild salt-water solution, or also use a tea bag or piece of gauze to apply pressure to the bleeding site. You can hold either of these in place for 15 or 20 minutes.
To control bleeding and relieve pain, you can hold a cold compress to the outside of the cheek or mouth in the affected area, with the best results being at 5 or 10 minutes. If the bleeding does not stop, it is imperative that you see a Columbus 24 hour dentist right away! There are some instances of tongue and lip bites that turn into very serious problems.
Do you Need An Emergency Tooth Extraction in Columbus OH?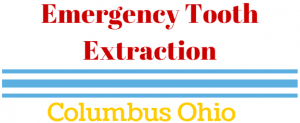 Tooth extraction is a procedure during which a tooth that is causing the patients numerous problems and pain needs to be removed from its home setting in the bone. One of the most common instances when this occurs is when a tooth is impacted, which stops it from a normal growth pattern. Many dentists take this route for wisdom tooth removal, a common problem with adolescents and young adults.
Another reason that someone may want a tooth removed is to make room in the mouth for proper tooth alignment, and when teeth become badly damaged, rendering them almost impossible to repair.
When a dentist recommends a tooth extraction, it's best to have one as soon as you possibly can. If you do choose to postpone this, you can cause yourself more pain, possible infections, and further misalignment over time. If it does happen to be your wisdom teeth that are giving you trouble, the only way you can avoid further discomfort is by having them removed.
You can choose to undergo this procedure with just a type of numbing cream, that is put throughout your mouth and gums, which is a very strong reliever. Many will opt for something like nitrous oxide or another sedative, just to make sure that they get through the pulling of the tooth without extreme discomfort.
Make sure that you abstain from eating and drinking in the hours before the surgery, and arrange for someone to get you home safely after the procedure. Once the tooth extraction is over, you can expect to go through some pain, and a bit of swelling. The swelling is completely normal, and is actually a positive sign that the healing process is taking place.
You can reduce any swelling by placing ice packs on top of the affected areas, and if your jaw is stiff after the swelling subsides, you can use warm compresses to help with the soreness. One thing to be very aware of as far as extractions is that a surgical tooth extraction is going to be much more painful than having just a simple extraction.
Choosing much softer foods is one of the best ways to treat the new wound after extraction, and only add firmer choices as you feel comfortable. Mashed potatoes and noodles are great for this recovery period, but other items such as crackers and chips are the ones you may want to hold off and wait on.
Smoking or using a straw are other things that can irritate the area that is tender after extraction, and you also need to be very gentle when you are brushing around the place where the tooth was lost. Very strenuous exercise such as jogging and bike riding should be avoided for about a week after surgery, to allow the area time for proper healing.
The initial healing that you will really notice takes up to two weeks after an extraction, but it can actually take 3 to 6 months for the bone and soft tissue to be fully restructured and complete in the healing process. As long as you are following your dentist's instructions to avoid complications that will put a halt to your healing and health, you should make it through this procedure fairly well.
Emergency Room Vs. Emergency Dentist in Columbus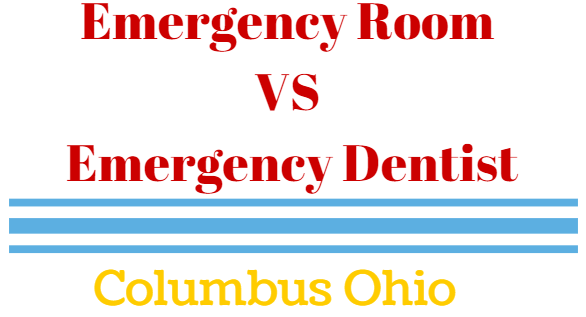 When you do have a dental emergency, it's important to know exactly what to do, and which treatment option will suit you best. If dental emergencies are not handled quickly and properly, the patient can suffer permanent tooth loss, infection, and other very serious consequences.
Dental emergencies that involve the face or mouth will need very immediate and potentially emergency-room care. Issues such as fractures and dislocations, very serious and abrasive soft tissue injuries, and abscesses that are swelling up severely are issues that you definitely may want to consider going to a hospital for.
If you are a patient who already has a compromised immune system or you have a very serious chronic illness, it may also be of grave benefit to be treated at a hospital. If you have had sudden impact to the head or neck or difficulty breathing or swallowing, the hospital may also be the better option.
According to the Health Policy Institute, ER use for dental conditions has declined among young adults aged 19 to 25, and has remained pretty flat among children. During the year 2012, the average cost was around $749 per visit.
Patients who arrive at an Emergency Room with a dental condition that is non-traumatic could definitely better be served in a dental office setting, because of the definitive type of care administered, and the likelihood that care will be continual, and focused.
In some instances, you may even be denied care for dental work, especially if it is a just a toothache or
minor dental concern such as a chipped tooth. Many go to the emergency room because they fear that there will be no other place open, and this is where a bit of a gray area begins with the quality of care, and where a patient should end up.
An analysis in the state of Maryland estimates that up to 79 percent of dental ER visits should absolutely have been diverted to community dentists in the year 2013. Furthermore, the same analysis concluded that the state Medicaid program could save up to $4 million each year if patients were educated regarding going to the community dentist instead of the emergency room.
One benefit of going to the emergency room is that they are prepared to deal with blunt trauma and very profusely bleeding injuries. If you are suffering from an injury such as a fracture or have something happen to your braces or crowns, the dentist's office is going to be a much better place to go to for care. The most important thing to remember is that dentists are going to know the anatomy of the teeth and the way they respond to care, and will quickly be able to specialize in any problem you may have regarding your teeth.
24 Hour Dentist Columbus Options

One option for dental care in Columbus with late hours is Immediate Urgent Care Dentist. Located on Morse Rd, they are open seven days a week until 9 P.M. They offer a full range of emergency dental services, and do not require an appointment to visit.
There are many in-network and other insurance options here that can greatly aid in getting the patient back to mend, and being open from 9AM until 9PM on Sundays makes them one of the most all-around convenient in the city of Columbus. If something incredibly severe does happen to you, it is possible for you to visit the emergency room, as they will be open even in the middle of the night.
Columbus is a very large and hospitable city, and is known to have one of the best college environments in the entire nation. Home of the Buckeyes, midwestern pride is rampant here, but there is still a very cosmopolitan element that you can sense within the city. There are many nationally-recognized healthcare facilities here, and you can pick from some of the best in the nation if you run into an urgent issue.
Anyone seeking to go the the emergency dentist should always check with the local dental society to verify the certification of any new dentist they are thinking about visiting. Emergency Dentists USA is a website for information only, and should not be used to replace the advice of a trained medical professional. If a patient is having an emergency and cannot reach a dentist, they should definitely call 911.
Columbus Ohio Areas We Serve
We serve a large portion of the Columbus Ohio area, some neighborhoods under our coverage umbrella are these: Downtown Columbus, Short North Columbus, Near South Columbus, South Side, Near East Side, Eastgate, Franklin Park, Franklinton, Hilltop, Clintonville, Southwest Columbus, Westland, Far West Neighborhoods, Near Northwest, University District Columbus, Southeast, Glenbrook, High Five, McKinley Corridor, South Alum Creek, Westland and more.
Whenever you're going to a new dentist in Columbus, make sure you check them out at the Ohio Dental Association!
Finally, thank you for stopping in at our Columbus, Ohio emergency dentists page. We hope we were able to help you find a dentist in your area, if we did please leave us a message on the "contact us" page!
Looking for an emergency dentist in Dayton, OH?
or
Go back to our Emergency Dentist in Ohio Page.