Helping Fort Worth Residents Find IMMEDIATE Dental Services Everyday.
Get relief from chipped, cracked or lost tooth
Abscess, toothache, mouth pain
Emergency dental surgery
24 hour services - Includes weekends, nights and holidays

Emergency Dentist Fort Worth, Texas – Find A 24 Hour Dentist Now
Emergency Dentist Fort Worth Table of Contents
Table of Contents
Fort Worth, Texas is a bustling city with almost 600,000 residents. Each year almost 25 million travelers visit Fort Worth to take in the natural beauty of the state, to enjoy a variety of museums and zoos and to take in the Texas rodeos. Finding a Fort Worth emergency dentist while you are on vacation in the city or as a resident does not have to be a problem.
EmergencyDentistsUSA.com offers an extensive list of local Fort Worth emergency dentists that are qualified to handle any dental emergency that pops up. Among the dentists listed, you will find 24-hour dental clinics as well as emergency dental clinics with after hours schedules that allow you to choose an appointment that suits your life. Walk-in dental clinics are also available so that you do not have to wait for a scheduled appointment to handle that dental emergency. Wherever you are in Fort Worth, EmergencyDentistsUSA.com has you covered in your search for a Fort worth emergency dentist.
Finding A 24 Hour Emergency Dentist in Fort Worth, Texas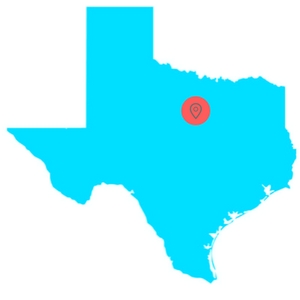 There are a variety of Fort Worth emergency dental offices located in the city. These offices have the ability to handle any dental emergency that you might encounter while on vacation or as a resident. Some of the clinics available include:
Walk-in dental clinics – This type of clinic allows patients to walk into a Fort Worth dental office without worrying about scheduling an appointment. Many walk-in clinics provide the same services that are available in a standard dental clinic but do not require a scheduled appointment. There are several walk-in dental clinics in Fort worth.
Emergency 24-Hour Dental Clinics – An emergency 24-hour dental clinic is open 24-hours per day allowing patients access to quality dental care regardless of the hour. There are no 24-hour dental clinics in Fort Worth, but there are a large selection of excellent hospitals in the city. These hospitals provide emergency room access 24-hours per day and are an excellent choice for patients who need emergency care after hours.
After Hours Dentists – After hours dental offices provide standard dental care and emergency dental care after normal office hours. There is a large selection of after hours dental offices in Fort Worth. These dental providers offer hours as late as 9 p.m. and even have clinic hours on weekends, including Sunday.
Emergency Dentist Listings in Fort Worth, Texas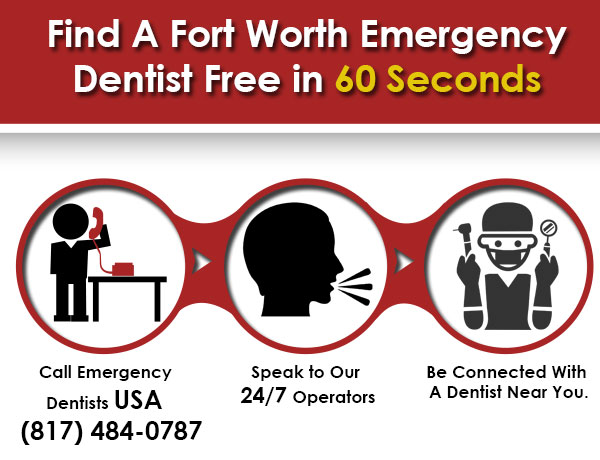 ---
Emergency Dentists USA Referral Service Fort Worth
Phone Number: 1 (855) 401-2701
Address: Referral Service to Various Dental Offices across Fort Worth
Doctors Multiple
Description Call to be connected with the perfect dentist for you. Fort Worth is a large city and we have the connections to find a dentist to fit your needs, and can get you an appointment immediately. Get help finding an emergency dentist without insurance, or with your insurance coverage.
---
7 Day Dental Center
Number: (817) 405-2001
Office: 2246 Jacksboro Highway, Suite 112 Fort Worth, TX 76114
Doctors: Dr. Bob Jing
Website: http://7daydentalcenter.com/
Description: Fully staffed 7 days a week, this is an excellent weekend dentist clinic that is able to serve you when the fatefully unexpected arises. You can even utilize this as a Sunday dentist, a rarity in today's busy world. Broken or knocked out teeth, missing crowns, cracked teeth, and infected teeth can all be treated here at 7 Day Dental Center, where they are standing by to get you feeling comfortable again.
Mon 8:30am-5:30pm
Tue 8:30am-5:30pm
Wed 8:30am-5:30pm
Thu 8:30am-5:30pm
Fri 10:00am-7:00pm
Sat 8:30am-3:00pm
Sun 8:30am-2:00pm
---
Emergency Dental Care USA – Fort Worth
Number: 817-581-3411
Office: 5334 N Tarrant Parkway, Fort Worth, TX 76244
Doctors: Dr. Charles Drexler, Dr. Nathan Flesher, Dr. Gita Rafiei, Dr. Bianca Starks, Dr. Bart Christiansen
Website: www.emergencydental.com/fort-worth
Description: Emergency Dental Care USA is located in North Fort Worth (very near Keller and Watauga). Our clinic is open 7 days a week, and provides same-day appointments and treatment whenever possible. Our professional and experienced dentists can treat toothaches and most other dental emergencies without the wait. At Emergency Dental Care USA you can expect convenient hours and affordable treatment costs. We accept most dental insurance on an indemnity basis and provide full disclosure of total costs and out-of-pocket expenses before any treatment begins.
Monday 9am 9pm
Tuesday 9am 9pm
Wednesday 9am 9pm
Thursday 9am 9pm
Friday 9am 9pm
Saturday 9am 9pm
Sunday 9am 9pm
---
EQ Dental
Number: (817) 405-2001
Office: 3529 Heritage Pkwy, Suite 171 Keller, TX 76244
Doctors: Dr. Young
Website: http://www.eqdental.com/
Description: EQ dental and Dr. Young are here to help you in your dental emergency. They offer great hours that include Monday through Friday until 6pm, as well as Saturday
Dentist appointments from 5am which is very early, until 4pm. So they offer some great Saturday dental hours.
Mon – Fri: 7:00am-6:00pm
Saturday: 5:00am-4:00pm
Sunday: Appointments only
---
North Tarrant Dental Care
Number: (817) 522-0352
Office: 9587 Sage Meadow Trail Fort Worth, TX 76177
Doctors:Catherine Whinery DDS
Website: http://www.texasdentalresources.com/
Description: The North Tarrant Dental Care office has amazing hour sto help you with your emergency dental situation in Fort Worth. Check it out and
get an appointment anytime Monday through Saturday from 7am to 7pm. Another great thing they offer is Sunday dentist hours in Fort Worth of 11am to 5pm.
Monday – Saturday: 7a.m. to 7p.m
Sunday: 11a.m. to 5 p.m.
---
Brident Dental & Orthodontics
Number: 682-233-9326
Office: 3411 Sycamore School Rd., Fort Worth, TX 76123
Doctors: Soumava Sen, DDS, P.C
Website: https://www.brident.com/en-US/dentists/texas/fort-worth/3411-sycamore-school-rd/
Description: This great walkin dentist, Brident office in Fort Worth has some great hours of service. You can get Fort Worth Saturday dentist appointments with them from 8am to 430pm on Saturday
or you can find them open late til 7pm every weeknight. This office specializes in helping you find a Fort Worth emergency dental appointment asap.
Mon: 9:00am-7:00pm
Tue: 9:00am-7:00pm
Wed: 9:00am-7:00pm
Thu: 9:00am-7:00pm
Fri: 9:00am-7:00pm
Sat: 8:00am-4:30pm
---
Heritage Modern Dentistry
Number: 817-750-1300
Office: 3400 Texas Sage Trl Ste 136 Fort Worth, TX 76177
Doctors: KERRY RAGBIR
Website: http://www.heritagemoderndentistry.com/?sc_cid=googlelocal
Description: Heritage Modern Dentistry is another great Fort Worth Emergency Dentist. You can get appointments with Dr Ragbir until at least 7pm every weeknight
as well as Saturdays from 8am to 3pm. Fort Worth is a very easy place to find an emergency dentist and Dr Kerry Ragbir is no exception providing fantastic hours of service.
MO 7:00 AM – 7:00 PM
TU 7:00 AM – 7:00 PM
WE 8:00 AM – 7:00 PM
TH 7:00 AM – 7:00 PM
FR 7:00 AM – 3:00 PM
SA 8:00 AM – 3:00 PM
---
How To Prepare For Your Fort Worth, Texas Emergency Dental Clinic Visit

Fort Worth emergency dental clinics are similar to standard dental clinics in that they provide services that include x-rays and routine fillings and cleanings. These clinics also offer emergency services either after hours or on a walk-in basis.
Prior to visiting a Fort Worth emergency dentist, gather any recent dental x-rays that you might have and any recent medical and dental records. These records will help your dentist to determine the best treatment for your dental emergency.
Once you make a Fort Worth dental clinic appointment, try to arrive at the appointment at least 15 minutes early to fill out paperwork.
Check to make sure the Fort Worth emergency dentist accepts your method of payment. Speak with the staff to set up a payment plan if necessary and ensure that the dental clinic takes your credit card, check or other payment method.
Check to see if your dental insurance is accepted by the Fort Worth emergency dental clinic. Find out if the dentist submits the claim to the insurance to ensure payment.
Let the Fort Worth emergency dentist know if you are taking any medications or have any health risks that might affect the dental treatment. Bring a list of your medications to the dental appointment.
If you have intense anxiety or fear about visiting a dentist, be sure to let the Fort Worth emergency dental clinic's staff know. They can help you to assuage those fears and have a more comfortable appointment.
Quality of Urgent Care Dentists In Fort Worth, Texas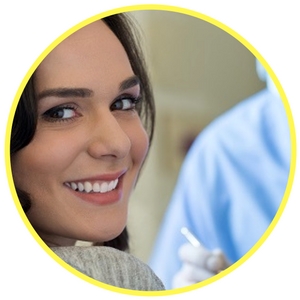 Fort Worth, Texas, is sometimes referred to as "Cowtown" or the "City of Cowboys" because of the affinity for rodeo and the large number of cattle that are raised in the area. Twice a day, tourists and residents can watch cowboys herd cattle through the streets of the Fort Worth Stockyards National Historic District. The city was actually a hangout of some famous cowboys that include Butch Cassidy and the Sundance Kid. Locals sometimes refer to Fort Worth as Panther City.
The city is fast-growing and home to over 500,000 residents. The median population of Fort Worth is between 25 and 34 years old, and the standard of medical care in the city is excellent. Visitors to the city of Fort Worth are often drawn to the large number of museums and theaters, its close proximity to Dallas and the very exciting Texas rodeos. While visiting Fort Worth, it is not uncommon to experience a dental emergency and there are plenty of excellent Fort Worth emergency dentists who are experienced in treating emergency dental conditions.
The Fort Worth area offers residents access to a selection of medical and dental clinics that provide reduced cost healthcare and dental care as well as routine services. Walk-in dental clinics and after hours dental services can be found online on the EmergencyDentistsUSA.com website.
The city of Fort Worth has several outstanding hospitals including Baylor All Saints Medical Center at Fort Worth which was ranked number ten in the state by US News and World Reports. Baylor All Saints Medical Center has an excellent emergency department that is open 24-hours a day to treat medical and dental emergencies.
Other local Fort Worth hospitals include Harris Methodist Hospital Fort Worth and USMD Hospital at Fort Worth. Both of these hospitals also offer 24-hour emergency service for dental emergency care. When you are unable to get an appointment with your own dentist or if you have a medical emergency, it is important to visit a hospital to receive qualified medical care. Any time you are suffering from an emergency, you can also call 911 to access emergency medical services.
If you experience a dental emergency while in the city of Fort Worth, you can find a qualified emergency dentist on the EmergencyDentistsUSA.com website.
Common 24 Hour Dental Emergencies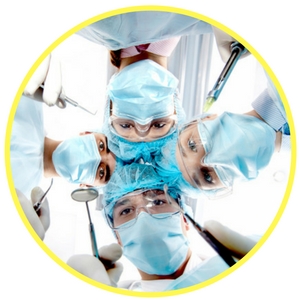 There are a large number of common dental emergencies that can occur at any time throughout the day. Some of the most prevalent dental emergencies include broken or chipped teeth, lost fillings and lost crowns. All of the EmergencyDentistsUSA.com Fort Worth emergency dental clinics are equipped to handle these types of dental emergencies along with routine dental services like x-rays, cavity fillings and cleanings.
Other common dental issues include painful and possibly dangerous abscesses, cavities, a simple toothache, soft tissue injuries from an auto accident or even a fall, and knocked out teeth. Dental emergencies can be quite painful and also include teeth that are extruded or partially dislodged, objects caught between teeth (that are difficult to remove) and broken braces or braces with loose or damaged brackets. All of these dental emergencies can be handled by the Fort Worth emergency dentists that are listed on EmergencyDentistsUSA.com.
Chipped or Broken Tooth
A chipped or broken tooth can be quite painful. If you experience a chipped or broken tooth, try to save any pieces of the tooth you can find. Rinse your mouth with warm water and rinse any pieces of the tooth that you can find. If any area of the mouth is bleeding, apply pressure with a gauze pad for at least 10 minutes until the bleeding stops. Apply a cold compress to the cheek or lip area that is affected by the chipped tooth and contact your Fort Worth emergency dentist as soon as possible to repair the tooth.
Knocked Out Teeth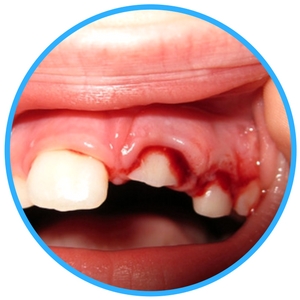 When teeth are knocked out, it is important to retrieve the teeth if possible. Hold the tooth only by the crown and not by the root. Rinse the tooth carefully and place it back into the open space in the gum. Apply direct pressure to the tooth to hold it in place and visit your Fort Worth dentist as soon as possible.
If you are unable to place the tooth back into the socket, leave the tooth in a small container of milk or Save-a-Tooth to keep it moist until you can reach your emergency dental clinic. You can also keep the tooth moist by placing it in your mouth between your tooth and gum.
Objects Caught in Teeth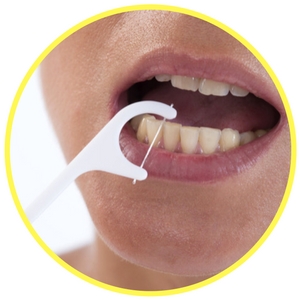 Objects caught between the teeth can cause pain and swelling to the area between the teeth, the gums and the cheeks. If you find that something is caught between your teeth, first try to remove the debris by gently flossing the teeth. Try not to place too much pressure on the object to avoid pressing it into the gums and causing more damage or injury. Never use a pin or other sharp object to remove the debris. If you are unable to remove the object that is caught between your teeth, contact a Fort Worth emergency dentist to obtain qualified medical treatment.
Tooth Trauma Caused by an Accident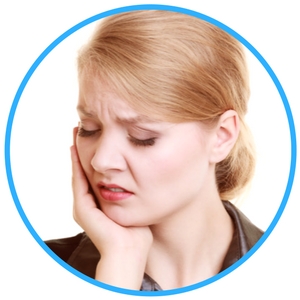 There are several types of tooth trauma that are caused by accidents. These dental emergencies include chipped teeth, knocked out or partially extruded teeth and lost or damaged crowns or fillings. Tooth trauma that is caused by an accident should be seen by an emergency room doctor if the trauma is combined with a head or body injury. It is extremely important to call 911 or go directly to an emergency room if trauma extends to any part of the body other than the tooth. Tooth trauma that affects only the teeth can be addressed by a Fort Worth emergency dentist.
Do You Need an Emergency Tooth Extraction?
There are several situations that might cause you to require an emergency tooth extraction. If a tooth is impacted, as is in the case of many wisdom teeth, a dentist will recommend that it be extracted. If tooth decay leads to infection in the tooth or gum, the tooth will generally require extraction and this is often accomplished on an emergency basis.
Having the tooth extracted immediately rather than waiting for the dental emergency to become more painful leads to the decreased need for medication like antibiotics and painkillers. Waiting to have to tooth extracted may cause complications that are both expensive and painful. Your Fort Worth emergency dentist will use an anesthetic to numb the area and special dental tools to pull the tooth. After the tooth is removed, a gauze pack is placed in the empty space to stop the bleeding and promote the clotting of blood.
Healing from a tooth extraction generally occurs within two weeks of the extraction. Pain is controlled by painkillers if necessary and you are encouraged to rinse your mouth with warm salt water to promote healing. Do not use a straw to drink while healing, and avoid eating foods that are hard to chew. Soft foods like yogurt and soup are recommended.
Emergency Room Versus Emergency Dentist

When you experience a dental emergency there are several options for treatment. You can visit a Fort Worth emergency dentist or you can go to a hospital emergency room. When visiting a hospital emergency room for a dental emergency, the ER doctor is able to prescribe painkillers and antibiotics as needed.
He or she will generally refer you to a Fort Worth dental clinic to address the actual dental issue. Since ER doctors generally do not treat dental emergencies, a trip to the emergency room can be quite expensive. In most cases, that ER trip is much more expensive than the same services provided at a dental clinic.
It is appropriate to visit an emergency room rather than a dental clinic when the damage to the tooth is caused by trauma to the head or body. For example, if a tooth is chipped or broken in a car accident, patients should go directly to the ER rather than to a dentist.
FAQ
What should I do if my tooth gets knocked out?
If your tooth gets knocked out, it is important to find the tooth if possible. Hold the tooth by the surface or crown only and avoid touching the root. Rinse the tooth carefully and place it into the empty socket. Apply steady pressure to the tooth to hold it in place. If you are unable to replace the tooth, bring it to your Fort Worth emergency dentist in a container or milk or Save-a-Tooth so that he or she can replace it for you.
My dentist says I have a cavity and that I need a filling. But why doesn't my tooth hurt?
Your cavity that requires filling may not hurt because the damage to the tooth has not reached the dentin or the soft layer of the tooth. Once the cavity reaches the interior of the tooth, the decay can cause pain. When the root of the tooth is exposed, there is generally a large amount of pain. Getting a cavity filled before it progresses is the key to avoiding pain.
What is a root canal?
A root canal is a dental repair that is used to save a tooth that is badly damaged or even infected. During this procedure, the dentist removes the damaged center of the tooth, or the pulp, and replaces it with a filling. This filling is then sealed. The procedure generally begins with an x-ray to confirm the extent of the damage.
What is in amalgam (silver) fillings, and are they safe?
The combination of metal in amalgam or silver fillings includes liquid mercury and a powdered alloy that contains silver, copper and tin. The liquid mercury is used as a binding agent to hold the other metals together and create a strong bond. Amalgam fillings were studied by the FDA and are considered safe for children and adults.
What can I do if I have a dry mouth?
A dry mouth can begin due to a variety of causes that include the use of certain medications, smoking, caffeine intake and even the removal of salivary glands. You can suck on sugar-free candies or chew sugar-free gum to relieve the symptoms of a dry mouth. You can also breathe through your nose as much as possible, visit your dentist for routine checkups, brush with a fluoride toothpaste and floss regularly, drink plenty of water and use a room vaporizer to add moisture to the air in your home.
24 Hour Dentist Fort Worth Options
With a bustling economy and fun and exciting social opportunities, Fort Worth makes an amazing location for a vacation or a permanent residency. The city offers excellent medical and dental care with plenty of options for 24-hour dental care whenever it is required. Fort Worth emergency dentists offer a variety of service options including walk-in dental clinics that provide emergency dental care without an appointment on an as-needed basis.
There are also a number of emergency dental clinics that provide after hours dental care as late as 9 p.m. in the evening and on weekends including on Sundays. These Fort Worth emergency dental clinics provide both routine care services like x-rays and teeth cleanings along with emergency services that include emergency tooth extractions, repairs to broken or lost teeth, and medical treatment for soft tissue injuries or abscesses that cause pain or infection.
Check with the American Dental Association at http://www.ada.org/en to ensure that the Fort Worth emergency dentist that you choose is licensed and certified in your area. You can also use the Texas State Board of Dental Examiners website at http://www.tsbde.texas.gov/ to confirm that your selected dentist is licensed and certified.
Fort Worth emergency dentists can address any dental emergency that occurs while you are in the Fort Worth area. If you are unable to contact a Fort Worth emergency dental clinic over night or on a weekend, you should go straight to the emergency room to have your dental emergency addressed by a medical professional.
You can access emergency rooms 24-hours a day and seven days a week. If you receive an injury to a tooth or teeth that includes injuries to any other part of the body, you should always go to an emergency room immediately, even before contacting a Fort Worth emergency dental clinic. You can also call 911 for any dental or medical emergency.
The information listed on EmergencyDentistsUSA.com and the Emergency Dentists USA portal is for informational purposes only. This information should never be used to replace the advice of a medical professional. If a person is having a dental emergency and cannot reach a dentist, call 911 to assure immediate response and prompt medical treatment.