Helping Thousands of People Each Year Find Dental Services
Emergency dental surgery, cavities, general dental care.
Find immediate help, no insurance required.
Get relief from chipped, cracked or lost teeth, abscesses or toothaches.
Emergency Dentist Fort Worth, Texas – Find A 24 Hour Dentist Now
We specialize in Fort Worth Emergency Dentistry:
Click to go to list of Dentists.
Table of Contents
Finding a Fort Worth emergency dentist while you are on vacation in the city, or as a resident does not have to be a problem.
EmergencyDentistsUSA.com offers an extensive list of local dentists that are qualified to handle any dental emergency that may occur. As a 24 hour, 7 days a week service, we can assist in finding a dentist to suit your needs and help set up an appointment if necessary.
I was in such pain due to an impacted tooth and I thought I could make it until Monday to get an appointment with my regular dentist, but I was wrong! I called Emergency Dentists USA and they were able to find a dentist open immediately that was able to prescribe medication to ease my pain until I was able to get an appointment. Such a relief to find this site!!
Finding A 24 Hour Emergency Dentist in Fort Worth, Texas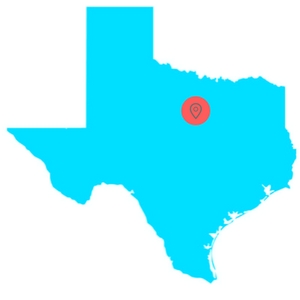 There are a variety of emergency dental offices located in the Forth Worth areaand these offices have the ability to handle any dental emergency that you might encounter.
Walk-in dental clinics allow patients to walk into a dental office without worrying about scheduling an appointment. We have found several examples of these types of clinics. From our list below, Emergency Dental Care USA – Fort Worth, 7 Day Dental Center, North Tarrant Dental Care and Brident Dental all offer walk ins. All four of these clinics are also open after normal business hours in order to help take care of their patient's needs.
An emergency 24-hour dental clinic is open 24-hours per day, allowing patients access to dental care regardless of the hour. From our extensive research, there are no 24-hour dental clinics in Fort Worth, but there are some clinics that are open extended weekday hours and also have hours on Saturdays and Sundays. The best example of this type of clinic is Emergency Dental Care USA – Fort Worth. They are open from 9 AM to 9 PM, 7 days a week.
---
Emergency Dentists USA Referral Service Fort Worth
Phone Number: 1 (855) 401-2701
Address: Referral Service to Various Dental Offices across Fort Worth
Doctors Multiple
Description Call to be connected with the perfect dentist for you in the Fort Worth area! We have the connections to find a dentist that fits your needs, and can get you an appointment immediately. Get help finding an emergency dentist whether you have insurance coverage or not.
---
Emergency Dental Care USA – Fort Worth
Number: (817) 500-5733
Office: 5334 N Tarrant Parkway, Fort Worth, TX 76244
Doctors: Dr. Charles Drexler, Dr. Nathan Flesher, Dr. Aiken, Dr. Bianca Starks, and Dr. Bart Christiansen
Website: https://www.emergencydental.com/fort-worth/emergency-dental-services/
Description: Emergency Dental Care of Fort Worth provides a full range of emergency, general and cosmetic dental services to those in need of convenient dental care. They also do not charge additional fees or surcharges to be seen on the weekends or even holidays.
Monday – Sunday: 9 AM – 9 PM
Offers walkin same day appointments, 7 days a week.
They accept most dental insurance, contact to discuss your specific plan.
They also accept cash, check and most major credit cards as well as offer financing through CareCredit.
---
7 Day Dental Center
Number: (817) 405-2001
Office: 2246 Jacksboro Highway, Suite 112 Fort Worth, TX 76114
Doctors: Dr. Bob Jing, Dr. Jonathan Song, Dr. Raffi Asadorian, Dr. Nisha Modi and Dr. Annie Bae
Website: https://7daydentalcenter.com/emergency-dentistry/
Description: Fully staffed 7 days a week, this is an excellent weekend dentist clinic that is able to serve you when the unexpected arises. They offer same-day and weekend emergency appointments in order to better serve their customers.
Monday – Thursday: 8:30 AM – 5:30 PM
Friday: 10 AM – 7 PM
Saturday: 8:30 AM – 3 PM
Sunday: 8:30 AM – 2 PM
They accept most dental insurance, contact to discuss your specific plan.
They also offer financing through CareCredit and Springstone.
---
North Tarrant Dental Care
Number: (817) 522-0352
Office: 9587 Sage Meadow Trail Fort Worth, TX 76177
Doctors: Dr. Mark De Simone, Dr. Patrick Hodges, Dr. Austin Hodges, Dr. Cory Jaetzold, Dr. Matthew Steffer and Dr. Catherine Whinery
Website: https://www.northtarrantdentalcare.com/
Description: The North Tarrant Dental Care office has amazing hours to help you with your emergency dental situation in Fort Worth. Their office houses modern technology and compassionate teams dedicated to delivering personalized dental care. They also offer a membership where you can pay as low as $21/month to get dental care when you do not have insurance.
Monday – Saturday: 7 AM – 7 PM
Sunday: 11 AM – 5 PM
They accept most dental insurance, contact to discuss your specific plan.
They also offer financing through CareCredit and Compassion Health Care.
---
Brident Dental & Orthodontics
Number: (855) 834-4451
Office: Several locations throughout the Fort Worth metro and surrounding areas
Doctors: Dr. Devang Patel, DDS
Website: https://www.brident.com/en-US/services/emergency-care/
Description: Brident Dental knows that accidents can happen and that's why they're available evenings, weekends, for same-day and next-day appointments. They'll even stay open late to provide the emergency dental help you need.
Monday – Friday: 9:00 AM – 6:00 PM
Saturday: 8:00 AM – 4:30 PM
They accept most dental insurance, contact to discuss your specific plan.
They also offer a Discount Dental Program for those without insurance.
---
How To Prepare For Your Fort Worth, Texas Emergency Dental Clinic Visit

Fort Worth emergency dental clinics are similar to standard dental clinics in that they provide services that include x-rays, routine fillings, and cleanings.
Prior to visiting an emergency dentist, gather any recent dental x-rays that you might have and any recent medical and dental records. These records will help your dentist to determine the best treatment for your dental emergency. Also, try to arrive at the appointment at least 15 minutes early to fill out paperwork.
Check to make sure the dentist office accepts your method of payment. Speak with the staff to set up a payment plan if necessary. It's also best to make sure they accept your dental insurance prior to the appointment if possible.
If you have intense anxiety or fear about visiting a dentist, be sure to let the emergency dental clinic's staff know. They can help you to assuage those fears.
Common 24 Hour Dental Emergencies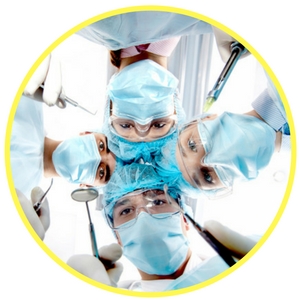 Some of the most prevalent dental emergencies include broken or chipped teeth, lost fillings and lost crowns. All of the dental clinics found on EmergencyDentistsUSA.com are equipped to handle these types of dental emergencies.
Other common dental issues include painful and possibly dangerous abscesses, cavities, a simple toothache, soft tissue injuries from an auto accident or even a fall, and knocked out teeth.
Below we discuss some of the most common dental emergencies and some at home treatments you can try to alleviate the pain while waiting to get in to your dentist.
Chipped or Broken Tooth
If you experience a chipped or broken tooth, try to save any pieces of the tooth you can find. Rinse your mouth with warm water and rinse the pieces of tooth that you can find. If any area of the mouth is bleeding, apply pressure with a gauze pad until the bleeding stops. Apply a cold compress to the cheek or lip area that is affected by the chipped tooth, and contact an emergency dentist as soon as possible to repair the tooth.
Knocked Out Teeth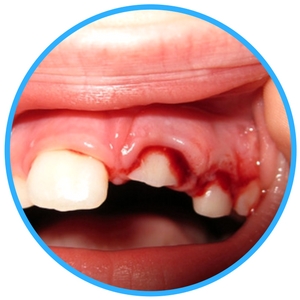 If a tooth is knocked out, it is important to retrieve it if possible. Hold the tooth only by the crown and not by the root. Rinse the tooth carefully and place it back into the open space in the gum. Apply direct pressure to the tooth to hold it in place and visit your dentist as soon as possible.
If you are unable to place the tooth back into the socket, leave the tooth in a small container of milk or Save-a-Tooth to keep it moist until you can reach your emergency dental clinic.
Objects Caught in Teeth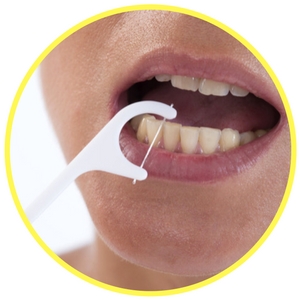 Objects caught between the teeth can cause pain and swelling to the area between the teeth, the gums and cheeks. If you find that something is caught between your teeth, first try to remove the debris by gently flossing the teeth. Try not to place too much pressure on the object to avoid pressing it into the gums and causing more damage or injury.
If you are unable to remove the object that is caught between your teeth, contact an emergency dentist in the Fort Worth area to obtain qualified medical treatment.
Do You Need an Emergency Tooth Extraction?
There are several situations that might cause you to require an emergency tooth extraction. If a tooth is impacted, as is in the case of many wisdom teeth, a dentist will recommend that it be extracted. If tooth decay leads to infection in the tooth or gum, the tooth will generally require extraction and this is often accomplished by an emergency dentist.
Having the tooth extracted immediately rather than waiting for the dental emergency to become more painful, leads to a decreased need for medication like antibiotics and painkillers. Waiting to have to tooth extracted may cause complications that are both expensive and painful.
Healing generally occurs within two weeks of the extraction. Pain is controlled by painkillers if necessary and you are encouraged to rinse your mouth with warm salt water to promote healing.
Emergency Room Versus Emergency Dentist

When you experience a dental emergency there are several options for treatment. You can visit an emergency dentist in the Fort Worth area or you can go to a hospital emergency room. When visiting a hospital emergency room for a dental emergency, the ER doctor is able to prescribe painkillers and antibiotics as needed, however, they are not usually equipped to handle the actual dental problem.
It is appropriate to visit an emergency room rather than a dental clinic when the damage to the tooth is caused by trauma to the head or body. For example, if a tooth is chipped or broken in a car accident, patients should go directly to the ER rather than to a dentist.
24 Hour Dentist Fort Worth Options
Fort Worth emergency dentists offer a variety of service options including walk-in dental clinics that provide emergency dental care without an appointment on an as-needed basis, as well as after-hours care. Some of the dental clinics we found in the Fort Worth area are even open until 9 PM in order to better serve their customers needs.
Be sure to check with the American Dental Association at http://www.ada.org/en to ensure that the emergency dentist you choose is licensed and certified in your area. You can also use the Texas State Board of Dental Examiners website at http://www.tsbde.texas.gov/ to confirm that your selected dentist is licensed and certified.
Don't forget our service, Emergency Dentists USA, can help find a dentist near you 24 hours a day, 7 days a week without all the hassle of calling around to numerous dentists in your area!
Medically Fact-Checked & Written by Our Dental Editorial Team
You can read more about our editorial guidelines by clicking this link and learn more about the Emergency Dentists USA editorial team here.