Helping Fort Worth Residents Find IMMEDIATE Dental Services Everyday.
Get relief from chipped, cracked or lost tooth
Abscess, toothache, mouth pain
Emergency dental surgery
24 hour services - Includes weekends, nights and holidays
Find a Dentist 24/7
Near You IMMEDIATELY
Click or Call Toll-Free
1 (817) 484-0787
Emergency Dentist Fort Worth, Texas
---
We Specialize in Fort Worth Emergency Dentistry: Call 24/7: 1 (817) 484-0787
Monday – Friday, See A Fort Worth Dentist The Same or Next Day/Night You Call!.
Saturday And Sunday, "See A Fort Worth Emergency Dentist In Hours."
Fort Worth is a large city that borders the even larger city of Dallas, in Texas and we're here to help you find a Fort Worth emergency dental clinic. The population of Fort Worth is large enough that it means finding an emergency dentist in Fort Worth will not be a problem and there should be a 24 hour dentist available for almost any problem you're having. At Emergency Dentists USA we aim to provide a quick connection to proper walk in dental clinics in your area so that when you have an emergency dental situation you don't have to dig around through hundreds of phone numbers for different dentists offices, you can simply dial our referral service phone number and we'll find the best dentist for you and set you up with the next available appointment time.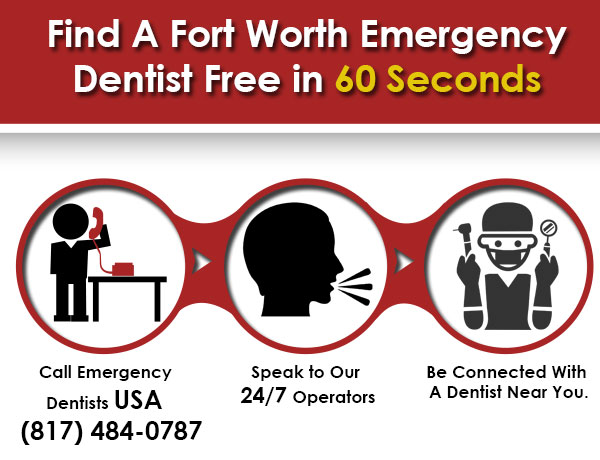 Call 24/7: 1 (817) 484-0787
We developed this website to help individuals like you who find themselves in a heap of discomfort either at home or on a trip.  Most people don't think it will happen to them, until it actually does.  You can be assured that if you are facing a painful dental crisis and it is happening at a terrible time or far from home, you have options and resources available to you.
---
Emergency Dentists USA Referral Service Fort Worth
Phone Number: 1 (877) 507-0879
Address: Referral Service to Various Dental Offices across Fort Worth
Doctors Multiple
Description Call to be connected with the perfect dentist for you. Fort Worth is a large city and we have the connections to find a dentist to fit your needs, and can get you an appointment immediately. Get help finding an emergency dentist without insurance, or with your insurance coverage.
---
7 Day Dental Center
Number: (817) 405-2001
Office: 2246 Jacksboro Highway, Suite 112 Fort Worth, TX 76114
Doctors: Dr. Bob Jing
Website: http://7daydentalcenter.com/
Description: Fully staffed 7 days a week, this is an excellent weekend dentist clinic that is able to serve you when the fatefully unexpected arises. You can even utilize this as a Sunday dentist, a rarity in today's busy world. Broken or knocked out teeth, missing crowns, cracked teeth, and infected teeth can all be treated here at 7 Day Dental Center, where they are standing by to get you feeling comfortable again.
Mon 8:30am-5:30pm
Tue 8:30am-5:30pm
Wed 8:30am-5:30pm
Thu 8:30am-5:30pm
Fri 10:00am-7:00pm
Sat 8:30am-3:00pm
Sun 8:30am-2:00pm
---
Emergency Dental Care USA – Fort Worth
Number: 817-581-3411
Office: 5334 N Tarrant Parkway, Fort Worth, TX 76244
Doctors: Dr. Charles Drexler, Dr. Nathan Flesher, Dr. Gita Rafiei, Dr. Bianca Starks, Dr. Bart Christiansen
Website: www.emergencydental.com/fort-worth
Description: Emergency Dental Care USA is located in North Fort Worth (very near Keller and Watauga). Our clinic is open 7 days a week, and provides same-day appointments and treatment whenever possible. Our professional and experienced dentists can treat toothaches and most other dental emergencies without the wait. At Emergency Dental Care USA you can expect convenient hours and affordable treatment costs. We accept most dental insurance on an indemnity basis and provide full disclosure of total costs and out-of-pocket expenses before any treatment begins.
Monday 9am 9pm
Tuesday 9am 9pm
Wednesday 9am 9pm
Thursday 9am 9pm
Friday 9am 9pm
Saturday 9am 9pm
Sunday 9am 9pm
---
EQ Dental
Number: (817) 405-2001
Office: 3529 Heritage Pkwy, Suite 171 Keller, TX 76244
Doctors: Dr. Young
Website: http://www.eqdental.com/
Description: EQ dental and Dr. Young are here to help you in your dental emergency. They offer great hours that include Monday through Friday until 6pm, as well as Saturday
Dentist appointments from 5am which is very early, until 4pm. So they offer some great Saturday dental hours.
Mon – Fri: 7:00am-6:00pm
Saturday: 5:00am-4:00pm
Sunday: Appointments only
---
North Tarrant Dental Care
Number: (817) 522-0352
Office: 9587 Sage Meadow Trail Fort Worth, TX 76177
Doctors:Catherine Whinery DDS
Website: http://www.texasdentalresources.com/
Description: The North Tarrant Dental Care office has amazing hour sto help you with your emergency dental situation in Fort Worth. Check it out and
get an appointment anytime Monday through Saturday from 7am to 7pm. Another great thing they offer is Sunday dentist hours in Fort Worth of 11am to 5pm.
Monday – Saturday: 7a.m. to 7p.m
Sunday: 11a.m. to 5 p.m.
---
Brident Dental & Orthodontics
Number: 682-233-9326
Office: 3411 Sycamore School Rd., Fort Worth, TX 76123
Doctors: Soumava Sen, DDS, P.C
Website: https://www.brident.com/en-US/dentists/texas/fort-worth/3411-sycamore-school-rd/
Description: This great walkin dentist, Brident office in Fort Worth has some great hours of service. You can get Fort Worth Saturday dentist appointments with them from 8am to 430pm on Saturday
or you can find them open late til 7pm every weeknight. This office specializes in helping you find a Fort Worth emergency dental appointment asap.
Mon: 9:00am-7:00pm
Tue: 9:00am-7:00pm
Wed: 9:00am-7:00pm
Thu: 9:00am-7:00pm
Fri: 9:00am-7:00pm
Sat: 8:00am-4:30pm
---
Heritage Modern Dentistry
Number: 817-750-1300
Office: 3400 Texas Sage Trl Ste 136 Fort Worth, TX 76177
Doctors: KERRY RAGBIR
Website: http://www.heritagemoderndentistry.com/?sc_cid=googlelocal
Description: Heritage Modern Dentistry is another great Fort Worth Emergency Dentist. You can get appointments with Dr Ragbir until at least 7pm every weeknight
as well as Saturdays from 8am to 3pm. Fort Worth is a very easy place to find an emergency dentist and Dr Kerry Ragbir is no exception providing fantastic hours of service.
MO 7:00 AM – 7:00 PM
TU 7:00 AM – 7:00 PM
WE 8:00 AM – 7:00 PM
TH 7:00 AM – 7:00 PM
FR 7:00 AM – 3:00 PM
SA 8:00 AM – 3:00 PM
---
What To Expect At the Fort Worth Emergency Dentists Office
An emergency dental care office isn't that different from a regular dentists office. You're going to start out in a waiting room talking to a receptionist who will help you by giving you the proper documents you need to fill out. Fort Worth urgent care dentists are no different than those in other cities, they will check your insurance and ask you what your emergency is and then you will wait a bit until you can see the dentist. Make sure you bring your insurance card and contact information for your insurance company to the appointment.
Common dental maladies that you can treat at an emergency dentist include lost fillings, lost crowns, chipped teeth, broken or lost teeth, gum injuries or cuts and wounds to other parts of the soft tissue of the mouth, broken braces or other dental hardware, abcess, root canals as well as other dental emergencies.
If you're struggling to find a Fort Worth dentist, check out other cities in Texas, even though you'll have to travel, we have a great 24 hour dentist San Antonio website.
24 Hour Dentists Fort Worth
Fort Worth dentists are available almost all hours of the day, 7 days a week. You simply have to look hard enough to find a dentist who is available. As well as offering a dental referral hotline, we've done the investigatory work to set you up with a list of urgent care dentists on this page. These dentists are all in the Fort Worth area and may have extra hours in the evenings or in the weekends to take care of you. You can try calling them directly at their phone numbers listed below, or you can use our simple and free 24/7 service to locate the best Fort Worth emergency dentist near you.
There are various after hours dentist offices in Fort Worth, you needn't be concerned if you are suffering from dental problems at night. You can find a dentist open on saturday or sunday and we will help you do it. Whenever searching for a dentist to use, or trying a new dentist for the first time we suggest you use the you check them out at the Fort Worth Dental Society website.