Helping San Antonio Residents Find IMMEDIATE Dental Services Everyday.
Get relief from chipped, cracked or lost tooth
Abscess, toothache, mouth pain
Emergency dental surgery
24 hour services - Includes weekends, nights and holidays
Find a Dentist 24/7
Near You IMMEDIATELY
Click or Call Toll-Free
4 (027) 506334
Call 24/7: 4 (027) 506334
Tooth pain can be unbearable. You've probably tried Tylenol, Motrin, Aleve and many other pain relievers, but they don't seem to cut it anymore. Life continues on, but you're having a harder time keeping up. It's about time to get your toothache taken care of once and for all with an emergency dentist in San Antonio, TX.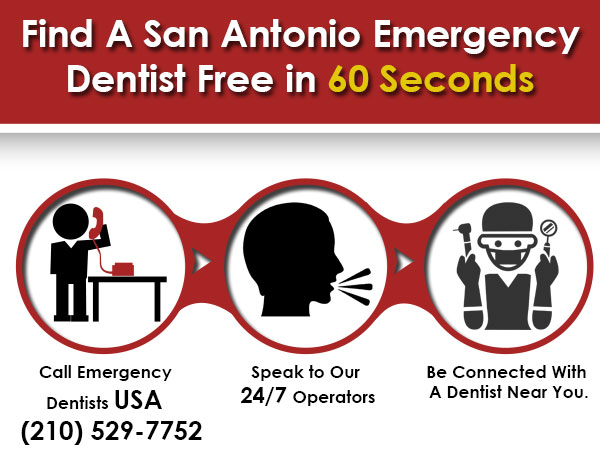 Call 24/7: 4 (027) 506334
San Antonio Emergency Dental Clinics
Emergency Dentist USA helps you by finding emergency dentists in San Antonio, TX for you. This way you don't have to search at all. All you have to do is review the information we've provided you about the San Antonio emergency dentists here. You can then call them right from this site if you're on a mobile device. We've even provided you a map to use to locate the dental clinic in San Antonio.
Don't wait another day to be seen by a dentist. You have emergency dentists in San Antonio available for you to see right here. Take the next step and give one of these a call.
---
Emergency Dentists USA Referral Service San Antonio
Phone Number: 1 (877) 507-0879
Address: Referral Service to Various Dental Offices across San Antonio
Doctors Multiple
Description Call to be connected with the perfect dentist for you. San Antonio is a large city and we have the connections to find a dentist to fit your needs, and can get you an appointment immediately. We help you find an emergency dentist even without insurance. You can get emergency dental help in Texas fast.
---
Emergency Dental Care USA – San Antonio
Number: 210-775-1224
Office: 4819 Fredericksburg Rd, San Antonio, TX 78229
Doctors: Dr. Alejandro Carazos, Dr. Angela Coleman, Dr. Taoufik Faddoul, Dr. Katherine Timlin, Dr. Bart Christiansen
Website: www.emergencydental.com/sanantonio
Description: Emergency Dental Care USA has emergency dentists available 7 days a week for same-day appointments. We offer multiple payment and financing options, and accept most dental insurance on indemnity basis. Emergency Dental Care of San Antonio is committed to getting you the care you deserve at a price you can afford.
Monday 9am 9pm
Tuesday 9am 9pm
Wednesday 9am 9pm
Thursday 9am 9pm
Friday 9am 9pm
Saturday 9am 9pm
Sunday 9am 9pm
---
7 to 7 San Antonio Emergency Dental
Number: 210-495-2000
Office: 10103 West Loop 1604 North STE 104 San Antonio, TX 78254
Website: http://www.7to7dentaltx.com/
Description: This is a 7 day operation that you can truly count on as a San Antonio emergency dental clinic, and one that is eager to provide your entire family with great quality care that you deserve. Flexible financing is available, State-of-the-art technology is present in the office, and many typical emergency and weekend dental procedures are carried out will upper-end skill and dilligence here. This clinic prides themselves on being very attentive to every patient's needs, and always having someone on staff to stay open during the lunch hour.
Monday 7:00am – 8:00pm
Tuesday 7:00am – 8:00pm
Wednesday 7:00am – 8:00pm
Thursday 7:00am – 8:00pm
Friday 9:00am – 5:00pm
Saturday 9:00am – 5:00pm
Sunday 9:00am – 5:00pm
---
San Antonio, TX – Medical & Health Care
Phone Number: 210-343-1244
Address: 14500 San Pedro Avenue, Suite 200, San Antonio, TX 78232
Website: www.excellentperiodontist.com
Doctors: Kent Hamilton, DDS
Description: Dr. Hamilton provides dental services in San Antonio and surrounding areas such as Hollywood Park, Stone Oak, New Braunfels, Alamo Heights, Canyon Lake, Spring Branch, and Helotes. You will be able to get the emergency dental care you need in his office easily and quickly. He offers help with missing teeth, broken teeth, periodontal and gum disease treatment, and more. They offer sedation dentistry, twilight sedation, and many others ways to make your experience a good one, especially if you're anxious about dental work. Simply give them a call to find out if they can help you and when you can come into the emergency dental clinic.
Office Hours
Monday to Friday 8:00am – 5:00pm
Saturdays by appointment only.
---
Restorative Dentistry Associates, P.C.
Phone Number: 210-979-0707
Address: 2803 Mossrock, San Antonio TX 78230
Website: www.sanantoniotxdental.com
Doctors: Dr. Stanley L. Wendt,
Description: Dr. Wendt is one of the most popular dentists in San Antonio. With all of his popularity, people have been able to seek dental care from him on an emergency basis. He is happy to help them because he understands how excruciating tooth and mouth pain can be to people. He performs general dentistry, dental crowns, dental implants, endodontics, TMD treatment, full-mouth reconstruction, mouth guards, dentures, and cosmetic dentistry. While not all of these services are offered on an emergency basis, he can meet with you to provide relief until you can get the procedures you need to alleviate the discomfort for good.
Monday 9am – 7pm
Tuesday 9am – 6pm
Wednesday 9am – 7pm
Thursday 9am – 2pm
---
Daniela Dental San Antonio Emergency
Number: 210-702-3229
Office: 6415 Babcock Rd #105, San Antonio, TX 78249
Doctors: Dr. Daniela Nguyen
Website: http://danieladental.com/
Description: With an $89 new patient special and a clinic that is open on Saturday, Daniela Dental offers family general dentistry, cleanings and x-rays, dental implants, treatment of gum disease, oral surgery, root canals and wisdom teeth removal. This is a dentist that specializes in making everyone feel welcome, and recognizes that dental anxiety is a problem that is best treated with organic care, and understanding that some patients of the apprehensive type just need to feel that they are going to be in good hands, and take a deep breath as they encounter top-notch patient care.
Monday 8:30am – 5:30pm
Tuesday 8:30am – 6:30pm
Wednesday 8:30am – 5:30pm
Thursday 8:30am – 5:30pm
Friday 8:30am – 2:00pm
Saturday 8:30am – 2:00pm
---
Emergency Dentist San Antonio
When you need to see a dentist in the evening or the weekend, you don't have many options. Most dental offices close at 5 and do not open on weekends. Fortunately, there are emergency dentists in San Antonio, TX available for you. These dentists are committed to helping people just like you get the care they need for their teeth.
These 24 hour dentists in San Antonio will see you in the evening and into the night. They will also see you during the weekends. Usually, they are in clinics, so it's not uncommon to see other patients seeing an emergency dentist when you do.
Most of the time, all you need to do is walk in, but for some select emergency dentists in San Antonio, you'll have to call first. It's always wise to check with the emergency dental clinic in San Antonio before you make the trip out there. When you have extreme pain, you should not be driving more than you have to.
Why Time Matters for Dental Care
While you may have already waited to get the care you need for your teeth, you shouldn't wait any longer. The longer you wait, the more work you may need to correct the problems you're having right now.
As you eat, speak, and even brush your teeth, you may be causing more problems. This will mean you will be in even more pain, and you could end up having to spend more time in the emergency dental office in San Antonio. When you spend more time in there, you end up spending more money, and no one ever wants to do that.
Take care of your teeth as soon as you suffer from any problems. You will thank yourself when it is an easy fix.
Call a San Antonio Emergency Dentist Now
Don't wait. Do it now. Before you know it, you'll be back home and feel much better. You owe this to yourself and deserve it.
Which is the best 24 hour emergency dentist in Houston, Texas?