Helping Seattle Residents Find IMMEDIATE Dental Services Everyday.
Get relief from chipped, cracked or lost tooth
Abscess, toothache, mouth pain
Emergency dental surgery
24 hour services - Includes weekends, nights and holidays
Find a Dentist 24/7
Near You IMMEDIATELY
Click or Call Toll-Free
2 (067) 654883
Emergency Dentist Seattle, Washington
---
We Specialize in Seattle Emergency Dentistry: Call 24/7: 2 (067) 654883
Monday – Friday, See A Seattle Dentist The Same or Next Day/Night You Call!.
Saturday And Sunday, "See A Seattle Emergency Dentist Within Hours."
The quickest way to relieve your pain when suffering from a dental emergency in Seattle is to call our dental referral hotline. We are connected with many emergency dentists in Seattle that can treat you for whatever your dental emergency. 24 hour dentists in Seattle are hard to come by, but our operators can check the area to find the best dentist who is available at the soonest available opportunity to treat your ailment. Emergency Dentists USA is a name you can trust when searching the Seattle area for an urgent care dental clinic.
We also have listed below some of the urgent care dental clinics we know of in the Seattle area. It isn't easy to reach a dentist during evening or weekend hours, so remember, if you try dialing direct and you're unable to reach a dentist, call our referral service and within minutes we should be able to find a dentist for you. The dentists we partner with are all professional and have technically advanced offices.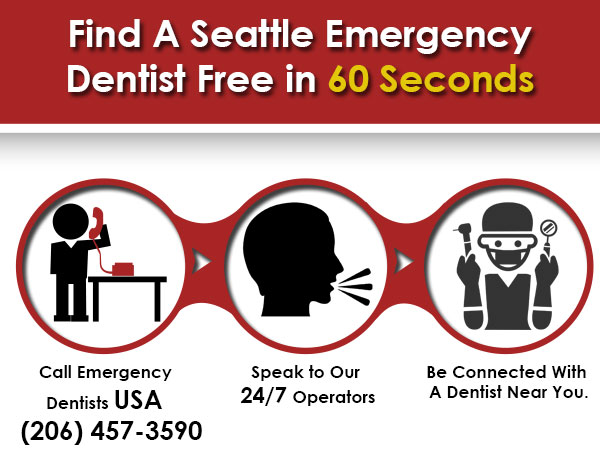 Call 24/7: 2 (067) 654883
Emergency Dental Clinics in Seattle, Washington
Seattle is a major city and that means it can be difficult to dig through the listings for dentist and figure out which of them may or may not be open nights and weekends. We've cut through all the red tape and offer you the top listings for emergency dentists in Seattle. Take a moment to find the dentist who's schedule best fits yours and then call them direct! If you can't reach them remember you can use our 24-7 hotline to get an appointment fast as well!
Are you sitting at home and wondering "Where is there an emergency dental clinic near me?" Wonder no longer, we are here to help!
---
Emergency Dentists USA Referral Service Seattle
Phone Number: 1 (877) 507-0879
Address: Referral Service to Various Dental Offices across Seattle
Doctors Multiple
Description Seattle Emergency Dentist referral service, our operators are standing by 24 hours a day, 7 days a week to help you find a dentist as quickly as possible. If you're struggling to reach a typical dentist office, or find an urgent care dental clinic in your area, our referral service is your best bet. Call today because we are connected to hundreds of after hours dentists. Get help finding an emergency dentist without insurance, or with your insurance coverage. Easily find Washington emergency dentists with our service.
---
Seattle SmileWorks
Phone Number: 206-462-6255
Address: 822A NE Northgate Way, Seattle, WA 98125
Website: www.seattlesmileworks.com
Doctors: Dr. Farad G. Bell
Description: Seattle Dentist, Dr. Farad Bell is dedicated to family dentistry such as Exams, Teeth Whitening, Veneers, and more. They are looking forward to your visit to their Seattle, Washington dental office. The level of care you will receive when visiting Smileworks will leave you with a smile! They are a professional and technically advanced dental office.
Tue: 7:00 AM – 12:00 PM
Wed: 7:00 AM – 6:00 PM
Thu: 7:00 AM – 4:00 PM
Fri: 7:00 AM – 1:00 PM
Same Day Emergencies Available call to speak to someone to schedule an appointment.
---
Emergency Dental Care USA – Federal Way
Number: 253-661-5531
Office: 34507 Pacific Hwy S, Ste 9, Federal Way, WA 98003
Doctors: Dr. Victoria Vainer, Dr. Jurga Martini
Website: www.emergencydental.com/federal-way
Description: Emergency Dental Care USA of Federal Way has emergency dentists available for convenient weekend dental appointments. If you have a cavity, lost a filling, chipped a tooth, or you just need urgent relief for a toothache, we'll get you in our office and out of pain as quickly as possible. If you're not experiencing an emergency and just need a convenient dental appointment, Emergency Dental Care provides nearly all general dentistry services around your schedule.
Monday Closed
Tuesday Closed
Wednesday Closed
Thursday 9am 9pm
Friday 9am 9pm
Saturday 9am 9pm
Sunday 9am 9pm
---
Seattle's Dr. Buttar: Emergency Dentistry
Number: (425) 251-6044
Office: 16600 West Valley Hwy Tukwila, WA 98188
Doctors: Dr. Sukhminder S. Buttar
Website: http://www.drbuttar.net/emergency-dentistry/
Description: This Seattle Dentist's office is open all day on Saturday, and will have personnel come in on Sundays in case of a dire emergency. If a crown or filling has come out, you have experienced a sudden injury, or you wish to be seen by a professional after hours, someone who is open past the standard times of usual dentistry is going to be who you need to get you free from pain, and able to feel comfort in your mouth once again.
Monday 9:00 AM – 5:00 PM
Tuesday 9:00 AM – 5:00 PM
Wednesday 10:00 AM – 8:00 PM
Thursday 9:00 AM – 5:00 PM
Friday 7:30 AM – 4:00 PM
Saturday 9:00 AM – 5:00 PM
Sunday Closed – Except Emergencies
---
Family Dental Practice
Number:(206) 938-1777
Office: 4520 42nd Ave SW Suite 23 Seattle, WA 98116
Doctors: Philip R. Howard, DDS
Website: http://www.philiphowarddds.com/
Description: Family Dental practice offers limited emergency hours. You can get an appointment in the evenings on Monday and Wednesday, but if you're having a dental emergency any other day of the week please go with one of the other dental listings.
Hours:
Monday 8:00 – 6:00
Tuesday 7:00 – 4:00
Wednesday 8:00 – 6:00
Thursday 8:00 – 2:00
---
All Smiles Family Dentistry
Number: 206.659.4888
Office: 13344 1st Ave NE #203 Seattle, WA 98125
Doctors: Ilona K Furman DDS
Website: http://www.asfamilydentistry.com/
Description: All Smiles Family Dentistry has hours on Saturday morning from 9am to 3pm and they take walkin dentist patients. This will help those of you who are suffering from emergency dental problems over the weekend. But their weekday emergency hours are limited. Chose All Smiles Family Dentistry for your Saturday dentist needs in Seattle.
Monday, Thursday, Friday: 9am – 5pm
Tuesday: 10am – 6pm
Wednesday: 9am – 5pm (every other)
Saturday: 9am – 3pm (every other)
---
Urban Smiles Family Dentistry
Number:(206) 325-1414
Office:2936 Eastlake Ave E Seattle, WA 98102
Doctors: Dr. Mironov
Website: http://www.urbansmiles.com/
Description: Urban Smiles dentistry offers weekend appointments but only by calling ahead and scheduling them. They do have evening hours on Wednesdays until 6pm.
Tuesday: 8:00am-4:00pm
Wednesday: 10:00am-6:00pm
Thursday & Friday: 8:00am – 4:00pm
Every Other Saturday: By Appointment
---
University of Washington Dental Urgent Care Dentist Clinic
Number: (206) 616-6996
Office: 1959 NE Pacific St. Seattle, WA 98195
Doctors: Dr. Joel Berg
Website: https://dental.washington.edu/oral-medicine/patient-care/dental-urgent-care-clinic-ducc/
Description: Even though this clinic is only open during the week, they are first-rate at providing care to those who are experiencing very sudden and very urgent pain. The fee is very modest, and you can still rest assured that you are being seen by the best student dentists in the city, and ones who are competent, concerned, and always looking out for the patient's well-being. All it takes is an infected tooth that grows out of control to render you in very grave danger, and get you into a place where you need to be seen right away.
Driving Directions
---
What To Expect at The Seattle Emergency Dentist
An emergency dental office is similar in many ways to the regular dental office. You should plan to arrive at least 15 minutes early because you will need to fill out paperwork, this is common to any medical appointment. The receptionist will want to see your insurance information, or know what form of payment you'll be using if you don't have dental insurance. You can check with our operators when you call to see if the dentist they are making an appointment with will accept your insurance.
Emergency dentists uses pain relieving medicine just the same as any other dentist, so don't expect to be in pain for long. Explain your situation immediately upon arrival so the dentist can work to alleviate intense pain quickly if you are suffering from it.
Calling around and searching for a dentist open on Saturday or Sunday in Seattle can be a hassle. Why do all the work yourself when you can rely on us and our referral partnerships to place you with a certified Seattle Emergency dentist today. If you've never visited a 24 hour dentist in Seattle before don't worry!
Seattle has various emergency dental offices to choose from and hopefully we've been beneficial to you in your search for the appropriate dentist for you. We always recommend to check any dentist you're going to visit out yourself by visiting the Seattle dental society. http://www.skcds.org/
Want to find a top 24 hour emergency dentist in Spokane, WA?