Helping Jacksonville Residents Find IMMEDIATE Dental Services Everyday.
Get relief from chipped, cracked or lost tooth
Abscess, toothache, mouth pain
Emergency dental surgery
24 hour services - Includes weekends, nights and holidays
Find a Dentist 24/7
Near You IMMEDIATELY
Click or Call Toll-Free
1 (904) 574-4027
Emergency Dentist Jacksonville, Florida
---
We Specialize in Jacksonville Emergency Dentistry: Call 24/7: 1 (904) 574-4027
Monday – Friday, See A Jacksonville Dentist The Same or Next Day/Night You Call!.
Saturday And Sunday, "See A Jacksonville Emergency Dentist Within Hours."
Are you suffering dental pain? Do you have a lost tooth, chipped tooth or lost crown or any other situation in which you need to see an emergency dentist in Jacksonville Florida? Emergency Dentists USA is your one stop solution for finding an emergency dental office in Jacksonville. Our referral service operators will find the next earliest available appointment for Jacksonville emergency dentist near you. Jacksonville, Florida is a city large enough that it supports dentist of all varieties, and whatever your situation we can help you find a dentist to alleviate your pain quickly. Please call our 24 hour a day 7 day a week referral service number, its 100% free and faster and easier than trying to find an emergency dentist yourself.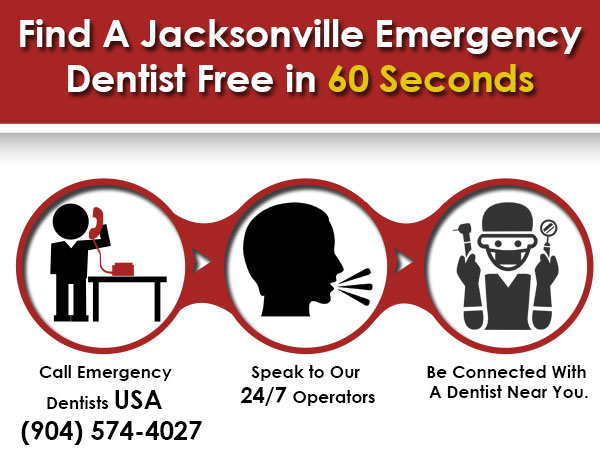 Call 24/7: 1 (904) 574-4027
Urgent Care Dental Clinics in Jacksonville, Florida
These unpredictable dental emergencies can befall us at the worst time of day.  That is why knowing that there are several dental treatment locations that can help you with your dental case can help relieve unnecessary anxiety.  Pain can be persistent and  therefore be able to proactively deal with unexpected surprises is important. We have listed below an updated list of 24 hr dentists in Jacksonville who can help you during your dental emergency.
Please browse these listings and call to get an appointment with whichever dentist you choose. These dentists are all certified dental offices from the Florida Dental Association.
---
Emergency Dentists USA Jacksonville Referral Service
Phone Number: 1 (877) 507-0879
Address: Our Referral Service to Various Dental Offices across Jacksonville
Doctors Multiple
Description Call our referral service Emergency Dentists USA phone number and get connected to an emergency dentist in Jacksonville Florida in seconds! We provide a service that will get you to the dentist that fastest and easiest way possible, you can call us 24 hours a day, 7 days a week and its 100% free! Get help finding an emergency dentist without insurance, or with your insurance coverage. Easily find Florida emergency dentists with our service.
---
Jacksonville Emergency Dental
Phone Number: 904.224.0046
Address: Arlington 1716 University Blvd S, Jacksonville, FL 32216
Website: www.jaxemergencydental.com
Doctors: Michael J. Thomasino, D.M.D.
Description: Jax Emergency Dental is an urgent dental care clinic with state-of-the-art equipment that can see most patients within 24 hours then most other dentistry clinics. This clinic specifically is there to help you during your dental emergencies. Call them during their extended and weekend hours in order to be seen by a dentist quickly. If you can't reach them please call our referral hotline and request Jacksonville Emergency Dental. This weekend dentist is really the top choice for those of you who need to see a Saturday or Sunday dentist.
Monday 8am-11am and 1pm-4pm
Tuesday 8am-11am and 1pm-4pm
Wednesday 8am-11am and 1pm-4pm
Thursday 8am-11am and 1pm-4pm
Friday 8am-11am and 1pm-4pm
Saturday 8am-11am and 1pm-4pm
Sunday 8am-11am and 1pm-4pm
---
DentistJax
Number: (904) 383-7114
Office: 3676 Crown Point Court Jacksonville, FL 32257
Doctors: Dr. Rod Zimmerman
Website: http://www.dentistjax.com/
Description: Dr Zimmerman offers some great emergency dental hours for Jacksonville Fl at his Dentist Jax office. Get an appointment on Saturdays by calling ahead
and check out their evening hours til 6pm Monday through Thursday. Check out this after hours dentist until 6pm every weekday except Friday.
Monday 7:30 A.M. – 6:00 P.M.
Tuesday 7:30 A.M. – 6:00 P.M.
Wednesday 7:30 A.M. – 6:00 P.M.
Thursday 7:30 A.M. – 6:00 P.M.
Friday 7:30 A.M. – 4:00 P.M.
Saturday By Appointment Only
AFTER HOURS EMERGENCY CARE Please call 904-268-2011 and have Dr. Z's answer service beep him if you are in need of his care after hours.
---
ASAP Dental Care
Number: (904) 998-0000
Office: 7451 103rd St, Jacksonville, FL 32210, USA
Doctors: Dr. Mina Mikhail
Website: http://www.asapdentalcare.com/
Description: With a team of 17 dental specialists ready to serve you in 5 different locations, you can find same-day treatment for all types of extractions, root canals, fillings and bondings, crowns and bridges, dentures, and gum problems. This is also a very competent and able location to receive oral surgery: wisdom teeth, full mouth extraction, bone grafting, and IV sedation are all available here as well. Doctors Joseph Fuller and Mina Mikhail are at the helm of this well-respected Jacksonville practice, and they are experts at meeting all patient's personal goals when rectifying an emergency.
Open 7 Days a week, call for details. No hours listed on their site.
---
Arlington Dental Center
Number: (904) 743-3114
Office: 7301 Merrill Road Jacksonville, FL 32277
Website: http://www.arlingtondentalcenter.org/our-services/dental-emergencies/
Description: Here at this walkin dentist clinic, all dental emergencies are treated just as that: a very dire situation that needs immediate attention. Open till 7PM on Thursdays and during the day on Saturdays, they pride themselves on being a convenient option for the patient who has a very hurried schedule. Many patients have called this their emergency dental home since they opened the doors, and they are known around Jacksonville as able, experienced, compassionate, and exceedingly fair when it comes to the final billing. Call ahead to seek an appointment with the Saturday dentist from 9am til 2pm.
Monday – Friday, 9 a.m. – 6 p.m.
Wednesday: 9 a.m. – 2 p.m.
Thursday: 9 a.m. – 7 p.m.
Saturday: 9 a.m. – 2 p.m
---
Dental Arts of Florida
Number: (904) 743-3114
Office: 7645 Gate Parkway, Suite 103 Jacksonville, FL 32256
Website: http://www.dentalartsfl.com/
Description: This emergency dentist in Jacksonville is a fantastic option for anyone who needs emergency dental work. They have great hours of service and professional care. Check out their schedule, from 8am to 5pm Monday through Sunday, this is a great choice for those of you seeking a Sunday dentist in Jacksonville.
Monday – Sunday, 8 a.m. – 5 p.m.
---
Jacksonville Emergency Dentist Expectations
Some situations in which you may be experiencing a dental emergency and need to see a dentist right away include: recently lost tooth, chipped tooth, broken teeth, damaged braces or other dental hardware, a painful abscess, experience extreme gum, cheek or jaw bone pain, lacerations or injuries to the soft tissue of the mouth, or any other problem inside your mouth that's causing enough pain that you don't want to wait. We are connected to 24 hour dentist in Jacksonville that are ready to help you immediately.
When preparing yourself for your visit to the emergency dentist you'll need to be ready with some information about yourself. The walk in dental clinic will ask you for your insurance information, they will require possibly a copy of your drivers license and your insurance card, or if not that, then at least the contact information for your dental insurance so they can call them and verify coverage. Emergency dentists are similar to regular dentist in that they accept most major forms of health insurance, you can safely assume you are covered if you already have been to a regular dentist office and used your dental insurance there. Also expect to fill out paperwork for the appointment, so arrive at least 15 minutes early to the office where your visit is scheduled.
Many people are afraid to go to the dentist and so they end up harboring pain in their teeth for much longer than they should. The ordeal can be further exacerbated by the fear that competent dental treatment can not be secured over the weekend.  Be  assured that qualified help is available and we have done some research to point you in the right direction.
Jacksonville Florida offers a variety of dentists offices for you to choose from. Emergency Dentists USA is here to help you find the one that is nearest to you, professionally certified and available at the time that you need them! Call us today in order to get into see a dentist immediately.
 Check out our page on emergency dentists in Hollywood Florida.