Helping Miami Residents Find IMMEDIATE Dental Services Everyday.
Get relief from chipped, cracked or lost tooth
Abscess, toothache, mouth pain
Emergency dental surgery
24 hour services - Includes weekends, nights and holidays
Find a Dentist 24/7
Near You IMMEDIATELY
Click or Call Toll-Free
1 (786) 574-6078
---
We Specialize in Miami Emergency Dentistry: Call 24/7: 1 (786) 574-6078
Monday – Friday, See A Miami Dentist The Same or Next Day/Night You Call!.
Saturday And Sunday, "See A Miami Emergency Dentist In Hours."
After hours dental care does exist in Miami, FL. Not all dentists offer it, but there are a few that do, and they can come in handy if your regular dentist is not available or you are visiting this beautiful city. Since you don't ever know when you're going to have an emergency – dental or physical – it's good to know that there are experienced emergency dentists in Miami available each weekday and throughout the weekend.
An all night dentist can be on call or have hours in a clinic. This means that whenever you call for care, you will be able to drive over to the dental office and get seen in just a matter of minutes. These emergency Miami dentists can perform most procedures because all of the tools, drugs, and assistance is available during those times. The only exceptions are some serious procedures that may need you to prepare yourself.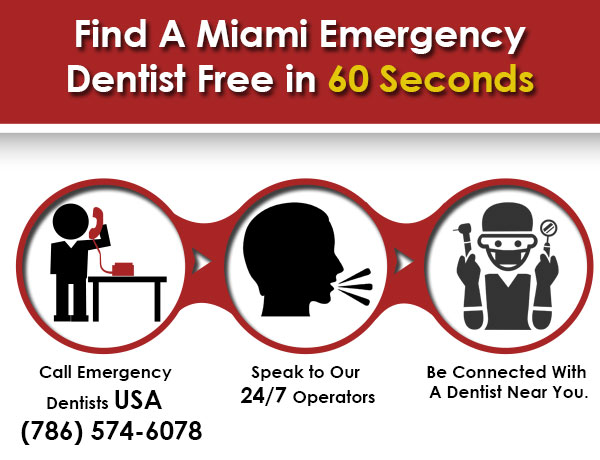 Call 24/7: 1 (786) 574-6078
Let's get started. Either call the number below, or scroll down to the list of dentists we have found for you.
Emergency Dental Care in Miami, Florida
If you've reached this point, you probably want to do your own research for after hours dentist Miami care in Miami FL. We are glad we are able to help you with our list. Please keep scrolling down for some of the best walk-in dentists. Find the dentist who's schedule fits your own and call them direct. We're glad to have been able to help you find a Miami Emergency Dentist.
---
Emergency Dentists USA Referral Service Miami
Phone Number: 1 (877) 507-0879
Address: Connected to Various Dental Offices across Miami
Doctors Multiple
Description Call to be connected with the perfect dentist for you. Miami is a large city and we have the connections to find a dentist to fit your needs, and can get you an appointment immediately. You can get emergency dental help in Florida fast.
---
Dr. Marco Antonio Contreras, DDS
Phone Number: 305-595 1131
Address: 10621 North Kendall Drive, Suite 114, Miami, FL 33176
Website: www.drmarcocontreras.com
Doctors: Marco Antonio Contreras
Description: This Miami emergency dentist provides cosmetic care, including teeth whitening, crowns, implants, porcelain veneers, tooth extractions, general check-ups, maintenance and more.
---
Dr. Robert G Singer, DMD
Phone Number: 305-271 4780
Address: 9000 SW 87th Ct. Suite 116, Miami, FL 33176
Website: www.thescienceofdentistry.com
Doctors: Dr. Robert G Singer is a MDA provider of top-notch after hours dentist care services to help people when they need it. Call this after hours dentist in Miami, FL for more information about his services.
Monday – Thursday: 8am to 6pm
Friday – 9 a.m. to 1 p.m.
---
Gables Smile Dental
Phone Number: 305-529 9595
Address: 401 Coral Way # 109, Coral Gables, FL 33134-4924
Website: www.gablessmile.com
Doctors: Dr. Elias Tobon, D.M.D
Description: Dr. Tobon is a weekend dentist, but he also offers dental care during the nights. He's perfect for children and adults for all dental care needs. You will find that he is patient, caring and highly intelligent. Visit his website for more information today.
Our 24-hour dental emergency service and procedures are available today
---
Miami Center for Cosmetic and Implant Dentistry
Phone Number: 305-387-6453
Address: 13840 SW 56th Street, Miller Square Shopping Ctr., Miami, FL 33175
Website: www.miamicosmeticdentalcare.com/emergency-dentist-miami/
Doctors: Anas Selman, DDS
Description:  The Miami Dentistry Center has great hours, they are open til 9pm monday through thursday, that means it's easy to get to this walkin dentist after work and get an after hours dentist visit in! Also they have amazing Saturday dentist hours from 9 to 3pm. You can't go wrong with this urgent care dentist clinic they are welcoming to all new patients!
Monday – 9:00AM – 9:00PM
Tuesday – 9:00AM – 9:00PM
Wednesday – 8:00AM – 9:00PM
Thursday – 8:00AM – 9:00PM
Friday – 8:00AM – 6:00PM
Saturday – 9:00AM – 3:00PM
---
Castaneda Family Dentistry
Phone Number: 305-598-6665
Address: 8200 SW 117th Ave, Suite 106, Miami, FL 33183
Website: www.drrcdental.com/weekenddentist/
Doctors: Anas Selman, DDS
Description:  The Castaneda Family Dentistry center tells us on their website that they are open 7 days a week and open to emergency dental patients. Make sure to call ahead to get an after hours dentist appointment for whatever your needs.
We are open 7 days a week.
---
Emergency Dentist Miami, FL
Phone Number: 305-907-6008
Address: 8200 SW 117th Ave, Suite 106, Miami, FL 33183
Website: www.emergencydentist247.com/miami/
Doctors: Anas Selman, DDS
Description:  This dentist, Anas Selman, DDS lists on their site that they have emergency services and their phones are on 24-7. Call the emergency number listed below to setup an after hours dental appointment today.
Call Emergency Dentist 24/7 at (305) 907 6008
---
Steven E. Roth DMD
Phone Number: (305) 358 3384
Address: 138 NE 2nd Avenue, Suite 200 Miami, FL 33132
Website: www.relaxandsmile.com
Doctors: Dr. Steven E. Roth
Description: 
Dr. Roth is a respected healthcare professional specializing in cosmetic dentistry and is a certified medical hypnotherapist serving patients throughout the greater Miami area. This emergency dentist in Miami, FL can take you anytime you need dental care.
---
Relax and Smile Dental Care
Phone Number: (305) 358 3384
Address: 138 NE 2nd Ave.  –  Miami , FL 33132
Website: www.dentistsmiami.org
Doctors: Dr Roth
Description: Contact the Relax and Smile Dental Care clinic for a late dentist. Dr. Roth specializes in helping adults and children. He also offers sedation and general dental care services. This Miami after hours dentist is one of the best in the area. 
---
Emergency Dentist USA has a list of dentists open all hours in Miami. You will be able to call them right now, no matter what day or time of night. You will then receive instructions on what to do to get your dental emergency taken care of, so you can find relief for your pain.
The first listing we have for you is the Miami FL emergency dentist directory. When you call this number, an operator will give you a couple of dentist open on Saturday, Sunday, and all night. You can hang up and call them right away.
Alternatively, you can browse the list of emergency dentist Miami options we have for you. With our list, you can research each dentist before you head out the door to see him. You can see what they treat after hours, and what type of experience they have in the area. This can make you feel much better about your dental care.
Researching An Emergency Dentist
You now have a few choices for an after hours care dentist. Please be sure to do your research before you head out to see one of them. Your dental care is just as important as your physical care, so it's important to know who you are trusting.
It's a good idea to bring your cell phone with you when you go to your dentist appointment. You will want it if you are in a dark parking lot or if you break down on your way to the dental office. Actually, it's better that you have someone drive you to the appointment. If the dentist has to perform a surgery on you, that might mean you can't drive home. By having someone with you, there's no need to worry about how you are going to get home. If there isn't anyone available to take you, just bring your cell phone and let someone know that you may call for a pick up. Of course, there is always other forms of transportation you can use such as a taxi service, if you don't have anyone to pick you up or take you to your appointment.
Emergency dental care is important. The longer you wait, the more pain you will likely be in, so choose the dentist you think is best and see him immediately. After you are seen by the emergency dentist, go ahead and make an appointment for a regular cleaning. Preventative care is more important than emergency care because you don't want to end up with tooth decay or gingivitis that could lead to losing your teeth. You can learn more about oral diseases on the South Florida District Dental Association's website.
We hope that Emergency Dentist USA has been helpful to you. Please let your friends and family know of this resource because we have emergency dentists in all cities.
Who's the best after hours hour emergency dentist in Tampa Florida?