Helping Utah Residents Find IMMEDIATE Dental Services Everyday.
Get relief from chipped, cracked or lost tooth
Abscess, toothache, mouth pain
Emergency dental surgery
24 hour services - Includes weekends, nights and holidays
Find a Dentist 24/7
Near You IMMEDIATELY
Click or Call Toll-Free
1 (801) 657-3119

Emergency Dentist
When you are vacationing or passing through this spectacular area of the nation, the last thing you are going to want to do is be doubled over in pain or announce your inability to make an important business meeting. We can provide the best portal for you to locate a 24 hour dentist Salt Lake City UT , when the sensitivity to cold or hot in your mouth turns into full blown dental misery. We have carefully put together a vast network of dentists that provide after hours dentist services, and Salt Lake City is included within this network!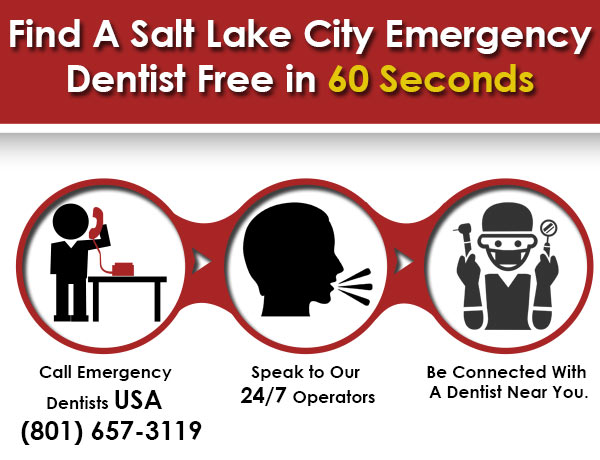 This scenic location that is set placidly against a backdrop of beautiful mountains has a metro area population of around 1,200,000, and is the largest city in the Intermountain west. Booms in mining, the industrial banking center of the nation, and the hosting of the 2002 Olympic Games all are characteristics of this metro area that was the sight of the first intercontinental railroad. The beautiful Twin Peaks mountaintop can be seen from the city, along with many others in the Oquirhh range. We can provide a quick avenue to relief with a Salt Lake emergency dentist , and these dentists are vetted by Emergency Dentists USA.
This very picturesque metro area is the ancient lakebed of Lake Bonnevile, which is said to have existed near the end of the last Ice Age. A semi-arid climate, ranking by CNN as the least stressed out city in the US, and other studies by Men's Health claiming it to be the healthiest city for women are all draws for people to live and vacation here. Historically known as the "Crossroads of the West", there are many outstanding places to work here like Intermountain Healthcare, Sinclair Oil Corp, and the large Delta hub at the airport. If you cannot immediately reach any of these dentists, feel free to use our 7 day a week, 24 hr a day hotline to link up to a emergency dentist after hours.
24 Hour Dentist Clinics in Salt Lake City, Utah
There are some dental offices that offer 24/7 emergency services as well as practitioners in the field of dentistry that are willing to stay open a few more hours to address a patient's unique situation.  There is a niche industry out there ready to help people at all hours of the day, weekend, and holidays too, for any number of oral health care issues.  Take a look at what you might find to be a good fit for your situation.
---
Salt Lake City Emergency Dentists USA Referral Service
Phone Number: 1 (877) 507-0879
Address: Referral Service to Various Dental Offices across Salt Lake City
Doctors Multiple
Description When you are coming in from a day on the slopes or from mountain biking on the many trails offered around here, the last thing you'll want to do is try and make it through a full blown dental emergency when no one is open to help you. Normal business hours is not a term that will bring you much holiday cheer if you happen to be out of commission during Thanksgiving or Christmas with a throbbing tooth, and you won't want to spend time hurriedly going through dentist open on the weekend listings. For someone who can see you much quicker in a pinch, we've got you covered. Find Utah 24 hour dentists today.
---
Dentist In Salt Lake City
Address: 6364 S. Highland Dr. Suite 205, Salt Lake City, UT
Telephone: (801) 821-4685
Website: dentistinsaltlakecity.com
Description: The Dentist In Salt Lake City has fast become one of the premier dental practices in the state of Utah. They specialize in dental fillings, teeth whitening, implants and dental emergencies. With a highly trained staff and an amazing dentist in Dr. Bigelow you can rest easy knowing that you are in good hands!
---
Legacy Dental
Address: 1345 East 3900 South, Suite 116, Salt Lake City, UT 84124
Phone: 801-878-0370
Website: legacydental.com
Description:  What you are going to need if you suffer from a very acute toothache or other urgent oral health scare is someone that can see you at just about all hours of the day, particularly those weekends that seem to be a prime time for dental mishaps.  At Legacy Dental you may have found your weekend dentist in Salt Lake City, Utah that can bail you out.  With extended hours through 7:00 pm on weekdays and offering Saturday appointments, you should be able to get the care required.  As a walk in dentist in Salt Lake City, Utah understands all too well, injuries to the mouth knows no time and pain of a serious oral injury will not subside unless you get attention. At this facility they take a team approach in helping you achieve the highest level of dental health.  With knowledgeable and experienced dentists including Brad Stewart, Brad Strong, and Jonathan Campbell you will have every opportunity to get the immediate services and that is what makes this location one of the best dental emergency clinics in Salt Lake City, Utah.  With a special on call dentist set aside for dental emergencies,  you will feel confident to make this your clinic of choice.
---
Olympus View Dental
Address: Salt Lake City Dentist Office, 4110 South Highland Dr. #200 Holladay, UT 84124
Phone: (801) 278-8800
Website: olympusviewdental.com
Description: At last, you can rest a bit easier as this dentist open on Saturday in Salt Lake City, Utah is in the business of handling all types of emergency situations that you could suddenly face.  Describing themselves as Salt Lake City's 24 hour emergency dental care clinic, this location is one you may wish to visit if you are looking for a general dentist or urgent care physician that can be someone you can count on.  With a full team of qualified and experienced dentists and a cadre of dental support staff, you should be pleased with your visit.
---
Salt Lake Dental Center
Address: 144 S 700 East, Suite 2 Salt Lake City, Utah 84102
Phone Number: 801-505-6850
Fax: 801-505-6855
Website: slcdentalcenter.com
Description: Salt Lake Dental Center can definitely help you if you find yourself in an emergency situation. With five highly trained assistants and a very popular Dr. Brigham Stoker, D.D.S, you can rest easy knowing that you are in good hands. All it takes is a simple look at the reviews they have received to understand that they provide top quality service including: general cleanings, dentures, teeth whitening, dental crowns and cosmetic dentistry. As far as emergencies go, just visit their website, contact them and you can set up an appointment as soon as possible.
---
Dr. Robert Palmer, D.D.S.
http://www.slcfamilydental.com/
Description: This is a great option for a walk in dentist that serves Salt Lake and the Bountiful area with a large selection of services. Making sure that patients feel involved in all of the decisions including emergency dental care that go into their oral health, everyone here strives to make the patient feel more than "just comfortable". Head dentist Robert Palmer is a proud Brigham Young University graduate, who then went onto the University of The Pacific. He does not take the responsibility of being a dentist lightly, and strives to keep up on continuing education and the most up to date technology yearly. A volunteer Boy Scout leader and youth soccer and basketball coach, he enjoys giving his time to those who benefit from it in many ways.
---
Finding a 24 hr dentist Salt Lake City UT
This amazing crossroads of the west is where you can see many points of interest like Temple Square, Hogle Zoo, The Red Butte Garden and Arboretum, the Salt Lake Tabernacle, and Energy Solutions Arena. You can stay at an amazing locale like The Grand America Hotel, and see sports and live events at Energy Solutions Arena. Nearby Bryce Canyon National Park is a wonder of the Earth, full of hiking and amazing vistas laden by rock. We would love to be the portal you use to locate an emergency dentist in Salt Lake City UT , when you want your stay here to stop being overtaken by extreme tooth pain. If you want to check up further on the record of any of these dentists before scheduling, you can visit The Salt Lake City Chamber of Commerce .