Helping Las Vegas Residents Find IMMEDIATE Dental Services Everyday.
Get relief from chipped, cracked or lost tooth
Abscess, toothache, mouth pain
Emergency dental surgery
24 hour services - Includes weekends, nights and holidays
Find a Dentist 24/7
Near You IMMEDIATELY
Click or Call Toll-Free
1 (702) 793-2954
Emergency Dentist Las Vegas, Nevada
---
We Specialize in Las Vegas Emergency Dentistry: Call 24/7: 1 (702) 793-2954
Monday – Friday, See A Las Vegas Dentist The Same or Next Day/Night You Call!.
Saturday And Sunday, "See A Las Vegas Emergency Dentist In Hours."
Are you looking for the closest emergency dentist in Las Vegas, NV? Look no further. You have found a list of 24 hour urgent care dentist offices in your area.
The following dentists are open on the weekends and after hours. They also have hours during regular business hours, but they have decided to offer more after they close. They understand that it's important that people have an experienced emergency dentist in Las Vegas, NV. Pain can't wait until a weekend is over. It can't wait until the next day either. Some dental procedures need to be done as soon as they are needed, which is why we have this list of Las Vegas dentists open 24 hours.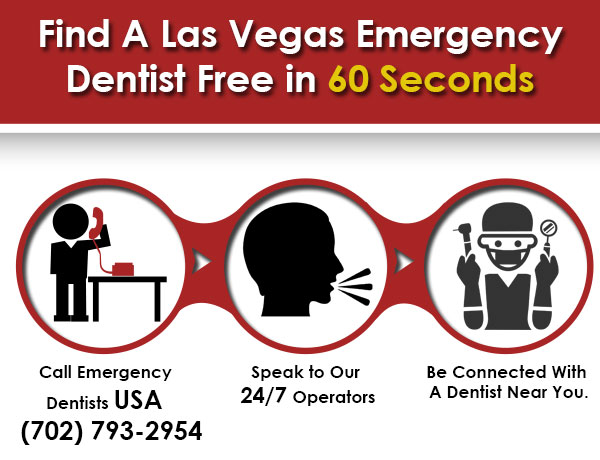 Call 24/7: 1 (702) 793-2954
Helped me find a dentist when I needed it, not much more I can say, I'm glad I found your website after I spent 20 minutes trying different office phone numbers where no one answered because it was after hours. Thanks for the help.
Emergency Dentists in Las Vegas, Nevada
We offer you a list of emergency dental clinics in Las Vegas. Take a moment to browse them and find the one who offers the best schedule available that fits your schedule and call directly to setup an appointment. Or, if you wish you can simply call our Las Vegas emergency dental hotline and let us do the work of finding the best dental appointment for you!
---
Emergency Dentists USA Referral Service Las Vegas
Phone Number: 1 (877) 507-0879
Address: Connected To Various Dental Offices across Las Vegas
Doctors Multiple
Description This is a national directory that has Las Vegas weekend dental care options. Call our hotline and in just a couple of minutes, you will have more information about the dentists that offer services after hours in your area. Easily find Nevada emergency dentists with our service.
---
Access Emergency Dental Care
Number: 702-319-4734
Office: 2585 S. Jones Blvd, Ste 1 Las Vegas, NV 89146
Website: www.dentalemergencies.com/
Description: This is the number one choice for emergency dental care in Las Vegas, a city that has appreciated their dedication to commitment and attention to medical detail that they offer. Here you can obtain digital x-rays, root canals, extractions, service for temporary crowns, denture repairs, replacement of fillings, and you can usually get in for a same-day appointment. Here in Las Vegas, it can be a bit difficult to find a dentist that is open 7 days a week, even though much of the city itself is. They recognize that customers don't want to sit in crowded emergency rooms, and the office's flagship office in DC taught them much about satisfying customers who are in a persistent hurry. They are a great choice if you're looking for a Saturday dentist in Las Vegas, and they even have Sunday dentist hour as well! A great place to find emergency dental care with or without insurance.
Monday 9am to 5pm
Tuesday 9am to 5pm
Wednesday 9am to 5pm
Thursday 9am to 5pm
Friday 9am to 5pm
Saturday 9am to 5pm
Sunday 9am to 5pm
---
Las Vegas Smile Center
Phone Number: 702-433-6825
Address: 6600 West Charleston Suite 103 Las Vegas, NV 89146
Website: www.lvsmilecenter.com
Doctors: Dr. Afshin Arian
Description: This Las Vegas emergency dentist that provides services to help with dentures, root canals, veneers, tooth extractions and more at an affordable price.
Monday & Wednesday: 9:00 AM – 6:00 PM
Tuesday & Thursday: 8:00 AM – 5:00 PM
Friday: By Special Appointment
---
Urgent Dental
Phone Number: 702-228-1106
Address: 500 E Windmill Ln, Las Vegas, NV 89123
Website: www.urgentdentalusa.com
Doctors: Dr. Atwood
Description: This dentist in Las Vegas NV understands the anguish dental issues can cause you, that's why we're here to help you. We have the latest technology and are commitment to quality urgent dental dental healthcare to relieve your pain quickly. We provides services such as implants, wisdom tooth extractions and emergencies.
Monday 9.00 AM to 5.00 PM
Tuesday 9.00 AM to 5.00 PM
Wednesday 9.00 AM to 5.00 PM
Thursday 9.00 AM to 5.00 PM
Friday 9.00 AM to 5.00 PM
Saturday with evening and Sunday appointments available by appointment
We also have doctors on call 24/7 for all your dental emergencies
---
Unversity of Nevada Emergency Dental Clinic
Number: 702-895-3011
Office: 4505 S. Maryland Pkwy. Las Vegas, NV 89154
Doctors: Dr. Lorenzo H. Bethea
Website: www.unlv.edu/dental/clinics/emergency
Description: This prestigious school of dental medicine does offer 24-hour care, and the institution as a whole is committed to increasing access to quality health care for all residents, and makes a large difference by serving nearly 60,000 patients annually. There are separate clinics available at 3 different locations within the city of Las Vegas, and every site is close to public transportation. When you crack, dislodge, or are otherwise worried about an infection within a tooth, these scholars bound for greatness are some of the best individuals to look over you oral health concerns, and make sure that you are seen quickly.
24-hour emergency care through the UNLV School of Dental Medicine
---
Dr. Azimi DDS
Number:702-759-0005
Office: 701 E. Charleston Blvd.Las Vegas, NV 89104
Doctors: Dr. Azimi
Website: www.drazimi.com/
Description: Dr. Azimi offers limited hours that are useful for setting up an urgent care dental visit in Las Vegas. But you can get help from their dental office on Mondays up til 7pm, as well as Wednesdays up to 7pm. There are no weekend dentist office hours however so you'll need to pick one of the other listings to get help on a Saturday or Sunday.
Monday 10am – 7pm
Tuesday 7am – 3pm
Wednesday – 10am –7pm
Thursday – 7am – 3pm
Friday – 8am – 3pm
---
Summerhills Dental
Number: 702-363-8655
Office: 2261 N Rampart Blvd Las Vegas, NV 89128
Doctors: Dr. Azimi
Website: www.summerhillsdental.com
Description: The Summerhills Dental office gives you a great opportunity to find a walkin dentist in Las Vegas at least from Monday to Thursday each week. You can see that they have hours from 7am til 7pm from Monday to Thursday. Being open 12 hours during the week like that is extra ordinary for a dentist. That's what makes The Summerhills clinic a great option for a Las Vegas after hours dentist.
Office Hours
Monday to Thursday 7:00am – 7:00pm
Friday 8:00am – 4:00pm
---
Las Vegas Dental Group Emergency Services
Number: (702) 323-0820
Office: 2701 W Charleston Blvd Las Vegas, NV 89102
Doctors: Dr. Nicholas Maffeo
Website: http://www.lasvegasdentalgroup.com/emergency-dentist/
Description: When you are either on vacation or here in Las Vegas to begin a new career, the realization that a newly found dental pain is taking control of your life and well-being is not an easy one to stomach. Some of the symptoms that let you know you are facing a dental emergency or late night problem are a tooth knocked out, a broken tooth, facial swelling, a very dull toothache, and bleeding of the gums. This is a very well-ranked office for those who are looking to find quick relief from skilled professionals, and they are standing by now to help you.
Driving Directions
---
When you decide to go to one of these dentists, be sure that you have your cell phone with you. Since you are going after hours, you may have to park in a deserted parking lot and that can be frightening. While most of them are well-lit, it's always best to take precautions and that includes having your phone with you in case you need to make an emergency call.
Another piece of advice we'd like to give you is to call the emergency after hours dentist in Las Vegas before you go to the office. This way you will know that he is going to be there when you get there. Many times, you will find that there will be a dental hygienist along with the dentist to help him with any procedures you need.
Now that you have a few different options for a late dentist, go ahead and use them. We recommend looking up reviews for the dentists first. Once you do that, you will have a better idea of who will be best for you. A great resource is the Nevada Dental Association because some dentists are part of this association. Being a part of this association means you have to have a certain number of years experience, and be ready to fulfill the requirements. This is why many dentists proudly identify themselves as part of the association.
Just because a dentist isn't part of the association doesn't mean he is not skilled. Consider that as well as reviews from other patients when trying to come to a decision on whether you should use someone.
Please share this website with your friends and family. We have emergency dentists in many cities and growing every day. It a great resource for your loved ones.