Helping Cleveland Residents Find IMMEDIATE Dental Services Everyday.
Get relief from chipped, cracked or lost tooth
Abscess, toothache, mouth pain
Emergency dental surgery
24 hour services - Includes weekends, nights and holidays

Emergency Dentist in Cleveland, OH – Find a 24-Hour Dentist Now
Table of Contents
If you experience any type of tooth pain in your mouth, you know that it can be debilitating and make it hard to function. You can take over-the-counter pain relievers to ease some of the pain, but they only work for so long before they become ineffective again. Continued pain in your mouth can mean that you miss work, social functions, and curl up in bed to try to relieve the pain.
When it comes to dental pain, do not take measures into your own hands and take the time to find the help you need. Below, you will be able to quickly identify local Cleveland, OH emergency dental clinics that are ready to help you. Many of these offices are available to help you 24 hours a day and others are open after hours.
If you are in pain, now is the time to seek out the Cleveland emergency dental care you need. There are dentists in the area who are ready to see you.
Finding a 24-Hour Emergency Dentist in Cleveland, OH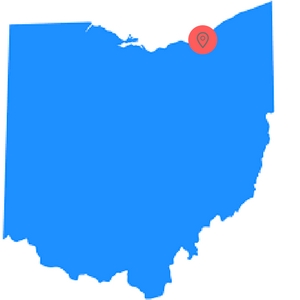 Dental offices have traditional business hours like that of a bank or public works center and you will find that most head home at 5:00 pm, do not open up until 9:00 am, and they are closed on the weekends. This can be frustrating for you and you may forgo your dental care and try to wait, but this can be dangerous, especially if you are dealing with severe dental decay or an infection.
Fortunately, there are many Cleveland, OH emergency dental centers ready to meet your needs and they are open around the clock. These dentists strive to help patients who are experiencing pain and they deliver the care that is needed, when it is needed.
Cleveland 24-hour dental offices will see you around the clock, whether it is midnight or 4:00 am. Many patients will turn to this option when they need to be seen for their dental pain right away. In addition to the emergency clinics in Cleveland, you will also find that there are plenty of options for after hours dentists, who are typically open until 9:00 pm throughout the week and on the weekends. There are also walk-in clinics that will allow you to go into the office without an appointment. Walk-ins are typically open later than traditional offices and they are open on the weekend as well.
Emergency Dentist Listings in Cleveland, OH
Searching for a dentist when you are experiencing tooth pain is not always easy and you may give up if you cannot find immediate results. We have made the entire process simple for you and you can find the Cleveland emergency dental care you need in a flash. All you need to do is take a look at the list provided and choose a dentist who can meet your needs. Simply call any of the dentists presented on the list and schedule your emergency appointment with them. In most cases, you will be able to be seen right away.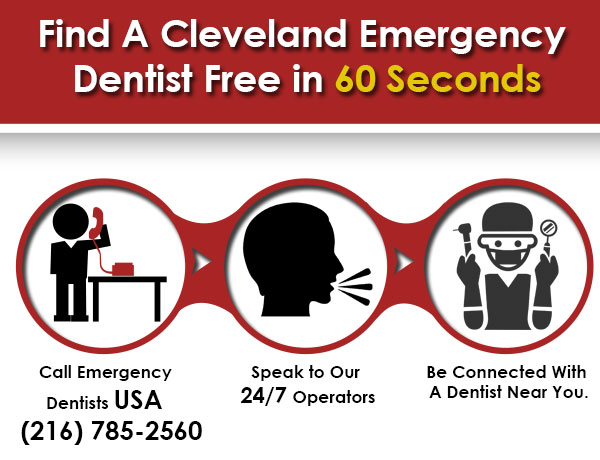 ---
Emergency Dentists USA Referral Service Cleveland
Phone Number: 1 (855) 401-2701
Address: Connected To Various Dental Offices across Cleveland
Doctors Multiple
Description Call to be connected with the perfect dentist for you. Cleveland is a large city and we have the connections to find a dentist to fit your needs, and can get you an appointment immediately. You can get emergency dental help in Ohio fast.
---
Hylan Dental Care
Phone Number: 216-251-8812
If Closed: Call 1 (855) 276-1128 and let our Operator help you find an emergency dentist.
Address: 3447 W. 117th St., Cleveland, OH 44111
Website: www.drbradhylan.com
Doctors: Dr. Paul Hornyak & Dr. Brad Hylan
Description: 
A top-quality clinic known for being gentle, caring, and for seeing people with emergencies immediately. This emergency dentist in Cleveland, OH is great for those who seem to get anxious during dental appointment. This is a great choice for a Saturday Dentist in Cleveland
Monday: 9:00am – 6:00pm
Tuesday: 8:00am – 7:00pm
Wednesday: 9:00am – 6:00pm
Thursday: 9:00am – 6:00pm
Friday: 8:00am – 1:00pm
Saturday: 8:00am – 12:00pm
---
BJ Showman D.M.D
Phone Number: 216-241-4303
If Closed: Call 1 (855) 276-1128 and let our Operator help you find an emergency dentist.
Address: 55 Erieview Plaza, Room 200, Cleveland, OH 44144
Website: www.smiles4today.com
Doctors: Dr. BJ Showman
Description: With over 20 years experience providing services to the greater Cleveland area, Dr. Showman is a native, a CWRU graduate, member of ADA, the ODA, the Greater Cleveland Dental Society and AMHA (American Medical Holistic Association). She's taught at several local dental colleges and is the dental advisor to numerous local charity events and health fairs. This dentist offers excellent Cleveland Saturday Dentist hours.
Monday – Thursday: 9 a.m. – 5 p.m.
Saturday: 9 a.m. – 1 p.m.
---
Dr. Bogdan S. Butriy, DDS
Phone Number: 216-464-3200
Address: 24300 Chagrin Blvd., #304, Beachwood, OH 44122
Website: www.elitedentistrycenter.com
Doctors: Bogdan S. Butriy
Description: One of America's top specialist dedicated to excellence in general, cosmetic, implant and urgent care dentistry. This dentist offers fantastic walkin dentist hours, and weekend dentist hours check it out from 9am til 9pm on Saturdays. They're also open for after hour dentist care until 9pm 3 weekdays.
Monday from 12:00 PM- 9:00 PM
Tuesday from 12:00 PM- 9:00 PM
Wednesday from 12:00 PM- 9:00 PM
Friday from 9:00 AM- 9:00 PM
Saturday from 9:00 AM- 9:00 PM
---
Metro Health Dental Services
Number: 216-251-6990
Office: 4330 West 150th Street Cleveland, OH 44135
Doctors: Dr. Yazan Al-Madani
Website: http://www.metrohealth.org/dentistry
Description: There is a point during which you have to make sure that find a competent emergency dentist, and quick. When a wisdom tooth making its early appearance in the rear of your mouth or a potential abscess that is ravaging another tooth progresses, you won't care what hour of the day it is, you're going to want help as soon as possible. Here at Metro Health Dentistry, you can obtain crucial services such as root canal work, extractions, and immediate attention for cracked or broken teeth. The dentists here also have very well-respected residency training programs, and are an incredibly competent and experienced group of practitioners. This Hospital also provides dental care and is recommended in the event of an emergency.
24 hours a day for emergencies, with dental care.
---
Rockside Family Dental Emergency Care
Number: 216-524-8481
Office: 6132 West Creek Road (I-77 & Rockside Rd.) Independence, OH 44131
Doctors: Dr. Dean A. Carmichael
Website: www.rocksidefamilydentalcare.com/
Description: This recently renovated emergency dentist's office always has an on-call 24 hour dentist, and the office itself is always open until 8:30 PM. The hygiene department here has over 70 years of combined experience, and they all know how to get to the root of the problem quickly when a patient is encountering dire pain. Urgent extractions, root canal therapy, and braces that have been knocked loose or out of alignment are handled here by a staff that knows you want to get back to feeling comfortable, and on the double. The only thing missing at this clinic is Sunday dentist hours!
Monday 7:30 am 8:30 pm
Tuesday 7:30 am 8:30 pm
Wednesday 7:30 am 8:30 pm
Thursday 7:30 am 8:30 pm
Friday 7:30 am 1:30 pm
Saturday 8:00 am 1:00 pm
---
A Caring Dental Group
Number: 216-438-8375
Office: 3865 Rocky River Drive, Suite #6 Cleveland, OH 44111
Doctors: BENEDICT KIM, DDS
Website: www.acaringdentalgroup.com/emergency-care/
Description: This Caring Dental Group clinic is one of the top choices for an emergency dentist in Cleveland Ohio. They offer weeknight hours for urgent care dentist appointments 3 weeknights as well as Saturday dentist hours so you can be seen on the weekend!
MONDAY 11:00AM – 7:30PM
TUESDAY 11:00AM – 7:30PM
WEDNESDAY 7:00AM – 12:00PM
THURSDAY 11:00AM – 7:30PM
FRIDAY 8:00AM – 1:00PM
SATURDAY 7:00AM – 12:00PM
---
Hylan Dental Care
Phone Number: 216-251-8812
Address: 3447 W. 117th St., Cleveland, OH 44111
Website: www.drbradhylan.com
Doctors: Dr. Paul Hornyak & Dr. Brad Hylan
Description: 
A top-quality clinic known for being gentle, caring, and for seeing people with emergencies immediately. This emergency dentist in Cleveland, OH is great for those who seem to get anxious during dental appointment.
---
Dr. David A. Morvay, DDS
Phone Number: 216-464-1050
Address: 24300 Chagrin Blvd, Beachwood, OH 44122
Website: www.david-a-morvay.com
Doctors: David A. Morvay
Description: A respected family and cosmetic dental healthcare office serving everyone in Warren, Beachwood, and the surrounding communities in Ohio. This Cleveland emergency dentist has experience with children and adults. Their office is conveniently located on Chagrin Blvd. in Beachwood.
---
How to Prepare for Your Cleveland, OH Emergency Dental Clinic Visit
If you have never visited an emergency dental office in Cleveland, OH, it is just like going to the general dentist, the only difference is that you can receive care around the clock. When you head into the office, you will need to fill out paperwork that will ask you questions about your medical and dental health. This information is used by the dentist to allow for the proper treatment of your condition.
You may be asked to arrive 15 minutes earlier than your appointment time to ensure you have enough time to fill out the paperwork. You should bring any relevant dental records you have and also bring your insurance card with you.
Before you go, you should inquire about the cost of services and what payment methods are accepted. Typically, theywill require payment either upfront or as soon as services are rendered. If you do have dental insurance, ask if the services are covered and what it will cost you to have them performed.
If you have any allergies, it is important to let the office know, so that can properly prepare for your appointment. In addition, if you suffer from dental anxiety, you should ask about sedation options.
Quality of Urgent Care Dentists in Cleveland, OH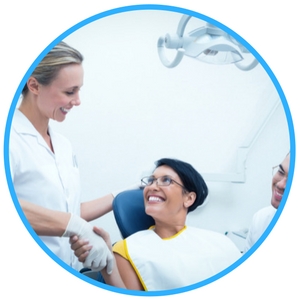 Cleveland has a total population of over 380,000 residents and the city is one of the most popular throughout the entire state. The city itself sits near the southern shore of Lake Erie and was discovered near the mouth of the Cuyahoga River. There are many different railroads and canals that run through the area, and the economy is shaped by different industries to include biomedical research, healthcare, financial services, and manufacturing. The city itself has many nicknames, but the oldest one is The Forest City and residents of the city are referred to as Clevelanders.
Since this city is a huge tourism spot and does have a lot of residents living within it, there needs to be quality medical and dental care available. Cleveland is considered to have many hospital systems that are large and well-known for going above medical standards.
Cleveland Clinic is one of the most well-known hospitals in the area and is home to 1,278 beds. The hospital received, in one year, over 76,500 ER visits and over 53,500 admissions. The surgeons on staff performed more than 95,500 surgeries. Cleveland Clinic is accredited by the Commission on Accreditation of Rehabilitation Facilities and is known to be a teaching hospital. The facility is nationally ranked in 14 adult specialties and 9 children's specialties. In addition, Cleveland Clinic is regionally ranked number one in Ohio and number one in Cleveland. The hospital also ranks high performing in 9 procedures and conditions.
University Hospitals Case Medical Center has a total of 790 beds on site and includes a trauma center. The hospital sees more than 42,500 admissions and over 82,000 ER visits annually. The physicians on site perform more than 25,000 total inpatient and outpatient surgeries. The hospital is considered to be a teaching hospital and is regionally ranked number three in Ohio and ranked number two in Cleveland. The hospital is nationally ranked in 8 adult specialties and 10 children's specialties and has been rated high performing in 7 adult procedures and conditions.
Fairview Hospital has a trauma center on site and is home to 426 beds for patients. The hospital saw over 75,800 ER visits and 21,000 admissions in a year's period. The facility is regionally ranked in number four in Ohio and number three in Cleveland. Fairview Hospital has also been nationally ranked in four adult specialties and rated high performing in seven procedures and conditions.
If you are experiencing a dental emergency and cannot locate an emergency dental provider in Cleveland, you should head to your nearest emergency room for care.
Common 24-Hour Dental Emergencies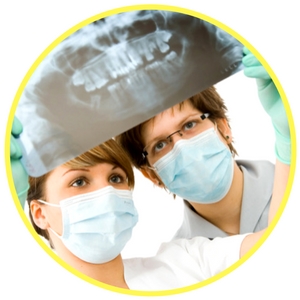 If you are experiencing any type of mouth or tooth pain, you may be experiencing one of the common dental emergencies. There are a number of different dental conditions that can develop in your mouth and lead to pain. Most of these conditions will take time to develop, but some will appear immediately in your mouth and present issues. For example, a broken tooth occurs instantly while gum disease will take time to develop and you may not experience any symptoms until later on down the road.
Dental emergencies need to be looked at immediately to ensure you receive the proper treatment and that the condition does not get any worse. If you allow a problem to remain and persist, you may experience more pain and the problem may become complicated. Emergency dentists in Cleveland are available 24 hours a day, 7 days a week to help you and provide you with the care you need.
Reading any of the advice on emergencydentistusa.com is not a substitute for seeking out medical care or visiting a local medical professional. Each situation is unique and you should seek out a dentist for any of the emergency situations below.
Chipped or Broken Tooth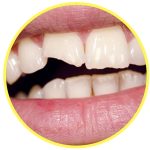 If you have chipped or broken your tooth, you will need to save any and all pieces that you can. It is important that you do not try to wiggle the tooth or move it around, as this may cause it to break further or crack more. You can rinse your mouth with warm water and then apply a cold compress to the exterior of your mouth to reduce discomfort and swelling. If your mouth is bleeding at all, you should place a piece of gauze on the area and apply pressure.
Whether your tooth is chipped or broken, you will need to schedule an appointment with your local urgent dental center in Cleveland to receive the care you need.
Knocked Out Teeth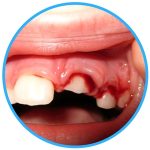 If you have a knocked-out tooth, it is important for you to try to retrieve the tooth as quickly as possible. You should never retrieve the tooth by the roots and only hold it by the crown. You can rinse the tooth off, but avoid scrubbing it and then place it back into its socket. If the tooth will not go back into the socket, do not force it and place it into a container with milk or a mild salt solution. There should be enough liquid to cover the tooth.
You should head to your nearest urgent or emergency care dentist in Cleveland with the tooth.
Objects Caught in Teeth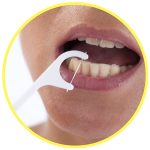 If you have an object caught between your teeth, it is important that you do not try to remove it with a pointed or hard object, as this can lead to more damage of your tooth. You should attempt to dislodge the object with floss first.
If for some reason you are experiencing any type of pain caused by the object, you should take an over-the-counter pain reliever and apply a cold compress to the exterior of your mouth where you feel the pain. If you cannot remove the item from your tooth, you should seek out urgent dental care in Cleveland.
Loose or Lost Crown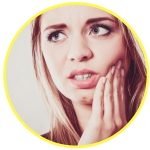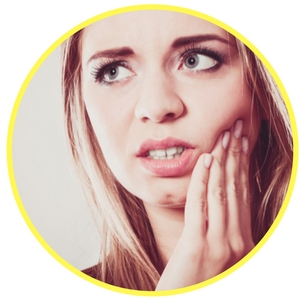 If you have a loose or lost crown, it is important that you do not try to wiggle it around or touch the tooth itself. If you are experiencing pain in the area, you can apply clove oil directly to the tooth to help alleviate the discomfort. If you are able to retrieve the crown, do so and try to place it back over your tooth, but do not force it into position. Prior to placing the crown on your tooth, apply a dental cement to the inside of it and hold in place until it adheres.
If you do have a loose or lost crown, you should visit your local urgent dental facility in Cleveland as soon as possible.
Do You Need an Emergency Tooth Extraction?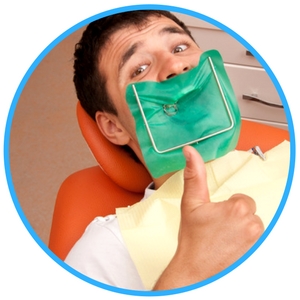 An emergency dental situation can mean that an emergency tooth extraction is needed, especially when the tooth is very painful or the integrity of it is not good anymore. Not all tooth problems will require a tooth extraction and not all problems that arise with your teeth are considered a dental emergency.
There are some dental issues that may require an emergency extraction, but do know that your dentist will do what they can to save the tooth. Some of the reasons why you may need an extraction include:
· Broken or fractured tooth
· Impacted or severely crowded teeth
· Trauma
· Periodontitis
· Infections
· Severe tooth decay that is down to the pulp
If you do need to have an extraction performed and you choose to ignore it, you may cause more damage to your tooth or you may develop an infection. Delayed care can lead to serious oral complications.
While extractions are often recommended for the issues above, you may find that your dentist is able to save the tooth with a filling, veneer, or crown. These options will provide a layer of protection to the tooth and prevent it from needing to be removed.
Once an extraction has been performed, it will only take a day or two to heal from the procedure. Discomfort and pain will only last the first 24 hours and some patients are not affected by it at all. While your emergency dentist will provide you with an aftercare sheet, you can minimize discomfort by:
· Propping your head up when you lay down for 24 hours
· Eat soft foods until the site heals
· Take any medications that have been prescribed
· Limit activity over the next 24 hours
· Reduce bleeding by biting down on a piece of gauze
· Apply a cold compress to the outside of your mouth where the extraction occurred
Emergency Room Versus Emergency Dentist

At the first sign of severe dental pain, you may think that you need to head to the emergency room; and while this does sound like it makes sense, it may not actually be the right option for you. Emergency rooms are not equipped to handle dental problems and the physicians on staff are not typically trained to perform them either. If you do head to the ER, you may receive some relief if they prescribe you a pain reliever, but you will still need to head to your local dentist's office.
An emergency dentist is a better option for you because they can help you and perform the dental procedure you need then. These dentists work around the clock and generally do not require an appointment to be seen.
There are times when you should head to the emergency room, dental problem or not. Some of those times would be when you sustain a head injury, have been involved in a car or sports accident, have sustained any type of trauma, or have fallen.
FAQ
What are my options for replacing a missing tooth?
If you are missing a tooth, you have a couple of different options. If you have enough bone in your jaw, you will have the option of dental implants. Should you not have enough bone, you may be a good candidate for dentures. Lastly, you can receive a dental bridge too, should you only be missing a couple of teeth.
What are sealants and why are they done?
Sealants are best known as a thin coating that is placed over the chewing surfaces of the tooth. The sealants help to prevent tooth decay.
What is a root canal?
A root canal is best known as a procedure that will remove the infected pulp located inside of your tooth. When the root canal is performed, the inside of the tooth is cleaned out to remove any bacteria.
What can I do if I have a dry mouth?
If you have dry mouth, you can alleviate it by sucking on or chewing some sugar-free candy throughout the day. You should also increase your intake of healthy fluids. Dry mouth can lead to gum disease and tooth decay, so it is important to help kick start saliva production in your mouth.
Why don't my dentures seem to fit anymore?
Dentures can change shape over time, but there are some common reasons why your dentures may not fit properly. Some of the reasons include dental health problems, damage to the dentures themselves, and also a shift in the teeth.
24-Hour Dentist Cleveland Options
The office of Metro Health Dental Services provides dental care 24 hours a day and specializes in root canals, broken or cracked teeth, extractions, and more. While they offer 24-hour services, you will need to call before you head into the office. You can expect to receive quality dental care from this Cleveland, OH emergency dental provider.
If you think that you may have a dental emergency, but you cannot find a dentist in the area that is open 24/7 or you cannot make it to the nearest one, you should head to your local emergency room. While the emergency room cannot perform dental procedures, they will be able to look over your mouth to determine the underlying problem and reassure you that it is nothing more serious. They can also provide you with some pain reliever, should you need them. Even if you do visit the local emergency room, you should still follow up with your dental provider.
Tooth pain can be debilitating and it is important that you seek out the care you need. No matter what type of dental condition you are experiencing, you do not want to wait and give it a chance to get worse. You should also avoid trying to handle the emergency on your own, as you may further injure yourself.
Disclaimer: This Emergency Dentists USA portal is a website for informational purposes only and should not be used to replace any advice from a medical professional. If you are experiencing an emergency and you cannot reach a local Cleveland dentist, call 911 to ensure you can receive immediate care.
We recommend that you always take some time to check your local Cleveland, OH dental society to verify the certification and credentials of any dentist you plan to visit. You should always check the Ohio State Dental Board and the Ohio License Center.
If you are experiencing an emergency and you cannot get ahold of a dentist or you cannot find one nearby that is open 24 hours a day, you should call 911 immediately or head to your local emergency room. Emergency Dentists USA is a website designed to be used as a source of information only and should not be solely relied upon or take the place of professional medical advice.