Home
/
Teledentistry
/
Finding an Online Dental Consultation Using Virtual Teledentistry.
Finding an Online Dental Consultation Using Virtual Teledentistry.

Teledentistry Provides Online Dental Care
Dental care is a key part of being healthy, but it isn't always easy to attain. If you're stuck inside, dental care can be something that seems out of reach. That's especially true during this time when Covid-19 has large portions of the world on lockdown and many are afraid to go out.
Many dentists have closed shop for the time being to protect them and their staff from the virus. Luckily, there are ways to still get appropriate dental care from the safety and comfort of your home, and these methods are becoming more and more common.
With the rise of teledentistry, online dentist appointments are becoming commonplace and helping to provide affordable dental care to everyone.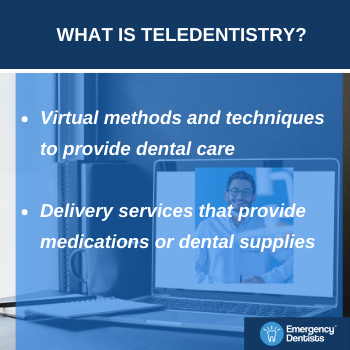 What Is Teledentistry?
Teledenstriy is the act of using virtual methods and techniques to provide dental care and services. This includes things like audio-video conferences but also extends to delivery services that provide medications or other dental supplies. Overall, it helps make dental services more affordable, efficient, and accessible.
This has really taken off in the past couple of years due to the increase and availability of technology. You've probably seen a number of these apps and services popup in the last couple of years, and many of them have had great success. The current Covid-19 threat has made it nearly a necessity, but its benefits will see it carried long past the current epidemic.
Online Dentistry Options During Covid-19
During the Covid-19 pandemic, dental care might seem like a difficult proposition, but it doesn't have to be impossible. Teledentistry has played a big role during this pandemic and has helped people keep their dental health in check during these tough times. If you're putting off dental care because of the pandemic know that there are options out there. You don't have to make tradeoffs on your health.
How Can Online Teledentistry Help Me?
The primary draw of working with a virtual dentist, especially right now, is the absence of the need to actually go to the dentist. With many offices closed during the Covid-19 lockdown, teledentistry offers a lifeline for those needing dental expertise. It's also great for at-risk groups who don't want to risk exposing themselves to the virus but still understand the importance of regular dental checkups. These virtual dentist visits can provide a much-needed option during these tough times that doesn't put other areas of your health at risk.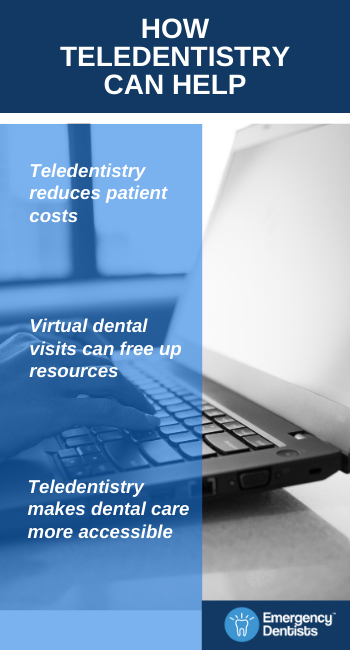 Outside of this though, teledentistry has a range of benefits. Taken as a whole, these will ensure that online visits remain popular long past this pandemic. Here's a couple of reasons why online dental appointments will remain popular in the future outside of simply being more convenient.
Teledentistry Reduces Patient Costs
One big draw for both patients, and dentists, is it naturally reduces the cost of dentistry as a whole. With fewer people visiting the office, a dentist can scale back their operation, this means fewer employees, less office space, and overall more efficiency. This is then passed onto the patient making it a win for both parties. This ultimately means more money in your pocket.
Online Dental Visits Can Free Up Resources
Virtual dental visits also free up dentists to focus on patients that do need an in-person visit. With fewer people coming to the office, dentists can be more flexible in scheduling their appointments. It also saves hours in commuting to and from the appointment for those utilizing virtual dental services. For patients, this makes the whole process more convenient and more flexible.
Teledentistry Makes Dental Care More Accessible
Upwards of 20% of Americans live in areas that don't have easy access to dental services, but teledentistry makes that less of a burden. Online and virtual dental appointments help keep these people's mouth healthy and give them options outside of driving hours for a simple checkup.
More Dental Visits Available Online
With the ease of getting care and the time it can save, digital solutions help get more people to see the dentist. That's important as it's estimated that 39% of the population has not seen a dentist in the last year. Getting more people to visit their dentist ultimately helps reduce costs and prevents emergencies down the road. This also has a wide impact on the availability of all types of medical treatment as there are fewer people using limited resources.
Overall Care Isn't Impacted
Many studies have found that the quality of virtual care is on par with in-person care. For services that don't require a dentist to be there, you'll be receiving comparable care. This is important to know as many people might incorrectly assume teledentistry services are not the same quality as an in-person visit.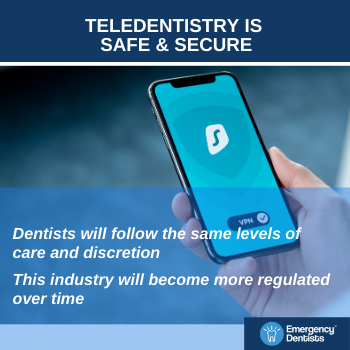 Is Online Teledentistry Safe?
One big question many patients have is if these online dental consultations and visits are safe and if their privacy is protected. The short answer is yes, dentists will follow the same levels of care and discretion whether you visit them in person or not.
In fact, many states are now pushing laws primarily focused on regulating the teledentistry industry. California, for example, passed a bill in October of 2019 that provides protection for you the patient utilizing online dentistry services. This includes, among other things, requires X-rays and examinations before beginning serious dental procedures as well as giving patients recourse in the event of improper care. This provides a lot of protection for patients and shows how serious governments are taking this new industry.
California is not alone in this, many other states have passed or are working to pass similar bills. At the heart of many of them is the desire to keep you safe as well as protect their privacy while using digital communication. All this means that you can rest assured that the care they're getting is going to be top-notch, and of the same quality they'd expect going into the office personally. With the continued focus on digital communication, it only looks like the industry will become more regulated over time.
What Type Of Dental Services Can I Expect?
One of the appeals of teledentistry is the wide range of services that are offered. In general, many of these are preventative in nature, and help to keep you healthy and prevent further issues. Even during these tough times, it's easy to get a wide range of dental services. Some examples might be:
Routine checkups and review of proper techniques. Video chat gives dentists a lot of options to evaluate patients and help correct issues before they become major problems. It also lets them review your brushing or flossing habits and make suggestions if needed.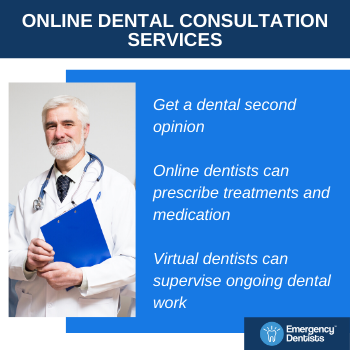 Get a Dental Second Opinion
Digital solutions allow patients a much wider range of potential opinions from experts that might not be located nearby. If you're interested in getting a followup from an expert, teledentistry is a good option.
Online Dentists Can Prescribe Treatments and Medication
Many prescriptions can also be given over digital communication. This saves you a trip to the dentist and frees up time for more serious dental emergencies.
Virtual Dentists Can Supervise Ongoing Dental Work
Supervision of ongoing dental work is also another area it greatly aids in. Orthodontics is often an area that needs frequent checkups, but can often be done over video saving you time and a trip to the office.
Online Emergency Dental Consultations
Emergency services are also another great use for virtual dentistry. Connecting with a dentist in an emergency can provide a huge range of benefits. Dentists can help guide you through proper techniques that could save your teeth, or help alleviate fears and keep your calm in a stressful situation.
While that's a broad range of services, not everything can be done over remotely. Any type of surgery or other dental procedures obviously requires an inpatient visit. Many of these operations are completely preventable though, so following proper care, which can include and online visit, helps to prevent them in the future.
Another important consideration is cost, which fortunately is often covered. Many insurance companies have started covering virtual dental visits, which is good news for many patients.
How is Teledentistry Offered?
In recent years, many companies have popped up offering virtual dentists visits and dental services. These often take the form of websites as well as mobile apps. There's a wide range of services here ranging from general dentistry to teeth straightening kits, so there's a good chance there's something that fits your needs.
With the range of services though it's important to do your due diligence before deciding on one. There's a range of quality and cost across each service, so making sure to select the right one can help you get a better result at a price you can afford.
You can also inquire with your current dentist what type of virtual services they provide. You might be surprised that many traditional dentists are making the jump to offering virtual services. It never hurts to ask which and can save time and money in the long run.
Online Dental Care Now
The Important thing to take away is that technology has made dental care more accessible than it has ever been. Whether you need an examination, a second opinion, or medication, there is a multitude of services available to keep your oral health in check. Even during these uncertain times, effective dental care is possible for any who need it.
Medically Fact-Checked & Written by Our Dental Editorial Team
You can read more about our editorial guidelines by clicking this link and learn more about the Emergency Dentists USA editorial team here.