Helping Portland Residents Find IMMEDIATE Dental Services Everyday.
Get relief from chipped, cracked or lost tooth
Abscess, toothache, mouth pain
Emergency dental surgery
24 hour services - Includes weekends, nights and holidays
Find a Dentist 24/7
Near You IMMEDIATELY
Click or Call Toll-Free
1 (503) 734-2091
Emergency Dentist Portland, Oregon
---
We Specialize in Portland Emergency Dentistry: Call 24/7: 1 (503) 734-2091
Monday – Friday, See A Portland Dentist The Same or Next Day/Night You Call!.
Saturday And Sunday, "See A Portland Emergency Dentist In Hours."
There is no way to know when you're going to have a dental emergency. It could happen in the middle of the night or the morning of Saturday or Sunday. While most dentists close their doors around 5:00 each weekday, there are a select few that stand up and are willing to provide dental emergency care in Portland, OR. A 24/7 dentist will see you when you need to be seen, not when his or her dental clinic is open.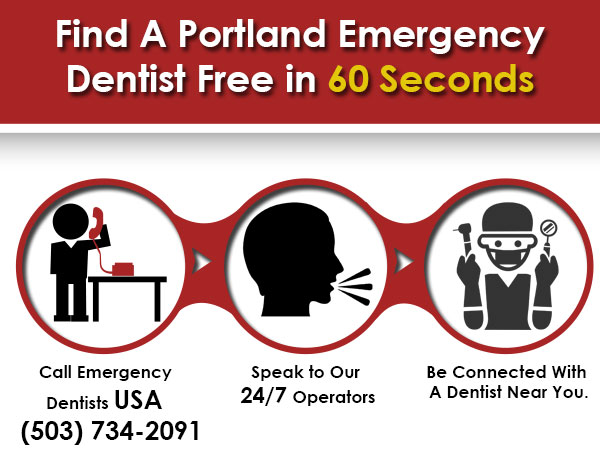 Call 24/7: 1 (503) 734-2091
Lost a crown off one of my molars Friday night, and was able to use your phone number to get into a dentist Saturday morning, I don't think I would have gotten into another dentist faster any other way. Thanks.
A late night dentist in Portland, Oregon can take you care of just about any dental need you have. If you are seeking cosmetic surgery, it's best to make an appointment with a dentist during normal business hours. A walk-in dental clinic should be used by people with an emergency.
We've created this site to help list these Saturday dental office, Sunday dentist clinic offices, and after hour emergency dentists in Portland, OR, in order to make them easier to find for patients. Find the dentist who's schedule best fits your own and call them! Or call our 24/7 hotline and let us do the work for you!
---
Emergency Dentists USA Referral Service Portland
Phone Number: 1 (877) 507-0879
Address: Connected To Various Dental Offices across Portland
Doctors Multiple
Description When you need an urgent care dentist in Portland, OR, this is the best directory to call. When you call this hotline, you will receive a list of dental offices near your location. You will then be able to visit the walk-in dentist clinic for dental care. Easily find Oregon emergency dentists with our service.
---
Rose City Dental
Phone Number: 503-255-2415
Address: 2341 SE 122nd Portland, OR. 97233
Website: www.rosecitydental.com
Doctors: John J. Lee, DDS
Description: Dr. Lee is one of the best dentists in the Portland area. Due to his popularity, he has found it necessary to offer his dental services after hours. This walk-in dentist is open 24 hours 7 days a week, but it is always a good idea to call him for more information about how you can be seen.
Hours
Monday-Friday 8:00am-5:30pm
Saturday 8:30am-3:00pm
Evening appointments available upon request.
---
Emergency Dental Care USA – Portland
Number: 503-234-9911
Office: 8401 NE Halsey St, Ste 102, Portland, OR 97220
Website: www.emergencydental.com/portland
Description: Open 9am-9pm, six days a week (closed Sundays), including most holidays. Our skilled dentists and compassionate staff can help get you out of pain quickly. A great place to find emergency dental care with or without insurance.
Monday 9am 9pm
Tuesday 9am 9pm
Wednesday 9am 9pm
Thursday 9am 9pm
Friday 9am 9pm
Saturday 9am 9pm
Sunday Closed
---
EMERGENCY TOOTH DOCTOR
Phone Number: 503-252-9657
Address: 12596 SE Stark St, Plaza 125, Bldg N, Portland, OR 97233
Website: www.emergencytoothdoctor.com
Doctors: Dr. Thomas Pham
Description: You may have heard about Dr. Pham because is another popular late dentist in Portland, OR. He provides comprehensive dental services, which means you can get all of the care you need from one dentist. While he may not be able to provide you with cosmetic or major surgical dental procedures in the middle of the night, he can do what is possible during his after hours walk-in clinic in Portland, OR and then set you up with a follow up appointment at his dental clinic. This office offers hours literally all the time, so if you're in need of a Portland Sunday dentist this is the dentist for you. Call and setup an appointment or come as a walkin dentist patient, either way you're welcome!
OPEN 7 DAYS A WEEK, 365 DAYS A YEAR
---
Parkrose Family Dentistry, P.C
Phone Number: 503-254-5575
Address: 3620 NE 122nd Ave, Portland, OR 97230
Website: www.parkrosefamilydentistry.com
Doctors: Dr. Thomas T. Tieu, DMD
Description: Dr. Tieu is a member of the American Dental Association and the Oregon Dental Society. He provides almost all dental services at his practice. As an urgent care dentist in Portland, OR, you will find that his office is conveniently located in the city. The parking lot is well lit and you will find that it's comfortable to visit this emergency dentist.
Monday – Friday 8:00 – 7:00 p.m
Saturday 8:00 a.m – 3:00 p.m
---
Portland Emergency Dental
Number: 503-234-9911
Office: 8401 NE Halsey St, Portland, OR 97220
Website: www.portlandemergencydental.com/
Description: This is a Pacific Northwest clinic that is open Monday through Saturday until 9PM, and is also open for business most holidays. Here you can take care of aching wisdom teeth, root canals, extractions, oral surgery, cleanings, abscessed teeth, broken teeth, or even a swollen jaw. This city is the gateway to the scenic Mount Hood area, and one that has seen a large population expansion as of late; knowing exactly where this clinic is located may really save your sense of sanity sometime in the very near future.
OPEN MONDAY-SATURDAY, INCLUDING MOST HOLIDAYS 9:00AM-9:00PM
---
Jantzen Beach Modern Dentistry
Number: 503-241-1800
Office: 12239 N Center Ave Portland, OR 97217
Website:www.jantzenbeachmoderndentistry.com/
Description: Jantzen Beach Modern Dentistry gives you a great opportunity for finding a weeknight dentist at least on Monday and Tuesday. Their hours are pretty limited all the other days of the week, but we're here to provide you with every option for after hours dentists in Portland, and maybe you're having an emergency on a Monday or Tues, if so call them!
Mon 10:00 AM – 7:00 PM
Tues 10:00 AM – 7:00 PM
Wed 7:30 AM – 4:30 PM
Thurs 7:30 AM – 4:30 PM
Fri 7:30 AM – 2:30 PM
---
Sleep Dentistry of Portland
Number: 971-274-2044
Office: 19265 SE Stark St., Suite A Portland, OR 97233
Website:www.sleepdentistryofportland.com/
Description: The sleep dentistry office of Portland stays open Monday til Friday until 530pm which gives you just barely enough time to squeeze over there after work! However they do offer Portland Saturday dentist hours from 8am til 2pm as well, which makes up for them not staying open any later on weeknights!
Monday through Friday from 7:30 a.m. to 5:30 p.m.
Saturday from 8 a.m. to 2 p.m.
---
Eilers Family Dentistry
Phone Number: 503-231-9995
Address: 5018 E Burnside St, Portland, OR 97215
Website: www.eilersfamilydentistry.com
Doctors: Dr. Eilers
Description: Dr. Eilers has been in business for over 25 hours. Through all of the experience, this emergency dental office provides families with the dental care they need to improve their oral health. Give Dr. Eilers at the number above to learn more about the process of getting seen during after hours and weekends. Before you know it, you'll be in the dentist's chair getting rid of your pain and discomfort.
---
Before you head out the door to have your teeth worked on by one of the below 24/7 dental offices open on the weekend in Portland, OR. It's important to do your research on them. Just like a regular dentist, you want to make sure the person has the experience and skills you need to have your teeth worked on with the most care and skill. Searching for an emergency dentist in Portland will be easy using our directory!
Emergency Dental Services Portland
There's a reason there are after hours dentists in Portland, Oregan. People need them because emergency rooms aren't supposed to accept people with dental problems. While you may receive some care from an ER, it won't be as much as you could get from an emergency dentist.
When you are a parent and have children, getting dental care when they need it is important. The Oregon Dental Association encourages parents to take their children to a dentist as soon as they are able to stay in the dentist's chair. If you haven't taken your child to the dentist yet, it's never too late. If your child wakes up with a dental emergency, don't worry about taking him or her into one of the dentists listed here. This will be a great way to get your child started on a lifetime of a good oral health.