Helping Denver Residents Find IMMEDIATE Dental Services Everyday.
Get relief from chipped, cracked or lost tooth
Abscess, toothache, mouth pain
Emergency dental surgery
24 hour services - Includes weekends, nights and holidays
Find a Dentist 24/7
Near You IMMEDIATELY
Click or Call Toll-Free
1 (303) 974-7292
---
We Specialize in Denver Emergency Dentistry: Call 24/7: 1 (303) 974-7292
Monday – Friday, See A Denver Dentist The Same or Next Day/Night You Call!.
Saturday And Sunday, "See A Denver Emergency Dentist In Hours."
Not being able to get the care you need for your teeth can be difficult. Your regular dentist may not be available during the evening hours or the weekend, and you really can't wait until the next time he's open. The pain is just too unbearable. Having a 24 hour emergency dentist in Denver you can call on can be such a relief. The good news is that there are many Denver CO dental offices open on the weekend and evenings.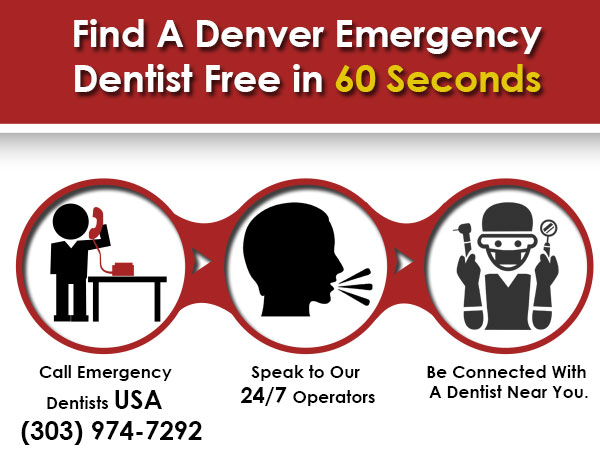 Call 24/7: 1 (303) 974-7292
Emergency Dentist USA has taken the time to find dentists open on Saturday, Sunday, and during the evenings. Below you will find many different ones you can choose from. You can click on the website URL for the emergency dentist in Denver CO. You can also call them easily with the phone number we have provided you. This way you can ask any questions you may have about the emergency services they provide. A 24 hour dentist will be the best solution when you have been in pain for hours, and feel as if you cannot wait until morning to see an experienced specialist.
If you are looking for another way to find a Denver emergency dentist, you want me to try our directory. This directory will connect you with an operator ready to provide you with a 24 hour dentist in Denver, CO. They will even help you set up an appointment, so you can be on your way to dental care in just a few minutes. When a serious dental occurrence casts a dark shadow on your fun plans for the week, a walkin dentist in Denver CO will be able to provide x-ray diagnosis, any medication needed, and peace of mind.
Get started below by either calling the number we have for you, or by looking through the dentists we have already found for you.
Emergency Dentist Denver, Colorado
If you've gotten this far, it's probably because you would like to find your own dentist. That's great. We have a number of them to choose from below. Keep scrolling to find them and choose the ones that will help you. A well-equipped after hour dentist will be able to best let you know which plan of attack is best for you to regain your dental health, and get rid of the pain that has been claiming your day.
---
Emergency Dentists USA Referral Service Denver
Phone Number: 1 (877) 507-0879
Address: Connected To Various Dental Offices across Denver
Doctors Multiple
Description Call to be connected with the perfect dentist for you. Denver is a large city and we have the connections to find a dentist to fit your needs, and can get you an appointment immediately. Don't be afraid of how vast this metro area is: an urgent care dentist will be able to quell your pain and get you feeling in one piece again. Easily find Colorado emergency dentists with our service.
---
Dental 911: Evening & Weekend Urgent Care
Website: www.dental911.com
Phone Number: (303) 393-9911
Address: 4200 East 8th Avenue Suite 200 Denver, CO 80220
Description:
This is a Rocky Mountain emergency dental clinic that is open 365 days a year, and they have enjoyed nearly a decade of providing awesome service for the busy people of Denver. This was the first clinic in Denver to be open on Sundays, and they are even open on Christmas day. A true standby location that can provide you the best of help when needed, the emergency personnel is always standing by to make sure that they can rid you of your pain. Extractions, root canals, and tending to cracked teeth are some of the most common things done here, no matter what the hour or day. This dentist is your best bet for a Saturday dentist or Sunday dentist appointment in Denver.
Monday-Thursday: 5 PM – 9 PM
Friday: 8 AM – 9 PM
Saturday, Sunday & Holiday's: 8 AM – 4 PM
---
Emergency Dental Care – Denver, Colorado
Website: www.emergencydental.com
Address: 7500 E Arapahoe Rd #202 Centennial, Co 80112
Phone Number: (303) 495-3443
Description.
This clinic is open weekdays, Saturday and Sunday from 9:00 am to 9:00 pm and their aim is to take care of helping you with a variety of treatments that may be necessary due to a dental complication or unforeseen accident. Their services cover a wide range of dental treatment options including root canal therapy, dentures, crowns and bridge repairs, cleanings, fillings, implants, bone transplants, splints, perio scaling, extractions, and wisdom teeth removal. Locations are in the Denver area and Colorado Springs. Being open from 11am til 8pm on Saturdays makes them a great option for a Saturday dentist in Denver.
Monday to Friday and Sunday 9 AM – 8 PM
Saturday 11am – 8pm
---
ATA Dental Center
Website: www.atadentalcenter.com
Phone Number: (720) 440-9598
Address: 507 Lincoln St., Suite 101 Denver, CO 80203
Description: This clinic just south of downtown Denver is a great place to stop in if you have sudden tooth pain, a tooth knocked loose, or worse. They do offer 24 hour emergency services by appointment, which can really come in as your savior if you happen to have a sudden occurrence within the dental realm. Don't spend the entire weekend in pain that you cannot handle, and contact ATA Dental Center today.
Monday – Friday 7 am – 5 pm (offer 24 hour emergency services by appointment)
Weekends – Closed
---
Dental Elements
Website: www.dentalelements.com
Phone Number: (303) 309-4093
Address: 1781 15th Street Denver, CO 80202
Description: This downtown Denver office makes it a point to go out of their way to see to it that every patient is treated equally, promptly, and with the best of care possible. In very big cities you sometimes can lose your sense of self and which clinics are open to help you, and Dental Elements will provide the best in care whether it is routine checkups, or an all-out emergency.
Monday – Thursday 7 am – 5 pm (after hours by appointment only)
Friday and Weekends – Closed
---
Riverfront Dental Designs
Website: riverfrontdentaldenver.com
Phone Number: 720-675-8983
Address: 1590 Little Raven St #200, Denver, CO 80202
Description:
Riverfront Dental Designs gives you an opportunity to be seen by the urgent care dentist on Wednesdays until 7pm as well as on Monday until 7pm. Giving you a good opportunity to reach an emergency dentist on either of those days.
Monday 7am – 7pm
Tuesday 8am – 5pm
Wednesday 7am – 7pm
Thursday 7am – 2pm
Friday 7am – 2pm
Weekends – Closed
---
Denver Dentistry
Website: www.denverdentistry.com
Phone Number: 303-333-2221
Address: 5920 S Estes St #200, Littleton, CO 80123
Description:
The Denver Dentistry group provides after hours dentist services in the Denver Colorado area. You can get an appointment during their extended urgent care dentist hours on Wednesdays until 7pm. Night time hours such as this are one of the best offerings a dental clinic can make, because busy schedules and commute times do cut in to the time that you can actually be diagnosed and cared for.
Monday 7 am – 3 pm
Tuesday 7 am – 1 pm
Wednesday 1 pm – 7 pm
Thursday 7 am – 1 pm
---
CU School of Dental Medicine Emergency Services
Website: www.ucdenver.edu/academics/colleges/dentalmedicine/PatientCare/Pages/EmergencyServices.aspx
Phone Number: (303) 724-6900
Address: 13065 E. 17th Avenue | Aurora, CO 80045
Description:
The basic fee for exam and radiograph here is just $49, and Medicaid is accepted for covered services. Pain, swelling, bleeding, or trauma are all handled here very quickly, and anyone who walks in with an urgent need will be satisfied. When the school is in session, patients are seen on a first come first serve basis, and the doors open at 8AM. This service is in high demand, and you may experience a wait, but no one who has the basic fee will be turned away. Treatment here is given by 3rd and 4th year dental students, who are already developing valuable experience helping others through pain.
Monday – Friday 10:00 am – Until school closes
Weekends – Closed
---
You are now on your way to getting the dental emergency you're dealing with taken care of. All you have to do is call the late dentist and schedule an appointment. Consider bringing someone to the appointment. You may need that person to drive you home after a dental procedure in which you were under anesthesia. If you don't have anyone to accompany you to the appointment, make sure to bring your cell phone. You will need it if you are going during the night time hours for safety. Just know that most after hours dentist offices have more than one person there for your safety.
Once you see the walk-in dentist, consider making an appointment for regular follow up. If paying for regular dental care is difficult, you may want to consider utilizing the low-cost dentistry options that the Colorado Dental Association has available. Some of the resources they have available can even give you free dental care if you qualify.
Take care of your teeth, so you can have them with you forever.
Having trouble finding a 24 hour emergency dentists in Colorado Springs, Colorado?