Helping Thousands of People Each Year Find IMMEDIATE Dental Services
Get relief from chipped, cracked or lost teeth, abscesses or toothaches.
Emergency dental surgery, cavities & oral pain.
24 hour services - Includes weekends, nights and holidays
Denver Emergency Dental Clinics
We specialize in Denver Emergency Dentistry:
Click to go to list of Dentists
Table of Contents
Tooth pain is something that patients hate to deal with because it can be hard to get rid of and it's difficult to pinpoint at times. While you can take over-the-counter medications for the pain, they eventually wear off and leave you still experiencing the pain you tried to eliminate.
Before you simply accept this way of life with dental pain, give our referral service a call! We can help you find a dentist near you in minutes, 24 hours a day, 7 days a week.
Emergency Dentists USA helped me when I had immense dental pain. It was even over a holiday weekend, I called thinking no one would answer and they had staff available! They found me a dentist in minutes who answered my call and was able to see me later that day.
Finding a 24-Hour Emergency Dentist in Denver, CO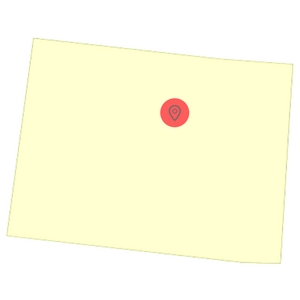 Most dental offices have traditional business hours, which means they operate Monday through Friday from 9:00 am until 5:00 pm. This can mean that you are stuck in pain while you wait for the dental office to open in the morning or you may suffer all weekend in pain.
Fortunately, there are a number of different emergency dental offices in Denver, CO that can provide you with the treatment you need.
24-hour dental offices in Denver will see you any time throughout the night, which means you can receive the care you need when you need it. Many patients will choose this option when they need immediate care and have nowhere else to turn.
In addition to emergency clinics, you will find that there are several after-hours options available to you as well. Many of these offices stay open until 9:00 pm on weekdays and they offer convenient hours on the weekend. These after hours clinics will also usually allow walkins, where you do not need an appointment to be seen.
Emergency Dentist Listings in Denver, CO
If you have tooth pain, you do not want to sit around and search through hundreds of dental options only to find out that all of them close at 5:00 pm every day of the week. We have made it simple for you, all you have to do is take one minute of your time and look through the results below. You will be able to find a 24/7 emergency dentist, walk-in clinic, or after hours clinic to fit your needs.
---
Emergency Dentists USA Referral Service Denver
Phone Number: 1 (855) 401-2701
Address: Connected To Various Dental Offices across Denver
Doctors Multiple
Description Call to be connected with the perfect dentist for you. Denver is a large city and we have the connections to find a dentist to fit your needs, and can get you an appointment immediately. Don't be afraid of how vast this metro area is: an urgent care dentist will be able to quell your pain and get you feeling like yourself again. Easily find Colorado emergency dentists with our service.
---
Dental 911: Evening & Weekend Urgent Care
Phone Number: (303) 393-9911
If Closed: Call 1 (855) 276-1128 and let our Operator help you find an emergency dentist.
Address: 4200 East 8th Avenue Suite 200 Denver, CO 80220
Website: www.dental911.com
Description: This is an emergency dental clinic that is open 365 days a year, and they have enjoyed nearly a decade of providing awesome service for the busy people of Denver. This was the first clinic in Denver to be open on Sundays, and they are even open on Christmas day. A true standby location that can provide you the best of help when needed, the emergency personnel is always there to make sure that they can rid you of your pain.
Monday – Thursday: 5 PM – 9 PM
Friday: 8 AM – 9 PM
Saturday, Sunday & Holidays: 8 AM – 4 PM
---
Emergency Dental Care – Denver, Colorado
Phone Number: (303) 495-3443
If Closed: Call 1 (855) 276-1128 and let our Operator help you find an emergency dentist.
Address: 7500 E Arapahoe Rd #202 Centennial, Co 80112
Website: www.emergencydental.com
Description. This clinic is open weekdays, Saturdays and Sundays and their aim is to take care of helping you with a variety of treatments that may be necessary due to a dental complication or unforeseen accident. Their services cover a wide range of dental treatment options including root canal therapy, dentures, crowns and bridge repairs, cleanings, fillings, implants, bone transplants, splints, extractions, and wisdom teeth removal.
Monday through Friday and Sunday: 9 AM – 8 PM
Saturday: 11 AM – 8 PM
---
ATA Dental Center
Phone Number: (720) 440-9598
Address: 507 Lincoln St., Suite 101 Denver, CO 80203
Website: www.atadentalcenter.com
Description: This clinic just south of downtown Denver is a great place to stop in if you have sudden tooth pain, a tooth knocked loose, or worse. They do offer 24 hour emergency services by appointment, which can really come in as your savior if you happen to have a sudden occurrence within the dental realm. Don't spend the entire weekend in pain that you cannot handle, and contact ATA Dental Center today.
Monday – Friday: 7 AM – 5 PM (offer 24 hour emergency services by appointment)
Weekends: Closed
---
Dental Elements
Phone Number: (303) 309-4093
Address: 1781 15th Street Denver, CO 80202
Website: www.dentalelements.com
Description: This downtown Denver office makes it a point to go out of their way to see to it that every patient is treated equally, promptly, and with the best of care possible. Dental Elements will provide the best in care whether it is routine checkups or an all-out emergency.
Monday – Thursday: 7 AM – 5 PM (after hours by appointment only)
Friday and Weekends – Closed
---
Riverfront Dental Designs
Phone Number: 720-675-8983
Address: 1590 Little Raven St #200, Denver, CO 80202
Website: riverfrontdentaldenver.com
Description: Riverfront Dental Designs gives you an opportunity to be seen by the urgent care dentist on Wednesdays until 7pm as well as on Monday until 7pm.
Monday: 7 AM – 7 PM
Tuesday: 8 AM – 5 PM
Wednesday: 7 AM – 7 PM
Thursday: 7 AM – 2 PM
Friday: 7 AM – 2 PM
Weekends – Closed
---
CU School of Dental Medicine Emergency Services
Phone Number: (303) 724-6900
Address: 13065 E. 17th Avenue | Aurora, CO 80045
Website: www.ucdenver.edu/academics/colleges/dentalmedicine/PatientCare/Pages/EmergencyServices.aspx
Description: The basic fee for exam and radiograph here is just $49, and Medicaid is accepted for covered services. Pain, swelling, bleeding, or trauma are all handled here very quickly, and anyone who walks in with an urgent need will be satisfied. When the school is in session, patients are seen on a first come first serve basis, and the doors open at 8AM. This service is in high demand, and you may experience a wait, but no one who has the basic fee will be turned away. Treatment here is given by 3rd and 4th-year dental students, who are already developing valuable experience helping others through pain.
Monday – Friday 10:00 am – Until school closes
Weekends – Closed
---
How to Prepare for Your Denver, CO Emergency Dental Clinic Visit
When you visit an emergency dentist in Denver, you can expect the visit to be similar to that of a general dentist. When you seek out dental care, you will need to provide the emergency dentist with information about you and your medical/dental history. This is usually done in an application form and you may be asked to arrive a little early to provide you with enough time to fill out the information.
Before you head into your local emergency dental office, you should inquire about the cost of the services and what payment methods are accepted. Most dentists, even emergency dentists, will require you to make payment either before the services are rendered or shortly thereafter. If you do have dental insurance, you may want to ask for an updated quote.
If you have any allergies to medications or products, or you suffer from dental anxiety, you should let the dental office know so that they can properly prepare for your appointment. Some emergency dentists offer sedation options to those patients who are unable to have a tooth extracted or worked on under traditional local anesthesia.
Common 24-Hour Dental Emergencies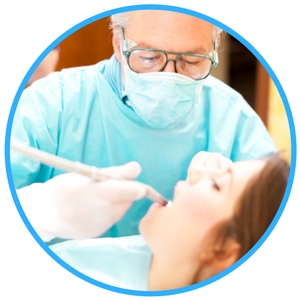 If you are suffering from dental pain, you may be experiencing one of the common dental emergencies seen in patients. There are some dental conditions that will take time to develop, such as tooth decay or gum disease, but when they do reach a point where they display pain, they need immediate attention. Other problems can appear immediately without any sign of warning such as an abscess or a break in the tooth.
Any dental emergency that you have should be evaluated and looked at immediately to prevent any further damage or trauma to the tooth, gums, or other teeth.
Chipped or Broken Tooth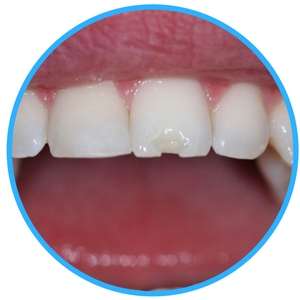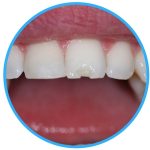 A chipped or broken tooth can be a serious issue and may lead to pain. You should never touch or try to wiggle a tooth that has been chipped or broken as it can break further. If you can, collect any of the broken pieces to bring into the dentist with you.
Always make sure to rinse your mouth out with warm water to get rid of any additional broken pieces that may be in your mouth. You should apply a cold compress to the exterior cheek where the injury occurred and bite down on any gauze if there is blood present. Depending on the extent of the bleeding, you may need to bite on a piece of gauze for 15 to 20 minutes.
Tooth Trauma Caused by an Accident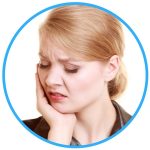 If you experience any tooth trauma due to an accident such as a car crash, sports injury, or hit to the face, you may be scared and worried. All types of tooth trauma can occur from a break to a complete loss of your tooth. No matter what type of injury occurs, you should recover any portion of the tooth that has been lost. You should then rinse your mouth out with warm water and apply a cold compress to the area.
If there is a lot of blood, you should bite down on a piece of gauze to stop the bleeding.
Lost Filling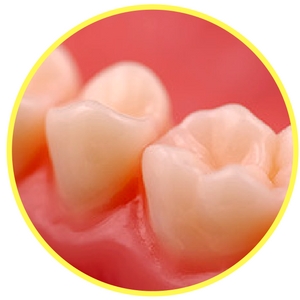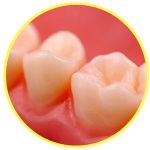 A lost filling can occur at any time, especially if you are eating a sticky candy or food. If a filling is loosened, it will come out easily, especially as you bite into different foods. If you do have a lost filling, you should take a piece of sugar-free gum and stick it into the hole where the filling was. You want to make sure the gum contains NO sugar, as this can irritate the cavity and lead to pain. If you are not comfortable using a piece of gum, you can use a dental cement product.
Do You Need an Emergency Tooth Extraction?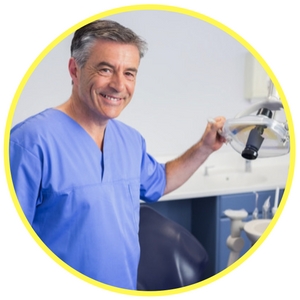 While an emergency tooth extraction does sound quite severe, there are situations when it is called for. These situations arise when the tooth cannot be supported on its own or when the tooth causes you to experience a lot of pain. Not all tooth-related problems will require you to have a tooth extraction performed and if you are worried about the procedure, you should speak with your emergency dentist about it.
Some of the situations where an emergency extraction is needed include:
· Trauma to a tooth
· A fractured or broken tooth
· Impacted tooth or one that is crowded and shows signs of problems
· Severe tooth decay that is down to the tooth's pulp
· Periodontitis
· Infections
If you are told that you need to have a tooth extraction, but you do not receive it, you may actually cause more damage to your tooth, the gums, and other teeth nearby. It is important for your dental health to seek out the dental emergency care you need.
The recovery from an extracted tooth is only a day or two and some patients do not experience any problems afterward. You will be given aftercare instructions by your dentist that you should follow.
Some additional tips to help prevent discomfort include:
· Limiting activity for the first 24 hours
· Take all medications that have been prescribed
· Avoid sucking from a straw until the site is healed
· Apply a cold compress to your cheek at the extraction site
· Eat soft foods until the extraction site is healed
· Sleep with your head propped up for the first 24 hours
· Bite down on a piece of gauze to reduce bleeding that may occur
Emergency Room Versus Emergency Dentist

Tooth pain can be rough and when you experience that pain you may think that you need to head to your local emergency room to receive care. While this seems like a logical idea, it may not actually be the best option out there for you. Emergency rooms are not equipped to handle dental problems and the physicians on site are not trained in dental procedures. The most the ER could do for you would be to provide you with a pain reliever and look at your mouth to ensure there are no serious underlying problems.
An emergency dentist in Denver is the best option for you when you have severe tooth pain. An emergency dentist is equipped to perform the dental procedures you need to eliminate the pain and correct the problem.
There are times when you may need to visit the emergency room even when you do only have a dental problem. Some of these situations include when you receive a head injury, sustained trauma, have fallen down, or have been injured in a sports accident.
Colorado Dental Association Information
Tooth pain can range from mild to severe and you may experience pain on any end of the spectrum. Often times, tooth pain can cause you to miss out on social functions and cause you to feel down. It is important that you take some time to find an emergency dentist who can treat the problem. Allowing a condition to persist will result in more complicated issues.
Emergency Dentists USA is here to help when you face such an emergency. Just call our trained staff any hour of the day and they will help you find a local dentist who fits your emergency dental needs.
We do recommend that you always check the local Denver dental society to verify the certifications and credentials of any new dentist you plan to see. You should check out the Colorado Dental Board and the Colorado Department of Regulatory Agencies before you head into any dental office.
Medically Fact-Checked & Written by Our Dental Editorial Team
You can read more about our editorial guidelines by clicking this link and learn more about the Emergency Dentists USA editorial team here.