Helping New Orleans Residents Find IMMEDIATE Dental Services Everyday.
Get relief from chipped, cracked or lost tooth
Abscess, toothache, mouth pain
Emergency dental surgery
24 hour services - Includes weekends, nights and holidays
Find a Dentist 24/7
Near You IMMEDIATELY
Click or Call Toll-Free
1 (504) 249-3588
Emergency Dentist New Orleans Louisiana
---
We Specialize in New Orleans Emergency Dentistry: Call 24/7: 1 (504) 249-3588
Monday – Friday, See A New Orleans Dentist The Same or Next Day/Night You Call!.
Saturday And Sunday, "See A New Orleans Emergency Dentist In Hours."
Finding a 24 hour emergency dentist in New Orleans can be an exceptionally important priority in your life if you find yourself in the middle of a fun filled weekend that becomes suddenly interrupted by a problem with your teeth. A number of things can cause tooth injuries like sporting events or other extracurricular activities. Given the festivities and the rough and tumble ways of New Orleans, all sorts of dental complications can occur when you least expect them to. That is why knowing where to turn to is important. We did some homework to help you with identifying some of New Orleans emergency dental clinics.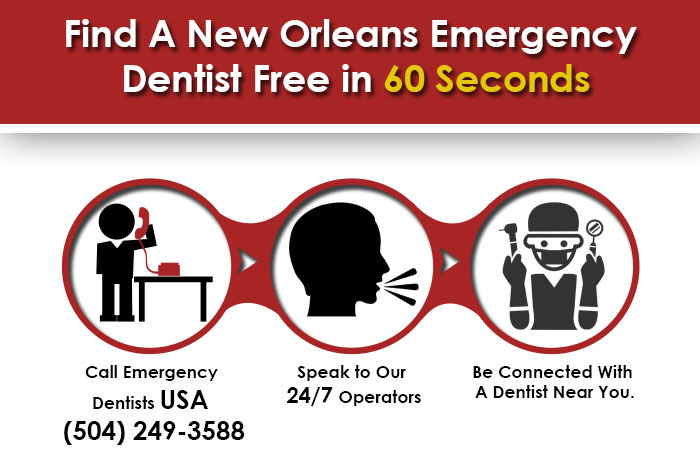 Call 24/7: 1 (504) 249-3588
The first 24 hour dentist listing we have is for a directory. This directory has urgent care dentists in all cities of the country. You simply say, "I need a dentist open near me on Saturday." and you will receive a couple to choose from. Of course, you can ask for any day of the week or time of the day because there are 24 hour dentist options available in New Orleans.
If you would rather research your own late dentist, we have many to choose from. You can visit each walk-in dentist's website, and read all about the services they provide. We hope this helps you find the relief you need right now.
Emergency Dentist in New Orleans
We took a close look at what clinics offer 24/7 services as well as quality dental centers that are open for business on the weekends or can accept emergency appointments. We are pleased to provide you with some prospects that can help you with managing whatever painful dental complication you may be enduring. They range from a dental service that can at any time put you in touch with a pre-qualified dentist. It doesn't matter where you are located. These are well established dental facilities that offer a wide range of quality services and payment plans.
---
Emergency Dentists USA Referral Service New Orleans
Phone Number: 1 (877) 507-0879
Address: Various Dental Offices across New Orleans
Doctors Multiple
Description Call to be connected with the perfect dentist for you. New Orleans is a large city and we have the connections to find a dentist to fit your needs, and can get you an appointment immediately. This directory can be a one stop shopping. Since some people prefer to research their dentists, we have taken some of the emergency dentists and put them in the list below. Feel free to call his directory or scroll down to see our picks. Easily find Louisiana emergency dentists with our service.
---
Dentist Smile – New Orleans, Louisiana
Website: www.DentistPhone.com
Phone Number: Call 888-899-5477
Description:
This service is aimed at providing affordable dental care wherever you may be. They describe themselves as being able to provide quality dental urgent services 24 hours a day, 7 days a week, 365 days throughout the year. If you find yourself at the doorstep of an emergency dental matter, this service will put you in touch with periodontist, endodontists, orthodontist, prosthodontist, and pediatric dentists for children or a general dentist near your residence, workplace, or travel location for that matter. Finding a Sunday dentist can be very important to those with families, since so many accidents happen during this time. All of the dental professionals are prequalified and utilizing this service can help simply and expedite your need to find a dentist when urgent care situations happen in your life. There are times when a walkin dentist is the only thing that will do, and your situation needs immediate attention.
No Map Is Required
---
Louisiana Dental Center
Website: www.ladentalcenter.com
Address: 4232 St. Claude Ave., New Orleans, LA 70117
Phone Number: (504) 947-2958
Description:
This New Orleans emergency dentist office is able to handle emergency walk-in and appointments on Saturday. Their clinic consists of 9 dentists thorough trained in dentistry (DDS) including Pediatric, Periodontist, and Endodontist specialists. This team of doctors use the latest technologies and provides a plethora of dental services. One of their claims to fame is that they are the preferred dental office for the New Orleans Saints! Finding a reliable after hour dentist is not an easy task, but if they were selected to watch over the football stars, you know they are in the top-notch rung of professionals.
Monday – Thursday 8 am – 4 pm
Friday 8 am – 3 pm
Saturday 9 am – 2 pm
---
Westside Dental Group
Website: www.westsidedentalgroup.com
Address: 4001 MacArthur Blvd, New Orleans, Louisiana 70114
Phone Number: (503) 368-7000
Description:
The Westside Dental Group consists of four well-trained and experienced dentists. If you are facing a critical dental need their office is focused on providing affordable, high-quality treatment that fits your budget! A number of different payment options are offered including cash, checks, credit card, and low and no interest financing to Louisiana residents. As you would expect, the high caliber staff offers a wide range of dental services. This 24 hour dentist in New Orleans, LA has hours from 7:30 am to 6 pm and they are available some Saturdays to manage your emergency dental care needs.
Monday – Thursday 7:30 am to 6 pm
Friday 7:30 am to 3 pm
Weekends – Closed
---
Barataria Dental Emergency Services
Website: www.baratariadental.com
Number: (504) 358-8632
Office: 2272 Barataria Blvd. Marrero, LA 70072
Description:
Dr Burmaster heads the staff here, a Loyola University graduate who earned her doctorate from the Louisiana State Unversity School of Dentistry. Striving quickly to service everyone who walks in with an emergency as soon as possible, new patients will feel relieved here when they realize they will not be treated as just a number, and every measure will be taken to assure their comfort. A dental emergency actually can rank about as high as anything in terms of a very stressful and tough situation; Barataria Emergency Services is a choice for those in New Orleans that need pain relief quicker than obtaining it during business hours. Having an urgent care dentist in your schedule book is going to make you feel at ease, knowing that a specialist will be there to help you no matter what the hour.
Monday 8:30 am to 5 pm
Tuesday 9:30 am to 7 pm
Wednesday 8:30 am to 5 pm
Thursday 9:30 am to 7 pm
Friday 8:30 to 3 pm
Weekends – Closed
---
New Orleans Dental Center: Emergency Services
Number: (504) 347-6000
Office: 1901 Manhattan Blvd., Suite F-201 Harvey, LA 70058
Doctors: Dr. Wendy M. Maes
Website: http://neworleansdentalcenter.com/services/services.html
Description: Located just minutes from downtown New Orleans, this Dental Center is equipped to help with urgent issues such as root canal therapy, extraction, and examing teeth that are experiencing severe pain. Putting emergencies off may lead to a serious and drastic infection, and this clinic strives to provide same-day service, also allowing you to apply for CareCredit right on your smartphone. The office just holds standard weekday hours, but will contact a physician on duty in the event of a severe dental emergency, which should never be taken lightly. A Saturday dentist will be able to make sure that any cracked teeth or other mishaps will be able to be taken care of for your entire family, no matter what the hour.
Driving Directions
---
You now have options for an emergency dentist in New Orleans, LA. We hope you were able to find someone that can help you with your dental emergency. So many people end up in pain and can't get the help they need because it's the middle of the night or the weekend. With these emergency dentists, you don't have to worry about that at all.
At Emergency Dentist USA, we care about your health. We wouldn't work so hard to connect with dentists in the country if we didn't. Since we do care about you, please be sure to get your routine oral check ups in during the year. They are important. While you may not be able to avoid an accident that leads to trauma of the mouth, you can avoid some of the disease-related emergencies such as tooth decay and gingivitis. You can learn more about these oral diseases on the New Orleans Dental Association website.
Please consider sharing this website with your friends and family on social media or by word of mouth. You can simply let them know that Emergency Dentist USA has a list of weekend dentist options and after hours dentist options. This way they can come here and find the help they need no matter where they live.
We hope you feel better soon from your dental emergency and look forward to helping you again.
Who's the best 24 hour emergency dentist in Baton Rouge, LA?