Helping Atlanta Residents Find IMMEDIATE Dental Services Everyday.
Get relief from chipped, cracked or lost tooth
Abscess, toothache, mouth pain
Emergency dental surgery
24 hour services - Includes weekends, nights and holidays
Find a Dentist 24/7
Near You IMMEDIATELY
Click or Call Toll-Free
1 (678) 825-3810
Emergency Dentist Atlanta, Georgia
---
We Specialize in Atlanta Emergency Dentistry: Call 24/7: 1 (678) 825-3810
Monday – Friday, See An Atlanta Dentist The Same or Next Day/Night You Call!.
Saturday And Sunday, "See An Atlanta Emergency Dentist In Hours."
Atlanta, Georgia is a great city with a lot of resources, especially for dental care. What many people have a hard timeh with is finding a reputable emergency dentist in Atlanta. While you may find some dentists in Atlanta who are willing to work off hours, many of them are not really providing emergency dental services. Instead, they are just providing crisis intervention and then see people the next day in their office. This may work for you and if you know a dentist doing this, that's great.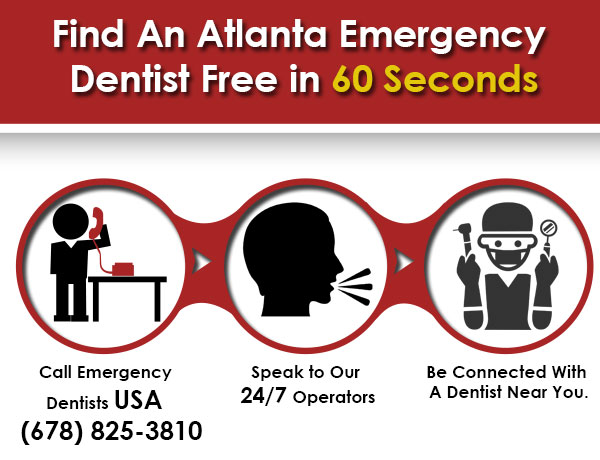 However, some people need more emergency dental care. They may need a tooth extracted, a filling, or even cosmetic surgery. They may find themselves at their wit's end with no way to get the dental care they need, unless it's done with emergency dental services in Atlanta. This is why we've decided to create this website as a reference for emergency dentists in Atlanta.
Reviewing an Emergency Dentist in Atlanta
Many people do not want to see an emergency dentist in Atlanta before they have had a chance to investigate their background. This is completely understandable. Your dental health is just as important as your medical health, and putting that health in a dentists hands can be frightening. This is why we provide website URLS for all of the Atlanta emergency dentists we list here.
Get started with finding the perfect emergency dentist in Atlanta for your dental care needs by calling this emergency dental care clinic directory. The operator will ask you a few questions, and then pair you up with dentists that can meet your needs.
If you're at a crossroads, wondering to yourself "How am I going to find an emergency dental clinic near me?" you've come to the rigth place.
Urgent Dental Care in Atlanta, Georgia
For those of you who do not want to just receive names of emergency dentists in Atlanta, but rather want information about what they offer, the following dental clinic and dentist information is for you. Simple go through, read the descriptions and then go to the dentists' websites or call the number. You will find that all of the information you need for emergency dental care in Atlanta is a click or call away.
---
Emergency Dentists USA Referral Service Atlanta
Phone Number: 1 (877) 507-0879
Address: Various Dental Offices across Atlanta
Doctors Multiple
Description
This is another emergency dental office in Atlanta directory, but it's specifically for the city. You will receive a list of emergency dentists that have 24/7 dental care in Atlanta depending on your area in the city. Usually, you'll receive the closest office first and then each afterward is a bit farther away. A great place to find emergency dental care with or without insurance. Easily find Georgia emergency dentists with our service.
---
Atlanta Dental Group PC
Phone678-954-2416
Address: 1624 Piedmont Avenue NE, Atlanta, Georgia 30324
Website: www.atlantadentist.com
Doctors: Tracey Martin, BS, AA ,RDH
Description: This dental healthcare team is ready for you day or night. With dental professionals available day or night at their 24/7 dental care clinic in Atlanta, you receive all of the services you would expect from a regular dental office that has normal business hours. Feel free to use this dental office if you have children. They are kid-friendly and are committed to helping children understand the importance of good dental health.
Monday 8am-5:30pm
Tuesday 8am-5pm
Wednesday 8am-5:30pm
Thursday 8am-5pm
Friday 8am-4pm
Saturday 8am-4pm
---
Dr. JD Murray
Number: 404-348-8845
Office: 3730 Carmia Dr, Ste 107. Atlanta, GA 30331
Doctors: Dr. JD Murray
Website: www.emergencydentistatlanta.net/
Description: Located in the heart of Atlanta on Carnia Drive, this is an excellent choice for an emergency dental location, as it is open two Saturdays a month. This practice understands completely that tooth and gum pain can really catch you off guard, and they will treat your emergency with a great amount of diligence and personal interest. This city is a large hub for business meetings and trade shows, and has one of the busiest airports in the world; knowing where to find first class emergency dentist service will put your mind at ease.
Monday 8:30am – 6:00pm
Tuesday 8:30am – 6:00pm
Wednesday 8:30am – 6:00pm
Thursday 8:30am – 6:00pm
Friday 8:30am – 6:00pm
Saturday 10:00am -2:00pm
---
Atlanta's Dentist
Number: 404-762-9615
Office: 2685 Metropolitan Parkway, Suite J1 Atlanta, GA 30315
Doctors: Dr. Juan E. Reid
Website: www.aapollodental.com/
Description: Atlanta's dentist works hard 7 days a week to provide you with the opportunity to have a weekend dentist appoint as well as after hours dental care on weeknights. They have excellent Sunday dentist hour every week but they change from week to week so we're not able to list them accurately here. You can also get in for a Saturday dentist appointment from 11am til 9pm! You can't go wrong by chosing Atlant's dentist as your emergency dentist specialist.
Mon – Sat: 11am – 9pm
Sun: Hours vary
(Emergencies & walk-ins accommodated daily)
---
Pure Dental Health
Number:678-666-3642
Office: 2285 Peachtree Rd NW, Suite 203, Atlanta, GA 30309
Doctors: Dr. Justin Scott
Website: www.puredentalhealth.com/
Description: Being open Monday to Friday from 7am til 7pm, Pure Dental Health is a great choice for an urgent care dentist in Atlanta. Their weeknight hours open til 7pm means any day of the week you can get in to see their walkin dentist specialist after work every night!
Hours: 7am-7pm Monday-Friday
---
Atlanta Dental Care
Number: 404-762-5441
Office: 171 Cleveland Avenue SW Atlanta, GA 30315
Doctors: Dr Allen
Website: www.atlantadentalcare.net/
Description: This Saturday dentist gives you from 9am til 1pm every Saturday to get in and see them. Atlanta Dental Care provides a fantastic service and has a very comfortable office. Their staff will treat you like your family! If you're struggling to find a weekend dentist in Atlanta, this is the place you should call.
Monday – Friday 9 am – 5 pm
Saturday 9 am – 1 pm
---
Modern Dental
Number: 404-589-0900
Office: 545 Edgewood Avenue Atlanda, GA 30312
Doctors: Dr. Eric Lawton
Website: www.moderndentalatlanta.com/
Description: Modern dental offers weeknight hours until 6pm every day except Friday. If you need to get to the dentist tonight after work please don't hesitate to call this dentist and setup an appointment. Their weekend hours are limited to only one Saturday a month so please call ahead and see if they're open this Saturday.
Monday 8am – 6pm
Tuesday 8am – 6pm
Wednesday 8am – 6pm
Thursday 8am – 6pm
Friday Selected Fridays
Saturday 1 Saturday per month
---
Buckhead Dental Group
Phone404.261.5388
Address: 3111 Piedmont Rd. NE Altanta, GA 30350
Website: www.buckheaddentalgroup.com
Doctors: Dr. Louis and Charles Freedman, Dr. Terrell Weitman, Dr. Ayesha Rahman
Description:
These dentists are commited to your dental health. Since Atlanta has so many people who are in need of emergency dental care, there are more than one dentists working throughout the day and night. You will find everyone is very friendly and you can receive dental care and esthetics. They offer all dental services including cosmetic, restorative and mouth reconstruction procedures. If you are seeking extensive dental care in Atlanta, call the beforehand. That way you can find out how much time you will need and when the best time is to come in that day or night.
---
Atlanta's emergency specialist: Tucker Dentist Office
Number: (770) 934-0770
Office: 4060 LaVista Road Tucker, GA 30084
Doctors:
Website: http://www.aatlantaemergencydentist.com/a-atlanta-emergency-dental.html
Description: The best asset of this Atlanta emergency dentist is that they are here for you seven days a week! One of the hardest things to find in this busy city, this clinic also participates in Care Credit, making it easier to finance the treatment you desperately need. The staff here will accept walk-ins, so when your abscess or otherwise aching tooth is getting worse and worse, you can find immediate comfort knowing the staff is welcoming you here. Root canals, extractions, and attention for severely aching teeth are a few of the services that you can obtain here at Tucker Dentistry.
Driving Directions
---
 Who's the top 24 hour emergency dentist in Augusta Georgia?
The importance of dental care for adults and kids cannot be emphasized enough. If you haven't seen a dentist this year yet, it's time for it now. If you're seeking an emergency dentist in Atlanta, it's likely you have are already in pain. Use one of these Atlanta emergency dentists, and then start preventative care. You wouldn't be in so much pain now if you were able to catch the problems you're now experiencing. Of course, this isn't always the case. When you've experienced trauma, preventative dental care may not help. However, it's important to have that care to ensure no other problems pop up.
Call one of the dentists are directories above. For more information on each dentist, following website's URL. Soon, you will be in the dentist's chair getting the dental care you need in Atlanta.