Best Whitening Mouthwash: What to Look For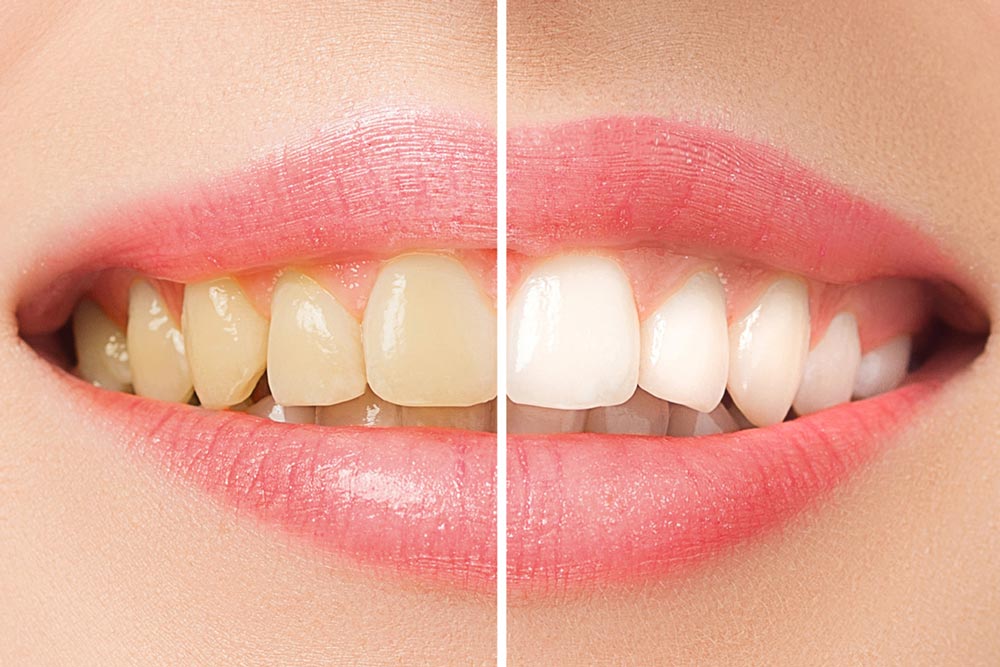 We all want a brighter, whiter smile but can we achieve this at home without using the harsh, chemically-driven products that need to be left on for an extended time, usually overnight? Yes, it is possible with the addition of specifically formulated mouthwashes that contain a combination of effective ingredients to help whiten the teeth in conjunction with brushing and flossing regularly, to your dental care routine. It has never been more important than now to take care of our mouths, with the rise in consumption of foods laden with preservatives, colors, and sugars.
Ensuring your dental healthcare regime can stand up to scrutiny by your dentist will mean that you are on the right path to optimum dental health, including healthy, bright teeth. Of course, we understand that patients want to dazzle with their smiles. Therefore, in this post, we discuss the safe but effective ways to whiten and brighten the teeth using a mouthwash in addition to your usual dental health care routine.
Why Use Mouthwash to Whiten Teeth?
Using a mouthwash regularly, in combination with brushing and flossing, can further help to prevent tooth decay. Certain mouthwashes are available to help prevent stains, too, and protect the teeth for a number of hours after use. The American Dental Association (ADA), recognizes that there are two ways to effectively whiten teeth. One of the options is to use hydrogen peroxide which is a bleaching agent. It can usually be found in in-office and at-home products such as whitening gels that act to remove staining. The second option is to use hydrogen peroxide in products such as whitening toothpaste and mouthwashes to remove surface stains. Since it is possible to overdo the whitening treatments, thus causing unnecessary sensitivity, using a whitening mouthwash is a great middle ground. The mouthwash is used regularly, and slowly but surely works to remove surface stains, while maintaining the integrity of the teeth enamel.
How Do Whitening Mouthwashes Work?
Whitening mouthwashes are usually based on the main ingredient, hydrogen peroxide. These mouthwashes work by cleaning while also strengthening the teeth. Hydrogen peroxide cleans and whitens, but also protects the teeth from further staining, while the addition of ingredients such as fluoride work to strengthen teeth by fortifying the teeth enamel. These mouthwashes further act by killing bacteria and combatting bad breath.
What to Look for in a Teeth-Whitening Mouthwash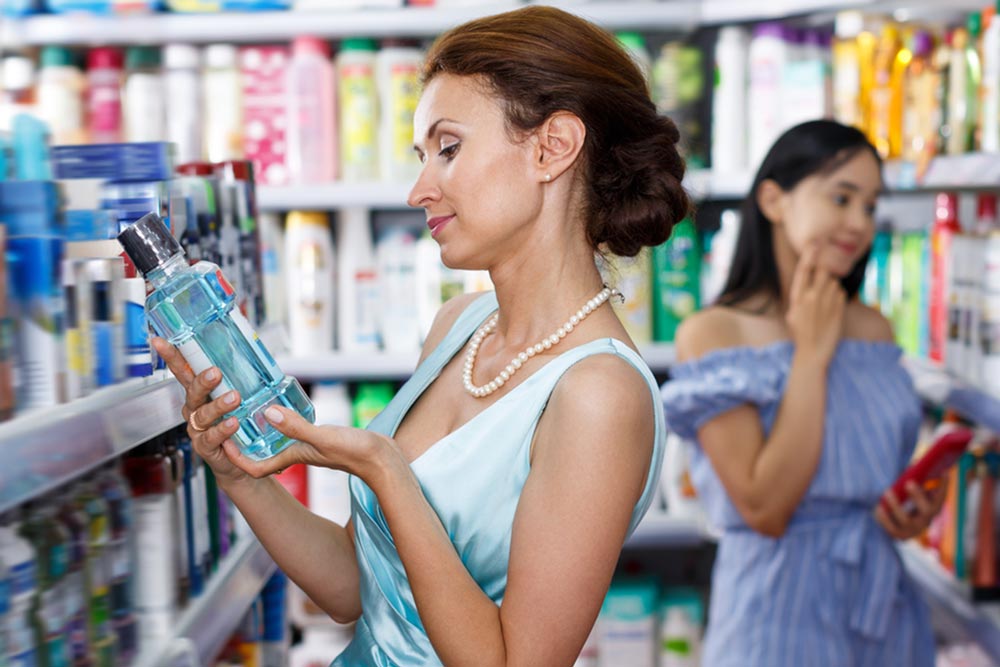 As we know, not all mouthwashes are created equal. It is important to choose a mouthwash that is right for you and, in doing so, avoid some of the side effects that can occur (e.g. sensitivity). When looking for a whitening mouthwash, the level of hydrogen peroxide in the formulation should not be excessively high, otherwise, you may experience damage to the teeth enamel as well as damage to the skin tissue within the oral cavity. Ideally, you'll be looking for a whitening mouthwash that contains no more than 2% hydrogen peroxide. At this level, it will effectively whiten the teeth with regular use, but not lead to any harmful side effects.
However, we are not only looking for a whitening mouthwash that contains hydrogen peroxide. It should ideally contain fluoride to fight against cavities and some additional ingredients to neutralize odors. It also should be free from alcohol. This is because alcohol within oral care products can significantly add to the effect of dry mouth which is counter-intuitive in a mouthwash because a lack of saliva can often lead to bad breath as the saliva is needed to wash away the bacteria and dead cells that contribute to bad breath.
What Is the Best Whitening Mouthwash Available?
There are many effective whitening types of mouthwash on the market these days, but our top choice is the ever-popular Crest 3D White Luxe Glamorous White Multi-Care Whitening Mouthwash. Aluminum free, paraben free, sulfate free, dye free, and phthalate free…it is a seriously impressive product when it comes to whitening gently and safely, slowly at home. Its triple action formula works by removing surface stains but uses its specially formulated exclusive White Lock Technology to help prevent further stains. It is an effective mouthwash with a very powerful whitening effect that can begin to have a noticeable difference in just a few days of regular use. Were commend continuous regular use for a few weeks to achieve the maximum effect though.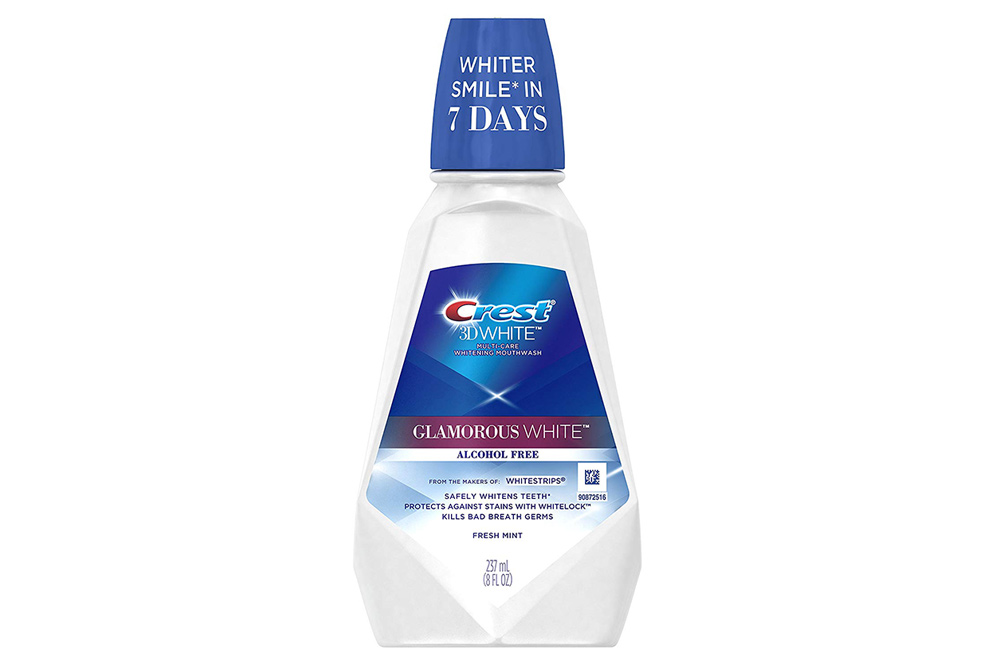 Not only can this mouthwash remove stubborn surface stains on the teeth, but with the additional beneficial ingredients in this formulation, it helps to protect the gums too, by destroying the bacteria that get to work soon after eating and drinking. Please note that although this product claims to produce a whiter smile in just a few days, it does need to be used with a regular routine of brushing and flossing, with the relevant whitening products in those categories to really pack a whitening, brightening punch.
It includes the ingredients, water, glycerin, sodium saccharin, poloxamer 407, citric acid, sodium hexametaphosphate, and propylene glycol, although these are only added to complete the mouthwash recipe and are not active ingredients.
Final Thoughts
As we have already mentioned, it is recommended to use any mouthwash, including those in the whitening category, as part of a dental health care routine that includes brushing twice daily and flossing once daily, for it to have the desirable—and advertised—results. Remember, too, that hydrogen peroxide is highly acidic with a pH level of 4.4, so continuous and prolonged use of hydrogen peroxide within any product could have a damaging effect on the teeth enamel. It is also imperative to take care of the gums, not just the teeth, and, although a mouthwash is no substitute for brushing or flossing, it can, in addition to these actions, help prevent bacterial growth, cavities, and gum issues. When using a mouthwash and wish to achieve a whitening effect, it is recommended to choose one with whitening capabilities because if your teeth do not require significant whitening at the levels attained in the dentist's office, this is the perfect solution to reach the desired effect, and why we have recommended the Crest 3D White Luxe Glamorous White Multi-Care Whitening Mouthwash.
Relate Posts to Read:
The Best Mouthwash for Mouth Sores