Food to Eat with Braces: What You Can and Can't Eat with Braces in 2018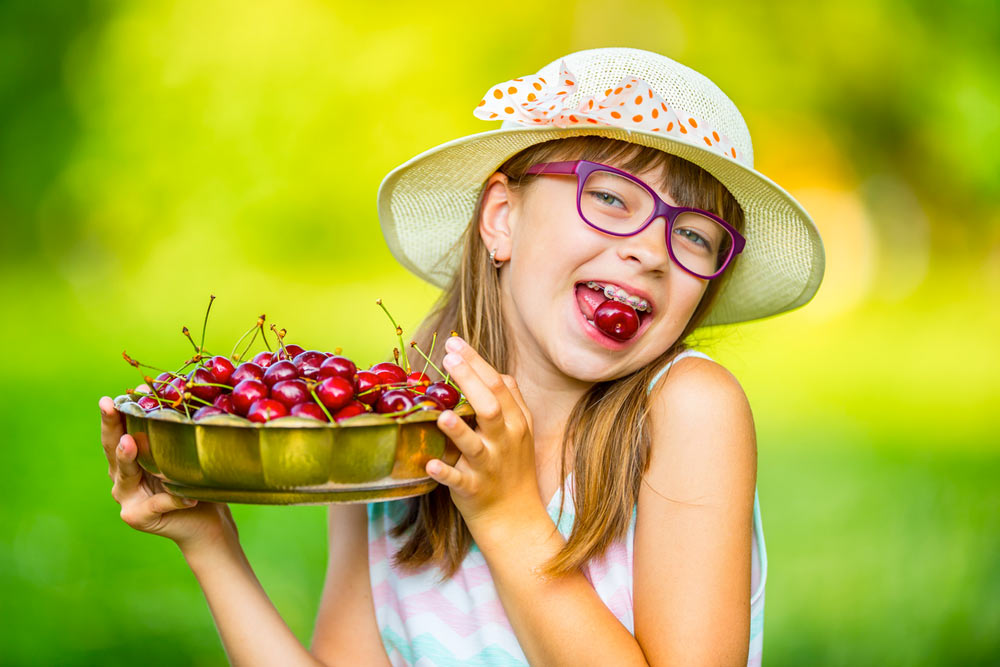 Braces are the things that you look back on and think "I am so glad I had braces," but at the time, it doesn't feel this way. They can be uncomfortable and annoying and seem to come with a bucket load of restrictions. Don't do this, don't do that—it becomes hard to know whether anything is acceptable when you have braces. Will eating tough pizza crust or raw vegetables damage your braces? Do you have to stick to soft tortillas and scrambled eggs? In an attempt to put a positive spin on things, we wrote this article to look into the sticky foods, hard foods, and soft foods that you CAN eat with braces in 2018 along with a smaller list of foods you should avoid.
Foods to Eat When You First Get Braces

The first week after having braces fitted you might feel some discomfort and soreness. This is entirely normal and can be managed with pain relievers. A common at home treatment for the discomfort you feel when the braces are new is a salt and warm water mouth rinse. The salt will clean out any bacteria that has gathered in the mouth preventing potential infections and will help to reduce the swelling. Because of the likely tenderness that naturally comes with first having braces fitted, the food you eat for the first week or so will probably be different from the usual things you will eat day to day. Soft foods such as soups, steamed vegetables, bananas, porridge, and mashed potatoes will be a lot easier to eat during the first few days of having braces. For those struggling with swelling or discomfort try eating frozen yogurt or soft ice creams. The coldness will provide some temporary relief.
Foods for Braces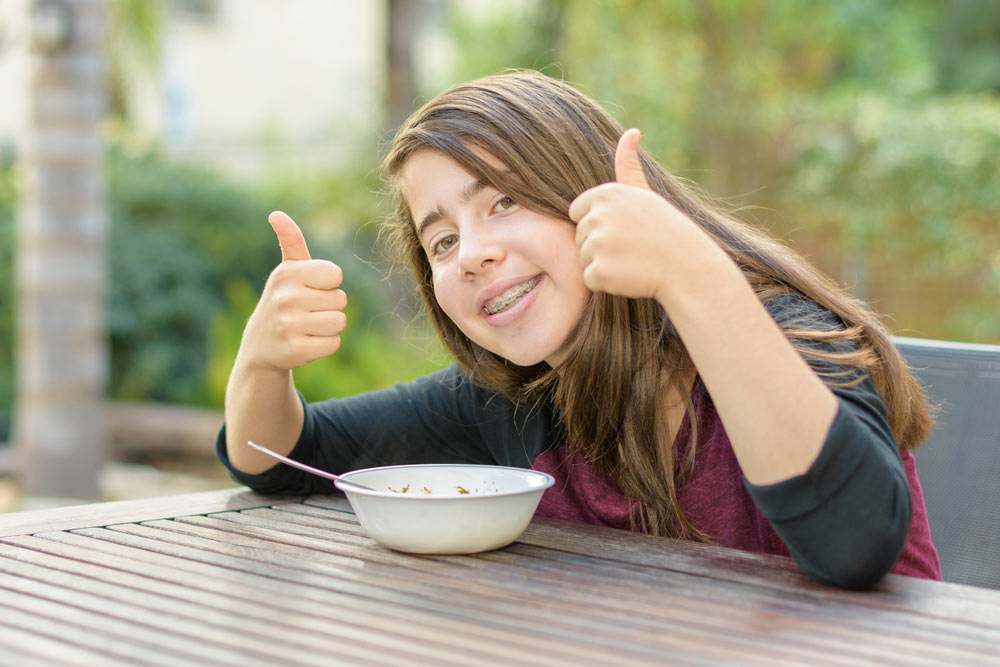 Softer fruits and vegetables like mashed swede, applesauce, peas, bananas, oranges, mashed potatoes, sweetcorn, etc. are perfectly fine to eat with braces. If you prefer apples, pears, and peaches, these are still OK to eat as long as they are sliced. Biting into the fruit directly, could damage the braces and is much easier to get them caught. The same goes for meat on the bone. If you are a lover of chicken drumsticks or thighs, you can still eat them just remember to pull the meat off the bone with cutlery or your fingers first rather than biting into it. Other foods that you can eat with braces are soft cheeses, noodles, rice, pasta, eggs, hot dogs, burgers, beans, chili, curries, and much more. When it comes to meat, the more tender it is, the better as chewy meat can be a nightmare to try and get out of your braces. Fish, such as cod, haddock, salmon, etc. are packed with natural oils and are high in omega-3 making it a perfect food to eat—and it won't affect braces. You just need to be really careful that there aren't any bones because fish bones could cause all sorts of issues for braces. Big crunchy baguettes probably aren't the wisest of choices for braces, but soft bread and soft bagels are fine as well as soft tortillas.
Foods You Should Avoid with Braces
The last thing we want to do is list a whole load of foods that you shouldn't eat as you've probably been told about it a million times. However, just in case you aren't aware there are some things that shouldn't be eaten with braces. Hard foods like crusty rolls, nuts, raw carrots, and chips can damage the brackets and wires of the braces so its best if these are avoided. Beef jerky and other hard types of meat can cause the wires to come loose and tacos or Doritos can cause tough staining. Sticky candy is bad for your teeth regardless of whether you have braces or not but eating them with braces can cause damage to the fixtures. The gooeyness of the candy can also get jammed into areas that you cannot reach which will encourage tooth decay. This type of candy includes Tootsie Rolls, jelly beans, licorice, sugared chewing gum, jelly babies, caramels, toffee, and other sticky items. The worst thing to chew with braces is ice. It can cause significant damage to the braces so be really careful that you avoid it at all costs.
Sweet Treats for Braces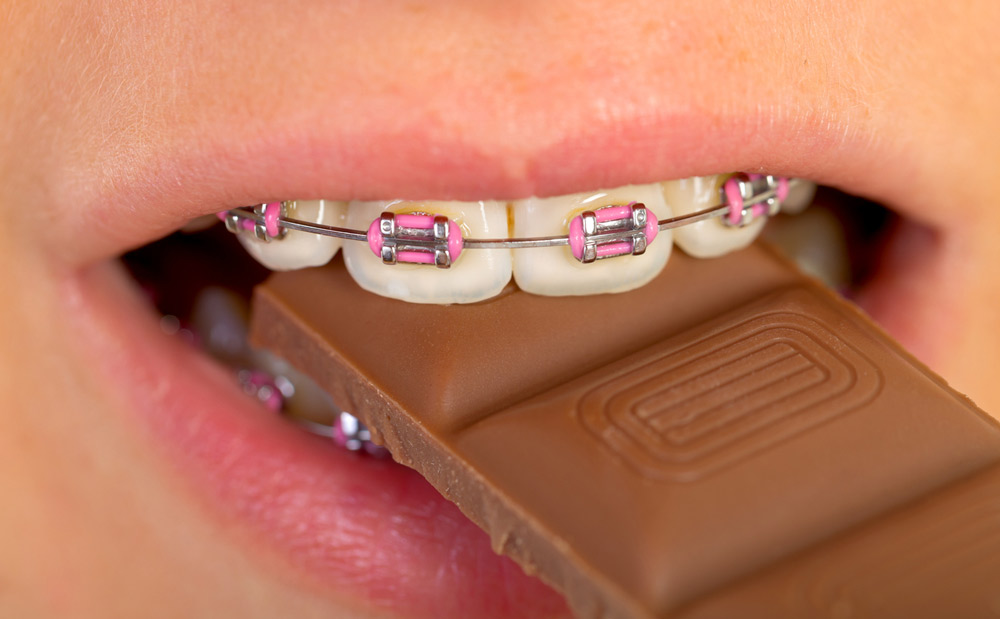 We couldn't give you a list full of sweet treats and tell you not to eat it with your braces without giving you a list of some that you can. It's not all bad you can still enjoy some sugared items. Some sweet treats that you can eat with braces include muffins, Jell-O, milkshakes, pancakes, yogurts, ice cream, soft cakes, and sugar-free chewing gum which actually has some benefits when it comes it braces. The most important thing to look out for in sweeter items is whether or not they contain nuts. Quite often, nuts are hidden, and when bitten into unaware, they can damage the wires and brackets of the braces. Most importantly, though, is that it's not all bad news. You won't have to suffer through a liquidized meal plan for months on end, and you won't have to go sugar-free either.
Maintenance

Throughout the period of having braces, it is extremely important that oral hygiene is maintained. Braces make it a lot harder to brush your teeth but it's vital that you do so otherwise tooth decay will become an issue. Flossing is also advised for those with braces as food particles will get stuck in hard to reach places and flossing may help with that. The last thing you want is to have braces and tooth decay.
Being sentenced to braces isn't a bad thing. Yes, they can be uncomfortable, and yes, they can become annoying—but it isn't all bad. While there are some types of food, you should avoid there is still plenty that you can eat including some sweeter options. So, after maintaining your oral health and watching what you eat when the day comes to remove the braces, you will be left with a straight and gorgeous smile.
Relate Posts to Read:
Broken Braces and Brace Wires: Symptoms and Solutions