How Do Dental Loupes Work?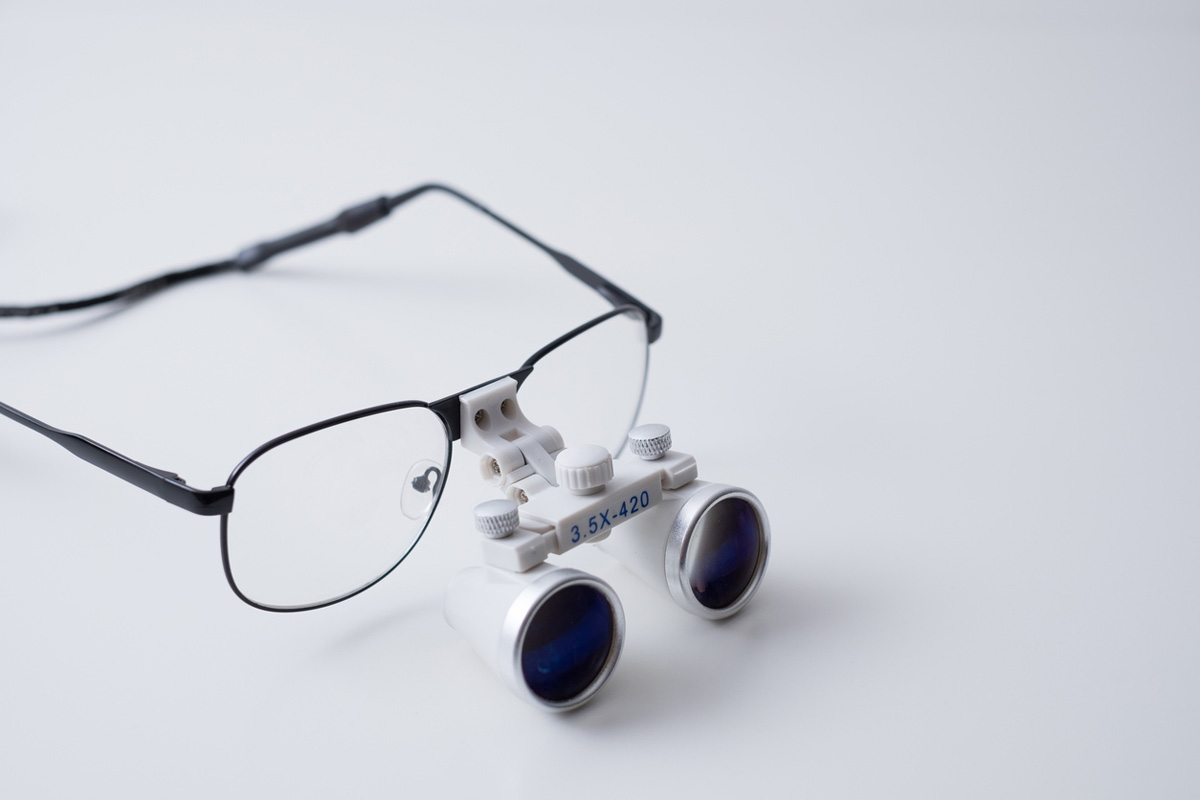 Dental loupes are small devices which dentist hygienists use to help magnify a patient's mouth and make their teeth and gums appear larger and clearer. They have focusing lenses inside of an opaque cylinder and typically come attached to frames as eyewear. Some dental loupes, known also known as surgical loupes, fold into an enclosed and protected area to protect it while not in use. Dental loupes are considered magnifying eyewear and can significantly help dentists while they are examining a patient's teeth and gums.
What Are the Benefits of Using Dental Loupes?
Dental loupes act as magnifying glasses and enlarge what can be seen inside of a person's mouth. There are many different reasons why these special types of glasses are worn. First, and perhaps more importantly, they help significantly improve a dentist's vision by magnifying everything in their field of view. Dental loupes also make it easier for a dentist to look inside of a person's mouth, minimizing slouching while performing the treatment.
Dental loupes help dentists complete more precise and accurate dental work while also allowing them to maintain proper posture.
How Do Dental Loupes Work?
Dental loupes have small magnification devices which are typically attached to a frame, allowing the dentist who is using them to magnify the object they are viewing. But how do they work exactly?
Dental loupes rely on the refraction of light through lenses to magnify the object in question. The lenses, which are transparent and are usually made of glass or plastic, typically have a curved surface. When a lens magnifies an object, it does so with the refraction of light. When light hits the surface of the lens on dental loupes, the light changes direction (refracts), making the light waves focus in on the focal spot behind the lens. The person who is viewing the object through the lens then sees the object appear closer because of this change of direction in the light.
Here is a brief explanation of how dental loupes lens works in a dental scenario:
Light reflects off of the surface of a tooth.
The light that is being reflected off of the surface of the tooth then hits the lens in the dental loupes. This causes the light to change direction (refract).
The refracted light then passes through the dentist's pupil.
The light focuses on the retina and an image is produced by the dentist's brain.
The lens on the dentist's device has caused the light to change in direction. This makes the tooth appear much closer than it actually is, allowing the dentist to see a larger image of the tooth and allowing him or her to examine even the smallest of details on it.
There are many different ranges of magnification which dental loupes can be purchased in, ranging from 2.5x to 6x magnification. The stronger the lens, the more magnified the object being viewed will be. This is all determined by the focal length of a lens, which is the distance from the center of the lens to the focal point. If a lens has a shorter focal length it will be more powerful and thus more magnified.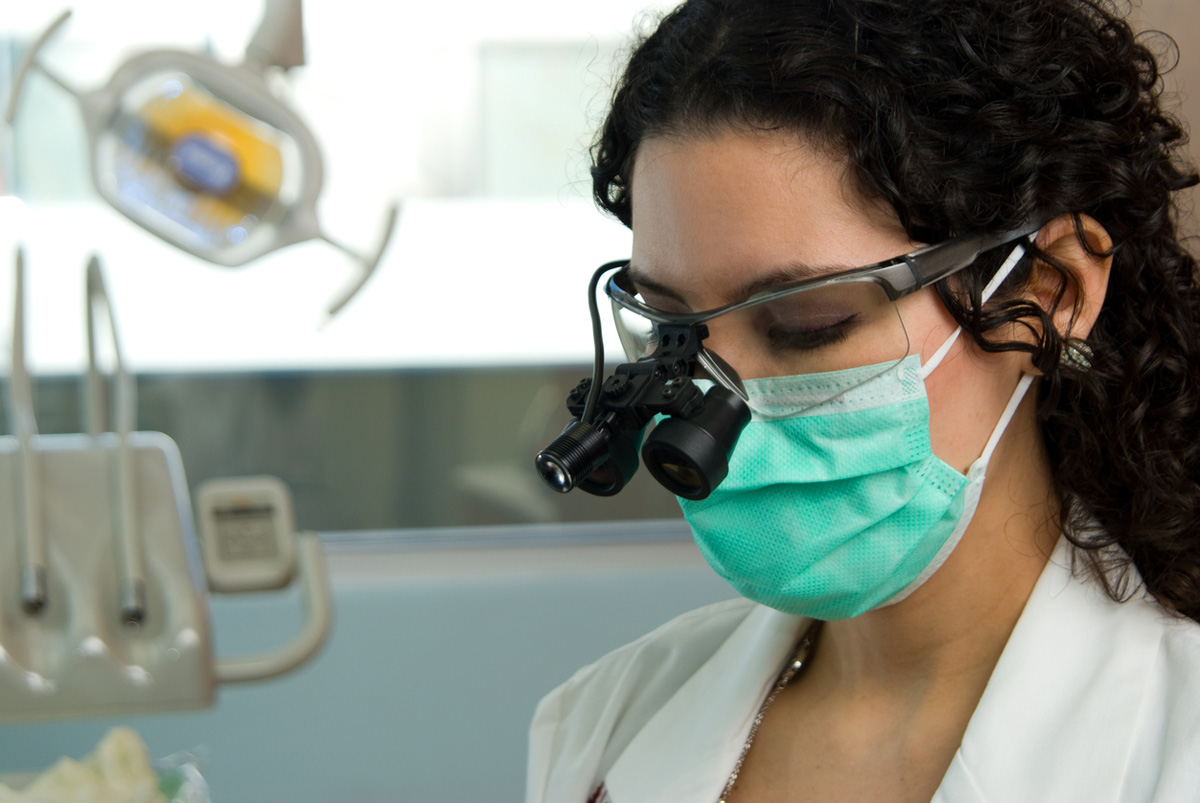 The Importance of Lenses in Dental Loupes
The quality and type of lens in dental loupes will determine how strong it is and how magnified and clear the image will be. There are many things a dentist should keep in mind when considering the type of lens to use in his or her dental loupes, including:
The Different Types of Dental Loupes
There are two types of dental loupes a dentist can use, including:
Flip-Up Loupes
Flip-up loupes can be attached to a moveable arm and can also be manually adjusted. They are generally much cheaper than other types of loupes. Flip-up loupes can be flipped up when not in use but are typically heavier than other loupes and offer smaller fields of view.
Through-the-Lens (TTL) Loupes
Through-the-Lens loupes are built into glasses and are built to specially suit a dentist's eyes. They are lighter in weight than flip-up loupes and offer a wider field of view because the optics are much closer to the eyes. TTL loupes cannot move out of position and are generally more expensive than flip-up loupes. Because TTL loupes cannot be flipped up, they can make it a bit more difficult to communicate with patients. TTL loupes also tend to have poor resale value because they are only suited to the dentist they have been made for.
The Importance of Dental Loupes in Dentistry
Dental loupes allow a dentist to have a better view of their patients. Dental loupes also allow dentists to maintain proper posture. They are some of the most important devices dentists can use to improve their dentistry and make accurate diagnoses while providing proper treatment.
Dental loupes not only offer better fields of vision for dentists when they are performing on patients, but they also offer improved ergonomics. Dentists tend to experience a great amount of back and neck pain because they are constantly bending. This causes poor posture. Dental loupes can help dentists maintain a healthy posture, reducing back and neck pain while also improving their vision and allowing them to identify even the smallest of details during dental treatments and procedures.
A good pair of dental loupes not only offers a clear and magnified picture but also offers a good depth of view which promotes better posture while offering a brighter picture and excellent resolution. Some other things to consider are the size of the field of view, the ease with which they can be used, their weight, and how comfortable they are.
Medically Fact-Checked & Written by Our Dental Editorial Team
You can read more about our editorial guidelines by clicking this link and learn more about the Emergency Dentists USA editorial team here.