Signs of Infection after a Root Canal: Causes and Treatments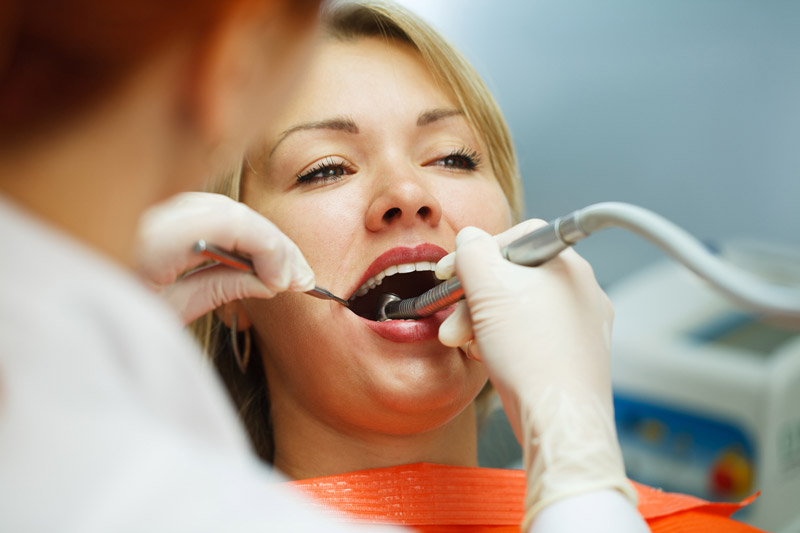 You had a root canal procedure and expected to have a normal recovery.Who doesn't? But now you are noticing things that do not seem quite right. It is possible that you have a post-procedure infection or it is even root canal failure? How do you know for sure? First, let us take a quick look at the basics of a root canal.
Overview
It used to be that if a tooth becamefilled with cavities, develop an abscess, or the surrounding gums and soft tissue are otherwise infected, it would need to be extracted. Thank goodness for advances in technology and endodontic treatment! Now, even if you have a couple of bad teeth, you can keep your smile intact.
In very basic terms, root canal treatment removes the bad parts of the tooth and dental pulp while leaving the good parts in place. Natural polymers are used to fill in the gaps left by the removal of the diseased areas. The whole tooth is then sealed with a crown to protect it from further damage.
In a perfect world, the whole procedure really is that simple. However, there are a few things to consider that may cause your recovery to go awry. These are possible reasons for reinfection.
Causes
Tiny Roots
The roots of your teeth are very similar to the roots of a tree. There is one bigger root, with several smaller roots that are offshoots.It is essentially a whole network of roots.
In a root canal, it is often easy to find disease in the bigger roots, but it is very possible to miss an issue in a smaller root. Fortunately, recent technology includes imaging by Total Medical Imaging that can help a dentist see problems in even the smallest roots of your teeth.
In some instances, however, a smaller root may be overlooked. If that happens, and the procedure on the rest of the tooth is completed, you may start to experience pain in the same area of the original root canal.
Crowns
As mentioned above, once the diseased area of the tooth has been removed and filled, a crown is placed on top to protect the tooth. This does not occur during the actual root canal, so you may receive a temporary crown at this time.
The permanent crown needs to be fabricated so that it is the perfect fit to cover the tooth. This usually takes up to 10 days, meaning that you may have almost two weeks in between your initial root canal and the placement of the final crown.
During this time, it is very important to follow proper dental hygiene procedures, especially those given to you specifically for post-procedure care. If you do not, food can get caught in the tooth, which will cause bacteria to form, and then you will be right back where you started.
It is also possible for a temporary crown to slip or crack which could also lead to infection, but with proper care, this should not be much of an issue.
Keep in mindthat re-infection does not necessarily occur right after the initial root canal. In some cases, it might be months or even years before a reinfection appears.
Regardless of the cause, there are certainly identifiable signs that you have continuing issues in the area of the root canal.
Symptoms of Reinfection
It should not be too difficult to identify a reinfectionas, for the most part, the symptoms are the same as those that led you to need the root canal in the first place.
Pain and Swelling
After the initial root canal, the pain should subside after a few days. If it continues past day four or five, it could be a sign that the infection is still present. Likewise, if the tooth is feeling better, but then suddenly starts to feel worse, there is a good chance that bacteria has won again.
The exact same processes apply to swelling. If the swelling takes more than the stated amount of time to subside, or if it goes down but then reappears, you may have a reinfection.
Discharge and Abscesses
Pain is not the only sign of reinfection; discharge is also a particularly worrisome sign. If there is any type of discharge, it could be the sign of an abscess. An abscess occurs when pus that is contained in the tissues works its way through the tooth and out into the option.
Yes, it sounds disgusting…it is also a clear sign that you need to call your dentist immediately.
Treatment
If your dentist cannot get you in immediately, you will probably be told to treat the reinfection the same way you did the initial one: over-the-counter ibuprofen or acetaminophen to reduce pain and cold compresses to reduce swelling.
Second Root Canal
Your dentist may opt for a second root canal to ensure that all of the areas were cleaned out the first time. Special X-rays are used that can identify smaller roots that may have been missed. You can expect the pre- and post-procedure to be the same as the first root canal.
Apioectomy
This is usually only performed after at least one root canal is completed on an area. You will probably be referred to an endodontist for this procedure because it is performed under a surgical microscope. This allows the endodontist to see the smallest areas and ensures that every area is cleaned and sealed.
An apioectomy can take anywhere between 30 and 90 minutes depending on the location of the tooth; front teeth take a shorter time than molars. The complexity of the root structure is also a factor in the length of the procedure.
Post-Procedure Recovery
Whether you were treated via a second root canal or an apioectomy, the post-procedure steps will be similar. You can apply ice packs to any swelling and ibuprofen or acetaminophen can be used to address pain. The endodontist may also give you a prescription for painkillers.
Stitches can be removed anywhere from 2–7days after the procedure but swelling and tenderness can last for up to two weeks.
As with the initial root canal, it is important to monitor your recovery and call your dentist or endodontist immediately if you notice any of the aforementioned symptoms.
You really don't want to have to go for a third time, do you?