Invisalign Results: How Long Before They Start to Show?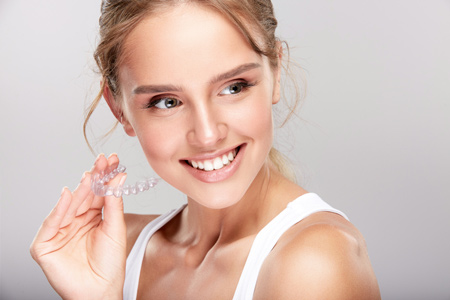 Traditional metal braces and other orthodontic treatment can be detrimental to a person's self-esteem and confidence. They also get in the way of your lifestyle choices. You can no longer eat what you want, the way you brush your teeth changes entirely, etc. That is why invisible braces like Invisalign are becoming so popular. With Invisalign, you can remove these clear aligners when you need to eat or brush your teeth and it's unlikely that anyone will notice you have them on.
However, you also may have some questions about how quickly they will give you the results that you want. You know that traditional braces take a while so does Invisalign outperform them? Let's talk about that.
Who Benefits from Using Invisalign?
If you want results at all, you first need to know whether Invisalign aligners can help you or not. According to WebMD, these are the people who likely will not benefit from using Invisalign over traditional braces:
This is because a child's teeth will continue to shift over time and the correction after Invisalign could be undone as the child develops.
Those with more severe dental issues. Invisalign is mainly used to correct minor problems with crooked teeth. While this method can still be used with severe misalignment, it will take much longer to see results.
Invisalign is recommended for teens and adults because the development of the mouth and teeth is slowing. You will see better results more quickly when you do not have to worry about your teeth shifting out of alignment again.
How Does One Get Invisalign Braces?
If you believe that you may be a good candidate for Invisalign, then you have to make an appointment with an orthodontist who works with this method. You will be given a consultation. This appointment determines if you are likely to see results from Invisalign braces.
During the consultation, the orthodontist will examine your teeth. Following that, they will take a 3D scan of your mouth. Then, they can map out how your teeth may look in the future if you pursue this treatment plan.
How Does Invisalign Work?
The difference in treatment time between Invisalign and traditional braces partially lies in how the Invisalign process works and how well you stick to your schedule and your dentist's advice.
First, you get several sets of aligners that you will use over a period of time. Many different molds have to be made to keep up with the way that your teeth shift as you use the Invisalign braces.
You wear your Invisalign for at least 20 hours every single day. This will keep them in place. Just like with retainers and traditional braces, not wearing them long enough will set you back and prolong the treatment process.
You will eventually switch out aligners according to the schedule your orthodontist has set for you to ensure the quickest results.
Every 4–7 weeks, on average, you will make a new appointment so your doctor can check your progress.
After your treatment ends, you will still need to wear a retainer to keep your teeth aligned.
When Will Invisalign Results Begin to Show?
Depending on how severe your misalignment is, you will have different time schedules for results to appear.
If your issues are minor, then you may begin to notice a distinct difference in as little as 10 weeks. More severe cases will begin to see their results in around three months, which is not too far behind the first group.
With traditional braces, it can take up to three months to see your first results as well. The average person will see their results in the time it takes for the worst cases of misalignment to begin correction in Invisalign.
All of these results, however, are predicated on a case-by-case basis. While you can estimate how long it will take to see results, it is best to consult with your orthodontist to get their opinion on how long tooth alignment may take for you.
Comparing the End Results: Invisalign vs. Traditional Braces
Overall, the average time to see the end results of your Invisalign journey is between six and 12 months. Like braces, you will then be given a retainer to wear every day in order to keep your teeth aligned.
With traditional braces, the average treatment time is anywhere from 18 to 24 months. That is twice as long as it would take to do an Invisalign treatment. If your result times will be on par with these averages, then Invisalign is the best option for you if you need your smile back in a hurry.
How to Find an Orthodontist Who Specializes in Invisalign Treatment
Finding an orthodontist who can accommodate your needs when you qualify for Invisalign can be a little frustrating if you do not know where to begin. Many of these specialists still prefer to push traditional braces as the best treatment option due to lack of technology or know-how.
You could always call your local offices and ask questions about treatment plans offered for tooth alignment, but that can take more time and effort than necessary. The creation of the Internet has allowed for a more useful and time efficient method for searching for a provider that can give you what you need.
Instead of calling your local offices, you have two convenient online options:
Open up your Google Maps app or bring up the site on your browser. Google will give you any listed orthodontist offices in your area. There may or may not be an option on each office's page for a website. You can search there to see what they have to offer. The downside to this is that you can't always get the information or links that you need. Some doctor's offices are still behind the times when it comes to modern technology as a means of communication.
 Let us help you with your search and have you in these virtually invisible aligners in no time. Just call our toll-free number at 1 (855) 282-1699. If you prefer not to call, then you can use our "Find a Dentist" function online at this link. We have databases for every State. This is likely your fastest and least stress-inducing option.
For more information on deciding if Invisalign is the right treatment option for you, check out this article. To be directed to Invisalign's website to learn more from the source, click here.
When you consume the drug, you get extra attentiveness and you tend to learn things faster than those who are not using any memory enhancers. vgrmalaysia It increases your capacity to learn an absorb things nearly three times more.
Medically Fact-Checked & Written by Our Dental Editorial Team
You can read more about our editorial guidelines by clicking this link and learn more about the Emergency Dentists USA editorial team here.