Night Guard Options for Grinding
Grinding your teeth, also known as bruxism, is the involuntary grinding of one's teeth, particularly while asleep. There are many reasons why someone might grind their teeth or experience teeth clenching at night. Some of these reasons include stress, anxiety, an abnormal bite, missing teeth, and more. Teeth grinding can also be caused by sleep disorders like sleep apnea. Most people who grind their teeth are not aware that they do it. More often than not, teeth grinding can cause frequent headaches and a sore jaw.
What Causes Teeth Grinding?
Teeth grinding affects roughly 30 million adults and children in the United States and can develop in a person at any age.
Teeth grinding is usually a direct cause of anxiety or stress. Other things like smoking, heavy alcohol use and depression can also be causes of teeth grinding.
Common symptoms of teeth grinding include:
Headache
Sore cheeks
Sore jaw
Tight jaw muscles
Swelling of face
Muscle aches
Sleep disorders
Ear pain
Abnormal wear in teeth
Treatment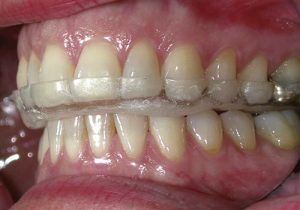 The treatment options available for teeth grinding depend on a lot of things, including what is causing it. This is why it is best to consult with your dentist first so they can examine you and come up with a treatment plan that works for you. One of the most popular forms of treatment and protection for teeth grinding to prevent wear on your teeth is the use of an occlusal appliance. Occlusal appliances have several different names, including:
Dental night guard
Bite plate
Occlusal splint
Occlusal bite guard
Bruxism appliances
These appliances are mouthpieces worn in the nighttime which are custom-made and fit into your mouth over your teeth. Dental mouth guards help reduce jaw pain and also protect your teeth.
Mandibular Advancement Devices
A Mandibular advancement device is a custom-made guard which fits over your bottom or top teeth. These devices are used when sleep disorders are the cause of your teeth grinding. If your teeth grinding is caused by sleep apnea, snoring or any other sleep disorder, your dentist is like to recommend a mandibular advancement device.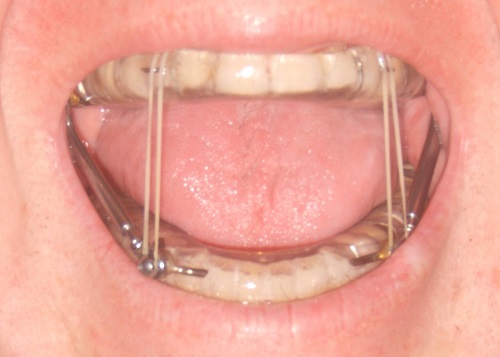 If stress or anxiety is the cause of your teeth grinding, it is suggested that you look into relaxation techniques like meditation which can help reduce and manage stress and anxiety.
Complications Associated with Teeth Grinding
Constant teeth grinding over a long period of time can result in all sorts of complications. Some complications which may arise from severe teeth grinding include:
Tooth damage
Headaches
Face or jaw pain
Temporomandibular joint disorders
Ear pain
Teeth grinding also means that you're likely not sleeping very well. When a person grinds their teeth, it means that they are tensing up their muscles. This takes their body out of deep sleep. Sleep plays a huge role in your overall health. If your sleep is being interrupted by constant teeth grinding, it can be detrimental to your well-being because of the major role sleep plays in the restoration of our bodies.
"Grinding and clenching your teeth can lead to a vicious circle of problems that affect your overall health and well-being. The muscles of mastication are very strong, capable of exerting tremendous forces. Grinding causes these muscles to become hyper-stimulated resulting in muscle fatigue as well as pain radiating to the neck, temples, jaw joint, ears and surrounding structures. Not to mention the irreversible damage done to your teeth. It can really make life miserable for you."
How do I Stop Teeth Grinding?
If you are grinding your teeth, you should consult with your doctor or dentist to weigh out your options. Your dentist can recommend a good mouthguard, while your doctor can give you options on how to reduce your stress. If a sleeping disorder is a cause of your teeth grinding, seek treatment for the sleep disorder to eliminate or reduce it completely. Other ways to reduce or eliminate teeth grinding include:
Cutting back on caffeine and alcohol
Training yourself not to clench your teeth during the day
Relaxing your jaw muscles at night by placing a warm cloth over your jaw
Avoiding gum
Avoiding the habit of chewing on pens or pencils
How do I Protect my Teeth?
People who grind their teeth at night typically use mouthguards while they are sleeping to protect their teeth. Mouthguards can protect your teeth as a preventive measure. There are many different night guard options for people who grind their teeth.
You can purchase over-the-counter night guards which are made of soft plastic. These night guards are fairly cheap and are similar to sports mouthguards except that they are much more comfortable for use while you are sleeping. To mold these types of night guards to your teeth all you have to do is boil them in water. If you are on a budget and are looking for a cheap and easy way to protect your teeth, you can buy this type of mouthguard at any drug store. Although over-the-counter night guards are convenient and cheap, they tend to be uncomfortable, which might not make them the best option.
Your dentist can also custom make a mouth guard for you. These types of mouthguards are extremely effective and offer long-term relief. Although these mouthguards work great, they are also very expensive, making them a less than ideal option if you are on a budget or if your insurance doesn't cover mouthguards.
You can also order professional mouthguards from private dentists. The only negative associated with this is that you have to take the molding yourself and then send it to a lab. The lab then makes the mouthguard and sends it back to you. The benefit of this type of night guard is that you can get the exact same mouthguard that your dentist will give you for a fraction of the cost.You can also choose between hard night guards or soft ones.
Professionally made, soft night guards are small and quite comfortable, but can also wear down much quicker than hard guards depending on the severity of your grinding habits. Hard night guards, on the other hand, are very durable. If you are an extreme teeth grinder or clencher, your best bet is to use a hard night guard.
You will also have to decide on an upper or lower mouth guard for your teeth. The type you need depends on any specific issues you may have with your lower or upper teeth and what your preferences and dentist recommendations are.
Medically Fact-Checked & Written by Our Dental Editorial Team
You can read more about our editorial guidelines by clicking this link and learn more about the Emergency Dentists USA editorial team here.