7 Easy Everyday Drinks That Fight Inflammation


The most common diseases that affect humans in modern times are all tied to inflammation. High blood pressure, diabetes, heart disease, oral diseases like gum disease, arthritis, as well as asthma and Inflammatory Bowel Disease.
In order to address the inflammation problem in our lives today we have to make lifestyle changes. This means making choices that make us more healthy but that are also acceptable within the framework of our normal day to day lives.
It doesn't work to try to be more healthy if it's going to make your life so difficult that you can't stick to it.
With this in mind we've created this helpful graphic which should make it easier to fight inflammation on a daily basis without going outside of your own comfort zone.
The drinks that we've included all contain strong inflammation fighting ingredients. You can see that we've included common household names like green tea as well as exotic new inflammatory fighting powerhouses like Turmeric.
At Emergency Dentists USA we like to help people avoid taking trips to the emergency dental office, but if you need help just visit us and call, particularly if you're seeking a local periodontists, or a dentist open Saturdays! From tooth extractions, to wisdom teeth, to finding dental care without insurance, we have you covered!
7 Easy Everyday Drinks That Fight Inflammation (Infographic)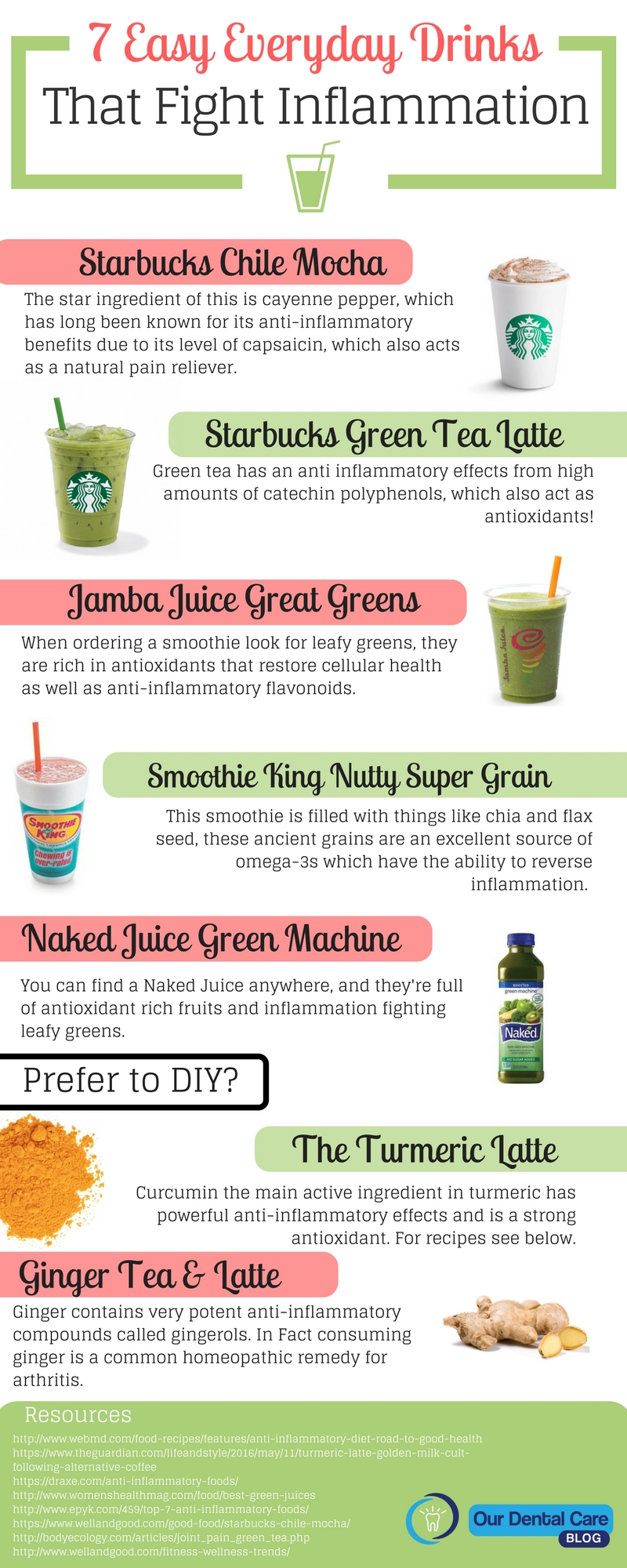 For recipes for the DIY section, see the links below. You're welcome to share or use this infographic but please add attribution back to this page. 
"Be sure to check the sugar content of these drinks, too. 'Healthy' drinks often hide large amounts of sugar that can counteract the healthy ingredients they contain."
Medically Fact-Checked & Written by Our Dental Editorial Team
You can read more about our editorial guidelines by clicking this link and learn more about the Emergency Dentists USA editorial team here.