If this is your first time hearing about a water flosser, also called a waterpik, or have seen a water flosser review before, one thing is for sure – they are changing the game in regard to how we take care of our oral health.
Water flossers replace your traditional dental floss for an easier, more effective way to floss your teeth.
They use a pressurized stream of water that removes bacteria, food particles, and plaque to clean your teeth using a method that's proven to be more effective and comfortable than using string floss. The gum tissue is also stimulated while you use it, which helps to keep your gums as healthy and in good condition.
Top 5 Water Flossers
Because there are a lot of different ones out there, picking the best waterpik can be a difficult decision.
To make it easier, however, we've narrowed it down to give you our top 5 water flossers to choose from.
Waterpik WP-662 Aquarius Water Flosser

The Waterpik WP-662 Aquarius Water Flosser comes from the company Waterpik, who was the first water flosser company to be awarded the American Dental Association (ADA) Seal of Acceptance.
It comes with a number of different tips to ensure you get the best clean for what you need. There are 3 Classic Jet Tips, 1 Plaque Seeker Tip, 1 Pik Pocket Tip, 1 Orthodontic Tip, and 1 Toothbrush Tip.
Storing all of your tips is easy to do, all of which are stored inside of the unit. This keeps the tips clean, free of dust or debris, and ensures that they will last longer.
Easy to Use
This is a water flosser that's incredibly easy to use due to the On/Off switch located on the handle, the finger-tip pressure control, and the convenient LED mode display that uses a 1-minute timer as well as a 30-second pacer.
It uses 2 flossing modes, Floss Mode and Hydro-Pulse Massage Mode, in order to provide pulse-modulation technology that allows for more plaque removal, enhanced circulation, and enhanced gum stimulation.
This water flosser uses a high-volume, covered water reservoir that allows for up to 90 seconds worth of water to be used.
Overall, it's an absolute must-have for those who have braces, health problems with their gums, implants, and the build-up of plaque.
In fact, this particular water flosser is 3X more effective than string floss in removing plaque build up around braces, 2X as effective as improving the health of your gums, and 50% more effective at improving the health of your gums.
It also comes with a 3-year warranty, as well.
CEITURA Water Flosser

The CEITURA Water Flosser has up to 10 different pressure modes, uses a 3-minute smart timer, features 360-degree rotation, and has a capacity of up to 600 ml of water at one time.
High-Quality Tips
It comes with 3 Classic Jet tips which clean 360 degrees around each tooth, all of which have different colours on them to differentiate between who's is who's. The Periodontal Tip massages your gums, reduces the thickness of gum pockets, and helps to relieve gingivitis, the shrinking of teeth, and periodontitis.
The Tongue Cleaner Tip cleans harmful bacteria and bacterial coating off of your tongue by gently flushing and scraping both bacteria and sulfuric compounds off of your tongue. The Hydraulic Rotating Toothbrush Tip improves the health of your gums around any existing implants easily.
It uses a waterproof, anti-slip design that absorbs whatever surface it's put on to ensure it can't slip and fall, potentially breaking in the process.
Finally, it's a suitable water flosser for children, adults, and even women who are currently pregnant.
THZY Oral Water Pick

The THZY Oral Water Pick is an extremely powerful water flosser, considering it boats between 1250 to 1700 pulses per minute. Though it's powerful, it's 100% waterproof, is actually very quiet when in use, and has a portable, lightweight design that's perfect for traveling.
One of the best aspects that this water flosser has to offer, is the fact that is has universal voltage.
Because it has an input voltage of between 100 to 240 V, you can use it around the world, possiblywithout an adapter plug.
Multiple Tips
This water flosser comes with 2 Ordinary High-Pressure Tips, 1 Periodontal Tip, 1 Orthodontic Tip, 1 Dental Plaque Tip, 1 Tongue Cleaner Tip, and 1 Nasal Jet.
There are a number of features present, including a water control located on the handle, a tip rotator, and a 2-minute timer.
Nicefeel Water Dental Flosser

The Nicefeel Water Dental Flosser uses a built-in 1400mA rechargeable, lithium-ion battery that lasts for up to 14 days at a time. Not only does it only take 4 hours to fully the charge the battery, but you can use any compatible laptop charger, USB charger, and even a power bank to charge it.
Upgraded Design
It has an upgraded, anti-leak and IPX7 waterproof design with a fully open water tank that's both easy to fill up and clean. It can hold up to 200 ml of water at one time and is able to last for up to 50 seconds of flossing.
This water flosser comes with 4 different flossing tips, has a 2-minute automatic timer, and uses 3 different flossing modes, which are Normal Mode, Soft Mode, and Pulse Mode.
Homitt Water Dental Flosser

The Homitt Water Dental Flosser has a reservoir capacity of up to 600 ml, up to 10 pressure settings, and has a 3-minute automatic power off timer.
Powerful Tips
It comes with 4 Jet Tips, 2 Tongue Cleaners, 1 Orthodontic Tip, 1 Dental Plaque Tip, and 1 Periodontal Tip. It has a powerful pulse rate of up to 1400 pulses per minute, as well.
This particular water flosser is approved by the FDA, is 100% waterproof, and has a separate, sealed storage area that keeps all of the included tips both safe and clean when they are not being used.
Portability and Easy Storage
It has a portable handle design with a tip pop-up knob, a 360-degree rotating knob, and a pause button that can be used during the cleaning process if you want to change the tip you're using, for example.
Finally, it comes with a 12-month warranty and a 60-day money back guarantee to seal the deal.
FAQs on The Best Water Flosser and Best Waterpik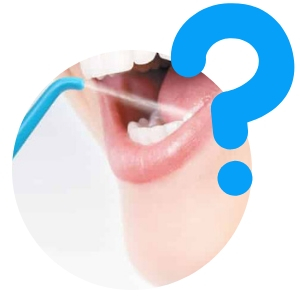 Because water flossers can seem complicated to people who have never seen or used one before, we're going to touch on the most frequently asked questions about them!
What is a water flosser?
A water flosser is a more efficient way to floss your teeth. It uses a pressurized stream of water to clean between your teeth, massage your gums, and promote better oral health, altogether.
How do you use a water flosser?
Depending on the particular water flosser you invest in, you can choose from different settings, modes, and included tips to get the best cleaning possible.
Are water flossers better than flossing?
Using a water flosser is approximately 51% more effective when you compare it to using traditional string dental floss. They clean in front, in between, and behind your teeth worlds better than string floss can.
When should I use a water flosser?
You should be using your water flosser at least once every day to maintain proper oral hygiene. The American Dental Association (ADA) recommends that you floss your teeth once each day, so using a water flosser once a day is the same rule you should follow.
Do water flossers replace toothbrushes?
No, water flossers should not replace you using your toothbrush on a daily basis. The only thing a water flosser should replace in your oral health routine is traditional dental floss.
The Best Water Flosser – The Future of Flossing
Water flossers are the future of a good oral health routine in replacing traditional, string dental floss. They help to massage your gums, relive gingivitis and periodontitis, clean the coating of bacterial out from in between and behind your teeth, and have numerous benefits that you will never achieve if you only use string floss.
Medically Fact-Checked & Written by Our Dental Editorial Team
You can read more about our editorial guidelines by clicking this link and learn more about the Emergency Dentists USA editorial team here.