Dental Care Resources For Veterans

Dental care is extremely important for all people. However, as a veteran, it can be difficult to find that care. Dr. Greg Grillo served as a dental officer in the Navy and has an extensive amount of experience providing dental care to veterans. As a veteran himself, he's committed to helping those who have served their country find the dental resources they need.
"The least we can do for those who've served us is find ways to serve them. We enjoy working with our vets and helping them find ways to obtain the best dental care"
Hablas Español? También tenemos este artículo aquí en Espanol, (Spanish).
Table of Contents
Printable PDF Resources
Veterans Dental Care Resources – This printable PDF is an excellent guide for you to be able to share all of the information we have collected on this page!
Important Questions to Ask Your Dentist – Dr. Greg Grillo compiled a list of useful questions that you can print and take with you when you meet with prospective dentists.
---
Active duty and retired veterans deserve nothing but the best when it comes to their benefits. Serving the country is not an easy task, and coming home can be a very difficult transition. The benefits that are available to such heroes can be difficult to understand, and finding the proper resources can be a challenge as well.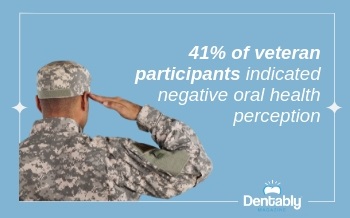 In a study done by the Journal Of Public Health Dentistry, 41% of veteran participants indicated negative oral health perceptions. Veterans with disabilities are members of a vulnerable population and there is a need to improve the oral health status through improving the access to care, improving clinical education and skills in working with veterans, monitoring services, and improving policies for increased access to care.
Within this article, you will find the resources available to both active duty and retired veterans that ensure these veterans they are getting nothing but the best in return for the sacrifices that they have so patriotically made.
Veteran Eligibility for Dental Care
Because there are different classes for each eligibility, it can be difficult to figure out exactly which benefit you qualify for. Following the bullet points below, find which description that relates personally to you and inquire further with the party responsible for providing your care to know exactly what you are qualified and eligible for.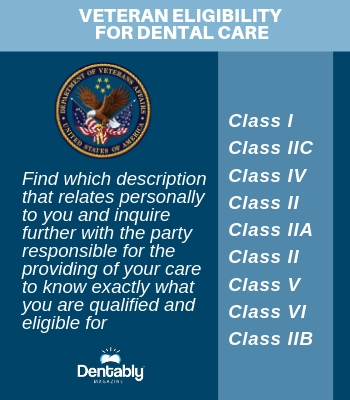 • Class I – You are eligible for any needed dental care through this class if you have a condition or dental disability that is compensated through a connected service.
• Class IIC – You are eligible for any needed dental care if you are a prior prisoner of war.
• Class IV – You are eligible for any needed dental care if you have disabilities that are rated 100% on the disabling scale that were acquired through service, or if you are unemployed strictly and unpaid because of said disability. However, veterans who are paid through extended hospitalization, pre-stabilization, or convalescence are not eligible for any comprehensive outpatient services for dental.
• Class II – You are eligible for one-time dental care if your DD214 certificate of discharge has not indicated that a full dental examination and appropriate treatment was rendered before your discharge. However, you can apply for such care within 180 days of being released or discharged, as long as you were not dishonorably discharged, within a period of at least 90 active days or more during the era of the Persian Gulf War.
• Class IIA – You are eligible for any needed dental care if you can provide and maintain a dentition that is fully maintained, such as a Dental Trauma Rating 10-564-D, or a letter, the VA Form 10-7131, from the VA Regional Office Rating Decision to identify the dental care that is needed. However, you must have a noncompensable dental condition or resulting disability from your time is service to do so.
• Class III – You are eligible for any needed dental care to treat oral conditions determined to have a material or direct detrimental effect on your service through a connected medical condition by a VA dental professional.
• Class V – You are eligible for any needed dental care if you are engaged actively in a 38 USC Chapter 31 vocational rehabilitation program, but only if a VA dental professional does the following:
Clears you of achieving the goals you have made and accomplished within your vocational rehabilitation program.
Prevents any interruption through the course of your vocational rehabilitation program.
Makes your entrance into a vocational rehabilitation program possible.
Secures and adjusts employment during your employment assistance period, or assists you in enabling your achievements through maximum independence within daily life.
Aids in hastening the return to a vocational rehabilitation program through a veteran being placed within a discontinued status as a result of an illness, dental condition, or injury.
Aids in hastening the return to a vocational rehabilitation program in an interruption or leave status comes up.
• Class VI – You are eligible for any needed dental care to treat any oral condition that has been deemed to complicate your current medical condition or treatment by a VA dental professional, but only if you are scheduled for or are currently receiving inpatient care.
• Class IIB – You are eligible for a one-time course for care if it has been deemed medically necessary for the purpose of relieving pain, treating moderate, complicated, or severe periodontal or gingival conditions, or if it is to assist you in gaining employment. However, you must be an enrolled homeless or care-receiving veteran under VHA Directive 2007-039 for such.
As of June 16th, 1995, when Public Law 83 was enacted, all outpatient dental services were amended. Since then, any veteran who has been given an award letter from the VBA (Veterans Benefits Administration) that was dated before this enactment took place, all dental conditions deemed non-compensable by the VBA are no longer eligible in the case of outpatient dental treatment for Class II.
Further, the Inpatient Dental Program for veterans currently receiving domiciliary, nursing home, or hospital care is provided dental services which are determined by a VA professional dentist with consultation through the referral of a physician. All are essential to the full management in regard to the patient's overall medical condition while under active treatment.
"If you can't find a resource, talk to local dentists. Many of us have a special place in our hearts for our nation's vets, and we'll work with you to find a solution that helps you get the care you deserve."
For additional information concerning the eligibility for VA dental and medical benefits, you can call 1-877-222-8387, or visit the health benefits website by clicking here.
What if I'm Not Eligible for Benefits?
If you are not eligible for any of the stated VA dental care benefits, you are able to visit the national VA Dental Insurance Program (VADIP) for enrolled Civilian Health and Medical Program (CHAMPVA) beneficiaries and veterans in order to have the opportunity for the purchase of reduced dental insurance.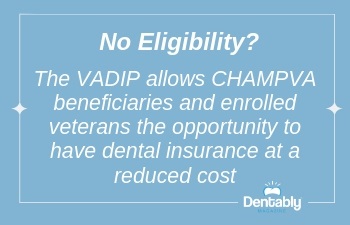 The VADIP allows CHAMPVA beneficiaries and enrolled veterans the opportunity to have dental insurance at a reduced cost, being MetLife and Delta Dental. All with purchased insurance must keep in mind that doing so will not affect your eligibility for a VA dental service or treatment, and participation is solely voluntary.
Endodontics, restorative, preventative, emergency and surgical treatments are all covered under the insurance, with both MetLife and Delta Dental offering different plans. Participants will be expected to pay a monthly premium, fixed only, for their coverage and any existing co-payments that may be required, depending on the selected plan, however.
The dependents of veterans, excluding those who are eligible under CHAMPVA, are not authorized for participation within VADIP. However, they may be eligible for separate insurance for dental coverage through MetLife or Delta Dental.
Applying For Dental Care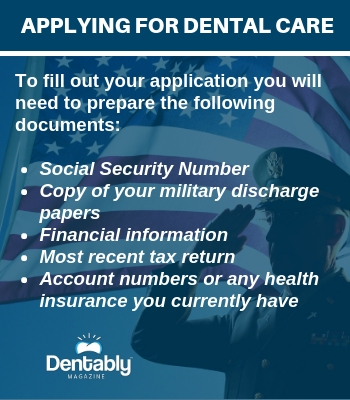 If you have eligibility you will want to apply for your benefits on the VA website. By creating an account you can sign in and begin the application process. You can also save your application and finish it another time if needed.
To fill out your application you will need to prepare the following documents:
Social Security Number
Copy of your military discharge papers
Financial information
Most recent tax return
Account numbers or any health insurance you currently have
Be sure to locate these and have them ready when you begin your application. If you need assistance in completing the application, an accredited representative can help you fill it out.
When you apply for dental care you will be assigned 1 of 8 priority groups. The system helps make sure that Veterans who need immediate care can get signed up quickly. Veterans with service-connected disabilities receive the highest priority while veterans who earn a higher income may be assigned the lowest priority. You can learn more about priority groups here.
Once you submit your application you will get a confirmation message. Then, your application will be processed within a week. If more than a week has passed or you have any questions please call 877-222-VETS (877-222-8387)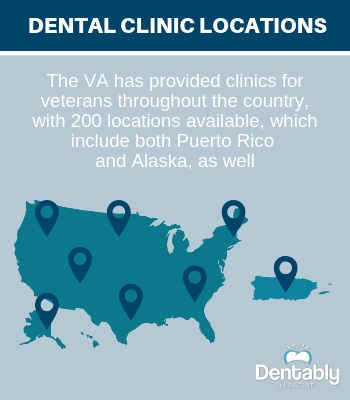 Dental Clinic Locations
To locate the closest dental clinic to you, you will need to go through the VA Dentistry website. The VA has provided clinics for veterans throughout the country, with 200 locations available, which include both Puerto Rico and Alaska, as well.
You will be able to find the closest clinic to your location by clicking here and following the instructions listed by the VA.
The Outpatient Dental Program
This program is run through the eligibility of veterans who require outpatient dental care. This type of care is not the same in the case of the majority of other benefits and programs that are categorized and provided through the VA.
Read more about the different classifications and eligibility for the outpatient dental program here.
If I Need Braces or Any Form of Restorative or Orthodontic Care, Will it Be Paid For?
You may be able to receive braces for free or at a discounted price. For all active and retired veteran service members enrolled, the determination of whether or not any dental work is required, not just basic cleanings, is determined by a VA professional dentist under any and all circumstances.
As previously stated, it all depends on what you qualify for, the classification you are eligible for, and what the VA has concluded after an examination.
Dental Care for Active Veterans of Foreign Wars
The dental benefits provided by the VA are extensive and may be limited in certain cases for treatment needed. While they are authorized in the providing of extensive dental care, eligibility is recorded and must be taken into consideration when veterans are looking at the options available to them.
The Veterans of Foreign Wars of the United States Organization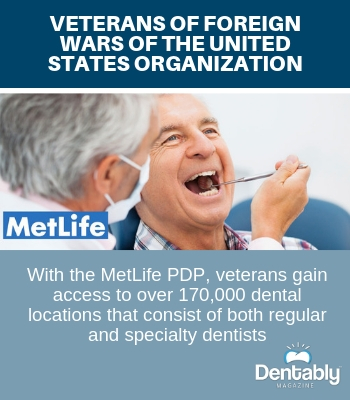 The VFW (Veterans of Foreign Wars) is a non-profit organization aimed to aid veterans with their health, transition back to daily life, and all that applies to veterans and their sacrifices. They have selected MetLife as their dental sponsorship for insurance in order to provide the proper dental care needed to veterans.
The Preferred Dentist Program from MetLife (MetLife PDP) is through the Preferred Provider Organization (PPO) program that is available for veteran VFW members and is a great option for veterans who are looking for added coverage and proper access to dental care. With the MetLife PDP, veterans gain access to over 170,000 dental locations that consist of both regular and specialty dentists.
With this coverage, veterans are able to lower the costs that they are paying out of their own pockets for in-network services, which include plans that are either a fixed or a negotiated fee.
They can range typically between 15 and 45 percent of a discount. With the PDP coverage, you can visit any dentist of your choosing, even if they are not within the VFW network.
Dental Care for Retired Veterans
There are multiple routes retired veterans can take when looking for the proper dental care they need. Veterans have more options than ever in today's society, both through the VA and other avenues set up by civilians to do their part for those protecting their country and constitution.
The TRICARE Retiree Dental Program (TRDP)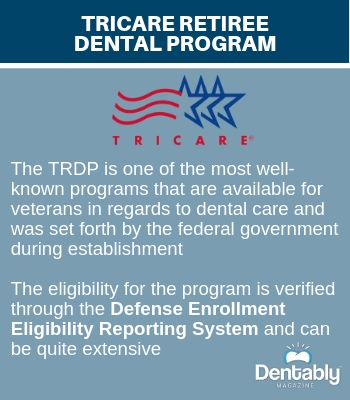 The TRICARE Retiree Dental Program (TRDP) is one of the most well-known programs that is available for veterans in regards to dental care and was set forth by the federal government during establishment. The eligibility for the program is verified through the Defense Enrollment Eligibility Reporting System and can be quite extensive.
If you relate to any of the following points listed below, then you are eligible to receive TRDP:
A member, regardless of age, of the National Guard/Reserves who has been transferred to the status of Retired Reserve, which includes those under 60-years-old in the "gray area" and are entitled to, but not receiving, retired pay.
A member of the Uniformed Services who has been entitled to retirement pay and includes those who are at least 65-years-old and older.
A current spouse of a retired, enrolled member.
A survivor spouse who is unmarried, or an eligible child of a member who is deceased as a result of active duty for at least 30 days, and eligible family members who may not be eligible. As well, those who are no longer eligible for the dental benefits that are offered under the family's active duty member dental plan, being the TRICARE Dental Program.
The child of an eligible family member if they are biological, step, adopted, or children from court-ordered wards based on the following:

– Coverage up to the end of the month in which they have turned 21-years-old.
– Up to the age of 23-years-old, but only if they are currently enrolled and involved with a full-time course of study that is within higher learning, which will take proof of status or approved institution.
– Older than 23-years-old if they have a disabling injury or illness which occurred before they turned 21-years-old, or if it occurred between the ages of 21 to 23 while they were enrolled in an institution that has been approved for higher learning.

A Medal of Honor recipient and his or her eligible family members, but only immediate. This also includes a surviving spouse who is not remarried, as well.
For more information on the TRDP, your possible eligibility, and any other required information, visit their website by clicking here.
What Does TRICARE Cover?
Depending on what you are eligible to receive, the following listed below could be covered by TRICARE: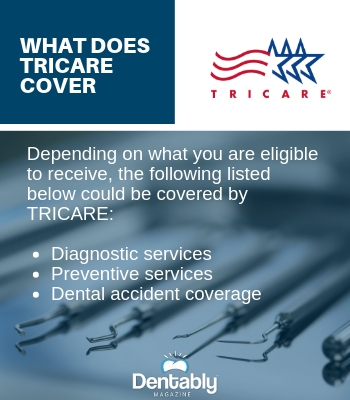 Diagnostic services
Preventive services
Dental accident coverage
TRICARE also offers partial coverage in certain instances, which can be reviewed below:
Basic restorative services
Endodontics
Periodontics
Oral surgery
Emergency treatments and services
As stated previously, visiting TRICARE's website that is linked above will ensure that you receive all of the necessary information that you will need.
Other Dental Care Avenues
You may be searching "dental doctors near me" in Google and feeling down on your luck with unsuccessful results.
If you are unable to receive some form of care through the VA, fear not, there are other avenues to take and options available to you. Because the VA has strict eligibility policies and requirements, various dentists across the United States have teamed up to offer free or highly discounted services for veterans in desperate need of dental care.
"If you don't live near a VA dental facility, ask questions about ways to get care near you. Sometimes they'll provide vouchers for specific treatment at a local dentist who's willing to provide the right information to the VA."
Aspen Dental has over 500 offices across the nation, dispenses a mobile unit that travels the country, and offers specific services to veterans. This has given veterans that have been constantly turned down by the VA a new strain of hope. They have great availability with their dental offices open weekends as well. In 2015, Aspen Dental teamed up with Got Your 6, a non-profit organization that helps and supports veterans, to aid in further mobilization of dentists across the nation. In total, over 4,000 veterans have been helped in their search for proper dental care, with approximately $2.8 million being donated in the process.
To learn more about the free services offered to veterans by Aspen Dental, visit their website by clicking here. To learn more about Got Your 6, how they help veterans, and for more information on their partnership with Aspen Dental, click here and if you're looking for information on urgent care dental, click the link!
Frequently Asked Questions for Veteran Dental Care
Listed below are the most frequently asked questions regarding veterans and the dental care that they are eligible for.
How do I verify my enrollment?
Your enrollment is verified once you have received a Veterans Health Benefits Handbook from the VA, which is given to notify you of the full status of your current enrollment.
Once I am enrolled, can I use the VA as my health provider?
The VA is not required to become your full health care provider. Therefore, if you are receiving care from a local provider through the VA, your safety and care have been coordinated to ensure that treatment or co-managed care, has been specified and created on your behalf.
If I need braces or any form of restorative or orthodontic care, will it be paid for?
Yes, and no. For all active and retired veteran service members enrolled the determination of whether or not any dental work required, not just basic cleanings, is determined by a VA professional dentist under any and all circumstances.
As previously stated, it all depends on what you qualify for, the classification you are eligible for, and what the VA has concluded after an examination.
I am moving and need to transfer my care to a new facility, how do I do it?
Transferring your VA health care from a facility requires you contacting your PACT to workout assistance through the Traveling Veteran Coordinator to fully establish an appointment with the new facility that will handle your care.
What if I can't pay my bill?
If you are for any reason unable to pay your bill once you have received it, speak with the Patient Billing Office located at the VA health care facility where you are currently receiving your care.
For more frequently asked questions, you can visit the VA's website by clicking here, or by calling 1-877-222-8387 between the hours of 8 a.m and 8 p.m, Monday through Friday.
Getting Veterans the Dental Care They Desperately Need
Dental care and overall proper oral hygiene are two things that veterans desperately need, whether it be through the Department of Veteran Affairs or dentistry that offers free care for those who need it. As a veteran, knowing all of the options that are currently available to you will ensure that you will get the help that you need, exactly when you need it.
Thank you for your continued service to the great nation of the United States of America, and for the sacrifices that you have made throughout your service.
References:
https://www.va.gov/dental/
https://www.va.gov/health-care/apply/application/introduction
https://www.va.gov/health-care/eligibility/#priority-groups
https://www.ncbi.nlm.nih.gov/pmc/articles/PMC4664889/
http://www.tricare.mil/trdp
http://www.military.com/benefits/veterans-health-care/va-outpatient-dental-care.html
http://www.vfw.org/assistance/va-claims-separation-benefits/veteran-affairs-benefits
http://www.disabledveterans.org/2013/04/18/how-in-the-world-can-veterans-get-va-dental-care/
Additional thanks to Emergency Dentists USA.
Medically Fact-Checked & Written by Our Dental Editorial Team
You can read more about our editorial guidelines by clicking this link and learn more about the Emergency Dentists USA editorial team here.