Gum for Braces: The Surprising Benefits of Chewing Gum with Braces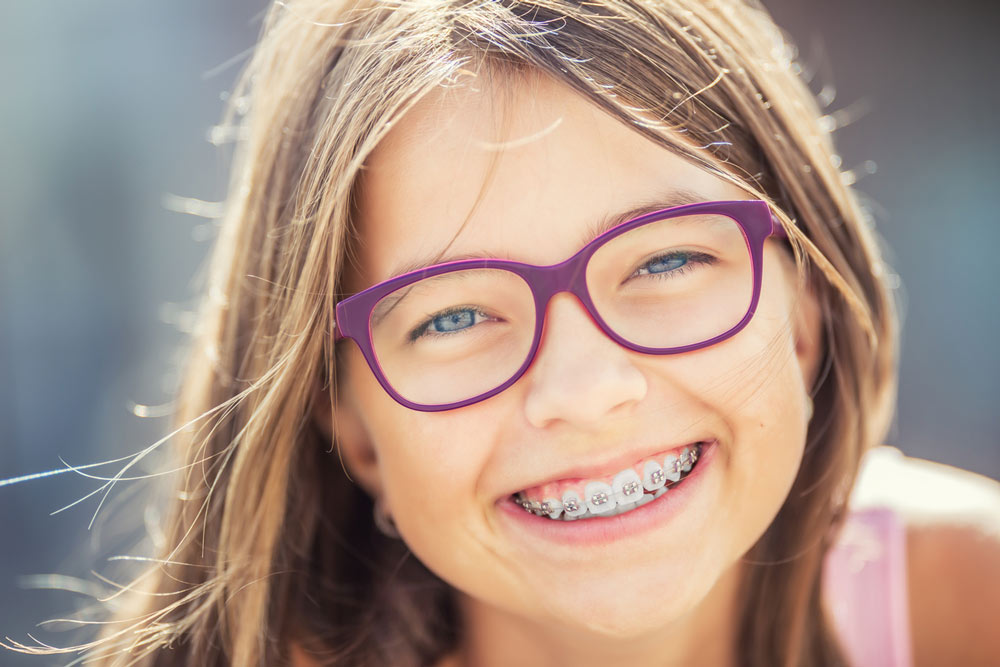 When you get dental braces or at home orthodontics, all you hear is you can't do this, and you can't do that. It's bad enough that you need to have metal inserted into your mouth, let alone having to follow a strict list of dos and don'ts—and possibly even have a gummy smile to boot. The first thing you were probably told, is not to chew gum but that isn't exactly true. There are actually benefits of chewing gum with braces and, in this article, we uncover what they are.
Chewing Gum with Braces

Regardless of whether or not you have braces, you've probably heard the "don't chew gum" lecture enough times. "It's full of sugar and you shouldn't be willing to rub all of that sugar on your teeth" or "it's not good for you, your teeth will rot," etc. There is still some truth to those statements but it mostly concerns sugared gum rather than sugar-free gum. Recent research has found that particular artificial sweeteners contained in sugar-free chewing gum actually has the ability to limit the formation of bacteria. The type of bacteria that causes tooth decay to be exact. Xylitol is the sweetener to look out for as it eliminates the bacteria Streptococcus mutans that promote tooth decay. This means that chewing sugar-free gum can help to prevent cavities. New research has found that chewing sugar-free gum can help the mineralization of tooth enamel which is vital for protecting the teeth. A loss of enamel will lead to tooth decay and is something that cannot be replaced. When you chew gum, your mouth produces more amounts of saliva and this, in turn, washes away bacteria from the mouth. People who suffer from xerostomia also known as dry mouth can find braces a lot more uncomfortable as the dryness of the mouth means that the braces can rub against the inside of the mouth more. Xerostomia or dry mouth can be a result of diabetes, dehydration, therapeutic radiation, or even particular medications. The ability to create a large amount of saliva by chewing gum can help the xerostomia condition as saliva is a natural lubricant. This will reduce the friction and the tenderness caused by dry mouth. The increased saliva production will also reduce bad breath as the food debris that lingers in the mouth will get washed away.
Why You Shouldn't Chew Sugared Gum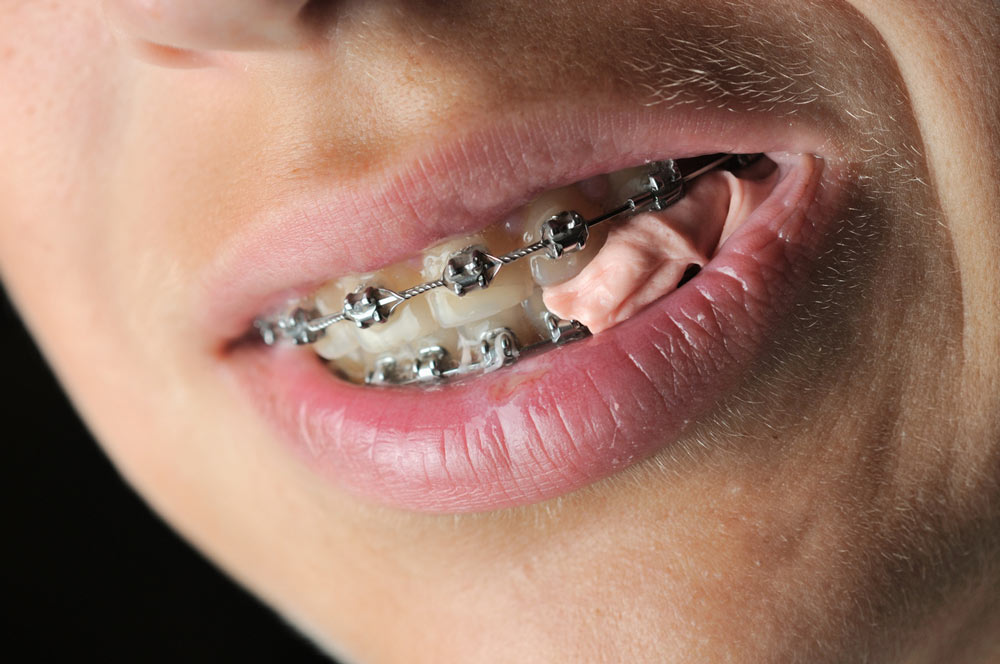 Sugared gum shouldn't really be chewed by anyone. This is down the effects that the sugar has on your teeth, and when chewing it, the sugar will keep its place in the mouth a lot longer. Sugar stimulates acid in the mouth which then creates bacteria. This causes cavities and leaves you at a much higher risk of tooth decay. In chewing sugared chewing gum, the teeth are left exposed to the harmful substance for a long period of time. Chewing gum that contains sugar tends to be much stickier than sugar-free gum, causing a much higher risk of getting stuck in the braces. If gum does get stuck in the braces, it can pull off the elastic ties from the brackets which disables the fitting. This will jeopardize the alignment specifications of the braces and will result in a revisit to the orthodontist.
Aligns Teeth Quicker?

The motion that your mouth makes when chewing gum creates a pressure of the teeth and then the pressure is released. This repeated motion can help manipulate the teeth into the position they need to be in. It can work alongside the braces and aligns the teeth much quicker.
After Meals

It turns out that chewing gum when you have braces can play a major role in your oral hygiene routine—moreso for people who can't brush their teeth or floss after eating a meal. For people with braces, chewing sugar-free gum after eating a meal will help to clear bits of food from the braces and wash away the bacteria, further protecting the teeth. The recommended chewing time is around twenty minutes.
Reduced Pain

It's quite widely known that braces are sometimes painful. First having them fitted can be discomforting and the same goes for the adjustment sessions. The dull aching feeling that is often felt throughout the time frame of having braces indicates that the teeth are moving into the correct position, which means they are doing their job. It has been discovered that, in some cases, chewing gum can relieve this pain and soreness. The motion of chewing gum can stimulate blood flow which kick starts a soothing action around the periodontal membrane. Not only will this reduce the pain but it can also decrease inflammation around the mouth. As well as its physical benefits chewing gum will also keep your mind busy instead of focused on the discomfort inside the mouth.
There Are Still Some Concerns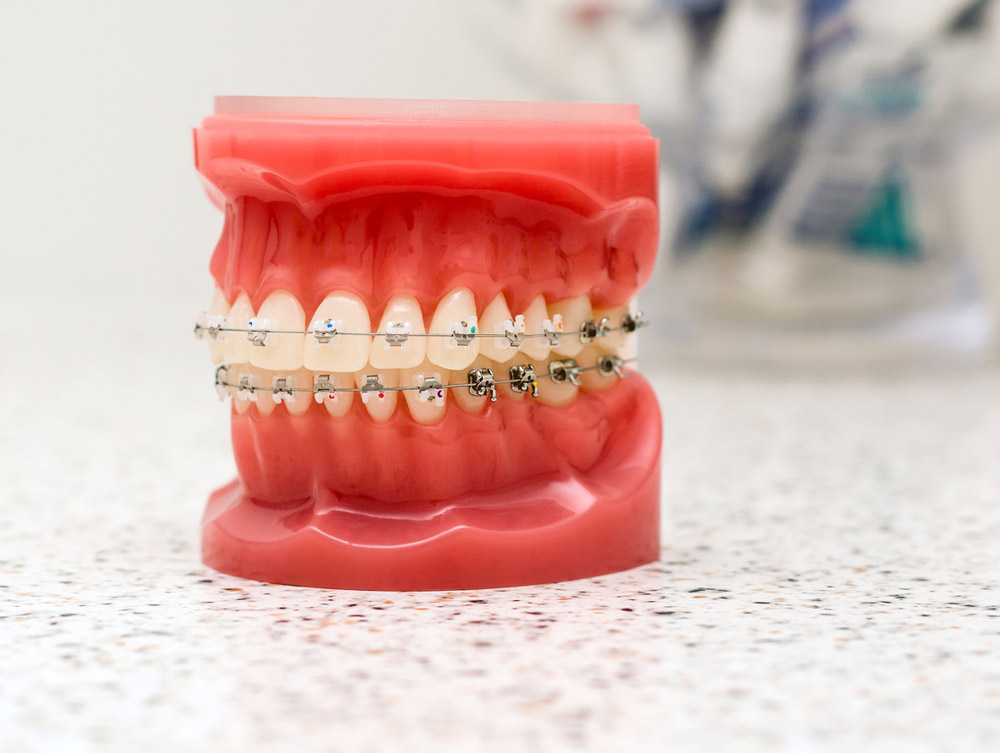 Nowadays, the materials used for braces can withstand much more than previous materials could which mean they are not as susceptible to damage or bending caused by chewing gum. The primary concern with chewing gum with braces was always that it would get stuck around the wires and brackets which would risk the alignment of the teeth and the condition of the braces themselves. Chewing sugar-free gum significantly reduces this risk; however, excessive amounts of gum chewing—even sugar-free gum—still poses this risk. Any type of gum will have the risk of getting caught between the fittings of the braces and in hard-to-reach places. While sugar-free gum shouldn't cause any major issues, it is incredibly annoying to try and remove. Chewing gum doesn't need to be a fast and vigorous process. It should be a slow and controlled motion.
For those of you are having braces fitted you may find that your orthodontists and dentist will recommend the practice of chewing sugar-free gum. Rather than tell you to never ever do it, professionals have recognized the benefits and will offer some further advice as to when and how often you should chew gum with braces.