HMO vs. PPO Dental: Which Is Right for You?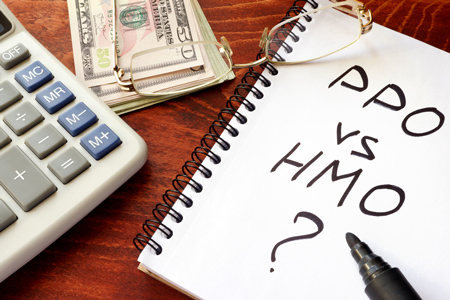 Like with standard health insurance, when it comes to choosing insurance plans for dental coverage, there is a lot to consider about each you are considering before enrolling. The plan you choose affects:
Where you can go for dental procedures
Which services are covered by this plan
How much you will be paying out-of-pocket
It is up to you to decide what your needs are medically and which type best fits the criteria you have set for yourself financially. Two dental plans that you may be thinking about enrolling in are the HMO plan and the PPO plan.
Let's go over what each plan is, the benefits of each, the downsides of each, the difference between the two, and which you should choose according to your lifestyle and preventive care.
A Complete Look at HMO Dental Insurance
What Is HMO Insurance?
HMO, in this case, is an acronym for Health Maintenance Organization. The dental equivalent of this plan is called DHMO. Under DHMO insurance, you will be working with providers in the network that have agreed to cover many services to members enrolled in the plan.
How Does It Work?
Members are required to choose a primary care provider. (Or, in this situation, a primary dentist.) You will see this physician for any medical needs you may have. This professional determines whether your issue calls for the service of a specialist or not.
The Benefits of Enrolling in a Dental HMO Plan
There are quite a few upsides to being a member of a dental HMO insurance plan that you should consider.
If your primary care physician does refer you to a specialist, your insurance plan will likely cover the costs.
Members of these plans will typically pay very few out-of-pocket expenses. These expenses are also outlined for you ahead of time so you know what you can expect (if anything). This means that you have virtually no surprise fees that can set you back financially when you are not prepared.
Some plans do not require you to pay a deductible fee before your medical needs are covered by your HMO insurance.
The Downsides to HMO Insurance
This plan sounds great, and it is—but there are some drawbacks to think about and weigh against the pros.
If you would like to see a care provider that is not listed as being in the HMO plan network, then you will not be covered for any services you receive in their care. The doctor who you were seeing before will have to go if you enroll in the plan and they aren't in the network.
If you decide to go to a specialist without a referral, you will have to pay out-of-pocket fees. A referral makes all the difference financially. Avoiding this situation is easy as long as you follow your plan's guidelines.
An Example of a DHMO Plan
If you would like to see a more in-depth look at what a DHMO plan entails, look at this description provided by the Humana insurance company.
After you read over what this particular plan covers, get a quote from this company on your insurance costs and see if your regular dentist is already in the network of providers.
A Complete Look at Dental PPO Plans
What is PPO Insurance?
PPO stands for Preferred Provider Organization. This dental insurance plan lets you work with in-network providers for heavily subsidized out-of-pocket costs, but you can also go see out-of-network providers if you so choose.
How Does It Work?
Members enrolled in PPO insurance get to pick who they see, but they do not have to stick to one provider. As long as a member chooses a dentist under the PPO plan when they go to look for one in the area, the insurance will cover part of the cost of services.
The Benefits of Enrolling in a Dental PPO Plan
The benefits of choosing a PPO insurance plan when it comes to dental work are abundant, and they particularly suit those who need more freedom. Here are a few that are typical of PPO plans.
You can see a wide range of providers; you are not restricted to just one physician for all of your needs. This means that if you are out of town, you can likely still be covered for emergency dental work if you choose a PPO provider.
If you see a PPO dentist instead of someone out-of-network, you will pay lower fees out-of-pocket. While you have the freedom of doing both, you can still benefit financially from seeing a network provider.
You pay your portion of the services and you don't worry about being billed later.
The Downsides to Choosing a PPO Insurance Plan
Like any other plan, there are cons of choosing to enroll in a dental PPO insurance plan.
These plans usually require you to meet a deductible before getting coverage, which can be costly and a pain.
The maximum amount of coverage you have per year can be around $1,000, which is not very much if you need extensive procedures.
Different services require you to pay different percentages of copays, so it can be a little difficult to keep up with and you might not be as prepared as you thought you were when it comes time to hand over your card.
An Example of a Dental PPO Plan
The Aetna insurance company provides a dental PPO plan with an overview of what you can expect when you enroll in the program. It gives you a more comprehensive look at exactly what you will be getting when you sign up. Click here to learn more about it.
Differences Between HMO Plans and PPO Plans
Overall, the differences between the two plans will sway your decision on which one you would prefer to get.
HMO costs are prepaid, PPO costs are not.
HMO plans do not require a deductible, PPO plans do.
HMO plans have fixed prices for services, PPO plans have varied costs.
Determining Which Dental Plan Is Right for You
HMO If…
You want to know exactly what you will be paying before you go into an appointment
You do not want to deal with paying a deductible
You want a prepaid plan instead of paying as you go
PPO If…
You want the freedom to switch providers and still be covered without a referral first
You want to pay as you go for services
You want lower out-of-pocket costs with your providers
How to Find a Dentist in Your Network
In the age of the Internet, it is easier to find dentists that accept your insurance plan than ever. Instead of waiting on the phone while you are placed on hold, you can find providers you need with the click of a button.
Let us help you pick the best network dentist in your area; use our "Find a Dentist" function! If you would actually prefer to call with questions that can't be answered through our basic search engine or you have a dental emergency, call us at this toll-free number: 1 (855) 282-1699.
Medically Fact-Checked & Written by Our Dental Editorial Team
You can read more about our editorial guidelines by clicking this link and learn more about the Emergency Dentists USA editorial team here.