Mouthwash for Bad Breath: Buying Advice and Top 5 Reviews for 2018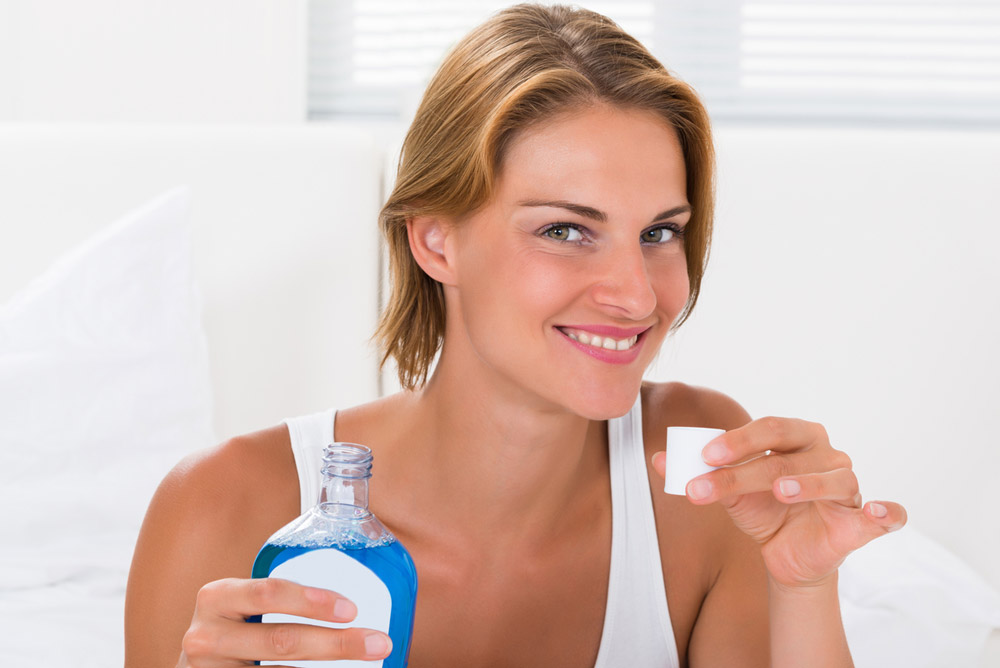 With countless different types of mouthwash available on the shelves today, it is not surprising that people often get confused when trying to decide on the one that is right for them. How does one choose from bottle after bottle of mouthwash for chronic bad breath? They all say that they make the breath fresher, but which one actually works to beat bad breath? In this post, we have tried to make it easier for you to choose the best mouthwash by narrowing it down to just five that fight chronic bad breath effectively and improve oral hygiene!
Why Use a Mouthwash for Bad Breath?
Each time you eat or drink something, plaque will begin to stick to the surface of your teeth, including the spaces between your teeth, on your tongue, and also around your gum line. Food particles remain in your mouth and, even though you may not be able to feel them, they get stuck between the teeth. So, even if you brush your teeth after eating, it will still help to freshen your breath from whatever food you ate, such as the scallions in that salad at lunch, though bits of food will still be left behind. These food particles promote the growth of bacteria between the teeth and on the tongue, leading to breath that doesn't smell as fresh as it could. If left, it could ultimately lead to gum disease and tooth decay.
If you do not floss and use a mouthwash for bad breath combined with brushing, food particles will remain, and further bits of food will be added after the next time you eat…and so the cycle continues, leaving bad breath, stained teeth, the reduced ability to taste food and irritated gums and even gum disease in its wake.
The key piece of advice here, however, is to brush your teeth prior to using mouthwash. If plaque is left on your teeth, the mouthwash will, therefore, not have any contact with the lurking bacteria. And, no matter how strong a blast of mint your mouthwash appears to have, it won't do its job properly.
Without further ado, here are our recommendations for the best mouthwash for chronic bad breath…
Colgate Total Advanced Pro-Shield Mouthwash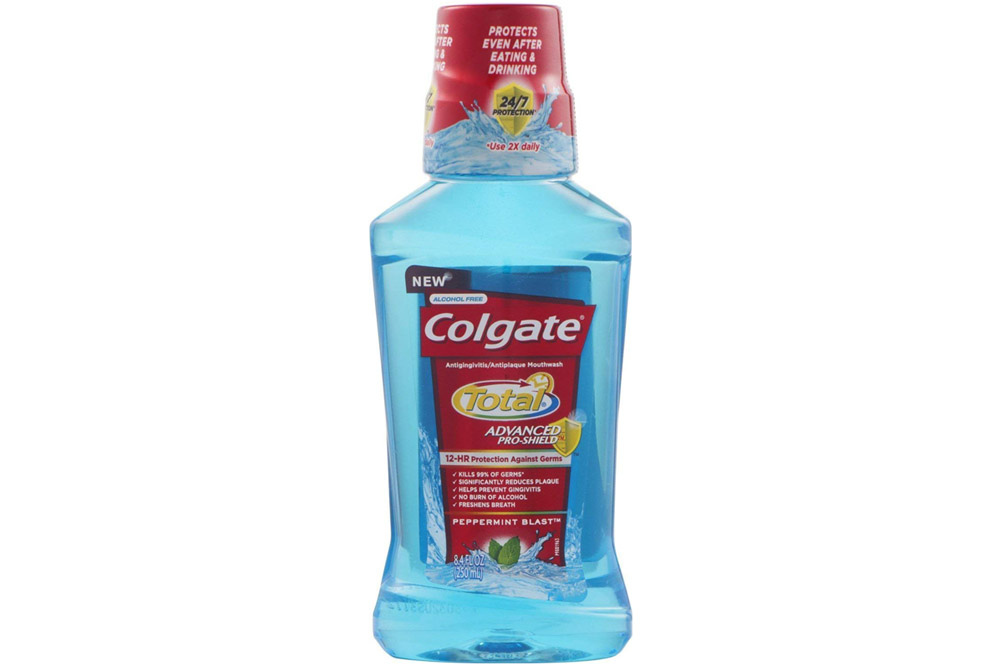 This mouthwash, made in the USA and with cetylpyridinium chloride as its active ingredient, will prevent and reduce the amount of plaque that is able to build upon the teeth and, therefore, reduce the likelihood of developing gingivitis. With each use, it helps to kill germs and continues to protect from bacteria growth after eating and drinking for up to 12 hours after use. Colgate Total Advanced Pro-Shield Mouthwash has no burn of alcohol that can be experienced with some other mouthwashes available on the market to help improve good oral hygiene. So, if your eyes usually water while rinsing your mouth and you're counting the seconds until you can spit it out, you'll be pleased to know this won't be the case with this Colgate variety.
Thera Breath Fresh Breath Oral Rinse
This highly effective mouthwash, specifically formulated to fight bad breath, was created in 1993 by Dr. Harold Katz in an attempt to help his daughter defeat her own bath breath problem. She had tried everything else she could find, but nothing had worked. Clinically tested and formulated with OXYD-8 which is Dr. Katz's own patented version of Oxychlor compounds, it has been proven to stop bad breath in its tracks. It contains ingredients to neutralize the bacteria that produce sulfur, hence causing the unpleasant odor, and continues to work against these bacteria for an amazing 24 hours.
The Thera Breath mouthwash uses oxygen in its formulation to attack the causes of bad breath and even goes to work under the tongue and at the back of the throat. It is vegan, gluten-free, certified kosher, alcohol-free, free from perfumes, dyes and other harsh additives that could damage the mouth. Furthermore, there is no uncomfortable burning or stinging sensation while using this mouthwash. It is pH balanced and will maintain a healthy non-acidic environment in the oral cavity while avoiding any enamel erosion, tooth sensitivity, and the ideal conditions for fresh breath. Finally, TheraBreath is the American Dental Association (ADA) approved and is one of the best-selling products available for bad breath.
CloSYS Gentle Mint Flavored Mouthwash for Sensitive Mouths
With all the diversity of mouthwashes, we could not leave out those people who experience heightened oral sensitivity. For some patients, it is impossible to use normal mouthwash due to the burning and stinging as well as the after effects. This mouthwash is alcohol-free, triclosan-free, sulfate free, gluten free, and provides advanced care without any harsh consequences. Not that the other mouthwashes being recommended here do, although,for those with oral sensitivity, they might.CloSYS Gentle Mint Flavored Mouthwash kills almost all germs within the oral cavity in a gentle and efficient way within seconds of use. It will not stain the teeth, reduces plaque, is fluoride free, and is approved by the ADA. This mouthwash has been chosen not only for its effectiveness for those with sensitivity but for its ability to destroy the foul-smelling sulfur compounds which exacerbate bad breath. Likewise, it kills the destructive bacteria that cause gum infections while leaving the mouth in a pH balanced state to keep bacterial growth at bay.
Biotene Moisturizing Mouthwash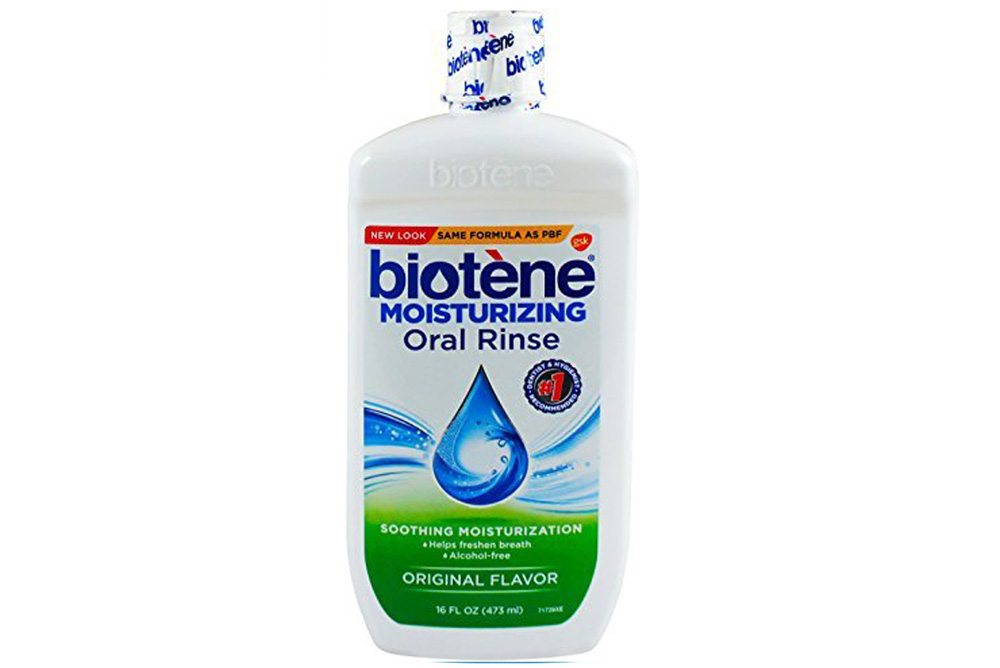 Do you experience a chronic dry mouth? Do you have bad breath? Did you know that a dry mouth can often actually worsen bad breath? Chronic dry mouth, a condition otherwise known as xerostomia, can cause bad breath because the saliva that is required to neutralize acids that are produced by plaque, as well as to swish away dead cells and food particles that accumulate during the day or night, is not present. Because saliva is not present and, therefore, not carrying out its intended purpose, the dead cells and food particles are left to decompose, and intensify bad breath. Dry mouth can occur for a variety of reasons including depression, diabetes, radiation therapy, stress, and as a symptom of some medications.
Biotene Moisturizing Mouthwash is excellent for those who experience a dry mouth, even if not on a chronic basis. It relieves the dryness by emulating the enzymes found in saliva, protects against the dryness, is soothing, gentle, and alcohol-free. It is able to emulate the valuable enzymes because the formulation contains them, and it is, therefore, highly beneficial in maintaining the oral environment as it should ideally be. Your teeth will also be protected, and overall, your mouth will feel fresh and clean for the entire day. 
Oral Essentials Clean & Fresh Mouthwash
This dentist formulated, alcohol, preservative,and sugar-free mouthwash is the perfect choice for those concerned about using products with chemicals and other additives. Oral Essentials Clean & Fresh Mouthwash contains a refreshing blend of French essential oils, organic aloe vera, Dead Sea salt, and only all-natural sweeteners. It has been formulated in California by first-rate dentists and has been certified as a non-toxic product. It helps to fight the causes of bad breath, including banishing dry mouth. Did you know that minerals are one of the tooth enamel's best friends? In fact, minerals help to fortify the enamel instead of relying on fluoride. This mouthwash uses salt from the Dead Sea, which is high in minerals and has a low sodium content to do just that. 
Remember that mouthwash is not a replacement for any part of the dental healthcare routine, however. Brush twice a day, floss once a day, and use a mouthwash to complement this fundamental regime.
Relate Posts to Read:
Best Mouthwash for Bad Breath (and Why It Works)
Peroxide Mouth Rinse: Top 5 Benefits of Gargling with Hydrogen Peroxide