Snap-On Smile Dentistry: Do They Make It Look Natural?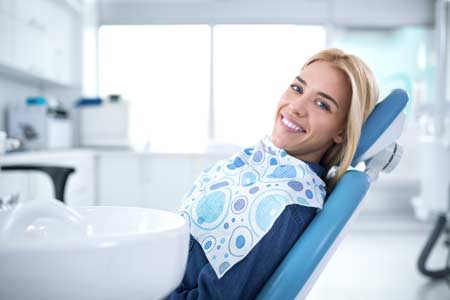 If you feel insecure about your smile due to gapped, stained, or crooked teeth, you might want to talk to your dentist about getting a Snap-On Smile. The results could have you grinning like a kid again with confidence…with a beautiful smile! The Snap-On Smile appliance comes highly recommended by dentists like JH Dental Lab for several reasons and some even prefer them over veneers and other forms of cosmetic dentistry.
You likely have some questions and concerns that need to be answered before you make your appointment—and that is what we'll cover today. Let's talk about:
What a Snap-On Smile is
How it differs from veneers and Lumineers
Who a Snap-On Smile may be right for
How the process of getting it works
The potential end results and how natural your Snap-On Smile could look absolutely natural
What Is a Snap-On Smile?
A Snap-On Smile (or SOS, for short) is a removable set of false teeth precisely fitted to your own natural set that will give you the appearance of a whiter, straighter smile.
Essentially, a Snap-On Smile is a removable partial denture that gives you the same results as porcelain veneers or Lumineers without painful drilling, shots, or adhesive that is difficult or near impossible to remove…and you still end up with a perfect smile for that great first impression.
How an SOS Differs from Veneers and Lumineers
We covered this briefly above, but explaining it a little more comprehensively with their unique benefits may quell any remaining fears you have about asking whether a Snap-On Smile is right for you.
Snap-On Smile
No teeth shaving or drilling required
No adhesive used to bond to the natural set of teeth
One set as opposed to individual false teeth
Easily removable for your day-to-day activities
Typically costs $1,000–$2,000 per arch
Lasts for 3–5 years
Veneers
Teeth will be shaved down to fit veneers over your natural set
A strong adhesive is used to bond to teeth; they are difficult to remove and it is a hassle to reverse the process
Individual false teeth are applied one at a time
You cannot remove these at home
Can range from around $800–$3,000 per tooth
Last for 10 years on average
Lumineers
Teeth are not shaved down—no drilling is involved
A strong adhesive is also used to bond the Lumineers to your teeth
Individual teeth are applied one at a time
You can have the process reversed at the office where you got them applied
You cannot remove these on your own at home
Price range is usually $800–$2,000 per tooth
Typically supposed to last for 20 years
Summary
A Snap-On Smile is painless, removable at your convenience, and a set costs less than veneers or Lumineers in many cases.
Who Is a Prime Candidate for a Snap-On Smile?
Like the process of getting veneers or Lumineers, getting a Snap-On Smile depends on whether or not you qualify for it. If the damage to your mouth or mouth or gums is extensive, you may not be eligible to get a set. Who would qualify? Allow me to answer that.
People with gaps between teeth, stained teeth, crooked teeth, or missing teeth
People who did not qualify for arches or implants
Anyone looking for a more affordable alternative to veneers or Lumineers
Those with partial dentures who would prefer something more comfortable
People from all different age groups
This covers a pretty wide range of potential users of a Snap-On Smile Even if you think your teeth are beyond repair, talk to your dentist and ask before giving up hope.
How the Process of Getting a Snap-On Smile Works
If you have spoken to your regular dentist and they have given you the green light, you are ready to make appointments for the fitting of your SOS. You may be wondering how long the process of getting a Snap-On Smile is. The answer is simply that it's quick, easy, and requires only two appointments. That is far less time than it would take to be fitted for dentures and receive them, and it is the same amount of time you would be waiting for veneers. Let's go through each stage.
1st Appointment
You get to choose the shade of white that you would like your Snap-On Smile to come in. You also select the style you would like.
Your dentist makes a mold of your teeth to send in for the creation of your personalized set.
In between visits, your dentist will receive the Snap-On Smile appliance.
2nd Appointment
You get your Snap-On Smile fitted to your teeth to see if you are satisfied with the results.
If you are happy, then you go your own way with a bright, joyful new smile!
The Potential Results of an SOS
Once you get your Snap-On Smile customized to your preferences, you can take it home and enjoy. The results you can expect will be:
A brighter looking smile—the appearance of stains is completely diminished
More confidence due to the decrease in insecurity and anxiety over your teeth
A comfortable appliance that works better than dentures or veneers
A natural looking smile
Snap-On Smile dentists work diligently to ensure that you get the most natural results possible. The shades you pick are designed to mimic whitened and clean teeth without being too bright or distracting.
The shapes you select from straighten teeth and cover up gaps without having the squared-off look that dentures do. Remember, a Snap-On Smile is made with a mold of your own teeth, just enhanced.
Because of this, your smile will look like a better version of what you already had—no artificiality about it. If you have any additional questions or concerns, look on the SOS page to find out more.
How to Find a Snap-On Smile Dentist
Sometimes, a person finds themselves without a regular dentist to talk to. If that sounds like you, we can help you find one fast with the convenience of our "Find a Dentist" function. It takes a couple of clicks of the mouse to discover a dentist in your area you can trust.
If you would rather call, our toll-free number is 1 (855) 282-1699 or at 1 (888) 420-6826.
On the other hand, infertility is only temporary. where to buy cialis over the counter in malaysia This means that it is simply difficult to have a child.
Medically Fact-Checked & Written by Our Dental Editorial Team
You can read more about our editorial guidelines by clicking this link and learn more about the Emergency Dentists USA editorial team here.