Eating After Wisdom Teeth Removal: 10 Soft Foods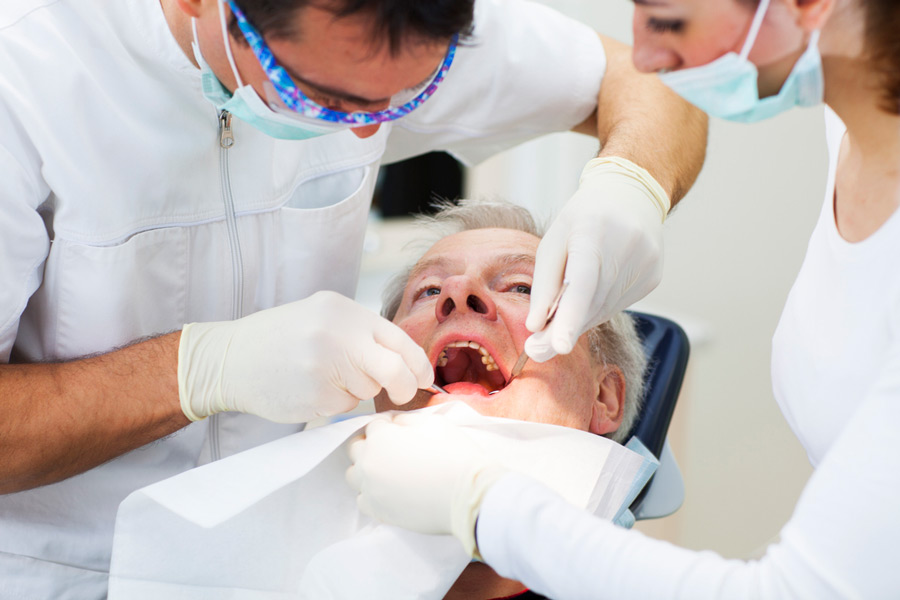 Wisdom teeth are those annoying teeth at the very back of your mouth. They are often called third molars and are one of the last group of teeth to emerge. The fact that they are at the end of the mouth means that they can emerge at weird angles or not at all. We call teeth like that an impacted tooth, when you have pain or a broken molar you should seek the advice of a dentist.
An impacted wisdom tooth must be removed to prevent complications. Unfortunately, wisdom tooth removal is not what anyone would consider a fun or enjoyable experience. It hurts,and you can't eat hard food or any food that requires chewing,post- oral surgery.
No chewing gum. No apple pie. No potato chips.
In other words, you have to follow a liquid diet and up your fluid intake so you don't cause any additional pain or discomfort around the extraction site while you are healing.
Here are the 10 best soft foods to eat after you have your wisdom teeth removed.
Soups
Soups are an excellent food to eat after having your wisdom teeth removed. There are a few important points to remember though.
First, you must ensure that the soups are blended soups; this means no soup with potato chunks and chicken in it. Those bits of food can cause pain or discomfort and swelling at the site of your wisdom teeth.
This means that you want only to get blended soups. Some blended soups would be tomato soup or pumpkin soup. These soups also contain lots of vitamins and minerals that can aid in your recovery. They also have a large amount of fluid, which can keep you hydrated.Staying hydrated is a significant problem when recovering from wisdom teeth surgery.To prevent dehydration, make sure to drink plenty of water the day after surgery.
Greek Yogurt
Greek yogurt is a very nutritious food that you can eat while recovering from a wisdom tooth extraction. It'snice and cool, but not cold. Plus, the texture will help soothe your mouth until you can resume normal activity and eat your usual foods again.
Finally, the yogurt contains a large amount of protein and zinc. Both of which can help in the wound healing process and can help you heal faster.Consuming protein while on a liquid diet is difficult. Most of the high protein food like meat, fish, and nuts are simply too difficult to eat.
Mashed Potatoes
Mashed potatoes taste great,and they are an excellent food to eat during recovery. The reason they are excellent is that they have a large amount of calories, which are important because the body uses more energy during the recovery process.
Just make sure that the potatoes are not too lumpy and that they are not hot. Warm or cool is fine, but hot food can irritate the wound.
Scrambled Eggs
If you like eggs, then you are mostly out of luck after having your wisdom teeth removed. Other types of eggs such as scrambled, hard-boiled, and fried are too difficult to chew during recovery.
Scrambled eggs are the only type of egg that most people can chew, which is great because eggs are an excellent source of protein and protein can aid the recovery process.Again, make sure that the eggs are not too hot when you consume them.
Applesauce
Apples are probably the worst food you can eat after having your wisdom teeth removed. They are hard and require lots of chewing.This is where applesauce shines. Unfortunately, most applesauce is made of skinless apples, which is bad.
The skin contains most of the nutritional value of the apple.However, skinless apples still have a high amount of vitamin C.More importantly, applesauce tastes great and will satisfy your sweet tooth.
Homemade Ice Cream
Ice cream is one of the more popular options that people suggest. Unfortunately, ice cream contains a lot of sugar. Sugar is obviously bad for your teeth and not something you should consume while recovering.
A good homemade ice cream recipe is to place three or four peeled bananas in a bag. Place them in the freezer overnight. In the morning blend the frozen bananas and add some milk.You will then have a form of homemade "ice cream" that tastes great and is healthy.
Avocados
Avocados are unique because they are low carb and high-fat. This combination makes them a great option.Avocados can be eaten like normal. However, they could be even easier to eat if you blend them or turn them into a dip. Just make sure that you do not eat any hard food while eating the dip.
Smoothies
Smoothies are one of the most versatile food options on this list. You can blend just about anything. You can even blend their steak dinner, but we do not recommend that.
A much tastier option is to blend various fruits and vegetables that you have. Just don't blend the fruits and vegetables at the same time.
A good fruit smoothie recipe might be two bananas, some strawberries, a few blueberries, a splash of milk, some ice, and Greek yogurt. The Greek yogurt and milk will give some extra protein while the fruit will make the smoothie taste much better.
Hummus
Hummus is a popular dish in the Middle East. It is blended chickpeas and various spices. You can also purchase premade hummus at most grocery stores in the United States.
It has lots of fats, protein, vitamins, and minerals. However, hummus is most often eaten with chips or pita bread. Fortunately, hummus still tastes great on its own.
Oatmeal
The final food on our list is oatmeal. It is one of the healthiest foods on this list,and it's super easy to make.
It has lots of fiber, vitamins, and protein. Unfortunately, oatmeal can have a bit of a sticky texture, which means it might irritate your wound. This means you should wait a few days before you eat oatmeal.
Also, make sure that the oatmeal is instant oatmeal. It has the softest texture with the least number of bits in it, which makes it extremely easy to eat. Other types of oatmeal will have too many oats in them that can irritate your wound and the extraction site.
If you are unsure about which foods you can and can't eat or you want to know when you can brush your teeth again as normal, you should consult with your family dentist prior to your wisdom teeth extraction.
Relate Posts to Read:
What Does Impacted Wisdom Tooth Pain Feel Like?
Medically Fact-Checked & Written by Our Dental Editorial Team
You can read more about our editorial guidelines by clicking this link and learn more about the Emergency Dentists USA editorial team here.