10 Unusual Facts About Teeth
Teeth are often an unsung hero of our body. We do not always think about permanent teeth or baby teeth or give them the credit they deserve, but they are a truly amazing feature that can tell us a whole lot about ourselves. You probably already know that our teeth contain a wealth of information about our health history as well as enough DNA to potentially make a clone. It is also well known that there is a strong link between oral health and cardiac health. But here are a few unusual but fun facts you probably didn't know that will make you appreciate these amazing little appendages a bit more.
1. Flossing is more about scraping away the bacteria and tartar that is on the sides of your teeth than getting stuck food out from in-between them. If you are not properly flossing then on average about 35% of the surface of your teeth is not getting cleaned. That leaves a lot of opportunity for excess plaque buildup and cavity development. Also, flossing once per day can extend the life expectancy of the average person by about six years.
2. Before the advent of modern dentistry, people tended to only visit some sort of professional when they had serious problems with a tooth. Usually, the only way to deal with it was to perform an extraction. Since there were no formal dentists, patients would be at the mercy of those who had the right tools for the jobs: blacksmiths and barbers. One of the reasons that licensing requirements exist now is that when the dental profession took off these untrained tooth pullers continued to ply their amateur trade without any training and the dentists were not too pleased about it.
3. Several actors have foregone prosthesis or post-editing in order to add realism to their imperfect smile. In the movie "The Hangover," actor Ed Helms had actually never had his adult incisor grow in, so he simply had his dentist remove his implant so he could film the scenes where his character was missing a tooth. In order to get into character for "Fight Club," Brad Pitt had a dentist chip his teeth to give his character a rougher look. Conversely, before filming "Armageddon," director Michael Bay convinced Ben Affleck to get $20,000 worth of dental work to modify his natural smile since he did not believe Ben's small teeth and gummy grin were convincing for a hero.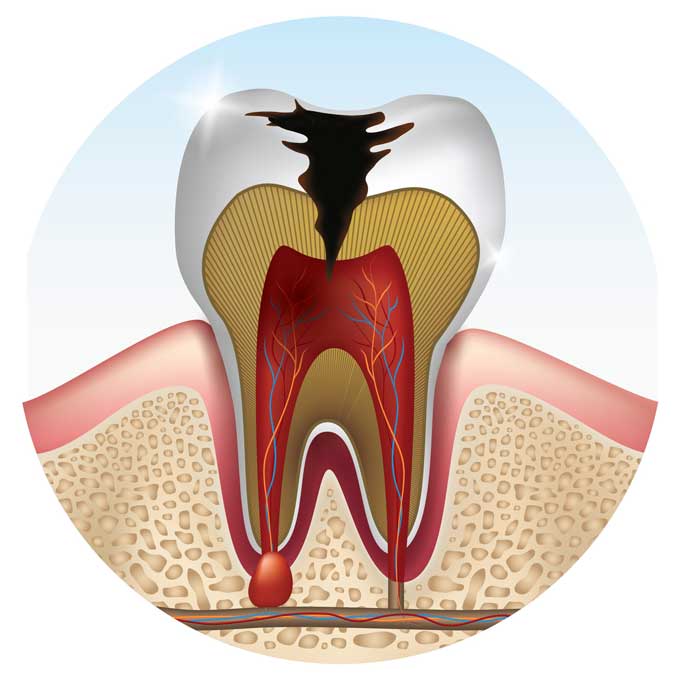 4. Our ancestors had some interesting beliefs about tooth health. The ancient Sumerians and Europeans up to the 18th century both thought that cavities and tooth decay were caused by tooth worms. In the dark ages, people thought they could regrow lost teeth by implanting a replacement taken from a criminal that had been hanged. And, in the middle ages, people tried to prevent tooth decay by making a mouthwash from boiling dog teeth in wine.
5. Due to the remoteness and difficulty of obtaining medical care, those wishing to work at the McMurdo station in Antarctica (usually scientists with the occasional adventurer or documentary maker) must have their appendix and wisdom teeth removed before arrival. No one can be evacuated or operated on during the winter months so the chance of infection must be preventatively eliminated.
6. The habit of brushing teeth twice daily did not catch on in America until after World War 2. The soldiers who fought in this war were required by the military to bush their teeth twice per day so they brought the practice home with them. The requirement was likely due to the rampant occurrences of "trench mouth" in World War 1. Trench mouth was a serious and rapidly progressing form of gingivitis that was common among the teenagers and young adults that were fighting on the frontline. It is caused by poor dental hygiene and can still be found in underdeveloped nations.
7. Scientists still do not know exactly how the enamel on our teeth evolved, though they do know it is the hardest substance our body makes. It is even harder than bone and is only formed within our jaw before the tooth erupts. The best guess goes back to certain scales and bones in fish which may have evolved into the teeth we have today. In fact, the teeth in shark mouths are technically scales which is why they can continually produce them indefinitely. Conversely, humans will only have two sets of teeth in their entire life.
8. The enamel covering our teeth can get worn away by acids, including the acid in the food we consume and the acid in our digestive tract. When humans are about to vomit their mouth will involuntarily produce a large amount of saliva. This is meant to protect the teeth and sensitive tissue in the throat from the stomach acid that comes up with vomit. For this reason, excessive premature enamel erosion is also one way that doctors are able to diagnose bulimia.
9. Orthodontia is a specialty of dentistry that focuses on the science and physics of correcting malocclusions or bad bites. All orthodontists are also qualified dentists, as they first go through the four-year program to become a dentist and then another two to four years of training to qualify as an orthodontist. Due to these extensive educational requirements, there are less than 14,000 orthodontists in the United States. Compared to the more than 155,000 registered members of the American Dental Association this is a big difference.
10. In some parts of Asia, braces are incredibly expensive. This makes them desirable to those who cannot afford them as a fashion or status symbol. There are now markets for fashion braces at a fraction of the cost. Unfortunately, the materials involved are not always the best for internal use. Two teenagers in Thailand died from wearing braces made with lead-laced material, which led to the products being made illegal. Unfortunately, this has just increased the black market for fake braces and DIY kits.
Hopefully, you enjoyed these fun facts!