Special Needs Dentists in California

California has a variety of health professionals experienced and willing to help your loved one with special needs. Although it can be tricky, with the right guidance you will be able to find the right dentist that your loved one can feel comfortable with, and that your child can use for their dental needs on a routine basis.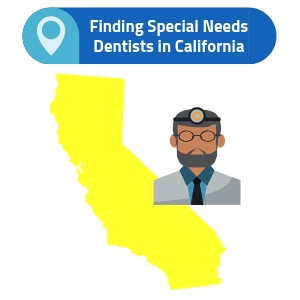 A special needs dentist is an individual that has undergone years of additional training in order to prepare to care for patients with special needs. These individuals will be those that you will generally want to gravitate toward, however, no single database exists that is especially good at locating special needs dentists. Do not fear, we have resources available that will help you find the right dentist.
This article is also available in Spanish by clicking here.
In California, there are plenty of ways to find a good special needs dentist. Consider reaching out to a local Autism Society of America Affiliate, the Center for Parent Information and Resources or the National Down Syndrome Society. Although these groups do not specifically deal with dentistry, they advocate for and seek to assist those with special needs. Each of these will help you access individuals with personal experience with dentists within California.
Other resources include the Special Care Dentistry Association, which has a website and offers the ability to search for a member dentist in your area. Your local collegiate dental clinics are also a good starting point, many universities and colleges will have dental clinics, and many will service special needs patients.
Some other good local resources include:
• In Los Angeles you can check out UCLA school of dentistry special patient care. USC provides special needs dentistry as well.
• In San Francisco, the University of the Pacific has a Special Care dental clinic. UCSF school of dentistry also offers hospital dentistry services for those requiring special care. The Berkeley Parents Network is a good resource, it offers a platform for parents in that area to communicate and help one another with all types of parental concerns.
• In San Diego, Rady Children's hospital has Anderson Center for Dental Care. Also in San Diego, there is the Naval Medical Center San Diego Clinic, which offers treatment for children with down syndrome and autism. You may also want to examine the Special Needs Resource Foundation of San Diego for information regarding your child's health.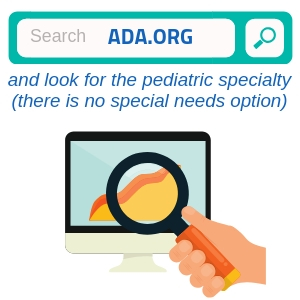 • For further options, start by searching google for special needs dentists in your area. Try additional sites as well. If you search ADA.org and look for the pediatric specialty (there is no special needs option), some dental practices will have experience with special needs patients.
Additional means to find the right dentist for your loved one
Speak with your dentist about dentists they could suggest
Contact many local dentists, ask them whether they can suggest someone
Speak with friends or family members
Speak with other guardians of a special needs child
Speak with your loved one's teachers, principal, etc.
Speak with your loved one's doctors, nurses, etc.
Expand your search to "hospital dentistry" and "pediatric dentistry"
A couple additional things to consider
Give yourself enough time to find a good doctor
Many quality dentists that treat special needs patients require scheduling many months in advance
Narrow options down to a shortlist, speak with these dentists to get an idea of to their temperament, experience, etc.
Give the dentist a realistic impression as to what might be expected
Use the conversations with potential dentists to inform your decision as to which to ultimately go with.
Giving a realistic impression of what can be expected should prompt a conversation which should illuminate the likelihood of the dentist being a good fit. Those that are receptive and willing, especially those that can draw on the experience of similar patients, will be relatively easy to distinguish in conversation. If feasible, you may even consider giving your loved one a chance to speak with their potential new dentist. This will give them a chance to familiarize themselves with one another, and will likely give an idea of their ability to communicate effectively and appropriately with one another.
A good dentist for a special needs patient will make a visit much more manageable and much more beneficial to your loved one. If you utilize these resources, you will find a quality, local dentist for your loved one's needs, regardless of where you live in California.
Resources