Can You Chew Gum with Braces?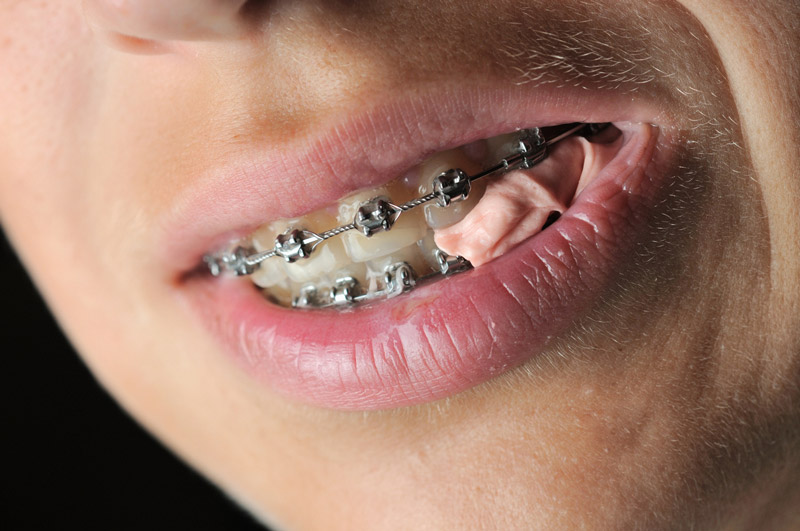 Despite what many people think, chewing gum with braces isn't actually as bad as initially presumed. Most people who get braces try to stay away from chewing gum as they have heard it can get caught in the wiring, become really sticky, and get jammed behind the wiring and remain on the tooth which can cause decay.
It Remains Debateable
To this day, the question of whether or not you should chew gum with braces remains debateable between dentists. Some are still adamant that it is a no-go item and will cause a major delay to the amount of time that the braces are needed. Others suggest that chewing gum can actually be beneficial for those with braces and that it helps to improve oral hygiene. Looking at both sides of the argument there is no real logical reason that you shouldn't chew gum when you have braces; however, you will probably have to be a bit more careful when doing so.
How to Chew Gum with Braces
While it's not exactly rocket science, chewing gum while wearing braces does need to be a bit more strategic. The most important factor when chewing gum with braces is to ensure that it is always sugar-free. Gum that contains high amounts of sugar tends to be a lot stickier than sugar-free gum. Along with good oral hygiene, sugar-free chewing gum is always advisable, but it is especially vital for people with braces. Now that there is metal stuck to your teeth you will want to try and prevent the gum from moving around your cheeks. This will reduce the likeliness of the gum getting tangled in the wires. Another thing to be cautious about is how excessively you are chewing it. A slower movement will again reduce the chance of the gum getting stuck and will also lower the risk of the wires from bending. For those who are still unsure whether or not to chew gum with braces, there is specialized dentist gum that can be obtained from your dentistry professional.
The Problem with Sugar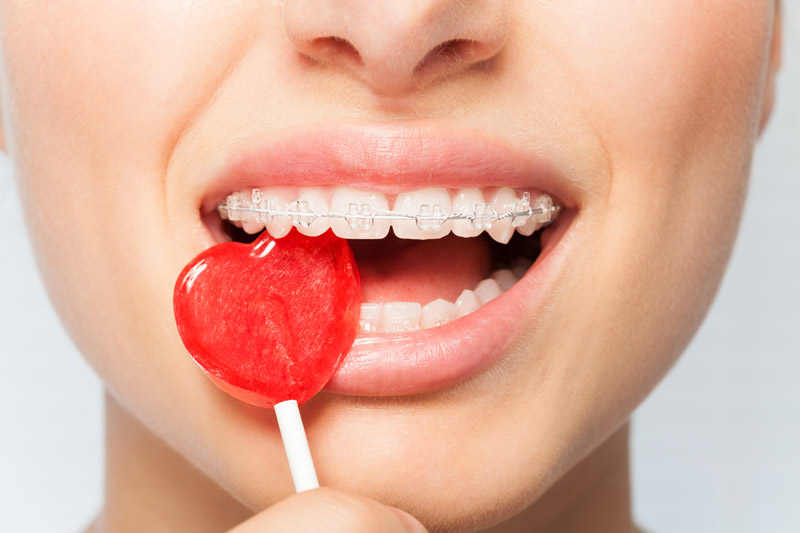 We have all been told over and over about how bad sugar is for our teeth, but you may have noticed that, when getting braces fitted, your dentist overly expresses how you should avoid sugary foods at all costs. This is mostly because of the fact that sugar is tacky and can stick to the teeth. The longer this sugary film coats the teeth, the more stubborn it becomes, creating a stronger risk of tooth decay. When braces come into the equation, these sugary foods (including sugary chewing gum) can easily get lodged into hard to reach places resulting in the sugar-filled food particles to just sit directly on the tooth for who knows how long.
The Top Benefits from Chewing Gum with Braces
Not only is chewing gum with braces fairly safe, it actually has several benefits. Anyone who has had braces fitted will know that brushing the teeth becomes much harder. Food can often get jammed between all the wiring and fixtures which makes the cleaning process much harder. Chewing gum promotes the production of saliva, and when this happens, the bacteria in our mouths get washed away. Therefore, effectively combining chewing gum with a regular and sufficient oral hygiene routine will significantly reduce the harmful bacteria in the mouth. On top of this, many artificial sweeteners that are found in sugar-free gum has been found to prevent tooth decay.
A Stronger Jaw
Ever heard of face yoga? Well, the overall gist of it is that you pull funny and rather strange faces in order to tone up your facial muscles. Obviously, you wouldn't need (or want) to attend the gym to do such exercises, but reports do say that it is effective. The motion that the mouth makes when chewing gum is great for strengthening your jaw. Including the chewing of gum into your daily routine will mean that once those braces are removed, you could be left with not only straight teeth but also a strong and toned jaw.
Will Chewing Gum Damage the Wires?
The most common reason that dentists used to give as to why you shouldn't chew gum with braces was because it could damage the wiring which could lead to the teeth being misaligned. That would also cause more work for the dentist and, in most cases, a higher bill for you. Nowadays, the wiring that is used for braces is a lot more flexible and resilient meaning that they aren't as susceptible to bending as a result of chewing gum. Having said that, as stated above you should still be cautious when doing so, just to be safe.
The Recommended Use of Gum with Braces
In an ideal world, brushing the teeth would happen after consuming every meal but, in reality, that is just not possible for everyone. The majority of people follow the guidelines of brushing both in the morning and at night and this same rule applies for those with braces. Flossing is also in the preferred oral hygiene regime, but this can be particularly hard for those with braces. While your dentist has probably advised you on what to include in your oral hygiene practice if they haven't already mentioned it chewing sugar-free gum after a meal can be massively beneficial. The average time in which you should chew gum for is about 20 minutes as this is plenty of time to clear away the food particles that may linger on or around your braces. Also, by this point, the flavor has probably dissipated and it will feel more like rubber. Excessively chewing gum could have negative results so just keep that in mind throughout the day.
All in all, the dentistry professional who has fitted the braces will give you a rundown on how to care for them and how you should approach cleaning them. If you are still unsure whether or not you should chew gum with your braces on simply contact your dentist for advice.
Relate Posts to Read:
DIY Home Remedies for Teeth Whitening with Braces