DIY Home Remedies for Teeth Whitening with Braces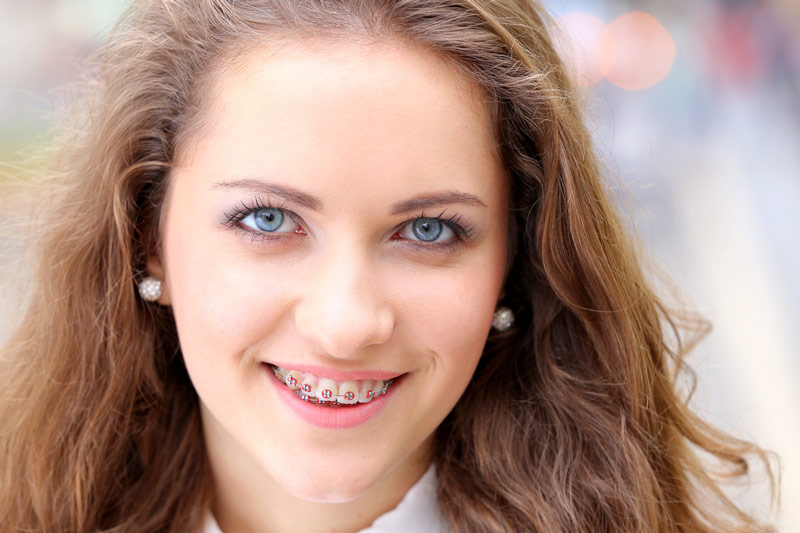 Everyone craves a movie star smile in life. They dream of dazzling their friends and colleagues with a sparkling white smile, which is one of the main reasons that many people choose to wear braces to get their teeth into shape. Aside from the cosmetic incentive, being the proud owner of a set of straight, white teeth is also essential to maintaining optimal dental health. Alongside at-home whitening, braces have a ton of positive outcomes associated with them, but they also have their drawbacks. One of the main stumbling blocks when it comes to surviving long-term orthodontic treatment like braces is that the treatment will normally last around a year, during which time you may find it's a bit of a struggle to keep your teeth perfectly clean and white.
There are a few common concerns that people have about wearing braces and ensuring whiter teeth than ever. And the biggest problem that any dentist will hear about on a daily basis is complaints about a build-up of plaque, bad bacteria, and tartar. A major factor to take into account when trying to figure out a whitening routine while wearing braces is that brushing vigorously can often damage brackets and also the elastic bands that hold the dental wires in place can stain the teeth. Using peroxides to whiten teeth at home is a no-go and in-office whitening procedures by your dentist are best done once the braces have been removed to ensure thorough coverage of the entire tooth. So, what can you do? Fortunately, all is not lost and you are not doomed to have funky teeth while you undergo orthodontic treatments. Here are a few tried and trusted natural whitening methods that you can easily do at home—with or without braces!
DIY Home Whitening Remedies with Braces
One of the biggest everyday challenges that accompany braces is eating. Food particles become easily trapped in your gums and the brackets and this will stain your natural tooth enamel. These DIY solutions can be practiced daily at home as they are entirely natural and chemical free.
Pulling or Brushing with Coconut Oil
Coconut oil is a known healer of many internal and external ailments. Many people swear by oil pulling with coconut oil for natural teeth whitening, but if you don't want to swish oil around in your mouth for 15 minutes, then you can just as easily enjoy all of the benefits of coconut oil by using it as a paste to brush your teeth with. Its texture allows it to travel under the brackets and elastic on your braces and get into all the nooks and crannies that could be damaged by brushing too hard. Repeat your coconut oil whitening routine twice daily followed by brushing with your usual toothpaste and after around seven days you should start noticing a difference with the whitening process.
Apple Cider Vinegar
Apple cider vinegar is a natural antibacterial and cleansing agent. It works especially well when used with braces as it helps dislodge food particles and combats bad bacteria that can cause halitosis. Contrary to popular belief, apple cider vinegar is actually alkaline—so you won't need to worry about it corroding your teeth by being too acidic. You can implement a daily routine using apple cider vinegar to keep your mouth in perfect health—just dilute a tablespoon of apple cider vinegar in a quarter of a cup of distilled water and swill around your mouth thoroughly like mouthwash. You don't need to rinse with water afterward, but many people prefer to do this in order to get rid of the taste of the ACV but ensure their teeth are whiter than ever.
Baking Soda Salt Rinse
This effective DIY rinse is a great way to replenish decriminalized teeth while cleansing and whitening. And, the best part is, it's equally as potent for whitening purposes, even with braces! To make the solution, mix a teaspoon of baking soda with half a teaspoon of organic rock salt diluted with a bit of water. Once it has dissolved, just swish it around your mouth for a minute or so, spit and rinse as usual with water. As baking soda is a mild abrasive, we don't recommend doing this treatment more than four times per week.
Dental Hygiene Tools to Use with Braces
You can use all the whitening products in the world to improve the aesthetic appearance of your teeth, but without a daily dental hygiene routine, your mouth and teeth will not be healthy. Here are a few of the essentials that you should be using on a regular basis:
Soft bristled toothbrush (standard or electric)
Inter dental brush to get in between teeth
Waxed dental floss
An oral irrigator
Dental kit
Foods to Avoid
People who wear braces need to be slightly more cautious when deciding on which foods and drinks to consume, otherwise, discoloration and damage could occur quite quickly. For example, fibrous foods can be tricky so its best to stick to eating foods that are easy to chew and softer. Also avoid anything too sweet, sticky or sugary—and if you really want to drink soda, then use a straw to protect your teeth. It goes without saying that coffee and tea should be consumed in moderation to avoid staining your teeth and if you can remember to rinse with water afterward, then you get extra brownie points.
Relate Posts to Read:
Can You Chew Gum with Braces?