Dental Hygienist vs. Dentist: What's the Difference?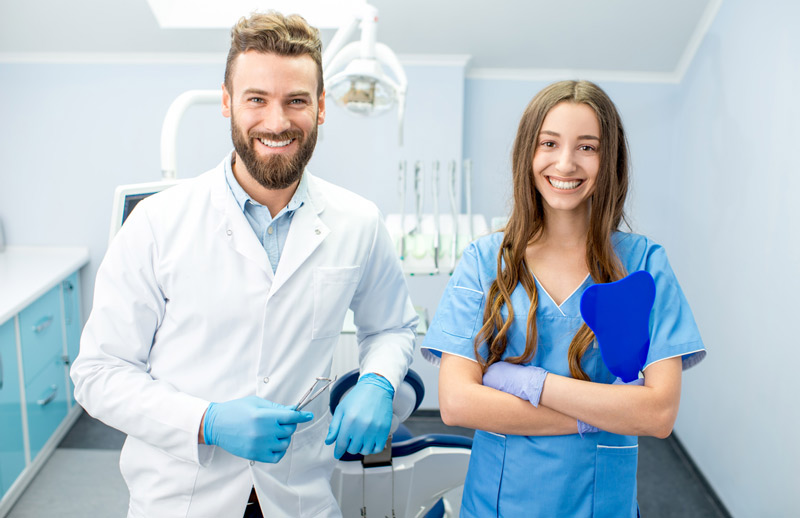 If you want to make sure that you keep your teeth free of serious issues for as long as possible, then you need to make sure you pay a visit to your dental surgery at least twice a year. Even if you are convinced that your teeth are fine and you don't need to spend the money on a checkup, you can't put a price on a professional in-depth clean. From dental therapists and dental hygiene experts to the dentist technician, along with general supervision all good dental surgery and general dental hygiene services will have a few different staff members, including a dentist and a dental hygienist and both staff members, are key to obtaining the best results for your money and all come under the guise of the American Dental Association. Their roles at the dental office can easily be confused and while they may appear similar, they are actually very different.
You may have noticed from previous trips to your dentist that two different people will likely treat you. The first person who attends to you will be a dental hygienist who will clean your teeth and take any x-rays (if required.) You will then see the actual dentist in the event that you need any repair work performed on your teeth or cavities filled. These two separate professionals work closely together but there are a few important differences between the two of them. Patients can often assume that a dental hygienist and a dentist perform the same roles and that you can substitute one for the other. This isn't the case at all, as they both have separate and vital roles that need to be carried out alongside each other to give you the best results possible and ensure continued good oral hygiene. This is why you should schedule appointments with both of them on a regular basis and not just assume that a singular visit will fix each and every one of your oral problems, including teeth and gums.
Dental Hygienist vs. Dentist: The Main Differences
Education
The primary difference between a dental hygienist and a dentist is their education level and the extent of their studies. To be able to practice as a dentist, you need to obtain a relevant degree followed by a 4-year stint in a dental college. A dental hygienist, on the other hand, only needs an associate degree in dental hygiene, which lasts just two years. This is one of the main reasons why prospective dental professionals choose to pursue a career as a hygienist—it is a much faster route to being able to work in the dental field and it is well paid.
Licensing Requirements
Regardless of if you want to be a dental hygienist or a dentist, both jobs require you to pass an exam to obtain a license to practice. The major difference here is that a dentist needs to get a license from the specific state they intent on practicing in, whereas a hygienist's license is valid nationwide.
Role-Specific Duties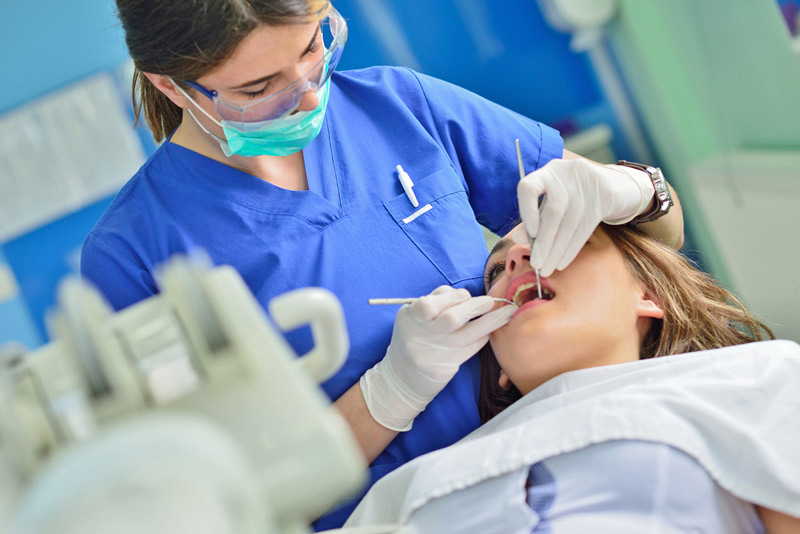 When you attend a dental surgery for your appointment, unless you have a particular problem that you know requires treatment (a chipped tooth, for example), you will probably see a hygienist first who will clean your teeth and check for any complications that they might need to make your dentist aware of. The dentist will then do a thorough examination of any potential issues and treat them accordingly. A dentist is the only one who is qualified to do procedures such as fillings, crowns, root canals, and other intrusive specialized treatment, whereas the role of a hygienist is more about general oral health and tooth care.
Prescribing Medicine
A dental hygienist does not have the authority to write and issue prescriptions, whereas a dentist does. While they can check for oral diseases such as pericoronitis and gingivitis, they cannot give you a definitive diagnosis
Salary
Dentists are considered to be actual doctors and, due to the fact that they have to undergo rigorous training, their pay is higher than that of a dental hygienist. This, in turn, means that patients will pay more for their time. If you just need a general cleaning and some dental health advice, then you can save on costs by scheduling an appointment with a dental hygienist instead of a dentist.
Why You Should Visit Both Professionals
Many people are unaware of the fact that their oral health is pretty much directly related to their overall health. Problems with your teeth and mouth can have nasty side effects such as:
Headaches
Jaw ache
Earache
Nausea
Fever
Sinus infections
In more severe cases, poor oral health can result in infections that lead to serious illnesses like cancer and cardiovascular disease. Your dentist and your dental hygienist should both be a priority on your to-do list.
The Importance of Regular Checkups
Preventative health care is key to our vitality as we grow older. Frequent visits to a dental professional are crucial to controlling and managing infections, as well as pre-empting issues like tooth decay and impacted wisdom teeth. While it may seem like a waste of money at the time, especially if you don't think anything is wrong, it will save you a lot of money in the long run. Ideally, you should make an appointment with a dental hygienist twice a year and a dentist once a year to check for oral cancer and to remove plaque.
Final Thoughts
Our teeth are some of the most prominent features on our face and if you don't strive to take care of them, you will be causing yourself a major setback in life. While many people believe that you should never judge a book by its cover, unfortunately not everyone follows this age-old saying. If you are interviewing for a job that requires you to work with clients on a face-to-face basis, an employer is going to be judging how presentable you are—all the more reason to ensure that you have a clean set of teeth, fresh breath, and a dazzling smile!
Relate Posts to Read:
Reasons to Become a Dental Assistant vs. Dental Hygienist